Howdy!  OK, I am writing this ezine from Marshall, CA.  Who even knows or cares where Marshall, California is?  I certainly did not, until Tuesday.  Rewind….Let's start this story at the beginning.
On Monday, I got a text from one of my favorite customers, Tere Cruz, asking me to call her.  If you remember the Outstanding in the Field event that I went to this past May in Rincon, Tere & her sister Tina, were the ones hosting it and it was off the charts!  If you want to read more about it, you can here.
When I got home from Fit Buddha, I gave her a call.  Long story short, she had tickets to another Outstanding in the Field Event in Marshall, CA at the Hog Island Oyster Company that her sister, Tina, was unable to attend.  She invited me!!!!  Short notice, but I was going to make it work!
Thank you Sandy & everyone else for filling in for me at the store, thank you "Send Rover on Over" for taking Cha Cha and thank you David for watching the Los (aka Carlos).
Here is a shot of Tina, Tere, me and Chris at the OITF event this past May.
I couldn't miss that much time out of the store (tis the season you know), so I decided to ride up to No Cal with Tere and then fly home after the event on Thursday.
She picked me up on Tuesday morning at 9 am and off we went.  It was going to be 6 hours to Marin County and then another hour or so to Marshall.  The first part of the trip was uneventful…but just you wait.  It got CRAZY!
We arrived in Marin right at the 6 hour mark….3 pm and proceeded to the Cantina for an early dinner.  So much fun, great food and I got to meet Juan Carlos.  LOL.  Such a cutie!
Then we headed up the back roads to Marshall….OMG…where were we?  So crazy. Winding roads, no street lights and no houses for miles.  I had NO idea that there was this much unspoiled land in California.  It was a trip!  We arrived in Marshall at 5 pm.
This is where the story gets CRAZY….we had the address to the Airbnb that Tere had rented, but no code to enter.  OK…small problem, but we could handle it…NOT!
We found the property and it was darling.  Right on the water.  But it had a keyless entry and we had no code.  No cell service either.  This was about 5 pm.  We rang the next door neighbors "ring bell" and asked her if she had the code.  NO!
We finally found some cell service and called the manager of the property.  He gave me the code!  I said, "stay on the phone to make sure it works".  It did NOT.
I was then explaining to him about the keyless entry and he said "NO, it is an old school lock box with a real key on a hook under an abalone shell by the gate".  WTF?  I can't make this shit up.
I finally said, "What is the address?" It was NOT the address where we were apparently trying to break in.  LOL.  Keep in mind that it is now about 7:30 pm.  OMG!
We got the correct address and off we went.  Could not find the correct address & had no cell or internet service and stopped at the cutest restaurant, Nick's Cove, to get in touch with the owner AGAIN.
He pointed us in the right direction and here is house #2 that we tried to break into….which also turned out to be the wrong address again.  OMG…Calgon take me away as my sister would have said.
Poor Tere driving in the dark and having to turn around on super skinny gravel roads with the ocean literally to our right.  It was pitch black and we did hit a few things….succulents and a shed.  LOL…not funny!
Then we remembered what the owner had told us.  That the lock box was under an abalone shell.  As we were turning around for the tenth time, we spotted an abalone shell on a different house and thought that must be it.  This time Tere tried the code for the lock box and it didn't work, but the door was open.  We almost went in, but thought better of it!  Here is House #3.
Then we rechecked the correct address, got out a flashlight and finally found the house with the abolone shell and the key underneath.  Score!  Or so we thought.
Unlocked the door and went in and it was super creepy.  Dirty towels all over the bathroom, sheets on the floor, beds not made and it freaked me out.  There was no way we could stay there.
Here is a photo of that property in the daylight and the abalone shell.  Apparently, everyone in Marshall hides their keys and key lock boxes under abalone shells.  Hahaha.
By now it is about 9 pm and we had been looking for our airbnb for 4 hours.   Hahaha.
So we headed back to Nicks at the Cove to regroup. Thank God both Tere and I have a sense of humor.  I labeled this trip CFS…or Can't find Shit.
Thank God even though Nicks was closed they let us order two chardonnays.
It turned out that Nicks had lodging and we got the last available cottage for the night.  It was amazing!  Silver Lining.
The next day was the Outstanding in the Field event (that I haven't even talked about yet) LOL….We had decided to spend another night at Nick's, but unfortunately they were sold out!  Of course!
They told us about the Lodge at Marconi that may have rooms so Tere tried to call and make a reservation.  Cell phone service was non existent. So we packed up early and drove up the road to find a room.  Such the adventure!
Here is our 6th and final lodging option.  OMG!
I can't wait to tell you more about the Oyster tour & class we took…we learned how to shuck oysters and the amazing dinner later that night.  It will have to wait for my next ezine as I am worn out just telling you about the first day in No Cal.  LOL.
But I will leave you with this amazing shot of the OITF table set up.
.And this photo of me, Tere and some of our new friends!
And now for some new arrivals……
Large Christmas Yard Snowman $39.50
Wood and Rattan Night stand / End Table $39.50
Beautiful vintage inlaid French? desk with glass* top – $495.00
Distressed Antique Side Table $245.00
Custom Painted Sideboard $695.00
Vintage The Bombay Company Folding Tray Table $36.50
And for some fantastic news – some of our furniture prices have dropped! Don't miss out on these amazing deals. Now's the perfect time to snag some great pieces for your home!
Live Edge Wood Console Table $117.00
Canmore Leather Power Recliner With Power Headrest Cream $297.00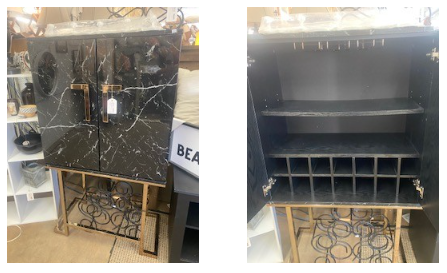 MCM H. Wegner for Andreas Tuck Danish Teak Nesting Tables – $297.00
Coffee Table With Wheels $117.00
Teamson Home Ashton Wooden Round Dining Table With Faux Marble Top White(Marble)/Brown $199.60
Project Piece Project 62 Hilltop Console Table With Drawers Black/Brown Rectangle $111.00
Modway Cabin Dining Side Chair $57.00 – 1pc left!
Tufted Oatmeal Accent Arm Chair $135.00
Original Painting of Monkeys on Fabric – Guatamala $50.70
Original Artwork Cows The Red Bucket Watercolor Framed $87.00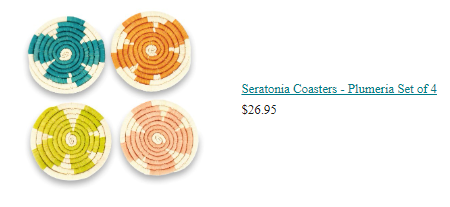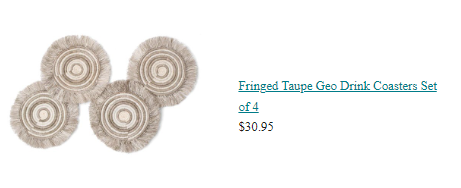 Black Fern Weekender Bag Purse $59.95
Spacy Weekender Bag Purse $62.95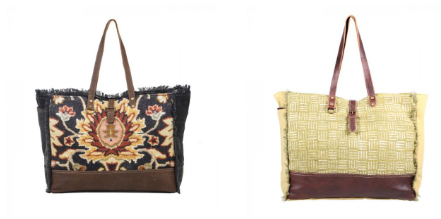 Academia Weekender Bag Purse $80.95
Anemone Weekender Bag Purse $57.95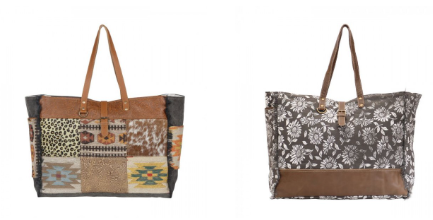 Thanks for checking out our new arrivals!
Remember to drop by our store or browse our website. We'll keep you posted with more cool things, and as usual, we really appreciate your ongoing support!
Thanks again for all of your support.  Shop LOCAL!!!  It hasn't been easy for small businesses this past year and we really appreciate you…..
Indiana, me & Houston
Thanks for reading my ezines!  I appreciate it….as always!
eBay with Heart & Design with Heart……Lynn
Past Newsletters…All can be found on our Blog.
P.S.  If you have a friend who wants to sign up for this newsletter.