Welcome to our new weekly newsletter…
February 13, 2020
Watch for it every Thursday or every OTHER Thursday!
Volume I Issue 5
Hi!  Welcome BACK to our new "Lynn's Consignments" newsletter.   This is Issue 5! And today would have been the 43rd birthday of my favorite dog, Springdale Buffington.  Weird how you remember those specific days.  He was born on February 13, 1977.  Yikes, that makes me feel old!
I showed him through 4-H and also in AKC and CKC shows.  My dad was my biggest champion and drove Buffy and I all over Washington state and Canada.  He was only 1 point away from becoming a Canadian Kennel Club Champion when I was OVER it!  I was a junior in high school and it was time to focus on my friends, getting into college etc.  However, I will never trade those days with my dad and Buffy.
Thank you to everyone who wrote in with such amazing suggestions for our newsletter title.  About 5 % of you have voted…I would love to see 10% participation before choosing the winning title, so PLEASE
Please place your vote by following this link.  VOTE
https://forms.gle/qb8DxAQjbV7BRzNX9
Whoever comes up with the winning moniker will receive a $25 Gift Certificate to the store…..
Before I forget, Happy Valentines Day!  I hope your Friday is AWESOME!  Don't forget that the DAY AFTER Valentines day is our first Pop Up in the Lot Sale!  Hope to see you here 🙂
My time last week in Palm Desert was AWESOME!  So great to see my friends and I come back with some crazy items to sell both in the store and on eBay.
Here is a picture of my crew and me out to dinner.  Kel, Mo, Candy. me and Tina B.
OK, but back to the store because that is ultimately why were are here….. Right?  Check out those Foo Dogs up close that I got at a "fresh" Palm Springs Estate Sale.  I think that they are Marble or Alabaster….not really sure?  If anyone knows more please come in the store and check them out and let me know the actual material.  They are priced at $695 for the pair and they are "killer"!
Time for an eBay score!  This is a Henri Matisse Limited Edition Rug/Tapestry from 1951 that my estate sale contacts sent with me to sell on eBay.  I am guessing that it will be a score.  From my research, these sell in the $2,000 to $2,800 range, but the asking prices range clear up to $9,500.  Yowza!
https://www.ebay.com/itm/312989257538
So, I have this app on my phone called Time Hop. Emma, my son's girlfriend (who is now working at the store until she finds her forever job….Hello Patagonia…are you listening?) loaded the app for me last year. It brings back sooooo many memories. Two years ago this week, I was packing up the remainder of my house and making the final move (out of three weekends of moving) to Ventura.
Crazy! Here is a photo of my friend Kel (also in the recent Palm Desert crew pic) helping me pack up the eBay merch in my living room (which had NO furniture left…it was all in Ventura already). LOL…what a mess and the moving truck was arriving in the am. Thank God for friends like Kel!
Here is Steve Labrano of Labrano's Moving https://desertsbestmovingcompany.com/ packing up the final truck (of three full trucks) on a Saturday to Deliver to me in Ventura on a Sunday.  Yikes!  All of this just makes me exhausted 🙂
And then, on the other end…that Monday when we arrived in Ventura, here are the girls (can you spot Cindy?) unloading the eBay merch in my garage.  EEEgads!  I honestly can't believe that I had the "hutspa" to pick up my entire life (16 years raising kids in Palm Desert) and move three hours away and open a brick and mortar retail store in a city where I knew NO ONE (had no track record like my family does in Bellingham etc.)….Living on a wing and a prayer…that would be me!  LOL…Thank you Ventura for embracing me and my store!  WE LOVE YOU!
Our paint class this past Saturday was Awesome! Here are the gals with a before picture of a table that we ended up painting during the class.
Here is an after photo of that table painted in (my favorite) Duck Egg Blue along with some other pieces that we have painted in Annie Sloan.
Watch for it…..My next front window display is going to be "hideous" furniture that no one will want waiting for a makeover…and guess what…we are going to do that makeover LIVE in the front window!  FUN FUN FUN!
Our next Annie Sloan basics only paint class will be held on Saturday, March 7th from 10:30 to 12:30 ish. Cost is $69. We found that it was almost impossible to get you out for an evening paint class so we have now moved it to the day. Way more fun! Spaces are limited so sign up here now.
If you have any questions please call the store at 805-628-3289…
http://www.kickstartcart.com/SecureCart/SecureCart.aspx?mid=7FF2CB21-8A24-49FC-9294-87759EA393E1&pid=efe98f6b99584f1a87e510b15acb1d41&bn=1
This is the Basic Course offering an Introduction to the Annie Sloan Method
of Chalk Painting….Furniture, Lamp Shades, Fabric and just about anything!
You will create 3 Sample Boards with different finishes to take with
you and all the confidence and knowledge you need to go home and tackle any project!!!
Can't wait to see you and help you learn about the…..
BEST PAINT IN THE WORLD!!!
OK, time for another eBay score because…well just because. They are soooo much fun and this is why I have been selling on eBay for over 20 years!
This Cornish Ware Blue and White Stripe Salt Container sold for over $60 this past December. Fun Fact…I got this for free at a Church Rummage Sale on Lummi Island (One of the San Juan Islands) that is right across from my mom's beach house. Shout out to Mor Mor, Indy and Emma who were with me!
https://www.ebay.com/itm/312506867348
CARLOS' Corner…..OK, so yes I am obsessed with my new kitty, Carlos.  He is AWESOME!  and so darling.  I will update you on his progress in every newsletter and Emma thinks it should be called Carlos' Corner…any other ideas?
He really is a rescue cat as he is "obsessed" with food.  If I am eating popcorn, he will "literally" fly through the air and grab a piece and dart off to eat it in a corner.  It really worries me because he was alone on the streets of Oxnard before he was found.  That breaks my heart!  Ughhh….we keep trying to give him lots of love, but it seems like something is off…..Can anyone else relate to this or have some advice?  Thanks!
BTW, I had posted on Next Door right before Christmas that I was looking to rescue an Orange Tabby Kitten. Thank you to everyone who responded and a HUGE THANK YOU to the gal who posted a photo of Carlos. I saw his face (teared up a little bit) and immediately drove to Newbury Park to pick up the little guy. Thank you Thank you!
Now, let's check out some of the new fun furnishings that came into the store recently.
The chicken wire console is priced at $295 and is amazing!  The wooden high design Mercana console table on top is priced at $495 (actually it has had it's first markdown and is now $396).
For those of you who don't know, the prices on our consigned items go down 20% every 30 days…for two markdowns.  Now, that makes shopping FUN!
Don't forget that most of our gift items can now be purchased on our website!  Super FUN and please keep checking back as we add more and more items.  We will even be adding unique one-of-a-kind items from the store that can be shipped or picked up in person.  Super EXCITING time as we continue to grow our business both here and all over the world!  Here is a link to our website.  https://lynnsconsignment.ricoconsign.com/
AND in HUGE news!  Baggu came out with their new SPRING line two days ago.  My favorites are the Lobster and the Cheetah…come in and check out the new Baggus before they sell out!
Super excited to announce a new course that we will be offering and it is being taught by one of my very first consignors…Joy Goldowitz!
She is a teaching dynamo!  Her course "Calligraphy:  The Art of Beautiful Lettering" will be offered on Saturday, March 21st from 10:30 am to 12:30 pm.  Joy will even be bringing you tea and homemade scones to enhance the experience!
The course is just $49 and includes a gift box full of calligraphy supplies and a special tote bag!  What?  This is unreal 🙂
From Joy's handout…"In this beginning class, we'll start from scratch with an introduction to sound technique, some nib knowledge, then move straight into some practice exercises, and on to letterforms.  By the end of the class, you will be able to write your name and a favorite short quote.  You will embark into the wonderful world of modern calligraphy."
Joy is a retired (after 37 years) elementary school teacher. She is a lover of the relaxing art of hand lettering, beautiful inks, and stationery of all ilks. She is a passionate teacher who happily loves sharing her techniques with others. She will guide you on a journey creating lovely letters to embellish words, names, addresses, cards, gift tags, etc.
OMG! I want to take this class!
Sign up here. http://www.kickstartcart.com/SecureCart/SecureCart.aspx?mid=7FF2CB21-8A24-49FC-9294 87759EA393E1&pid=9919156fa2e54964a61038764a1a0cdc
For the first time, in this "baby" ezine, I have not "really" mentioned nor pictured my kids. For those of you who have been following me for the past 20 years…they are my heart! And the reason I write these crazy tomes….so that someday they will have a baby book or some type of history of their lives.
I just Googled "Dralle Ezine Houston Indy" and what came up was an ezine from May 2013 and it was Volume IX and issue 5. Since this is our Volume I and Issue 5…why not share this little tidbit that highlights my KIDS!
"Let's get back to Indy for a change! She wrote an essay for the Desert's Best Moms contest and was chosen as a semi-finalist. Go Indy! 25 lucky moms got to attend a beautiful luncheon on Saturday, May 11th with their kids and we got HUGE gift bags.
Here are me, Indy, and Houston at the event.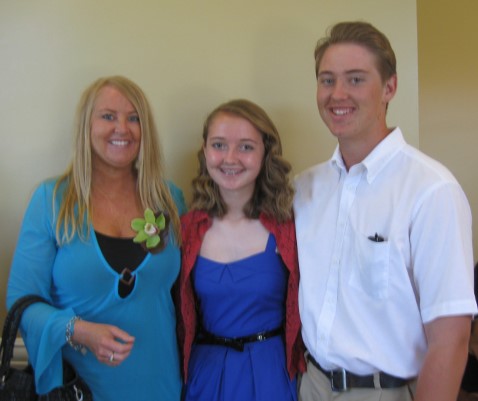 I am sooooo proud of her. If you would like to read her essay—here it is.
 Best Mom: Lynn Dralle
 by Palm Desert Student: Indiana, Grade 8

(Mom is the sun in this poem) The sky may grow dark, and lightning may offer its dreadful spark, but the sun always hides behind those gloomy clouds, waiting for the moment to brighten up the dreary day. When your heart is cold and your nose is running, the sunshine will offer its familiar warmth and cradle you in her arms. Even when it seems like the sunshine is no longer there for you, she is still there. She is just waiting for you to run to her, and she will give you the brightest of smiles to make all your melancholy thoughts disappear. This sunshine continues to take me out of my darkening days and she will always be there in the sky, even when it turns to night. I'm sure that you have a sunshine that you cannot live without, too. However, I know that in my heart my sun will always shine brighter than the other suns because she is mine personally. My mother was designed to put sunshine into my life, and I am forever grateful for that.

Aw…Indy!  You are sooooooo sweet!
Here is another photo from 2 years ago and it shows my office just getting set up.  BTW, on that shelf is a trophy from that "Best Mom" ceremony 7 years ago.  Next time you are in the store, please ask me to show it to you…I am pretty proud of it and sooooooo proud of my kids!
One last photo from the store because we just did this awesome vignette!  Love the hip look of the faux leather sectional $425.00, the black and white arm chair $249.50, and the industrial aluminum table $295.00.
Again…..A Happy New Decade from Lynn's Consignments team to you and your family!   We hope to see you soon!
Pictured…Emma, me and Indy!
Thanks for reading my ezines!  I appreciate it….as always!
eBay with Heart & Design with Heart……Lynn
P.S.  All of the professional photos I use on Instagram, Facebook, and in these newsletters were taken by my friend Denise's daughter, Jaclyn Sabo.  She is amazing!  And I will be hiring her again for photos during our 2nd-year anniversary party on Sunday, March 1st.  Hope to see you there.  To learn more about Jaclyn….https://www.jaclynszabo.com/
P.P.S.  If you have a friend who wants to sign up for this newsletter.