Merry Christmas!  Here is how our Christmas card turned out!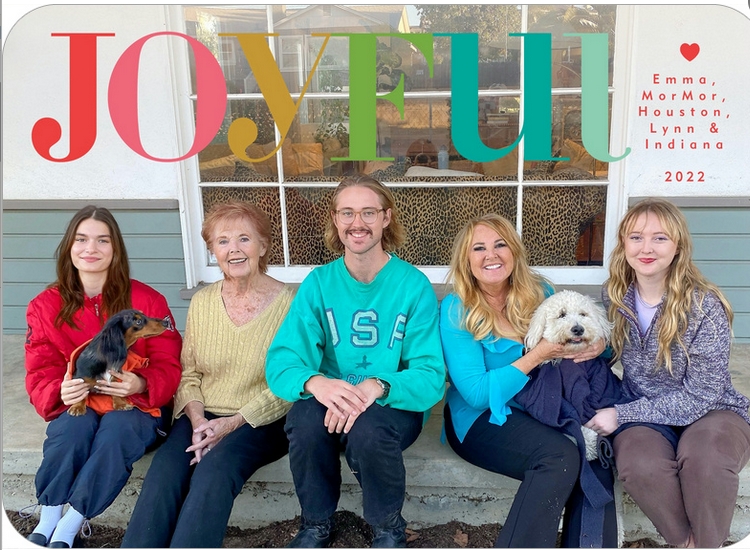 Oh, and the back story for our Christmas card this year.  We always take our photo on Thanksgiving.  As y'all know, every year we try and outdo the year before…and…it is getting harder and harder.  So, this year we had no ideas.  I took a nap before dinner and woke up with an idea!  A rainbow!  Just like we rotated in the store front window back in 2020.
Everyone would wear a different color of the rainbow and we would include Emma (Houston's girlfriend) Mor Mor, Grandpa and Cha Cha this year!  That gave me the 7 I needed for ROYGBIV.  LOL!  My long time friends know that I have always loved hearts and rainbows.  My mom even made me a hearts and rainbow comforter in high school.
So we ran around the house looking for the colors we needed.  I found Houston's old STC baseball red jacket for Emma, an orange Pepperdine shirt for Grandpa (didn't really stay on though did it?), one of my mom's gold sweaters for her, my Ton Sur Ton green sweatshirt for Houston (that Steve, my boss, at the May Company gave me back in 1986 for Christmas) and now my kids want it for Christmas hahaha, me in my favorite turquoise blue top of all times, Cha Cha in my navy blue sweater and Indy in the only purple thing we could find.  Hahaha…so anticlimactic.
But soooooo much fun!  Random and last minute.  I called Sandy (my new store manager congrats!…she got promoted this year and is doing a great job) and she ran over to snap the shot.  I think it turned out super cute!
And, don't miss our Christmas Sale….50% off of all Christmas through January 7th!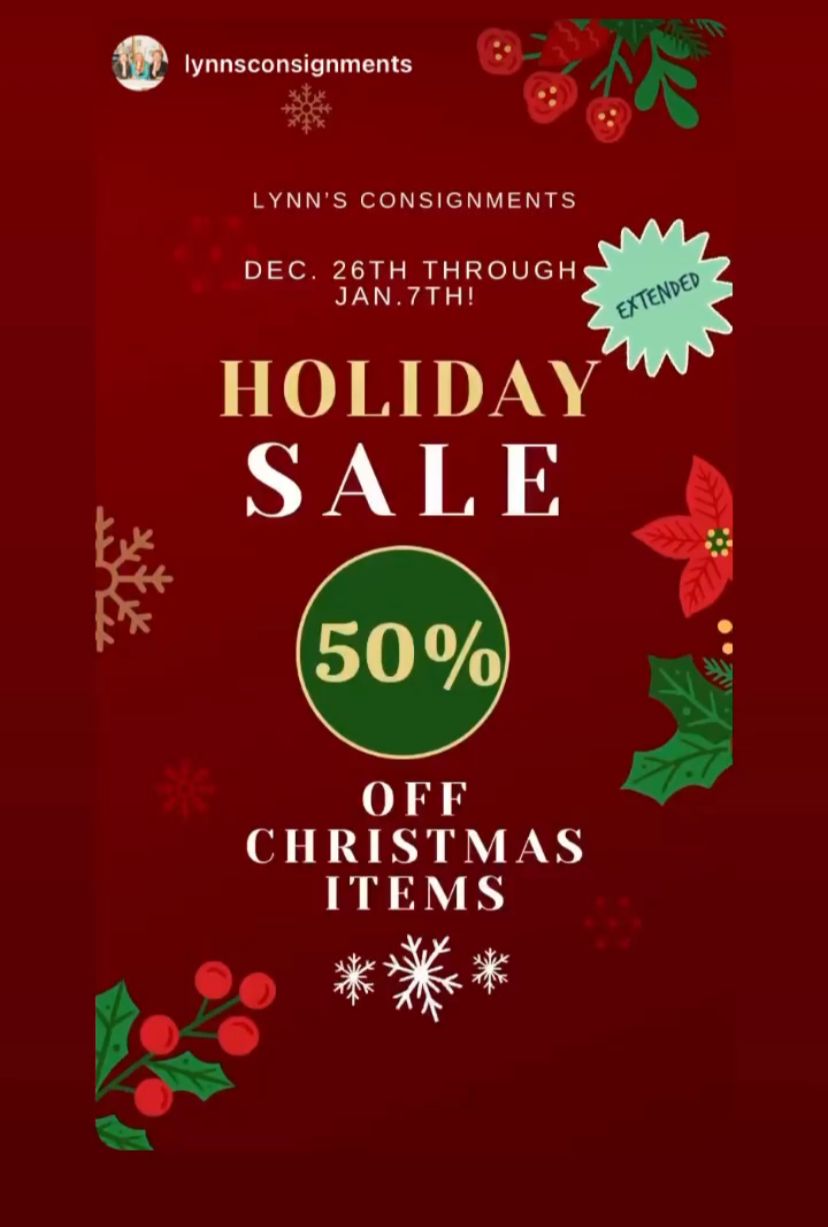 Our Regular Hours….Tues-Sat 11-5 pm and Sundays 11-3 pm.
Fun Fashions….Fri-Sat 11-5 pm and Sundays 11-3 pm.
Closing Early on December 31st at 2 pm and Closed New Year's Day January 1st.
Starting Tuesday, December 27th through January 7th save 50% off on Christmas Items.
I hope you had a wonderful Christmas and here's to an even better New Year!
Take care and SEE YOU SOON!
All of us at Lynn's Consignments…..Emma, Val, Mor Mor, me, Indiana, Cindy and Peggy.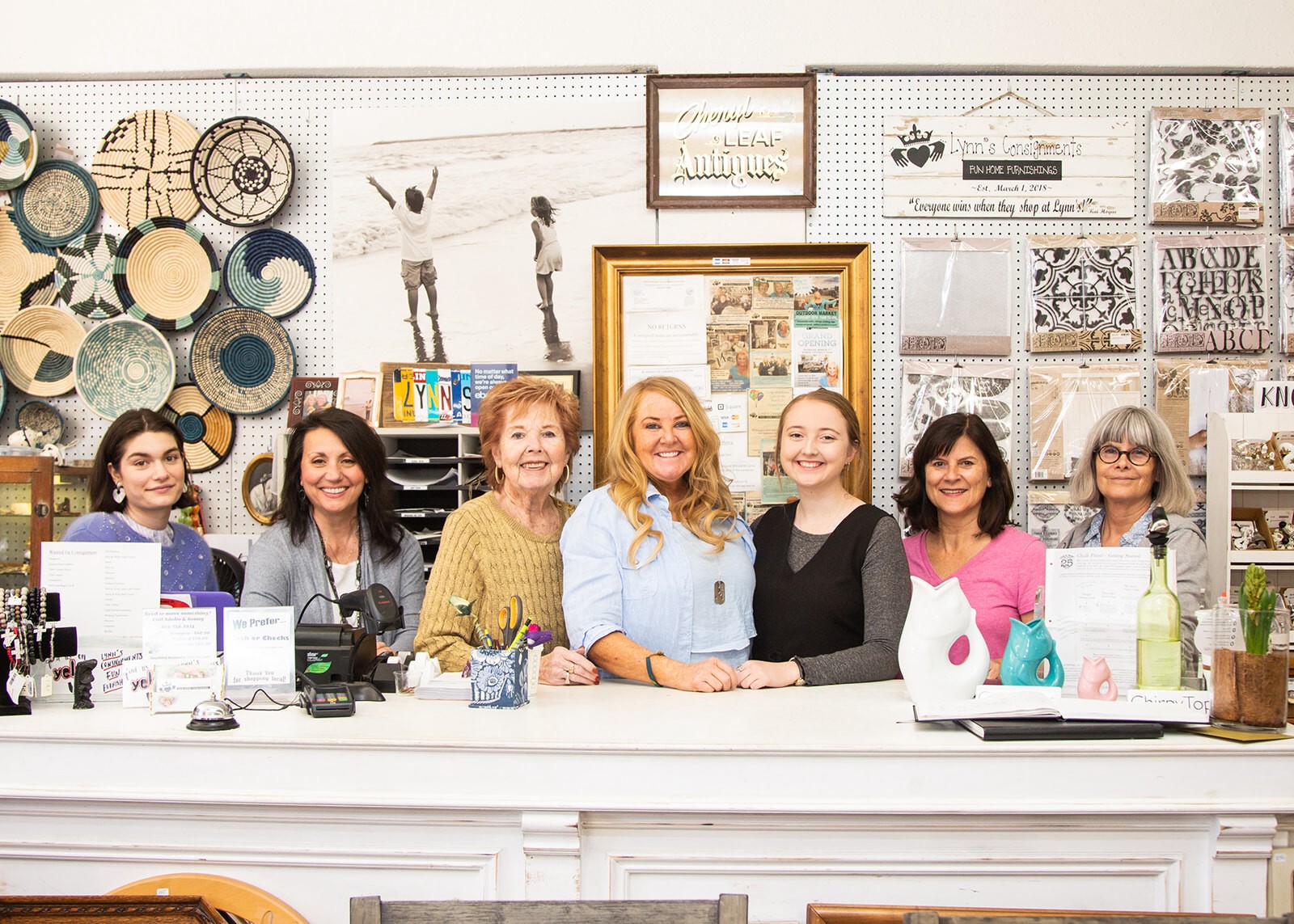 Thanks for reading my ezines!  I appreciate it….as always!
eBay with Heart & Design with Heart……Lynn
Past Newsletters can all be found on my Blog…..
1  https://tinyurl.com/lynnslatest1
2  https://tinyurl.com/lynnslatest2
3  https://tinyurl.com/lynnslatest3
4  https://tinyurl.com/lynnslatest4
5  https://tinyurl.com/lynnslatest5
6  https://tinyurl.com/lynnslatest6
7  https://tinyurl.com/lynnslatest7
8  https://tinyurl.com/lynnslatest8
9  https://tinyurl.com/lynnslatest9
10 https://tinyurl.com/lynnslatest10
11 https://tinyurl.com/lynnslatest11
12 https://tinyurl.com/lynnslatest12
13 https://tinyurl.com/lynnslatest13
14 https://tinyurl.com/lynnslatest14
15 https://tinyurl.com/Lynnslatest15
16 https://tinyurl.com/lynnslatest16
17 https://tinyurl.com/LynnsLatest17
18 https://tinyurl.com/LynnsLatest18
19 https://tinyurl.com/LynnsLatest19
20 https://tinyurl.com/LynnsLatest20
21https://tinyurl.com/LynnsLatest21
22https://tinyurl.com/LynnsLatest22
23https://tinyurl.com/LynnsLatest23
24https://tinyurl.com/LynnsLatest24
25https://tinyurl.com/LynnsLatest25
26https://tinyurl.com/LynnsLatest26
27https://tinyurl.com/LynnsLatest27
28https://tinyurl.com/LynnsLatest28
29https://tinyurl.com/LynnsLatest29
30https://tinyurl.com/LynnsLatest30
P.S.  All of the professional photos I use on Instagram, Facebook and in these newsletters were taken by my friend Denise's daughter, Jaclyn Sabo.  She is amazing!   To learn more about Jaclyn….https://www.jaclynszabo.com/
P.P.S.  If you have a friend who wants to sign up for this newsletter.