My family is gone and I am headed to Palm Desert to gather up some treasures for the store & eBay!
More about that later, but for now let's check out the Christmas Window at night.  It is a lot fuller now so I will have to take a new picture.  Hopefully, I can do that before this ezine goes out because it is super festive!
Welcome to Lynn's Latest #31…
December 5th
Watch for it every Friday or every other Friday! or SATURDAY!
Volume I  Issue 31
In fantastic news, we have turned the corner with Cha Cha!  Let me tell you, those first two months were BRUTAL.  Having to keep her at home and away from other dogs because of the Parvovirus was NOT fun!
She really loved having Houston, Emma, and Indy home.  They took her on a run and we have been walking her around the neighborhood every day.  SHE LOVES it!  And it wears her out.  She also goes to "Puppy Play Time" daily from 9 am to 11 am at Send Rover On Over.  It has been a Godsend.
It really is just like having a baby.  You have to wear her out before she wears us out!
Here are Houston and Emma with Cha Cha at Arroyo Verde Park.  Literally, 5 minutes from our house!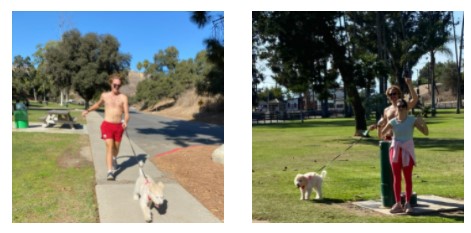 In more Cha Cha and Carlos news, I attempted the unthinkable.  I decided we should take our Christmas Card photos at the Store with both of the pets!  HAHAHAHAHA
So on Thanksgiving day, before our festivities began, Mor Mor, Indy, and I loaded up my SUV with the Cha Cha.
Houston and Emma had more of a challenge as they took Carlos in Emma's car.  Carlos does NOT like to travel in cars.  Not many cats do and he was whining.  Luckily, it is only a 5-minute drive to the store!
Here are some of the outtakes.  I promise you that no animals were hurt during the filming :)!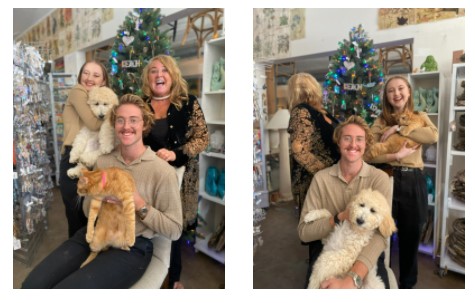 OMG, this is so funny!  I just realized that I keep saying that everything in Ventura is only 5 minutes away.  My house to the park 5 mins and my house to the store 5 mins.  When I lived in LA for years everything was 30 minutes away.  Do any of y'all remember that?
"You live in the Valley and you need to get to Santa Monica (30 minutes), LA to Manhattan Beach (30 minutes), Brentwood to USC (30 minutes)." Hahahaha, it is probably more like an hour now!
OK time for an eBay score!  I list and sell a TON of regular coffee mugs.  My average sales price for coffee mugs is in the $25 range.  Yes, you heard that right!  Check out this mug that recently sold for full asking price of $42.59.  How can that be?
Well, if you have a favorite coffee mug and it gets broken, what would you pay to replace it?  I currently have 1,273 mugs listed for sale on eBay!  I pay between 5 cents and $4.00 for each one.
One of the coffee mugs that I sold for the most money was this Gonzo Muppet mug by Sigma Tastesetter.  It sold for close to $300.  They still sell in the $200 plus range.  If you see one of these…grab it!
Here is a set of Gonzo and Animal Muppet mugs also by Sigma that recently sold together for $385.  I don't think I would have positioned them this way on eBay.  I would have sold them separately.   Seller started the auction at $99 and it got 26 bids.  Check it out and the bidding history here.  Pretty fascinating!
Let's check out what is going on at the store!  Indiana went in on Monday and redid the yellow room…just when I thought it couldn't get any cuter it sure did!
BTW, that darling dog figurine that I bought in Palm Springs last month sold a few days ago for $125.  How cool is that puppy?  Now, you understand why I keep heading back to the desert.  Great finds and great friends.  Doesn't get much better than that!
A HUGE THANK YOU to those who shopped with us on Black Friday.  It is VERY much appreciated!  We had our highest volume sales day ever in our 2 3/4 year history soooooooo THANK YOU!!!!  Shopping local and helping to keep all of Ventura in business is very much appreciated!
Speaking of local, I want to share a few of my favorite businesses.  First is Coastal Pedicure.  Have you EVER been there?  It is unbelievable, you recline in a massage chair, take a little nap and get a pedicure.  One of my favorite things to do!  Rebekah recently purchased it and is the new owner.
Please show her some love.  Phone is 805-705-9644 and is located at 1416 E. Main Street.  Even if salons have to close (fingers crossed they don't) a gift certificate makes a great gift!
I was there for a pedi this week and LOVED that Rebekah had purchased many of her ornaments from Lynn's Consignments.  Thanks girl!
I posted some close-ups on Instagram (please follow me @LynnDralle and @LynnsConsignments) of the ornaments from my store and I LOVE that Old World Christmas who makes the stunning mercury glass ornaments reposted it!
Another of my favorite local businesses is Mupu Farms in Santa Paula.  We have gotten our Christmas Tree there every year that we have lived here in Ventura.  This is year #3!  Yay!  They get their trees fresh from Oregon and you will not be disappointed!
After Jack loaded our tree, Indy took him to meet Cha Cha in the back seat!  BTW, dogs are NOT allowed on the farm as they can scare the farm animals.  We should have checked that out before we took Cha Cha with us.  In any event, it is a super fun tradition for Indy and me!
Mupu Farms 3710 Ojai Road Santa Paula 805-625-0018
Here is the tree set up in our family room.  Guess what you have to do with a puppy in the house?  Put a fence on it or is it around it?  LOL!
OK, gotta share some more fun outtakes from our Christmas Card photoshoot.  It was actually a really fun day!  Doesn't Cha Cha look huge?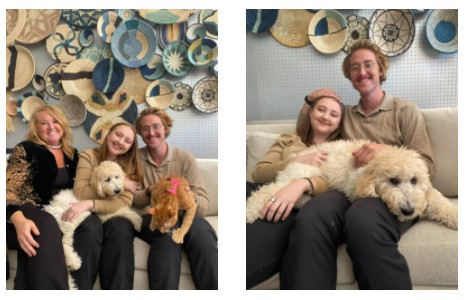 My final favorite local business for this ezine is Tupelo Honey (right next door people!). Watch for more of my favorite local businesses in the next newsletter.
Indiana decided she wanted to have her hair colored darker. She was born with much darker brown hair, but it started getting sun-streaked (which I LOVE) when we moved to California when she was 3 1/2. Fast forward, set up an appointment with Joey Villegas (we LOVE Joey) and the rest is history. Check her out! Love the pic Joey! That's my kid!
Tupelo Honey 1987 E. Main Street 805-628-3075
Let's get back to the store!!  Sooooooo many great consignments coming in and some of them only last a day!  You MUST stop by often if you are in the market for a specific piece.  I don't even have the time to get them photographed before they sell!
These amazing end tables or nightstands retail for over $1,300 each.  They are spectacular and available at only $395 each.
This killer Mid Century Modern Burlwood Side or Coffee Table just arrived.  It is not going to last!  1950's Vintage!
The store is PACKED…. I say PACKED with amazing gift items for Christmas!  It is soooooo exciting…..with new stuff arriving daily!
Which reminds me….look what is in stock!  Hurry in and get yours before they sell out!   2020 Toilet Paper Ornament is only $14.99.  Santa Claus with mask is $21.99.
There are ONLY 9 Toilet Papers and 22 Santa Claus Ornaments left in stock.
If you can't stop in to pick one up, you can always order here.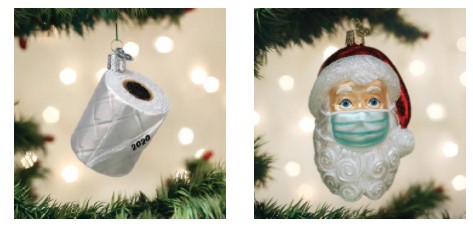 Check out these other darling Blown Glass Old World Christmas Glass Ornaments that are also in stock from $12.99 to $44.99 for the snowman set.   Again, they are all available on line with more coming in next week.
Here are a few fun furniture pieces that just came in.  I love this turquoise secretary that one of our consignors brought in.  She is super talented!  She used one of the Iron Orchid Design Transfers the "Sea Queen" that is no longer being made.  This piece WAS for sale at $495.  It sold on Black Friday!
My grandmother ALWAYS said, "The time to buy it is when you see it" and that advice has never been so right on as it is for MY store!  Things go quickly…don't miss out!
But back to our Christmas Card Photo Shoot! I have to keep sharing the outtake photos because it is the only proof I have that my mom and Emma were actually here for Thanksgiving! LOL. Here they are!
Our HOLIDAY HOURS will be as follows:
Tuesday through Saturday 11 am to 5 pm
Sundays 11 am to 3 pm
We will also be open on Monday, December 21st from 11 am to 5 pm
We will be closed the following days:
Thursday, November 27th Thanksgiving
Friday, December 25th Christmas
Friday, January 1st New Years
CLOSING EARLY at 3 pm on
Christmas Eve Thursday, December 24th
New Year's Eve Thursday, December 31st
Before I forget, I was able to swing by the store a few nights ago and get a newer more updated photo for y'all.  Check it out!
Time for an eBay score!  I bought this crazy vintage calculator/check writer recently for a couple of bucks out in Palm Springs (see why I keep going out there to source!).  Just an FYI, vintage calculators can sell for big bucks!  This one sold for the best offer of $45 yesterday.  I realize that $45 isn't big bucks, but wait until you find one that sells for $500!
Check it out here to see why it sold for so much more than I paid!
Soooooo many great things arriving in the store for the Christmas Season.  Check out these amazing kitchen utensils that retail for $9.95 (well the spreader is $6.95 and the Spurtle is $12.95).  These are selling fast and may sell out!   Time to shop!  Also, Free Shipping and available for sale on our website.
With the new Covid announcements from the Governor, I just want to reassure you that we are taking this very seriously and following protocol.  We sanitize, wear masks, request that you wear a mask (unless you have a health issue that exempts you), and have a very large store.
With over 5,000 square feet our max capacity is 88 people.  WOW, I wish I could have 88 customers at once when covid is over!  Wouldn't that be amazing?  Just kidding, but kind of serious.
Bottom line is this, even at 20% of capacity (which the Governor is suggesting), there can still be 17 of you in the store.  We never get that busy, so please feel safe and please ask us if you have any special requests.  We are more than happy to make your shopping experience a great one!
OK, now for my final eBay score.  This one cracks me up because even though I misspelled Fruit, Furit anyone?…it still sold for the full asking price of over $200.  See, it is OK to make mistakes.  You can still do O.K. in this life!  Don't sweat the small stuff!
OK, this section is probably going to get smaller and smaller since basically, my entire newsletter is about both pets.  Am I Right or am I Right?
BTW, I am packing tonight to leave for the Desert and Carlos is not happy.  He is a bit smarter than Cha Cha and is also 8 months older than her.  He knows that I am leaving and he is pissed.  He is not taking his eyes off of me.  A little creepy?  Yes, I would have to say so.
Whenever I pack to go out of town, I hang all of my clothes on my canopy bed frame.   I know that is the correct term, but it sounds so childish…like I have a princess canopy bed.  LOL….not the case, but in any event when Carlos sees that he knows what the 411 is and that I am leaving.
Check him out! Poor baby.  He doesn't know that Indy and Cha Cha are staying here with him.  He will survive.
When Houston was home for Thanksgiving he really worked with training Carlos on his "Fast Cat" Wheel.  Sooooo much fun!  Carlos has been "secretly" practicing (well at least I think he has been) because last night he shocked and amazed me with his SKILLZ!
I literally had to post on Instagram and tag "Fast Cat" and they reposted it!  I LOVE it when this happens.  I secretly want to be Instagram famous, but can't get over 848 followers.  SO Please follow me @LynnDralle @LynnsConsignments.
I know this is Carlos' Corner, but I must end with Cha Cha trying to help me list on eBay AGAIN!
And finally my beautiful Indy girl with her ESA (Emotional Support Animal) Cha Cha!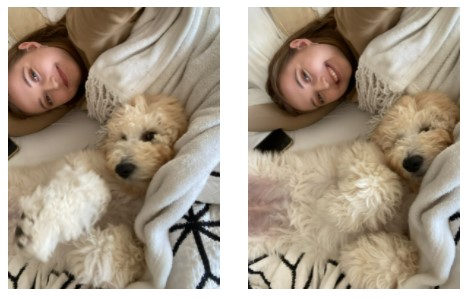 Oh and I was wrong!  I have way more pics of the kids here from Thanksgiving, but not that many of my mom and me.  Oh well, love these photos.  Here are the kids with us at Brunch at another one of my favorite LOCAL Ventura businesses Cafe Nouveau!
Indy and Emma were saying that Houston is looking a lot like a famous actor in his mod clothes, sunglasses, and trucker hat.  Which actor do you think he most resembles?  LOL!  I can't wait to hear your responses.
Check out these amazing chairs and matching tables by OFS we just got in.  The chairs are like new and retail for $2,500 each.  Priced in the store at $695 each.
Since I am burning the midnight oil writing this ezine, I was lucky enough to get a text from Sandy with a photo of a desk she just finished.  IT IS AMAZING….all Annie Sloan…Aubusson Blue, Svenska, Old White with a Royal Design Stencil and Bubble mermaid knobs.  This piece is a WORK of art!  I LOVE IT!
Can't wait to get it priced and in the store…
Before I forget, I have so many wonderful people helping out at the store…not just my employees, but my consignors, my customers, and my friends.  You ALL are amazing and I am so grateful for you.
Here is a little peek at Adolio (who is available to hire to move your items) helping to put together a lamp.  My grandmother would comment…" any old port in a storm" as Adolio puts together this lamp by standing on the stairs!  Gotta love the ingenuity!
Let me wrap this up with a HUGE thank you for your continued support of me and my small business! You are keeping us going and my gratitude is immense! THANK YOU THANK YOU!!!
Until we can travel again, I will be around. Stop in and say HELLO! Finally, a great photo from back on March 1st, 2020 before all of this madness began and we could all be together.
My team, from left to right. Emma, Val, my mama, me, Indy, Cindy, and Peggy. Sandy, where are you?????
Thanks for reading my ezines!  I appreciate it….as always!
eBay with Heart & Design with Heart……Lynn
P.S.  All of the professional photos I use on Instagram, Facebook, and in these newsletters were taken by my friend Denise's daughter, Jaclyn Sabo.  She is amazing!   To learn more about Jaclyn….https://www.jaclynszabo.com/
P.P.S.  If you have a friend who wants to sign up for this newsletter.