Hi everyone!
Happy Fall and Back to School. I am glad to report that for the first time ever, both my kids now go to school from 9 am to 3 pm. I have six uninterrupted hours to work on eBay! Life is great.
This e-zine is published every other Tuesday.
September 13, 2005 Volume I, Issue 7
Spoof Emails – How Do You Protect Yourself?
The Book Signing at Village Books
Entrepreneur Magazine and The Bellingham Herald Articles
This week's question…How do you have over 2,000 items on eBay?
Spoof Emails – How Do You Protect Yourself?:
Phishing, the practice of sending spoof email, is when a third party sends an email that looks like it comes from eBay, Paypal or any type of banking institution which asks you to follow a link to update your account or to give sensitive financial information. eBay and Paypal will NEVER send an email asking you to follow a link to their site. Always access eBay pages by going to the eBay home page and logging in from there. This is the best way to protect yourself.
I get about ten spoof emails everyday. Please click here for a sample phony email. The sender on this was eBay Safe Harbour aw-confirm@eBay.com and the subject line was "eBay Account – Suspicious Activity". This looks real and it isn't.
The criminals are getting so good at this that the emails look real. It is so frustrating. I almost answered one and gave out my eBay user ID and password. It looked so real, as if it were coming from an eBay member. The email said "Where is my item? If I don't hear from you in 2 days, I am filing negative feedback." It got my attention and I immediately clicked on the link to take me to the eBay item number. eBay then asked me to sign in and I went ahead and input my information. Luckily, my brother had installed a firewall and it popped up and said "Do you really want to send this information to skeleton88 blah blah blah?" It was not sending my information to eBay but to a scammer. I never follow links from emails anymore, but go to the eBay home page and then input the item numbers. You can never be too cautious with your personal information.
Another way to protect yourself is to log onto your eBay account and check My Messages whenever it looks like eBay has sent you an alert or message related to your account. Bottom line – if an email affects your eBay account, it's in My Messages. If you get an email that looks like it's from eBay about a problem with your account or that requests personal information, look in My Messages. If the same eBay email is not in My Messages, it's a fake.
The issue of phishing emails and fraud on eBay and Paypal must be addressed. It has grown in such a huge proportion in the past few years that it seriously has the opportunity to hinder our eBay successes. eBay has been working diligently to combat this but it is still out of control. I met with an eBay executive in Canada who works in the Fraud division and she asked me if I am forwarding these spoof emails to eBay and I said "No, I just don't have the time." She asked me to please take the time – because this is the only way that they can quickly break up these criminal rings – if we take the time to help. Forward a copy of any ebay scam email to spoof@ebay.com and Paypal spoof email to spoof@Paypal.com
It is my hope that eBay and Paypal can wipe out phishing and fraud in the near future. Please speak to your friends and family about this issue. I think that by spreading the word we can help to put an end to it.
Book Signing at Village Books:
Thank you to everyone who came out for the Bellingham Book Signing. It was so much fun. Village Books estimated that between 111 and 125 people attended. It was standing room only!
It was super special because so many of my family members, friends, former customers and new friends attended. Thanks to you all!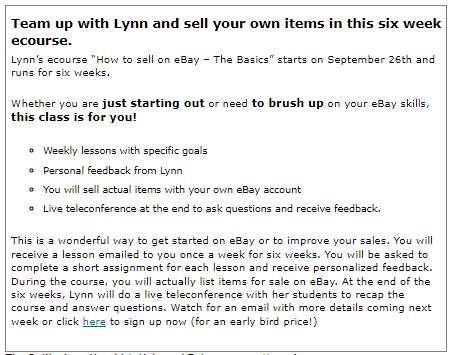 The Bellingham Herald Article and Entrepreneur Magazine:
The Bellingham Herald Article by Michelle Nolan ran last Thursday, September 8th. To see it please click here. The Entrepreneur/eBay Magazine article also came out on August 31st. To read it please click here. They are both great stories and my thanks to both publications and the writers.
This Week's Question:
How many people do you hire to get over 2,000 auctions up? Are you consigning for others? Kevin
Lynn's Answer:
Hi Kevin, I have an assistant who works about 25 to 30 hours a week. Her name is Mo (short for Maureen) and she mostly does shipping, answering emails and checking in the money. This week she is starting to write up auction items and take photos! Very exciting. I list 100 new items each week. The 2,000 plus items you see on eBay are mostly store items at a fixed price. What doesn't sell twice at auction, goes directly into my eBay store and I sell about 100 items each month from my store. November and December are my best months on eBay, so I am working hard stocking up my eBay store with fixed price items now so I will be ready for the holiday rush. I suggest you do the same. To learn more about eBay stores, please check here for past issues of our newsletter. I do not consign for others. It is too time consuming and I make much more money selling my own items. Thanks for the questions! Lynn
Happy Buying & Selling! Lynn
For more great eBay tips and stories, visit my web site at:
http://www.thequeenofauctions.com
Please contact me with any questions or suggestions for future issues. I would love to hear from you Lynn@TheQueenofAuctions.com
Lynn is an experienced eBay Power Seller, author and teacher. If you want to know the eBay tips, tricks and tools that Lynn uses for buying and selling at online auction click here.