Hi there!
I can't believe that it is almost October. The early fall is not the best time for garage sales here in the desert. I was talking to my mom about it this past weekend and came up with a brilliant idea. Read more about in the Where to Find Merchandise section below.
This e-zine is published every other Tuesday.
More Places to Find Merchandise
Learning Annex in San Diego and Los Angeles
This week's question…What sells the best on eBay?
More Places to Find Merchandise:
My favorite sources for merchandise will always be the garage, yard, estate, and charity sales along with my favorite thrift stores. However, I am trying something new this week. Well, it is actually old because my grandmother used to do this in the 1950's! How cool is that? She used to run wanted-to-buy ads in our local newspaper and "The Antique Trader."
With the advent of the Internet there are now so many more places to run these ads. And you can get super specific. Spend some time on Google doing a search for your area of expertise and you will be amazed at all the web sites that will list your Want Ads for free.
Also, there are so many more actual magazines these days. As an example, if you are selling toys, there are now publications just for toys. "Toy Shop" is one of these magazines and it runs the gamut from action figures, Barbie, Hot Wheels, G.I. Joe, character toys, vintage, baby boomer, to TV toys. For more information about placing a classified ad in "Toy Shop" check out the Krause publications web site at www.collect.com.
Ads that I placed this week were on craigslist (www.craigslist.org), in "The Antique Trader" through www.collect.com (I had to–it was my grandmother's favorite magazine) and in our local newspaper, "The Desert Sun". And I only spent $35.40! This could turn out to be cheaper than the gas it takes to drive around on a Saturday morning.
Craigslist is a free online regional classifieds service. To place an ad, go to www.craigslist.org, navigate to the site for your area, put your ad in, and it will be shown for 45 days. eBay now owns a percentage of craigslist but it is still a free service. Here is the ad that I placed:
"Wanted to Buy: Dinnerware, China Sets, Flatware–sterling, silverplate and stainless, Antiques, Collectibles, Royal Copenhagen, Bing and Grondahl, etc. Looking for items in good condition and I pay a fair price." Craigslist assigns you a blind email and will forward all inquiries to you. You can also list a phone number but I chose not to.
"The Antique Trader Weekly" is one of the Krause publications. Their classified rates vary by magazine but this one charges 44 cents a word with a 21 word minimum. That works out to $9.24 for their cheapest ad. I chose to use bold and that cost me 55 cents a word and I used 28 words. Cost for my ad for one week was $15.40. Go to www.collect.com to place your ad and it is quite simple. The ad I placed looks like this: "Wanted to Buy: China, Dinnerware, Flatware–Sterling, Stainless, Silverplate, Royal Copenhagen, Bing & Grondahl, Antiques, Collectibles etc. Cheryl Leaf Antiques 760-345-xxxx PO Box 14103 Palm Desert, CA 92255 AllAboard@mail.com"
I had always been hesitant to run an ad in our local newspaper because I had heard that the rates were so high. I decided to call and inquire since I was writing the ezine. They were having a special for "Wanted to Buy" ads. Only $23.10 for 4 lines (25 characters a line) for seven days. I thought it was worth a try and here is the ad I placed with The Desert Sun:
"China, Flatware, RC, B&G, Collectibles, Antiques, Pottery, etc. 345-xxxx AllAboard@mail.com"
One last idea is to check with someone you know who works for a large corporation. I know that Boeing has an online employee classifieds that is quite extensive. You may be able to have your friend place a free wanted to buy ad for you.
Once I am contacted with a list of the items that the person has to sell, I normally ask them what price they are asking for the items. It is best if they name the price first. If they don't have a price in mind, I will do some research and make a fair offer based on all items being in good to excellent condition. If you are meeting someone to purchase items, please do not go alone and do meet them in a public place. For more tips on negotiating to buy through a wanted to buy advertisement, please reference How to Sell Antiques and Collectibles on eBay and Make a Fortune.
I placed all these ads on Monday, September 26th so won't have any results for you until the next ezine. Wish me luck. I suggest that you try some of the free listings (craigslist) in your geographic area–it can't hurt! P.S. I just got an email from my craigslist advertisement. Someone has a lot of Depression Glass to sell. They are asking $650–too rich for my blood (as my grandmother would say) but these ads work!
Learning Annex Classes in San Diego and Los Angeles–

A Day of eBay:
If you are in the Los Angeles or San Diego area, please check out the Day of eBay that the Learning Annex is offering on October 8th in San Diego and October 9th in LA. I will be teaching a one hour course on Antiques and Collectibles. It will be great to meet you in person or to see you again if we have already met!
This Week's Question:
I am new to selling at on-line auction and am wondering what sells the best? What doesn't sell?
Beth Wiesner, Atlanta, Georgia.
Lynn's Answer:
Dear Beth, Thanks for the question. It always amazes me what sells and what doesn't sell. I tell people in my classes and in my radio interviews that it is a numbers game. The more listings you have and the more unusual things you try, the better your sales will be. In general, I have found that:
Good Condition Sells
Original Boxes Help
Name Brands Sell Best
Identifiable or Signed Pieces Do Well
Obscure Sells
Unique & One-Of-A-Kind Go For the Most $
As an example, I couldn't get $99 for a signed Baccarat perfume from the 1890s that came from my grandmother's personal cabinet. I even relisted it 5 times! But I did get $217.50 for a little tiny mouse ceramic figure that I paid $2 for at a garage sale, because it had a desirable brand name (that I had never heard of !)–"Wee Folks" (See #6 in The 100 Best Things I've Sold on eBay). Who knew? Recently, we listed a pile of stereoview cards on eBay. Several sold for over $50 each and one even went for $92! Stereoview cards are similar to postcards, but you had to have a special viewer to see them in 3D. I had always known that they were worth more than postcards, but never in my wildest dreams thought one would have sold for close to $100! My Grandmother would have been so excited! Here is a picture of the one that sold for $92.55: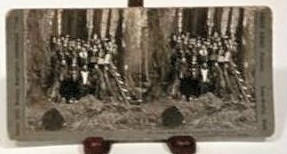 This stereoview shows a large cedar stump in Sedro Woolley, Washington, in the 1890s. Oddly enough, the buyer lived in Minnesota.
Happy Buying & Selling! Lynn
For more great eBay tips and stories, visit my web site at:
http://www.thequeenofauctions.com
Please contact me with any questions or suggestions for future issues. I would love to hear from you Lynn@TheQueenofAuctions.com