Hi there!
I hope you are all doing well. I just got some great news…read on to find out what it is. I taught this past weekend for the Learning Annex in San Diego and Los Angeles. It was great to meet many of you in person. This week's ezine will share some of the things I spoke about. We will focus on Title in this issue.
This e-zine is published every other Tuesday.
October 11, 2005 Volume I, Issue 9
Keywords in Your Title
Always Spell Correctly, but Use Misspellings in Your Title
eBay Radio Today with Griff
This week's question…Where do I find bargains?
Keywords in Your Title:
The most important thing you can do when listing for maximum visibility on eBay is to put "buzz" words in your title. When selling antiques and collectibles you need to always use all 55 characters and here is a list of great words to use. Notice that I did a search of completed listings for the past two weeks and these are the numbers of how many titles used these particular words. Very interesting!
# of Titles using Keyword

1,252,576

826,886

747,881

544,242

514,644

425,687

313,119

82,216

65,024

55,471

36,288

23,379

19,473

11,244

3,786
I learned a lot from this exercise. I found out that vintage is more important than collectible or even antique. I will try and use vintage, rare, antique and mint in more of my listings.  The ? at the bottom has no number because I couldn't just search by ?. A lot of dealers use Help or ? in their listings when they are stumped. I know I do. This can be a great way to pick up bargains in your area of expertise.
Even if you don't sell antiques and collectibles, do the same kind of key word search (completed auctions only) for "buzz" words in your industry. You will learn what words to use most often.
Always Spell Correctly, but Use Misspellings in Your Title:
It is very important to spell correctly when listing on eBay. That said, if there is a common misspelling for your item, you can put the correct spelling and the misspelling in the title to get more viewers. Here are some misspellings in the antiques field.
# of Titles with Correct

& Incorrect Spelling

10,585

374

7

5,937

166

15,925

571

105

9,544

226

41

5,443

6

5

5,855

529

294

103
Notice again that there are quite a few auction titles with misspellings. Use this to your advantage when buying on eBay and search by the misspelling.
I made a spelling error recently (well really more of a proofing error) that cost me money. I hate it when that happens! I knew how to spell "Foo Dog" but didn't check my work. I had found an awesome pair of vintage Foo Dogs (always popular) and couldn't wait to get them up for sale on eBay. I started them at $9.99 because I didn't have much money in them ($2 to $3). I couldn't believe it when they were receiving no bids. The auction finally ended with one bid at $9.99 and I was still puzzled. They should have sold for closer to $50. Then I realized that my title said "Food Dogs."  Some smart buyer got my "Food Dogs" for only $9.99. Yikes! Always proof your work.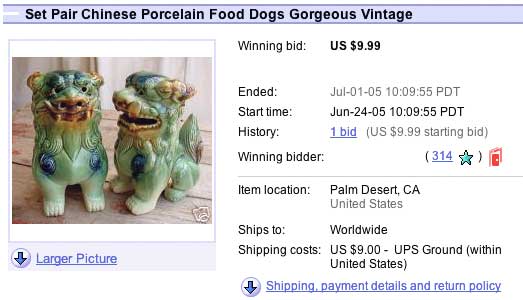 eBay Radio Today with Griff:
eBay radio will have me on the air live at 12:08 pm Pacific time, today, Tuesday, October 11th! I get to be interviewed by Griff (eBay's spokesperson) and be their featured PowerSeller for the month. I will be discussing selling tips and tricks. Be sure to tune in and listen live on the Internet here. How exciting!
But wait, there is more good news! My I Buy and I Sell tracking binders are going to be carried by the eBay Store. They will be featured this week on the front page of The eBay Shop! If you have been thinking of buying one of these awesome organizers, please do so now here.  Let's show eBay that they have picked a great product. Thanks!
This Week's Question:
It is getting so hard to find bargains to sell on eBay anymore. Now it seems even the Thrift Stores are using computers for their pricing. Do you have any ideas for getting items at great deals? Sincerely, PI
Lynn's Answer:
Hi PI,
It has been getting harder and harder to find things in thrift stores. I am still doing great at garage, estate and yard sales. Also, I have one thrift store that doesn't use computers to price and I try and hit them every day. Also, you may try placing the wanted ads we talked about in the last newsletter. Also, if you can specialize in something like books or clothing and really know your stuff–you can always do well. Another idea, is to buy by the lot or pallet–even on eBay. Break it out and sell the items individually. Another idea is to become an eBay trading assistant and sell for others.
Good luck to you. Lynn
The response to our ezine (newsletter) has been tremendous. I get so many wonderful questions from all of you that I can't possibly answer them all. To address this, I will answer one each issue and we are also adding a FAQ (Frequently Asked Question) section to the website. Please check it out here.
Happy Buying & Selling! Lynn
For more great eBay tips and stories, visit my web site at:
http://www.thequeenofauctions.com
Please contact me with any questions or suggestions for future issues. I would love to hear from you Lynn@TheQueenofAuctions.com
Lynn is an experienced eBay Power Seller, author and teacher. If you want to know the eBay tips, tricks and tools that Lynn uses for buying and selling at online auction click here.