Hi!
It has been a crazy 4 weeks since my last ezine and I do mean CRAZY in all possible definitions of the word. Just when you think life can't get any more hectic, you get thrown a few curves…..balls.
Had to get a baseball reference in there because on August 2nd Houston was injured. He was playing in a pretty high-profile scouting tournament at APU (Azusa Pacific University) and was thrown a ball when playing first base, which pulled him off of the base to make the play.
Houston plays aggressive defense and went for the tag in the baseline. The runner plowed into him very hard and bent his arm back so far that he immediately dropped his glove and headed to the dugout.
I saw it all happen but thought Houston had just sprained a finger or had gotten the wind knocked out of him. My friend Christy screamed, "It's broken".
I jumped off the bleachers and ran to the dugout. Normally, a coach won't let you enter the dugout, but I asked permission and went in. The other boys were freaking out and it looked disgustingly bad. He was immediately splinted by the trainer and I took him to a local hospital.
The hospital took X-rays and it was definitely broken. Bummer!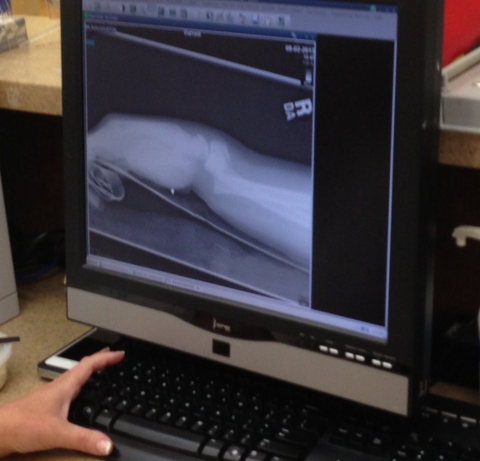 The doctor said the swelling needed to go down before it could be cast and sent us home without doing anything but giving him some pain meds. Here is Houston with some of his loyal teammates who stopped by the hospital (after we won the game) to check on him.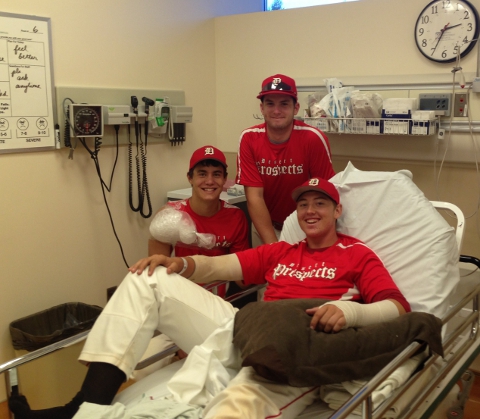 We drove home and once the pain meds wore off he was in severe pain. The broken part of the bone was directly pressing on a nerve. The car ride was two hours long and I cringed every time I hit a bump in the road.
When we got to the house, Houston kept saying I can't make it through the night without getting this set. He texted his girlfriend, Riley, whose mom is a nurse, and they asked me to send a photo of the x-ray. Thank God Houston had asked me to photograph the doctor showing it to us on her computer.
Riley's mom called her friend who is an orthopedic surgeon. At 9:30 that night I got a phone call from the surgeon. He said this must be set tonight. He couldn't believe that the hospital in Azusa hadn't reduced the pain by pulling the bone back into place. We jumped in the car and raced to the hospital.
When Houston got it set that night he let the doctors pull on his arm four times to put it in place. They said that usually a patient can only withstand one pull and they pass out. Apparently, Houston has an incredibly high tolerance for pain. In any event, thank God for Houston's girlfriend Riley, her mother, and her surgeon friend.
Houston is on the road to recovery and will wear the cast until about September 12th. Luckily, it was broken during the last tournament of the summer season and he has a few weeks off before fall ball starts.
Enough about that drama let's share a score! Indy got her braces off on August 13th and she was so excited that she didn't want anyone but her mom to take her.
So, of course, I did, and while she was getting them off I ran to a nearby thrift store. I picked up a few coffee mugs and one was a Starbucks mug priced at $1.99. As you all know, I am constantly preaching about coffee mugs, especially Starbucks. Well, I have never had a Starbucks mug sell for over $100 until this one 

.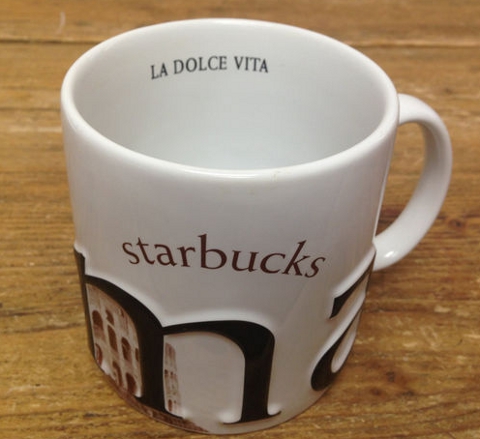 Click here to view this auction on eBay!
Click here to see what it sold for. You will not believe it! I still don't!!!!! It was a great day for both Indy and me!
Last Monday, the 19th of August, yes I did say last Monday, was the first day of school for both Houston and Indiana. I can't believe Indy is in high school!!!! But, she did go to summer school at Xavier and has been doing Cross Country with the high school all summer so it didn't seem to be such a shock to me as it should have been. My babies are growing up!
Here are the kids in "my" traditional back-to-school pose in front of the house before school. Check out how different Indy looks without her braces.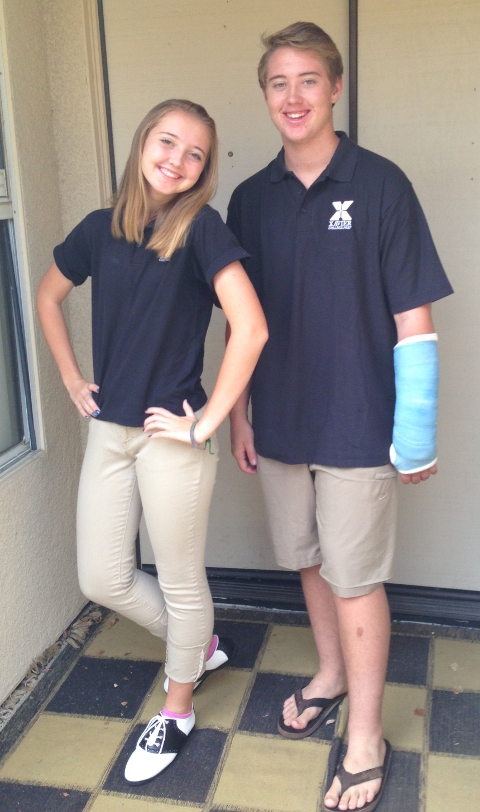 The first day of school was also pictured day for the yearbook. Really? Why would the first day of school be picture day? And, as the parent of a freshman, I had to sit through a three-hour orientation. I feel like I am back in high school….Actually, I wish! 

 The kids are having such a blast and Xavier is such an awesome school.
Since it was the first day of school, Houston was allowed to drive his girlfriend, Riley, to school. I took a candid photo of them walking onto campus. They look so happy! And Riley carried all the Goose's paperwork and books for him that day…in addition to (don't forget) saving his broken arm. She is a keeper!
However, August 19th was way toooooo early for school to begin for the year. Because of that early start date, church camp, cross country camp, and an east LA immersion trip for Houston, we didn't go to Washington this summer. It makes me really sad, as I needed to spend time with my nephews, who lost their mommy last year.
However, we will try and get up to Bellingham for Winter break instead. I had better buy some real shoes—can't wear flip-flops in Washington in Winter!
Because school started so early and both kids have to wear uniforms, we spent a lot of time at Norman's Uniforms (which had a temporary retail location next to a Thrift Store in Palm Desert). Great excuse for me to visit the thrift store…..right?
I tell you, every time I spend time with my kids, take them to important appointments, buy them uniforms and hang out with them, God rewards me with great scores! After one Norman's Uniforms visit, Indy and I spent quite a bit of time in the nearby thrift store.
As I was leaving, I spotted a tray of flatware marked $14.00. It was all taped up and I didn't have the energy to open it but knew from a glance that it was a nice design, stainless, and worth the $14.00 asking price. Boy was I being naive. It was worth much more than that!
Here is what it looked like all taped up. Sometimes you get lucky (or know what you are doing ) and don't even need to untape the container to know it is a "must buy".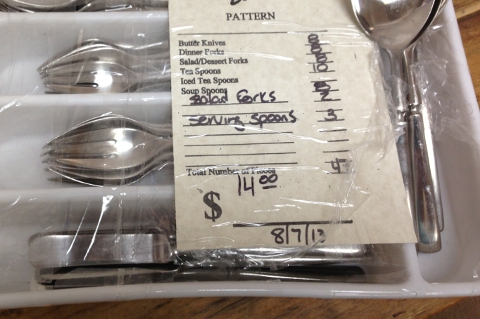 I bought it and when I got back to my office I couldn't believe my eyes (well actually I couldn't believe my loupe ), the pieces were signed "DANSK"! Another total score.
The flatware pieces I had purchased that day added up to $1,887.50 at the high retail on a popular replacement site. Seriously? This was not CRAZY Bad but CRAZY Good!
Here is one of the pieces that sold at auction.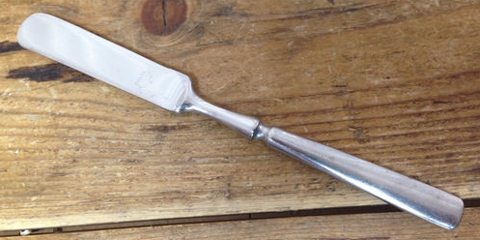 Click here to view this auction on eBay!
Based on those replacement numbers, I can expect this flatware to sell for AT LEAST 50% to 75% of that high retail. So, we are looking at $943.75 to $1415.62 on a $14.00 investment. Gotta love flatware.
If you don't have my flatware ebook yet, you are missing out, especially when there are incredible returns to be made on such small capital investments. Check out this email I recently got from Diane…..
"Hi Lynn,

A couple of months ago I bought your flatware guide. Great investment! I have made hundreds of dollars so far and flatware is a teeny tiny portion of my business.

Well today, I referenced your information before responding to a silly question that I received from a potential buyer, and it helped me to make the sale!

Thank you Lynn for all your inspiration. I work full time and can only put in so many hours to my eBay business, but you have helped me out so much. This has provided me with the additional income I need for extra things for my daughter or sometimes just to pay bills. Keep up the good work. You do not know how valuable your tips and advice are to us in eBay land!

Kindest Regard,
Diane"
When I emailed Diane to ask her if I could use her email as a testimonial, she got back to me immediately….
"Absolutely, you may use it! But wait, there is more to the story. The buyer that asked the question ended up buying all my Juilliard spoons. Then two days later, she bought my remaining Juilliard knives. Just goes to show, you never know.

I just added up all my sales from this one $2.92 bag of thrift store Juilliard flatware: $177.72! That one bag alone pays for your book. I only wish I had read it sooner because I would have saved myself from buying the wrong brands. Purchased expertise is definitely a wise investment.

Kindest Regards,
Diane"
What a nice email from a very sweet lady! Now let's get back to eBay Land as Diane calls it.
Returning to "the scene of the crime" of that amazing flatware purchase, you won't believe what else I found. I also purchased a bunch of Christmas ornaments (for super cheap) in big plastic bags.
Here are what a few of those bags looked like.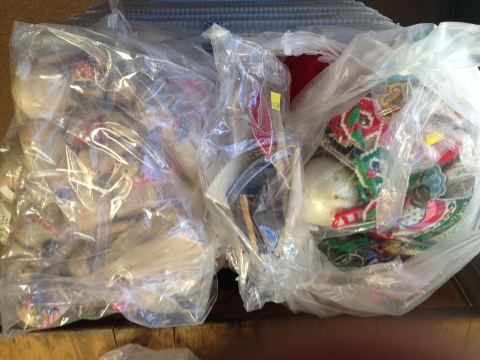 I immediately spotted several sterling ornaments through the plastic, so bought all of the large ziplock baggies that looked interesting. Most were priced at just $2 to $4 each. Awesome!
Keep in mind that many thrift stores do "Christmas in July/August" and Pre-Christmas sales. This is a very important tip and can help you get a head start on purchasing this inventory before the masses and loading your store early for the holidays.
You all know that Halloween merchandise is probably out and displayed in most stores already, so get a jump on the competition, and purchase your Christmas items now. I encourage you to list these items immediately at auction and if they don't sell, raise the prices and move them into your eBay stores at higher fixed prices.
Here is one of those sterling ornaments that didn't sell at auction, but who cares! It will sell eventually. I have to admit that I actually polished these . It Goes against my better judgment for saving time, but it did make them look a lot more saleable.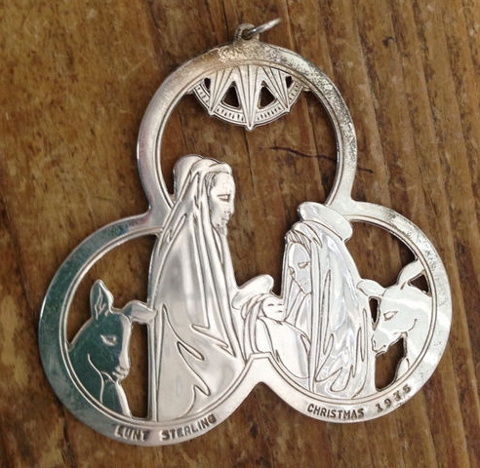 Click here to view this auction on eBay!
The Queen's Court turned six at the end of July! Wow is all I can say. Thank you so much to the amazing members…some of whom have been charter members since the beginning. You all rock! And I am very grateful to all of you for making me smile every day!

Super exciting news for Queen's Court Members. I am pleased to announce that your August gift is a webinar with host Matt Brossard of Terapeak on Thursday, August 22nd at 5 pm Pacific. If you can't attend live, it will be recorded, so don't worry.
For those of you who have not been fortunate enough to meet him over the past few years, I can tell you that Matt is an awesome resource! He is going to answer all your questions regarding Terapeak and how you can use it to get higher prices, figure out what is a hot selling item in your niche, and position your products better than your competitors.
In addition, Matt has worked out a sweet deal for QC Members which I have personally emailed to current QC members. If you aren't a QC member, you can learn more here.
Here is Matt. He is the bestest!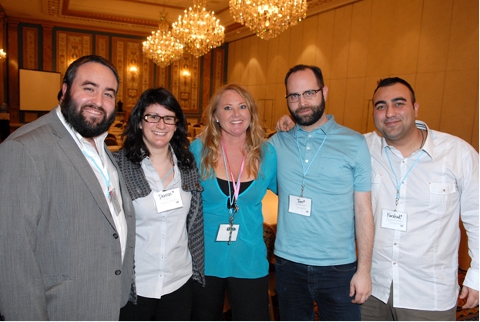 Apparently, August 19th was a very important date in my world. School started for my kids and I was interviewed for an article in the magazine "Woman's World" that has that same date on the cover.
Here is a snapshot of the cover so that if you see one of these magazines in a doctor's office or at a friend's house you can say you know me.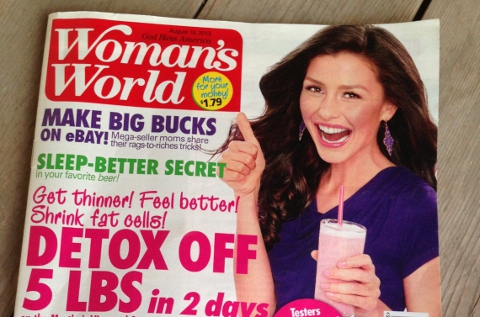 The article was awesome and it was a huge honor to be included! And here is a sneak peek.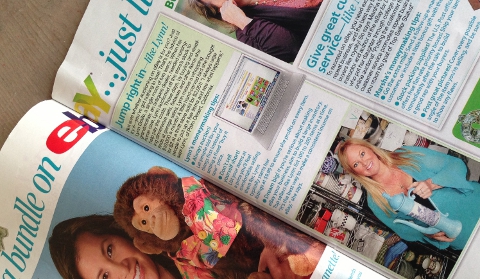 In addition to thrift store shopping, I have been focused on sourcing at estates sales and have found some tremendous scores. I don't mind spending a little bit more to get items that will have a higher ASP (Average Sales Price). I think most of you would probably agree.
An important thing to remember is that if your item is valuable, and you didn't pay too much, you can wait until it sells for a fair price. DO NOT BE DESPERATE.
Here is an example of just that. I paid $20 each for these decanters at an estate sale in November of 2011. Yes, that was one year and nine months ago. So what? I didn't invest much and they both just sold for a great ROI (Return on Investment). . Try and make that in an interest-bearing savings account or the stock market on a $40 investment in 21 months. Not going to happen.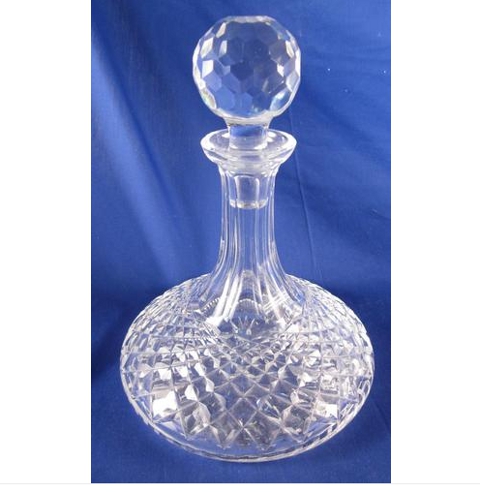 Click here to view this auction on eBay!
Since it was the best offer you won't be able to tell what they actually sold for, but the sales price was $250 plus shipping for the two of them on a $40 investment. Better than the slot machines. Like I always say, eBay is like gambling, but you never lose if you know what you are doing.
In case you missed my most recent Griff interview on August 6th in which we talked about how to survive the summer months, you can listen in here.
Thanks for reading my ezines! I appreciate it!
Happy eBaying!
Lynn
---
Lynn is an experienced eBay Power Seller, author, and teacher. If you want to know the eBay tips, tricks, and tools that Lynn uses for buying and selling at an online auction click here.
Some links in my emails to you may be affiliate links. You can be confident that I only partner with companies that I fully stand behind.