Hi!
Another month has flown by! And I haven't written an ezine in a while. I miss you all! Things have been crazy. Some things never change.
I don't even know where to start with my update. Let's begin with the biggest news of all. As many of you know, I have been trying to downsize my office space from 3,300 square feet to about 1,800. Since we have done an outstanding job of working our way through the Alps (Mo now calls them a small range of hills), we just don't need so much extra space. Good news for the bottom line!
Also, we have been moving our focus into selling smaller, easier-to-store, and ship items. I think it is safe to say that this is directly attributed to the fact that it has been one year (can you believe it?) since Carmen left and I have done the majority of the shipping by myself. Definitely not my favorite part of the eBay experience!
Here is one of those smaller items that we sold recently. It was a joy to pack this! You will NOT believe what this coffee mug sold for. I think next on my list of things to do will be to write an eBook on coffee mugs. Turns out this one was the holy grail of Muppet mugs! And I found it when out thrifting with Mo for $1.00. Sorry, Mo!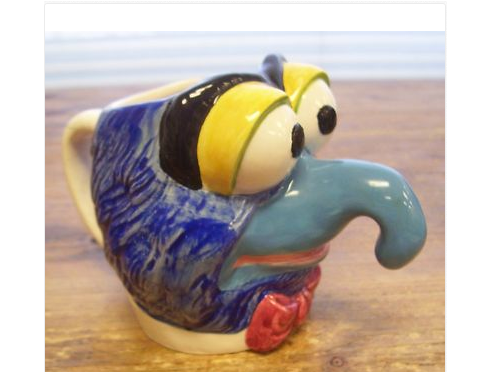 Check this ebay auction here!
I also found that I never went into my personal office at headquarters. I really missed having all my books, pictures of my kids, gifts from Queen's Court members, personal files, notes for books, etc. in my home. Well, my mom flew in to visit last week and she was immediately put to work. Poor Mor Mor. First, on my list, move my personal office back to the house. Big job! It is mostly finished and it turned out great. Check it out here.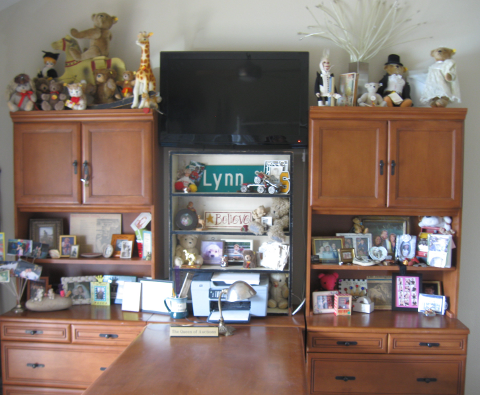 In addition to working like a dog, we also took some time out to go to estate sales. My mom scored huge at her first one with four pieces of St. John Knit. She can easily make enough money when here with her eBay finds to pay for her trips, so it is a win-win situation for all of us. Especially for, me, Houston, and Indy. We lucked out with home-cooked meals and our grocery shopping done for us.
Here is one of those beautiful St. John Knit pieces she has listed now.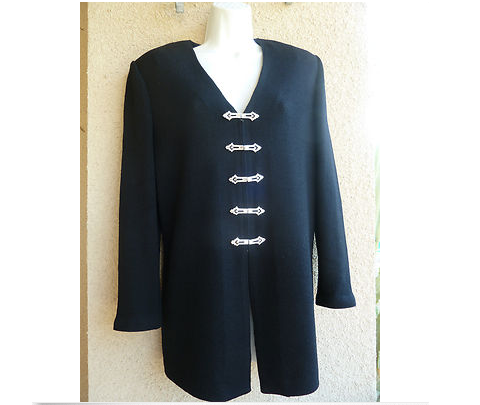 Check this eBay auction here!
Next on our list, is to sign the lease on the new place (it is beautiful) and only 2 blocks away and then get moving the eBay items! Wish us luck. We plan to have it completed within the next 30 days.
Houston and Indy are having a wonderful year! I am so proud of both of them. Indy is shining as Yearbook editor and her Yearbook advisor told her how grateful he is to his entire staff this year for making his job so easy (especially because he and his wife are expecting their first child any day). Congrats to Mr. Kemp!
Houston will be playing varsity baseball for Xavier this year. However, due to CIF (California Interscholastic Federation) regulations, he can't be in his team's dugout during a game or play until April 1st. It has been torture for him and us! They don't have a #22 jersey yet but have it on order and in the meantime, he got to wear a varsity #14 jersey to school today. The boys wear their jerseys on game day.
Here are Houston and Indy on the way to school this morning. Houston in his temporary jersey and Indy in her yearbook T-shirt.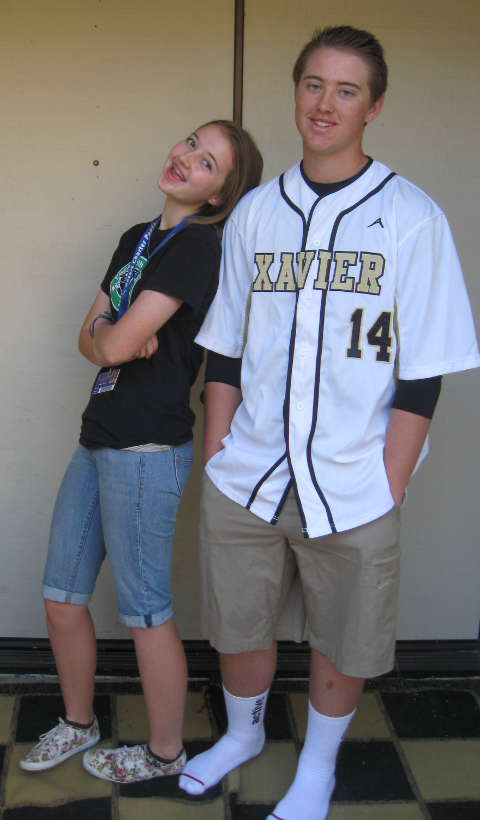 The new team, his teammates, and the coaching staff have been terrific for Houston. On Wednesday night (right after our monthly Queen's Court call, all the boys were invited to one of the team parents' homes for a bbq and to watch the season premiere of Duck Dynasty (whatever?). My parents have been good friends of mine for a long time, so Tracy (the mom) also invited me and my mom. It was so fun to see all the boys without their hats and see what all his new teammates really look like.
Here is Houston kicking back at dinner with some of his new teammates. What a life!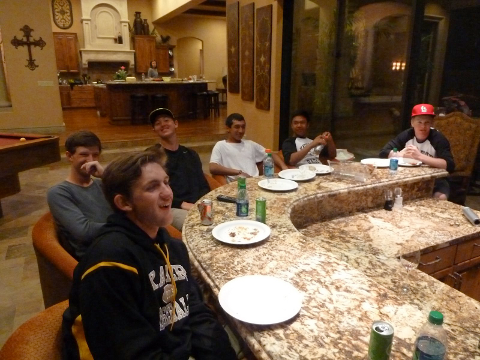 After that first successful estate sale, my mom and I went out saling the first Saturday she was here. We were complaining that there was nothing to buy. Apparently, we did just fine! When we got back to HQ (our current headquarters) my mom and I had to laugh when we opened the back of my car. Really! This is a bad day!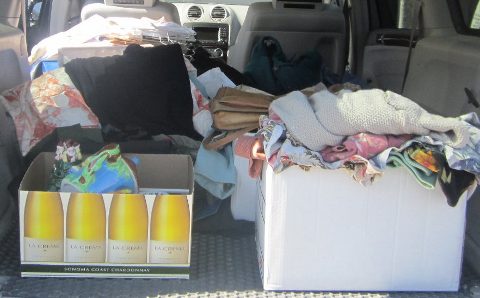 In that bunch of stuff (in one of the boxes under the clothes), I had found a set of Noritake stoneware. Well, just the serving pieces. All the better! We had gone to my gym to cancel my membership (because I am joining a new gym) and while my mom was sitting in the car in front of the gym, someone came out from across the street and put up a sign that said "Estate Sale" 11 am. My mom was like "No way". We went and I found a ton of great stuff! Yay.
Here are some of those Noritake pieces that sold for quite a bit. One customer bought $75 worth at auction. Yay!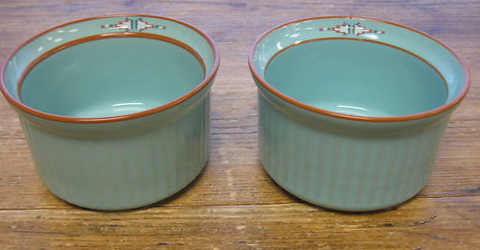 Check this ebay auction here!
Noritake stoneware sells very well. If you already have my Dinnerware eBook you knew this. However, Noritake porcelain dinner sets are not a sure thing. But you can USUALLY count on the stoneware to bring in high prices.
On the subject of high prices, the post office raised its rates on Sunday, January 28th. Domestic rates were not too bad, but International was OUT OF CONTROL! Huge changes. For example, a 1 pound package to Canada used to be $5.75 and now it is $10.55. Yikes!
Luckily, there is now a 10% discount for printing international first-class online (instead of the former 5%) but only 3% for priority international online.
So, if you were smart and have been using my former international rate chart and quoted the prices with the additional handling, you are probably going to be just fine.
As an example, the $10.55 for 1 pound to Canada is now only $9.50 on Auctane or online. My former price quote was $8.95 for a 1 pound package to Canada. Not too bad!
If you are a Queen's Court member the USPS international rate cheat sheet was your gift for February. If you are not a Queen's Court member, you may purchase the downloadable version here or the actual laminated two-sided chart here.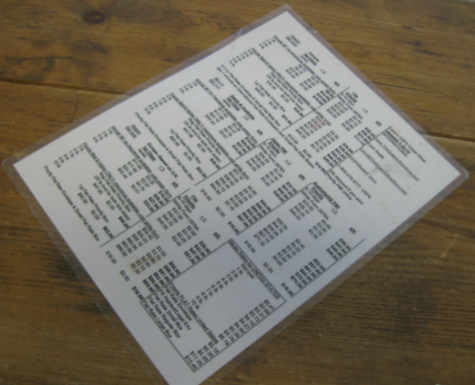 Oh, let me add, if you took the time when listing to do calculated shipping instead of fixed, you will also be fine. However, I believe calculated is very limiting. It takes too long to do a lot of listings and there is no easy way to make any real profit.
Speaking of international shipping and Auctane, for those of you who have been considering using eBay's Global Fulfillment Program (Click here to learn more about GSP on the eBay site—here is how Auctane will interface with it in an email from Jason (the super-smart founder of one of my favorite eBay applications–Auctane)!
If you didn't pre-purchase my awesome shipping video that Indy filmed and produced, you may still order it here. Even though the price has increased, it is still worth every penny and will show you how to make shipping profitable. Even one hour saved off of your shipping time a day would pay for this video within a few days.
Here are Mo, Indy, and I after the video series. It was a lot of fun!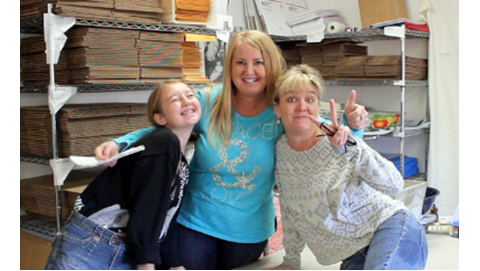 Because the "Shipping is as easy as ABC" video was extremely helpful to so many of you, Indy, Mo, and I have FINALLY finished filming "What 2 Look 4" the newest video in our training series. I went overboard with overdelivering (as I usually do) and then my awesome daughter edited the two and one-half hours of footage with fun updates, great sound effects, and her innate creativeness.
"What 2 Look 4" walks you through what to be looking for at garage & estate sales and in thrift stores. It was a blast to film and has already been emailed out to those of you who pre-purchased it.
It covers these topics:
Collections
Maker's Marks and Countries of Origin
What to AWLAYS buy
What to NEVER buy
And finally, Gut Feeling Purchases
It will be very similar to the live boot camp section called "Why in the world did you buy that?" with Lynn & Mo. But this time, we have me, Mo, and Indy.
Since we are not having any more live boot camps, it is my hope that these training videos will keep you all updated and knowledgeable.
You may still pre-purchase the new "What 2 Look 4" video series at the low introductory price even though it is completed. The price will be going up on Wednesday, March 13th.
In the new 2 HOUR PLUS video series, we show many items that I have purchased. I LOVE to SHOP. Remember, new items are what drive all of your sales. Last month, I went to an estate sale and picked up two huge plastic bins for $147. Oh, I forgot to add, that I filled them with my hand-picked items from the sale. They weren't just empty plastic bins. You won't believe the treasures inside. We will talk about some of them in the new video series.
Here is one of the trays from that bin. Back story to follow later…..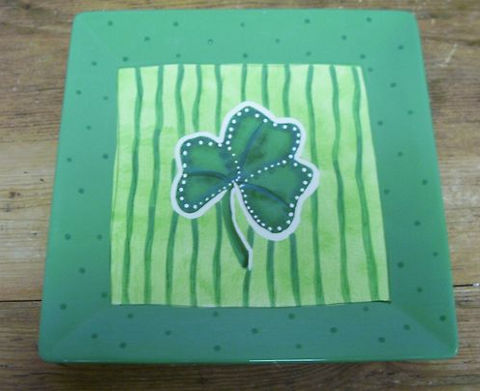 Check this ebay auction here!
Here are Mo and I doing the photoshoot for this coming video series.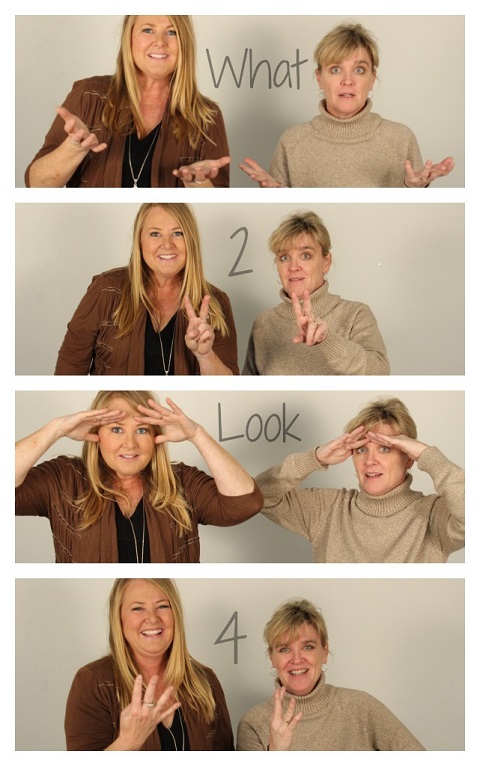 And here is the back story on that tray from that same set of bins (purchased for $147.00) that Mo already listed. It didn't sell at auction for $24.99. Mo listed it in my store on February 19th at 11:02 pm for $49.99. Most of you know my store listing strategies and are probably smiling.
7 ½ hours later, I got an offer at 6:35 am on February 20th for $20. I said, "No, sorry, just got this listed and won't take any less than $35.00". At 10:00 am on the same day (February 20th), the offer for $35.00 came in. Gotta love eBay and what you will learn about why I bought low (paid $1.00 in those huge bins) and sold this item so quickly for $35.00.
If you didn't pre-order "What 2 Look 4", you must order it now before the price goes up. Queen's Court members don't forget to use your discount.
Oh yeah, in addition to everything we promised to deliver in the original video series, I also added how to test for sterling. Really? Yes, I did and I show the kit to purchase, tell you where to get it, and show you how to do it. It is actually pretty funny footage.
Here is one of the items from a "collection" that I bought where I test one of the others for sterling in the video series.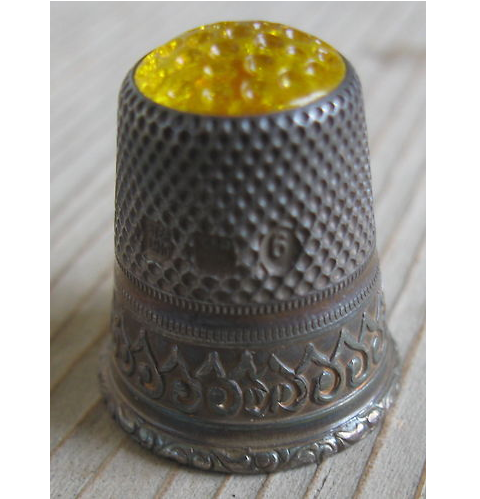 Check this ebay auction here!
So, on an ending note—I was happy and very grateful to spend time with one of my best friends from high school a few weekends ago. Her name is Mindy and our kids were born quite close in age. We haven't connected in about 10 years and it was wonderful for me and my kids to spend time with all of them recently.
Unfortunately, Indy was away at Church Camp so it was just Houston, Mindy, Cody (her son) and Christina (her daughter) and I that really bonded. It was so refreshing to be with an old and dear high school friend and have our kids get along so well.
Here are Houston, Christina, and Cody out on one of the yacht club boats with Mindy and I during her visit.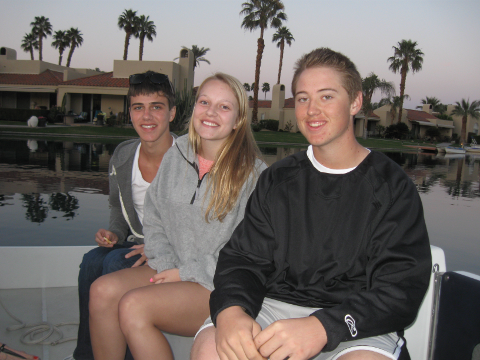 How darling and grown-up they all are. I think that our kids will become even better friends as the years' pass.
So, let's wrap this up with a fun recent score. Well, aren't they all fun and recent? This was a store item that was Indy's when she was little and I got it listed in my eBay store. Sold a few days ago for almost full price (and my full prices are not cheap) and it got shipped to Paris! How cool is that?