Hi!
This should really be my 2nd ezine of the month. But I actually took seven days off without my computer! Miracle of miracles. When I got home from my travels on July 10th, my computer had crashed.  Fast forward to twelve days later and we finally figured out it was the hard drive. I am writing this ezine on the office computer with a copy of Word from my computer repairman. Not the best circumstances!
I don't remember EVER traveling without my computer. It was probably mad at me and decided to crash just to show me that I can never do that again. Just kidding!
The reason I left the laptop at home was that I celebrated a big birthday this year and decided to really celebrate. One of my best friends from college, Juliette, was born two days after me. So, we flew to Punta Mita, Mexico on July 5th. Before we left, I was able to spend the night at her darling cottage on Bay Shores in Newport Beach and we went to the most fabulous Fourth of July Party at the home of her friends.
Here we are celebrating the Fourth.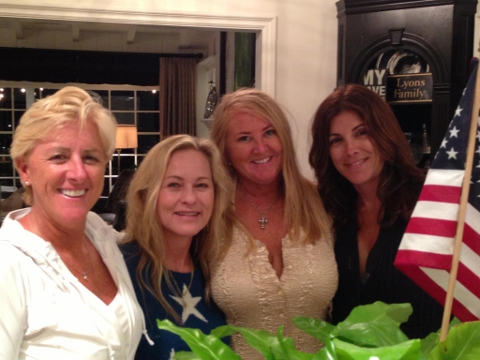 Punta Mita was amazing. We stayed at St. Regis and received the royal treatment. I actually read a book which I haven't done in years. I read "Open" by Andre Agassi. He has always been my tennis idol and the book was fantastic. If you are interested in sports/tennis or just a great autobiography, I highly recommend it.
Here are Juliette and I at the resort. What a treat!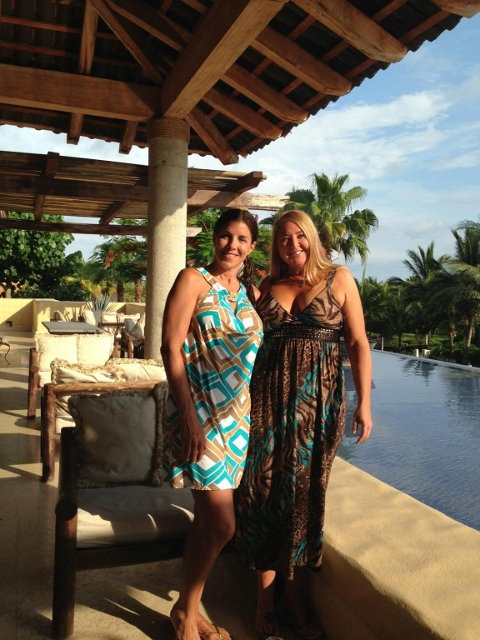 Luckily, I had Mo and my mom to "hold down the fort"—I am starting to sound like my grandma ?. Thank God for those two! While I was gone they sold quite a few expensive items. As you know I like to start ezines with a score so here is one of those scores.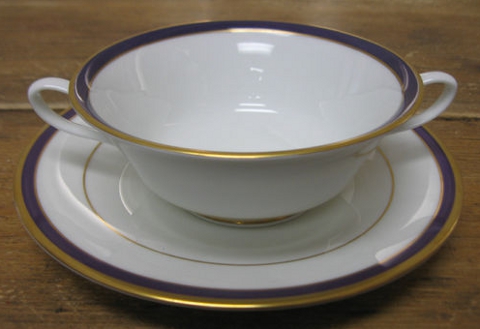 Click here to view this auction on eBay!
I sold two of these soup bowls and a serving dish for over $375! And all while I was sitting on a beach in Mexico. It doesn't get much better than that…or does it?
Before I left for my trip, I got an email (while sitting at a baseball game in Riverside—where else?) from NPR. Seriously! It has been a goal of mine for a long time to be on NPR—National Public Radio. It is upper class and very serious.
I called the producer and we chatted on Monday, July 1st. She said to me "when you do radio interviews is there a local studio you go in to record?"
I have done 1,000's of radio interviews over the years, some national and some not, but I had only ever been in one professional studio when I drove to Seattle (many years ago) on Easter Sunday to record a show. I was a little taken aback as most of the interviews I just do on a landline from my office. This was when I knew it was really serious…and it started to sink in. This is definitely big time!
I said to the producer Lindsey, "There is no studio out here that I have used, but I would be happy to drive into LA to record the segment." Seriously, I was out of my mind to even say this out loud. I was leaving in two days for an entire week and here I was offering to take a day off from everything to record a five-minute radio segment.
I was in the office with Mo and one of my best friends from high school (Tina) during this call and I looked at them with a look that said, "What in the heck am I doing?" Mo and Tina were like, "Buddy go for it"!
Lindsey said, "That is terrific can you be here tomorrow?" I said, "It depends upon baseball because my son may have a game or two." That is when Tina and Mo gave me a stink eye and I told Lindsey, "Listen, my son has played in about 1,800 baseball games and I think I have missed a total of five. I will be there. Does 11:30 work?" She said perfect and my NPR radio appearance was going to happen!
Here is Houston at one of those recent baseball games. It was a showcase at UCR (University of California Riverside) and Houston laid down the most perfect bunt and made it to first base! He was grinning from ear to ear. I love to see smiles on my kids' faces.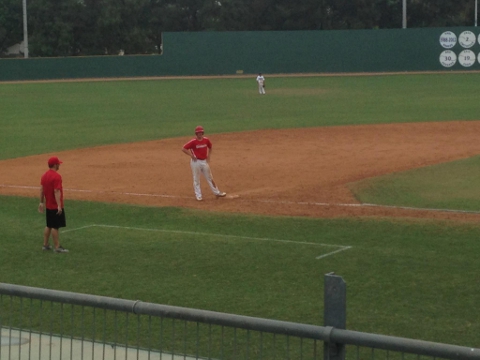 I got home and told the kids I was going to be on NPR. You have never seen pandemonium like this—they were jumping up and down. They both listen to NPR. Juliette (who I went to Mexico with and is very well informed) didn't even know what it was and neither did Mo. As it turned out, Houston didn't have a game and was chomping at the bit to go to LA to record the NPR segment with me. Indy also wanted to go but was going to La Jolla with her art class for a field trip.
Houston was uber impressed and so was I. We were ushered into the studio at exactly 11:30 and at noon we were finished. Houston said, "Mom, you nailed it." He was very proud. Incredible feeling to be able to share some success with your kids.
Here are Houston and I in the studio with the wonderful guest interviewer Barbara Bogaev.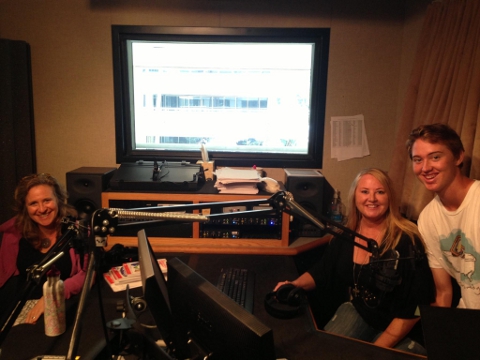 If you missed the live broadcast, you can listen to the replay here. In the NPR interview, I did discuss these coffee mugs from our newest video series, Research Round-Up.
When researching a group of coffee mugs for Research Round-Up, I actually said "These mugs suck! They look like someone's craft project or greenware items." Indy probably edited that word out of the video (because she was appalled when I said 'suck').
Here are those mugs.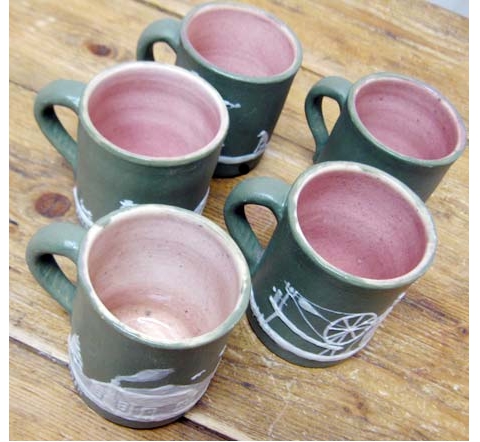 Those six mugs sold for $916.22. Yes, I did say $916.22.
Here is the mug that sold for the most money 

.
If you did not order Research Round-Up at the introductory price, it is still available at the regular price and according to all the wonderful emails I have received, it is definitely worth it.
Here is an email I received a few weeks ago…
Hey Lynn,


Your Research Round-Up is very good and informative. I have one segment left to watch and thoroughly enjoyed it so far!!..it is fun, informative, and candid which makes it great. Indy did a great job…look forward to the last segment.

P.S. I was also astonished at what your items from the Research Round-Up sold for on eBay, truly awesome.

🙂 Cathy

This new video, Research Round-Up is the newest video in our training series. Mo and I had a blast filming this with Indy, and now my awesome daughter has finished editing the 90 minutes of footage with fun updates, great sound effects, and her innate creativity.
Research Round-Up will walk you through what to research, out of your weekly purchases, and how to research what you already have on hand.
It addresses these questions:
How much research should I be doing on a weekly basis?
How do I choose which items I research and those I don't?
Why should I decide to research certain items?
What are the best research sites?
How do I use those sites?
It will be very similar to our Live Boot Camp section called Research with Lynn. But this time, we have me, Mo, Indy, and a cameo appearance by the "Goose".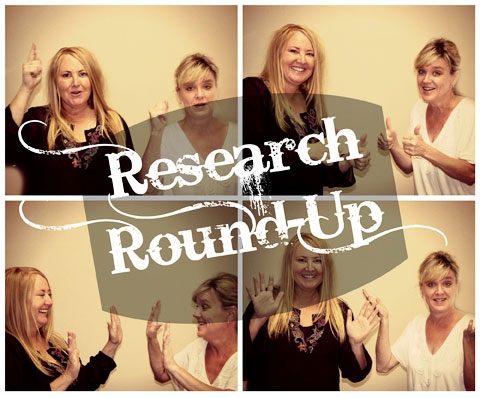 Since we are not having any more Live Boot Camps, it is my hope that these training videos will keep you all updated and knowledgeable.
The research was instrumental in my getting top dollar for these mugs. I want to show you how and why I did that research, as opposed to not doing other research.
Order now and Don't miss the Rodeo!
Do you remember my friend Lori calling me earlier this month (after getting back from Mexico) at 8:26 am and saying "I knew you would be asleep, but you must go to this estate sale as they are cutting prices like crazy. You can go later, but you can't miss it". Well, if Lori calls me and says it is a "must-see", I am already out the door.
I spent $615 and my SUV was filled to the brim with AWESOME stuff. Thank you, Lori, aka garagesalelou on eBay.
I just sold one of those items for the full price out of my eBay store yesterday for over $100! Yipppeeee!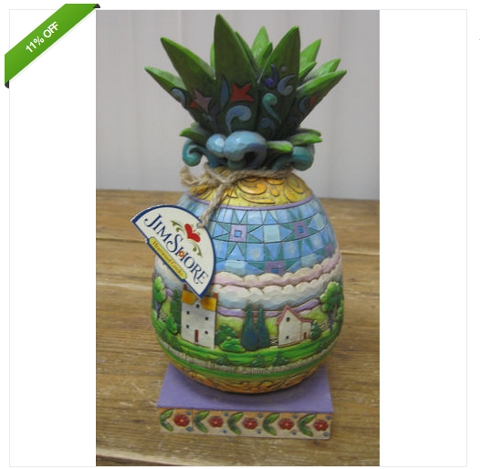 Click here to view this auction on eBay!
I was staring at that pineapple today (before shipping it) and thinking I traded that pineapple for Indy's new running shoes. How strange that it boiled down to a simple equation of barter in my mind. Let me explain.
Indy started running cross country for her new school this summer and was only able to run 10 minutes at a time in the beginning. She has come a long way and I am very, very proud of her. They practice at 6 am every morning and at 6 pm every evening, five days a week. And is she ever dedicated! The annual San Diego beach run was held on July 13th.
Indy ran the 5-mile race in 58 minutes and came in with a determined smile on her face. Here she is coming up to the finish line.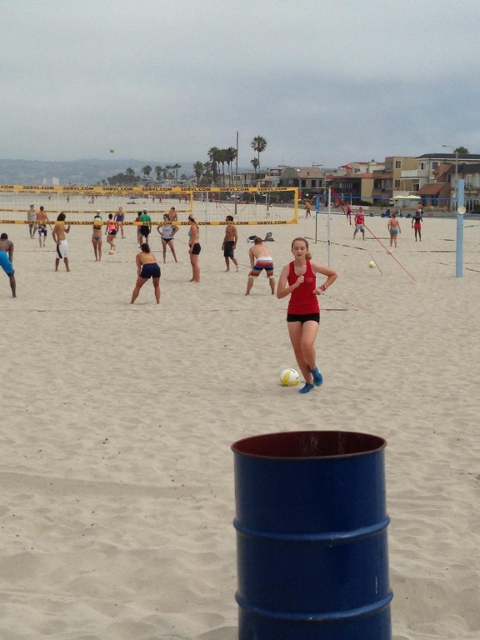 As a congratulations gift for doing so well in the race, I bought her some new x country running shoes. Another expensive sport! $100 for running shoes. Pineapple=Running Shoes. Strange but true. What if I would have walked into the Running Wild store in Palm Springs and handed them a resin pineapple and asked if they would trade me for the shoes of Indy's choice? Blank stares? Laughter? Who knows?
That is why eBay is so amazing! It is the ultimate barter site.
Last week was "crazy town" (as Mo calls it) around here. My mom was still here on Monday, and at 11:30 am my friend Audrey and her daughter Annabelle flew in from Bellingham. Audrey used to work for me at Cheryl Leaf Antiques and her daughter Annabelle is a month younger than Indy. They have been best summer friends for years.
Do you remember this story from the 100 Best Book? If not, it is here for you to read. That is Audrey and I with my grandma.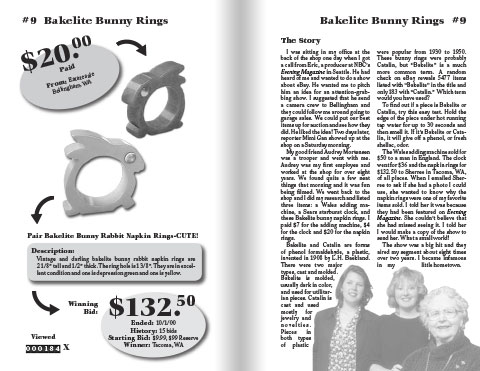 It was a blast to have them here, but I was on overload, especially with no computer (hard drive crash). Luckily, they all went to Disneyland on Tuesday at 5 am. Houston drove them all in and my brother was their awesome tour guide!
Here they are at Dland.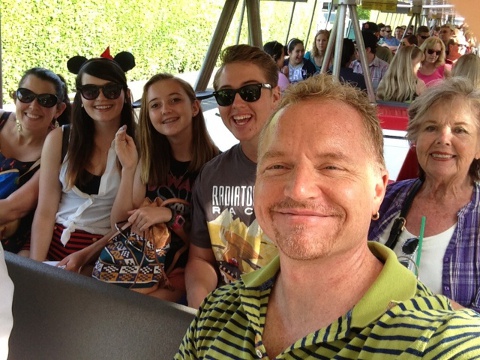 Audrey has nicknamed Lee, "Captain Disney" and it sure fits! He is the best tour guide ever. Lynnette from the Queen's Court even asked if "Captain Disney" would show her and her husband Curtis around. I think he just may, as Lynnette was at our first ever live Boot Camp at The Lodge in Rancho Mirage, many moons ago.
Audrey, Mo, and I went out to lunch and thrifting one of the days that the girls from Bellingham were here. Audrey kept freaking out about my buying coffee mugs and kept saying "Why?" Well, check this one out that sold for over $20.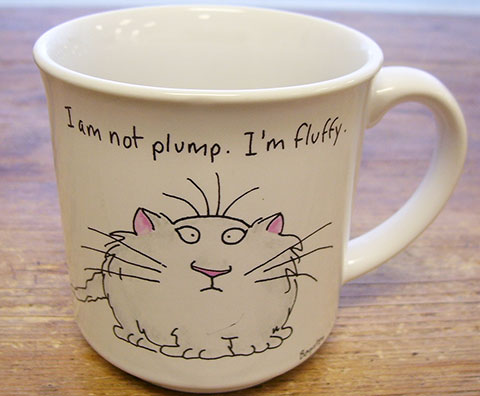 Click here
 to see this auction.
And FYI (my kids hate it when I say this), it sold after only two months in my store and for full price! An important lesson that I want to share, is that this mug sold for full price because we also had a similar Boynton coffee mug up at auction during this time frame.
And the mug at auction was getting multiple bids. DON'T FORGET THIS LESSON, when you list items at auction, similar items WILL sell from your store at the best offer or full price! You MUST continue to list at auction, do NOT rely on your store for all of your traffic.
Here is a similar mug that was for sale at auction.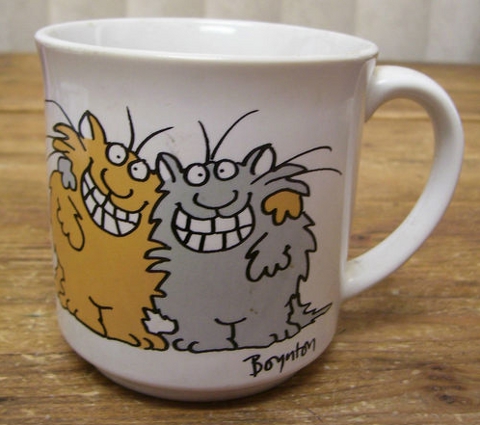 Click here to view this auction on eBay!
Audrey, Mo, and I hurried back to my office after thrifting to meet our new post office carrier at 3 pm. Great news! I finally negotiated enough with my local postmaster (or I irritated him enough) that he agreed to have a carrier be here at 3 pm every single day—at the same time as UPS. Yay! Score one for the Queen of Auctions!
When we drove up, my new signage was on the windows. It is soooooo cute! I LOVE my new office. If you are interested in spending a weekend at Lynn's (our new solution to not having any more live Boot Camps), click here to learn more.
As you can see, there is no business name. I don't want anyone to EVER knock on the door, but I like having it look like it belongs to me.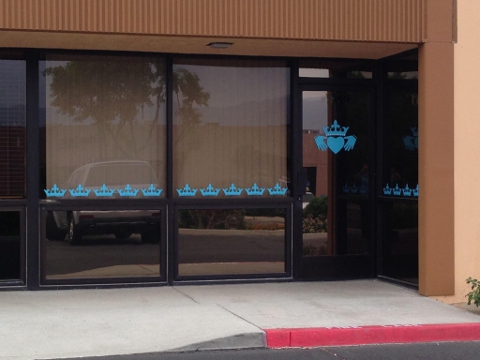 Another neat thing about having the girls from Bellingham here, was that Audrey kept reminding me about the best lessons that she had learned from Cheryl Leaf. One of the things that she kept repeating was, "The time to buy it is when you see it." That was the most important lesson Audrey learned from Cheryl Leaf and one that she still adheres to, to this day.
Here is a great example of "the time to buy it is when you see it" — or in this case 'don't see it.' If you remember, I bought an awesome set of Villeroy & Boch dinnerware that my friend Lori told me about (again thank you Lori!) and as I was leaving they showed me a bag of flatware that matched the dinnerware in color only—plastic handles.
It was $10 and I wasn't even able to look at the signature to see if it was V&B because I can't see up close anymore and Lori had left with her readers that I always borrow. But because of my grandmother's famous saying, I bought it then and there—even without seeing the signature!
Luckily, when I got back to my office and pulled out a loupe it was signed Villeroy & Boch. Total score! Check out one of the forks here.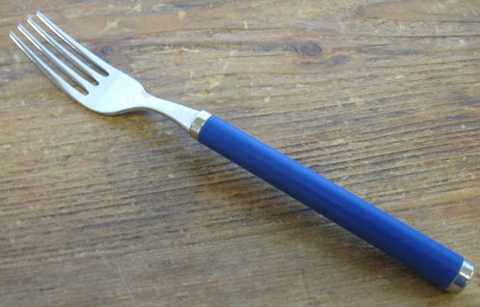 Click here to view this auction on eBay!
I just sold $135 worth of that flatware yesterday—only nine pieces! Yes! The time to buy it is when you see it—or don't see it!
If you don't have my flatware ebook now, you really must get it or at least learn more about it here.
The day after Audrey and Annabelle left, Indy was asked to lead the call to worship at our Presbyterian church, and then she left for church camp for a week. Talk about a whirlwind.
Here is Indy in front of our beautiful church with the rest of the Junior High School kids going off to camp. I miss Indy already.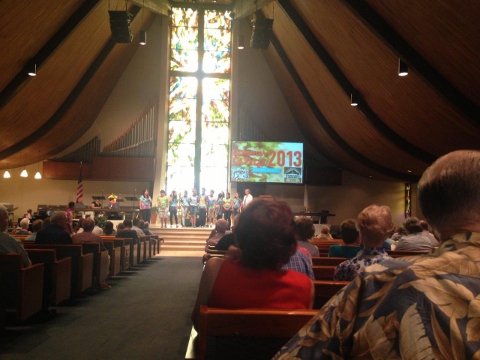 OK, let's end this ezine with a score and a funny story. How many of you remember the soup latrine story from ezine Volume VIII, Issue 11? If not, check it out here.
So, on July 13th at 5 am we were driving to watch Indy run the race in San Diego. It was me, my mom, and Houston in the SUV and Houston drove the entire way. I am proud of him for being such a good driver. On the way, I got the best offer on the Soup Tureen that I had purchased with the Goose for $10.
I said to my mom and Houston (aka Goose), I just got a $150 offer on that soup tureen/soup latrine. Should I take it? Houston, being the 17-year-old teenage boy that he is said, "what are you talking about?" And I said it was the soup tureen that I told you was worth $400 after you carried it out to the car. He thought about it for 5 seconds and he said "Mom, apparently it is only worth $150 because that is what someone is willing to pay."
My mom and I cracked up. Houston was only three and a half when my grandma, Cheryl Leaf, passed away. But, another of her favorite sayings was "it is only worth what you can get for it, for you and for me" whenever someone would bring something in to sell and tell her that it was worth a fortune.
He was right! As most teenagers usually think they are. I said I am going to take it. Houston said, "No way, decline it". I said, "When I decline an offer, they never come back and offer again". My mom said, "Tell them you will take $175". So I declined it and said, "I will take $185". Never heard back from them.
When we were sitting on the beach in San Diego I got a "message sound" on my phone—Thanks, Vicki Penne. I had an offer of $200 for the tureen. Seriously, don't these buyers read the messages when we decline offers? Apparently not, and I got an extra $15. Actually, an extra $50! So cool and it paid for our gas to San Diego!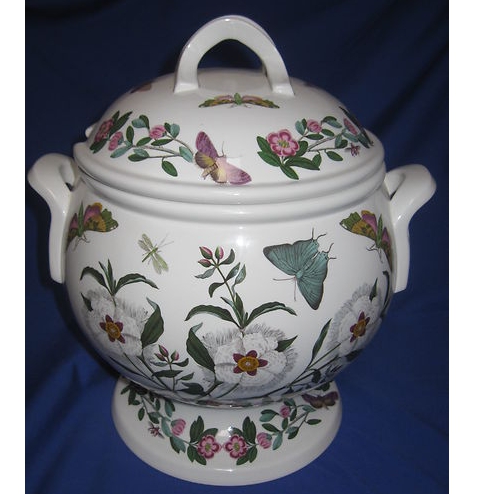 Click here to view this auction on eBay!
Thanks for reading my ezines! I appreciate it!
Happy eBaying!
Lynn
Lynn Dralle, 'The Queen of Auctions'
---
Lynn is an experienced eBay Power Seller, author, and teacher. If you want to know the eBay tips, tricks, and tools that Lynn uses for buying and selling at an online auction click here.
Some links in my emails to you may be affiliate links. You can be confident that I only partner with companies that I fully stand behind.