Hi!
I can't believe that it is almost July! I was so busy getting ready for the eBay Radio Party event this past month that I wasn't able to get out an ezine. Thanks for understanding!
Here we are at the Queen's Court Dinner at Carlos n Charlies that Diva Dawn put together. Thank you, Diva Dawn and Diva Dude! So much fun!!! And so wonderful that so many spouses, kids, and speakers joined us! Especially Eric Nash, Stamps.com, Chris Taylor, Pagemage.com, and Thrifting with the Boys. The entire event this year was a blast and a whirlwind. Thank you, Betsy, Lee (daughters Melissa & Elisa), and Griff!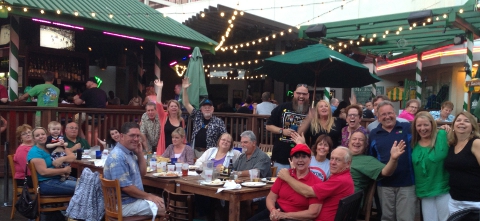 Our June started out with a bang as both kids started summer school on June 10th. Talk about a busy summer. Here are the kids on the first day of summer school. They are taking art appreciation and Indy absolutely loves their (her) new school. It is a perfect fit for her and she has joined the cross country team. Lots of new friends and great experiences.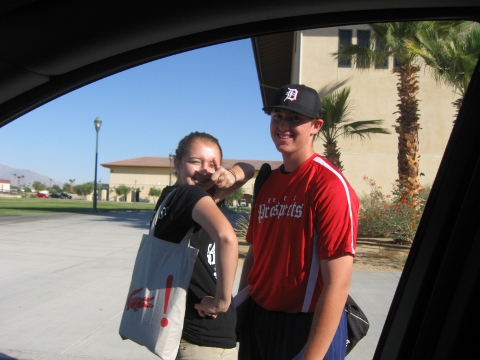 Before I forget, quite a few of you emailed me after the last ezine came out to mention that if an item sold for the best offer, that price does NOT show up anymore when you click on an item to learn more. So here are the actual prices that I received for these items.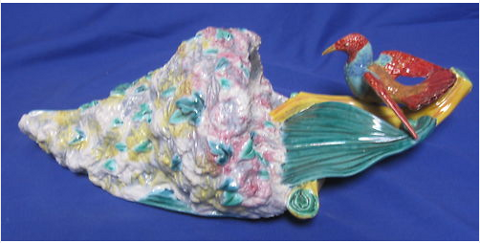 Check out this eBay auction here!
UPDATE….I took the best offer of $150 for this hummingbird wall vase.
OK, it is time to update the other score from the last ezine that didn't show up because it was also the best offer, and this one was a Goose! I took the best offer of $350.00 on this item.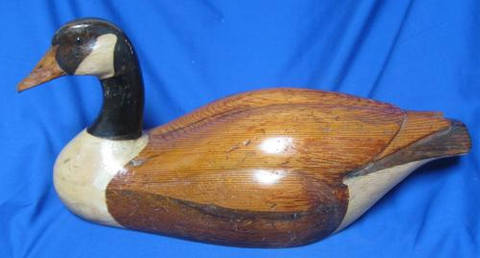 Check out this eBay auction here!
As many of you know, Houston's nickname is the "Goose" and we were very fortunate to get out of the desert heat last weekend and attend a baseball tournament in San Diego.
Here is Houston pitching and he did a great job. So proud of his efforts this summer 

.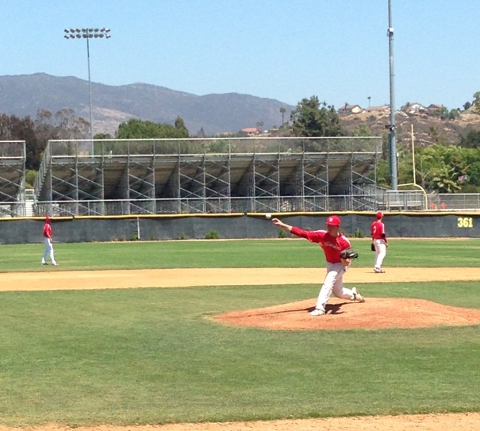 And the kids got to spend a wonderful afternoon on Mission Beach. It was so much fun.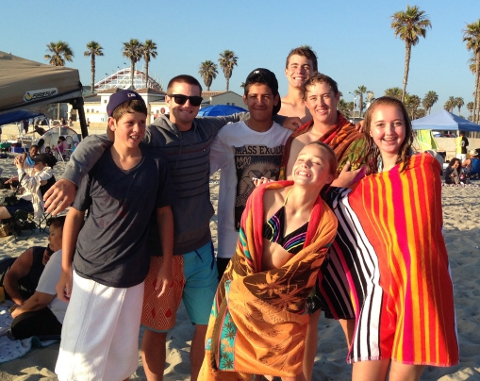 Ok, let's get to a current and miraculous score. It has become a tradition that my friend Lori and I go to estate sales on Fridays. We are SCORING BIG TIME!
We were at an estate sale (that my friends were holding) and I found this basket on a table and it said "boxes" underneath the table. The ornaments inside the basket were marked $5 each.
I knew immediately from looking at them (without even checking for signatures) that they were Wallace silverplate and that the last time I sold the first edition on eBay, from my grandmother's antique & gift store, it sold for $300.
Here is what that basket looked like, along with the outer boxes.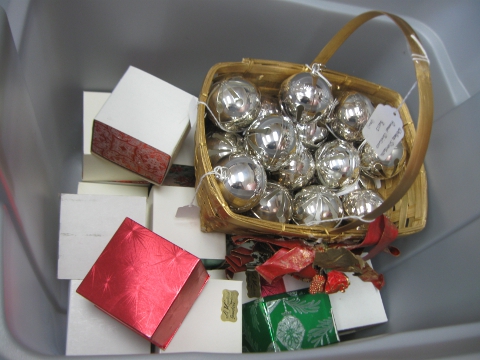 Thank you, Grandma, for paying me to work at 75 cents an hour (the going wage) most summers in that basement sorting collector's items. Apparently, it is paying off, as I have acquired the eye!
I asked one of the estate sale guys, "there are 22 in this basket, how much for all 22"? He said $15. I was like did you say $15 or $50. He said $15 three times. I was still confused, but Lori said, just pay the $15!
When I got back to the office and actually inventoried the ornaments, I was in shock! Then I did my research. I was even more shocked!
That first edition bell was now listed for sale, on one of my current favorite research sites, at $1399. Yes, I did say $1,399.00. And there were two of those bell ornaments in that basket…with their original boxes. A lot of smiley faces in this ezine, as my June sales are already at $11, 655. A record June for the Queen of Auctions!
Before I get to the importance of research, I want to share with you that yesterday evening (after only 18 days of being listed), I took the best offer of $2,000 for 20 of those ornaments.
Here is the ornament that drove the sale of all 20. It is the first edition and the purchase price doesn't matter as all 20 sold for an average of $100 each within 18 days and I still have another first edition to list this week 

.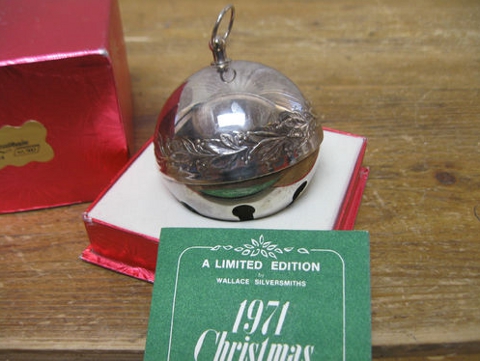 Check out this eBay auction here!
If you have not ordered Research Round-Up you need to do it immediately.

Our new video, Research Round-Up is the newest video in our training series. Mo and I had a blast filming this with Indy, and now my awesome daughter has finished editing the 90 minutes of footage with fun updates, great sound effects, and her innate creativity.
Check out this email I just received….
Research Round-Up will walk you through what to research, out of your weekly purchases, and how to research what you already have on hand.
It addresses these questions:
How much research should I be doing on a weekly basis?
How do I choose which items I research and those I don't?
Why should I decide to research certain items?
What are the best research sites?
How do I use those sites?
It will be very similar to our Live Boot Camp section called Research with Lynn. But this time, we have me, Mo, Indy, and a cameo appearance by the "Goose".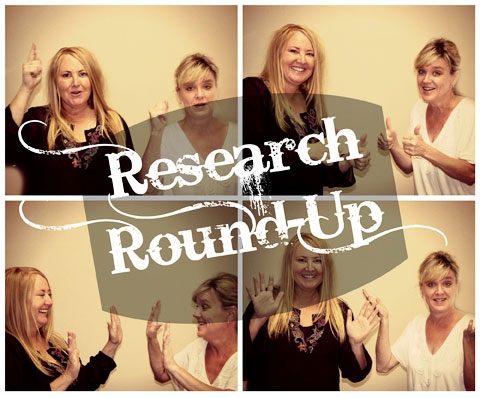 Since we are not having any more Live Boot Camps, it is my hope that these training videos will keep you all updated and knowledgeable.
Research Round-Up is available for immediate download. Click here to order it now at the low introductory price before it goes up on July 10th, Houston's actual birthday.
In this new downloadable video, I show a table full of items and how & why I choose which items to RESEARCH and which to NOT research.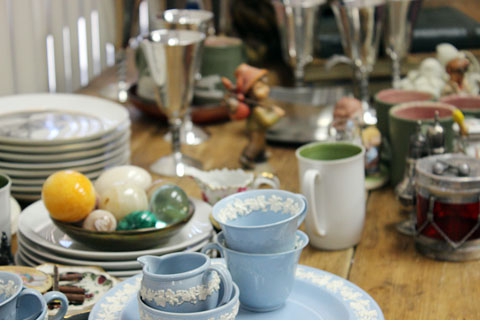 I LOVE to RESEARCH. I think most of us do. RESEARCH is a MAJOR downfall of eBay sellers who are NOT successful. They spend too much time researching and not enough time listing.
Do you remember this story from my first 100 best books? Click here to open the PDF to read it.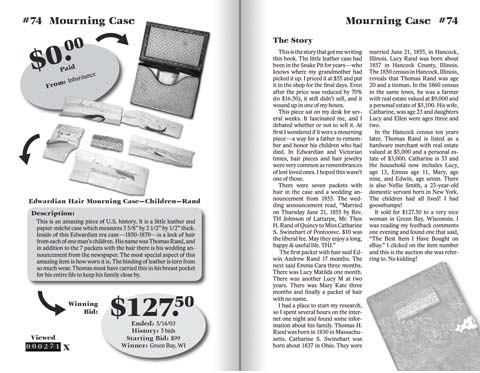 I spent almost two days researching this item. Was it worth it? For fun? Yes. For-profit? No. You must list as much as you can, as quickly as you are able, to make a profit on eBay. Research can cut your listing time drastically, if you over research.
Remember, new listings are what drive all of your sales–auction and fixed price alike. I went to an incredible estate sale before filming this new video. We feature many of these items in this new downloadable video.
When researching a group of coffee mugs for the video, I actually said "These mugs suck! They look like someone's craft project or greenware items." Indy will probably edit that word out of the video (because she was appalled when I said 'suck').
Here are those mugs.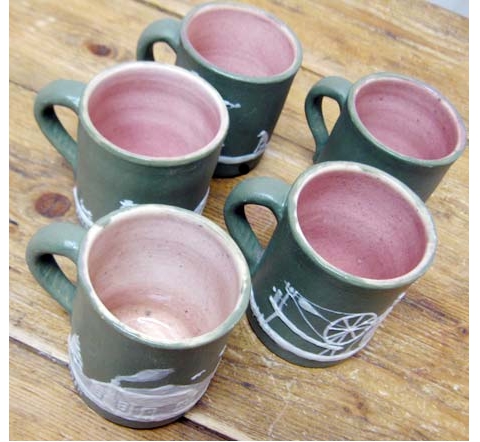 Those six mugs sold for $916.22. Yes, I did say $916.22.
Here is the mug that sold for the most money. Click the link below to see what I received for it…already paid and shipped 

.
Check out this eBay auction here!
The research was instrumental in my getting top dollar for these mugs. I want to show you how and why I did that research, as opposed to not doing other research.
Order now before you miss out on the savings, the price goes up on Houston's actual birthday of July 10th. Don't miss the Rodeo!
Speaking of his birthday, since most of his friends are gone during the hot summer months, he and his friend Roman did a joint birthday on the evening of June 9th, the night before summer school began. No wonder we are all exhausted! It was a pool party for about 30 and it was a blast. Houston is the kid in the blue bandana. Whatever!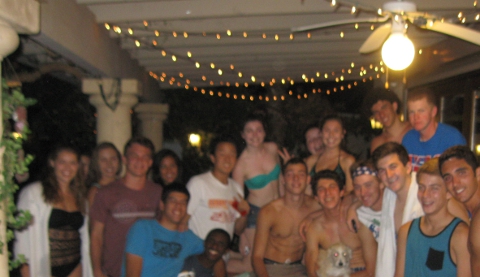 Sorry, the photo is so bad, I took it with my eBay camera. I have since learned that my iPhone 5 takes much better photos than my outdated eBay camera (which I love for eBay photos).
But let's get back to scores, my presentation at eBay radio, was "Why in the World Did you Buy That? Is this a Hit or Miss?" We shared 15 different scores in "game show" format and it was a blast!
One of the misses turned out to be a hit…Here is the slide showing the antique book that was a miss.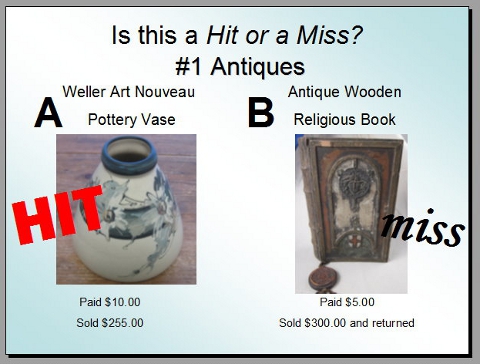 Thank you to all of the eBay Radio Guests for passing around this replica book and giving it positive energy. I came home with it, changed the listing to make sure it said replica, lowered the price and it sold within an hour!
Click below to see the price it sold for at the new asking price—which was still quite high! The buyer emailed to say, "this was on my watch list and I don't care that it isn't antique, it will fit in wonderfully with our medieval collection". Wow!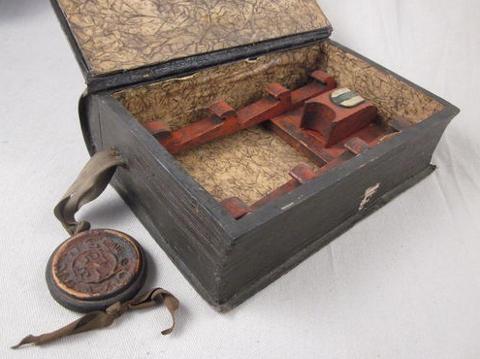 Check out this eBay auction here!
Rock on eBay!
OK, for some wonderful reason, everything I buy lately has turned into eBay gold. I can't figure it out, but I am very grateful for these blessings.
On our way to Vegas, Mo and I stopped at the Angel View in Joshua Tree. Mo was in the back looking for CDs to play on our 4-hour drive and I could find NOTHING to buy. Not like me at all.
So, I focused on some figurines in the front of the store that was overpriced at $6.99 to $8.99. AND, they were Hamilton collectibles and part of a 10,000 limited edition collection. Three huge red flags, Hamilton (not a great collectible maker), 10,000 made (way too many), and overpriced in a thrift store.
Here is a photo of the four figurines on a shelf in my warehouse.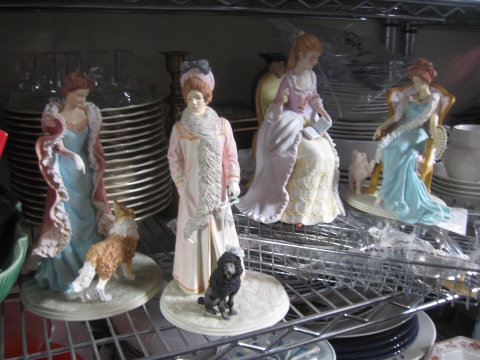 I was bored yesterday, at the office (for about ten minutes), after shipping 32 items so I researched one of the figurines. It had sold for $130.00 in 2012. Get out of town! I listed them immediately.
Here is one that already has a bid and you won't believe how much!!!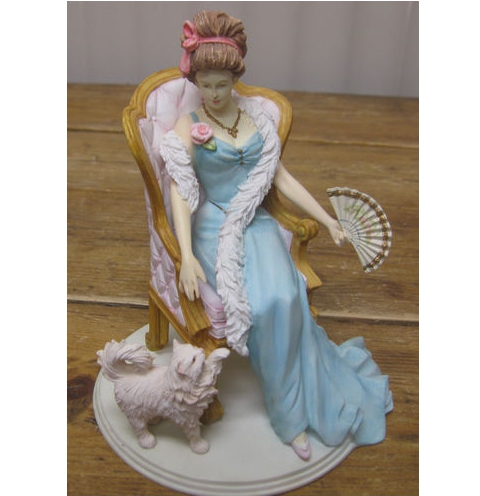 Check out this eBay auction here!
Then, on our drive back from the eBay radio event in Las Vegas this past Friday, Mo was saying to me that we had nothing easy to list. I was like, I know. There was nothing easy to list at the "shop".
We arrived back in Palm Desert late on Friday. I immediately went to the office to ship and was beyond exhausted when I finally got home that night at 10 pm.
At 8:26 am the next morning (Saturday) my phone rang, it was my good friend Lori calling and she said "I knew you would be asleep, but you must go to this estate sale as they are cutting prices like crazy. You can go later, but you can't miss it". Well, if Lori calls me and says it is a "must-see", I am already out the door.
I ended up spending $615. My SUV was filled to the brim with AWESOME stuff. Thank you LORI, aka garagesalelou on eBay.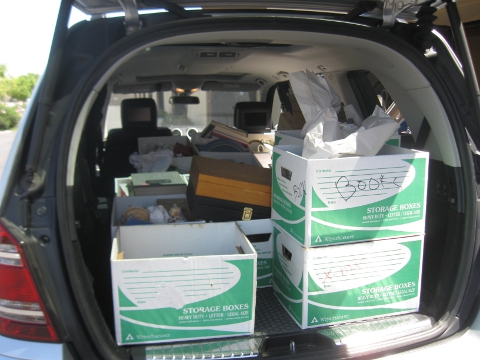 I was very exhausted after my spending spree, but I managed to drive to the "shop" and unload all this new inventory. I sorted it, labeled it, and put it on the shelves that are located directly inside when you walk in so that Mo or myself could easily list it.
Here are those shelves.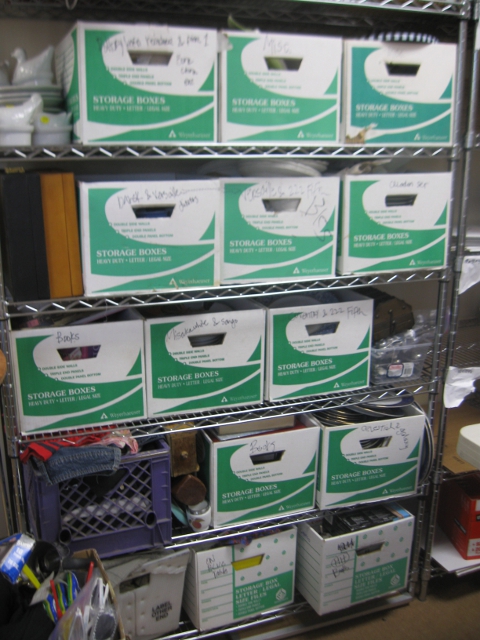 I listed the most expensive items immediately and here is one that already has a bid. What a great month this has been on and off eBay!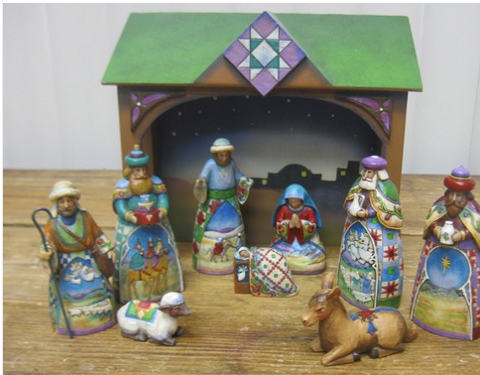 Check out this eBay auction here!
Let's end with some great news from Terapeak. We had such a great time with Matt (from Terapeak) at the eBay radio event. Here we are at a luncheon with Matt from Terapeak and some fellow eBay radio attendees