Hi!
I can NOT believe it is already November. Thanksgiving is just around the corner. Yikes! I hope you all had a very Happy Halloween. As is our tradition, I took a photo of the kids on their way to school on All Hallow's Eve, and thank goodness they are still NOT too old to dress up!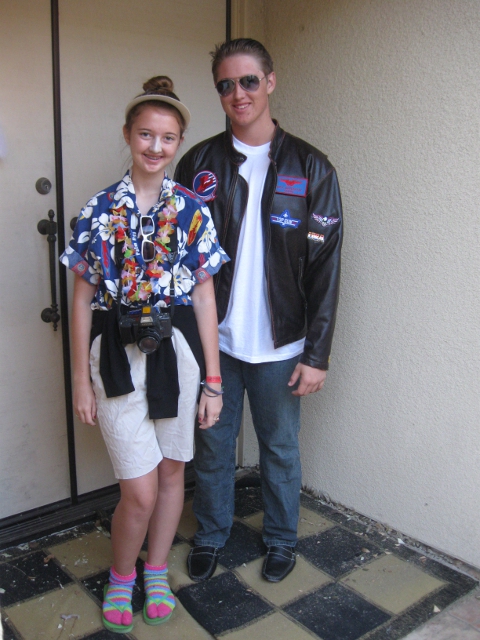 It was a very interesting costume choice for both of them this year. Indy wanted to be a "tacky tourist" which she pulled off perfectly and with items found around the house. That girl can whip up a costume out of thin air. Houston, not so much. He has very specific and EXPENSIVE taste. He decided that he wanted to be "Goose" from Top Gun. Makes perfect sense, since his nickname is Goose and Top Gun is one of his favorite movies.
Sounds easy and cheap, doesn't it? Well, let's see how this all unfolded. I found a faux leather bombers jacket for $2 at a yard sale. We were off to a great start! Then Houston started looking for real emblems/patches for Top Gun on eBay.
Oh my gosh! I am not kidding, these patches are $6 to $10 each and he wanted at least 3. OK, there goes $20. Then to fill in, I went to Joanne's Fabric and bought a slew of much cheaper patches, like stars, American Flags, fighter planes, etc. Another $20 is gone. I was actually going to sew them on or use iron-on fabric until two someones (Mo and my Mom) said "first of all, you can't sew and second of all, the iron is going to melt the faux leather". HELP. It was 8 pm on October 30th.
Luckily, we own a glue gun and Indy went to town on the jacket. I finished up with extra glue to make sure that not one of those $40 (total cost) patches would be lost. I told "Goose" that this jacket is his "costume for LIFE".
Well, at least they both had a lot of fun with it all! They are such characters and I just love this picture of them goofing or should I say "goosing" around.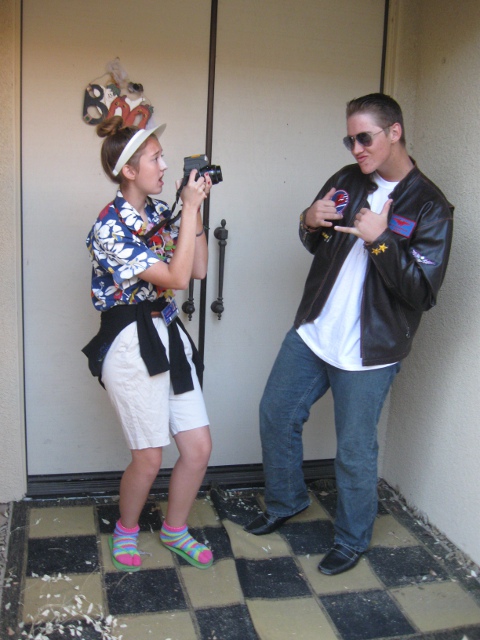 Luckily, some expensive items (and LARGE items) have been selling on eBay.
As, a single mom I've got to pay for these two teenagers somehow. Check out this neat chef's tool that just sold this week.
Click here to view on eBay!
Do any of you remember the Alpha Romeo convertible I bought back in 2006? Well, at that same estate/retirement sale, I also bought bins and bins of chef's tools. The guy holding the sale was a professional chef. Can you believe that those chef's tools sat in bins in the Alps (at both my home and then HQ) for SIX years until I just started listing the remainders last month? Yes, it's true. And, the neat slicer I sold was from that original purchase. WOW!
In case you haven't been an ezine reader since 2006 or don't own the set of my 4 "100 best books" here is that Alfa Romeo story.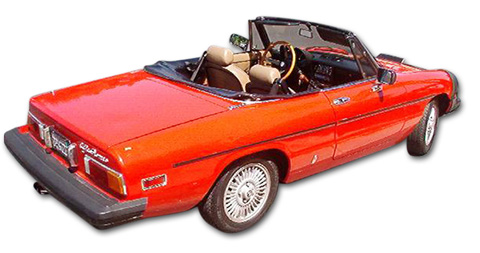 Speaking of Cars and Thanksgiving, I have many things to be thankful for. A great family, great friends, great Queen's Court members, great ezine readers, and a job (it's not a job it's an adventure) that I love. But last week, something really amazing happened.
I needed four new tires for my SUV and I only had enough in my budget for two. The team at our Palm Desert America's Tire (also known as Discount Tire) went out of their way to make those four tires affordable. I can't thank Phillip, Josh, and their staff enough. You guys rock! Indy is baking them brownies next week. If any of you need tires, please give this amazing company your business. I am a customer for life.
Speaking of life-changing events, selling on eBay has definitely been one of them. Many of you may know about eBay's recent campaign "eBay Thanks YOU". We were asked to apply with a two-minute video and here is my family's story on YouTube if you would like to view it. It is pretty funny with Houston singing at the end.
Here is another great BIG item that I sold last week. I am so happy to sell items that are hard to ship. Did I really say that? Yes, I did. I am happy to sell them because I am clearing out my warehouse. YAY!
Check out this spool (sewing, apparently not my strong suit) type cabinet that I inherited from my grandma.
Click here to view on eBay!
Selling larger and more expensive items is one of the tips that I gave on my Griff & Lee interview last week. If you missed it you can hear it here.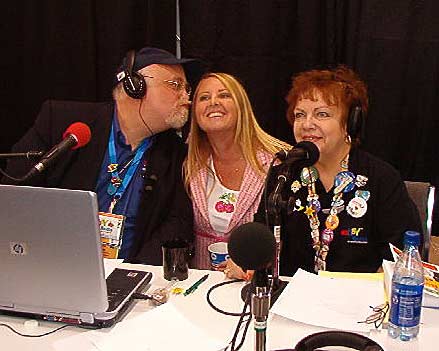 As you probably know, Griff is one of my FAVORITE people! Not only is he an invaluable eBay resource, but he is kind, funny, and gracious. As one of eBay's first employees, he is currently the President of eBay seller experience and a well-known eBay celebrity.
I have amazing news for my Queen's Court members. Griff will be joining us (Mo & I) on Monday, November 12th at noon Pacific time for a Q & A session with him. This amazing teleseminar is only available to QC members. If you haven't posted your questions yet, please get them posted NOW on the forums here. Yay!
Check out these items that two Queen's Court members sold and shared as scores on our monthly Q & A call.
This is from The Queen of Deals, Pam Clayton,
"Look at this Lynn! Paid $3.00 at a yard sale earlier this year!"
Click here to view on eBay!
 WOW! is all I can say.
And another one from Reta, Linn County Lady,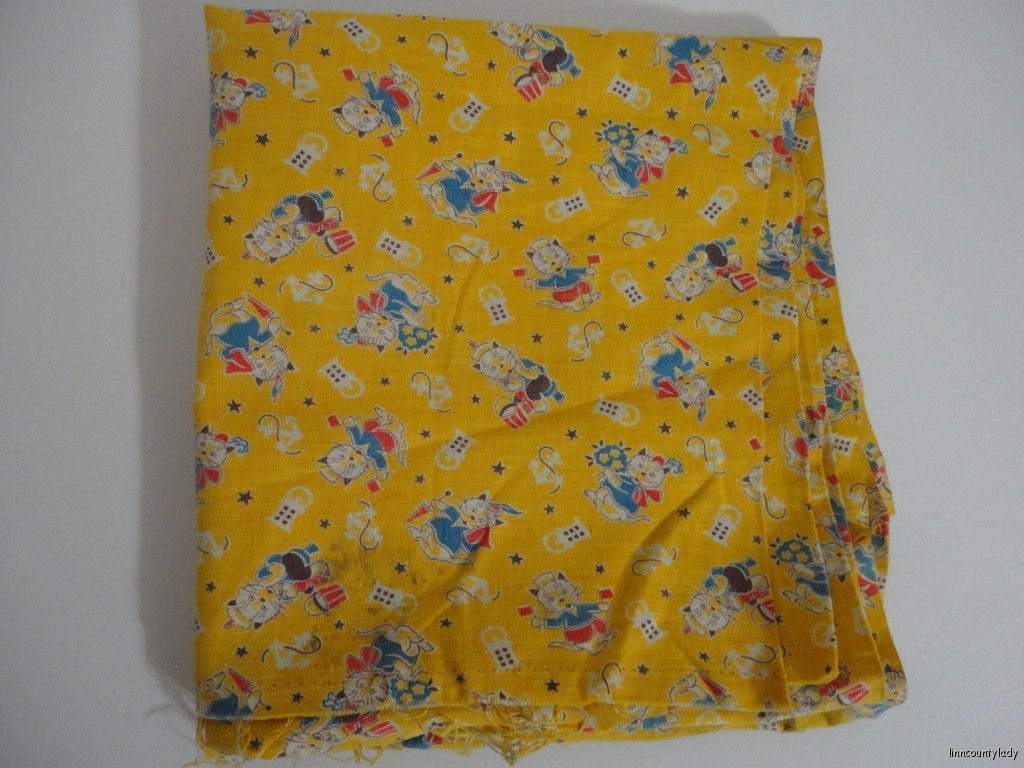 Click here to view on eBay!
Seriously, these QC members amaze me with their knowledge, willingness to share, and fearlessness to take risks. I was really touched by this post from several QC members recently. It was started by Genie and ends with a post by Bev Helton. Thanks for letting me share!
– – – – – – – – – – – – – – – – – – – – – – – – – – – – – – – –
User: huggiebeanieboo
Senior Member
Join Date: Jan 2010
Location: Westchester NY
Posts: 903
Hi Lynn!

Recently (as I try to take my Ebay business to the next level) I have begun reading your 100 best books again. This morning in my email from Antique trader I saw this little article and thought of you.

" — Crowell great blue heron decoy earns $31,050 —
An extremely rare miniature great blue heron made by renowned American carver A. Elmer Crowell (1862-1952) sold for $31,050. It was an auction record for a Crowell miniature, breaking the previous mark set about five minutes earlier, when the lot immediately preceding the blue heron – an American egret standing 8 1/2 inches tall and boasting the superb original paint – changed hands for $25,875."

All I kept thinking was this could have been my score had I found it first Thanks for all you have taught me! huggiebeanieboo
– – – – – – – – – – – – – – – – – – – – – – – – – – – – – – – –
User: Bevs Collectibles
Senior Member
Join Date: May 2010
Location: Mount Vernon, WA
Posts: 686
I second that – Thank you so much Lynn, for all you do for us. I just thanked you in another post for turning me on to Google Images. That has helped me so much in the past week or so, I can't believe it. I wish I had known about it much sooner! I have learned more from you Lynn, and the Queen's Court than I have in the past 20 years of being an antique and collectibles dealer. I am basically self-taught, and love to soak up information from other knowledgeable people.
THANK YOU ALL!!
Bev Helton
– – – – – – – – – – – – – – – – – – – – – – – – – – – – – – – –
How awesome! And because of all of these great scores with feed sacks made of fabric and crafting items, my mom and I were THRILLED to find some rolled up upholstery fabric that I had bought back in 1995 in the Alps. My mom couldn't wait to get it written up and have me listed.
Here is that listing. Please check out the great photos in the listing of her measuring it. My mom is amazing! And at 76. What a dynamo!!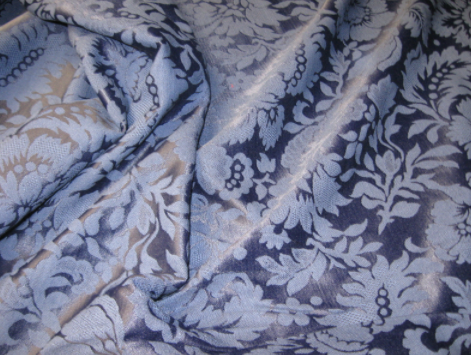 Click here to view on eBay!
There are many more wonderful things happening for the QC this month. The most pressing one is a QC gift that is taking place on Thursday night, November 8th at 5 pm Pacific. It is our 2nd Teleseminar in the series "Thrifting with the Boys".
Yes, Jason and Bryan are backkkkkkkkkk!
It took a while for me to pin them down. Not as long as it took to get Griff, but a battle nonetheless. Here I am with Jason and Mo.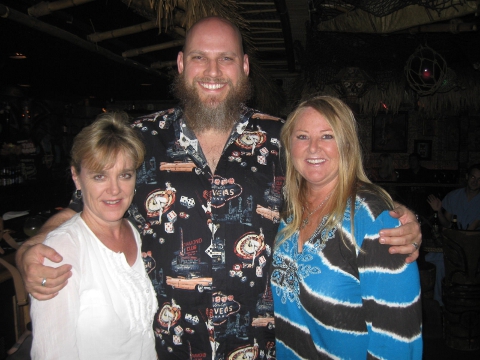 These guys are awesome! We are going to talk about selling "Dude" stuff. And they not only KNOW their stuff (they were speakers at this year's EOL in Philly) but they walk the talk and talk the walk…..and they are humorous—actually incredibly funny! Add that combination to Mo and I and you have a teleseminar that not only teaches, it entertains and makes you laugh. What is not to learn and love?
Check out this item I sold recently thanks to the boy's expertise. I love guy's stuff!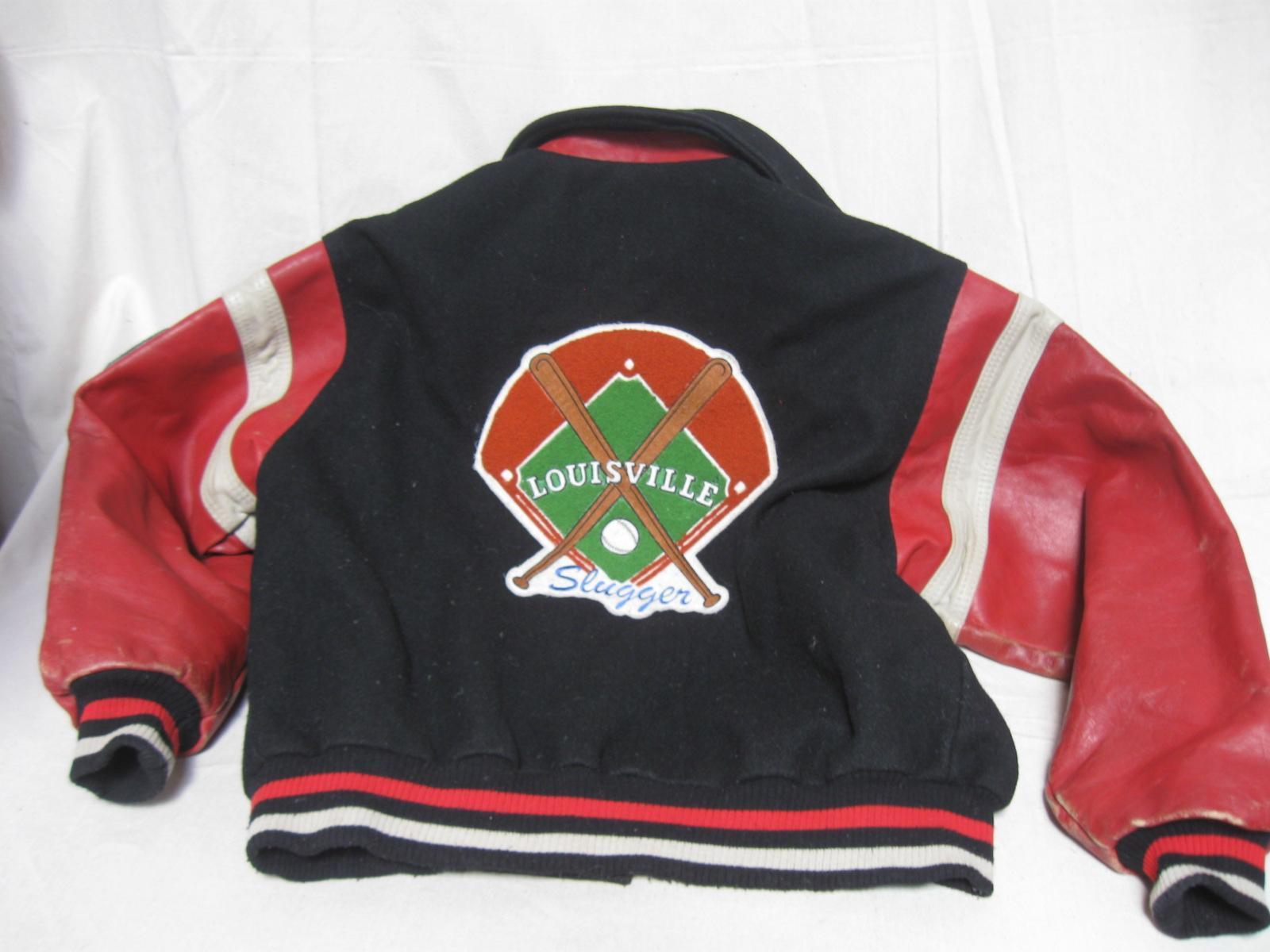 Click here to view on eBay!
You won't want to miss this call. If you are not a Queen's Court member you may purchase the teleseminar here. Please email your questions immediately to lynn@thequeenofauctions.com once you have purchased as this call is taking place soon!
I am writing this ezine on a Friday so that it can be to you next week. I hope you all realize how much work, time, money, and other people it takes to get these out. We don't just throw them together—it takes a village

. In any event, today I got to attend a very special ceremony honoring Indiana. She was chosen as student of the month.
She is so funny. She has been asking me for the last few weeks. "Am I getting student of the month?" and I am like "what are you talking about" When would they call me? They haven't yet.
And then last night, Thursday, I went into her room and said: "I heard the jazz band played today and it must have been a student of the month and you didn't get it. I'm sorry honey".
She was like "Mom, it's tomorrow". I said—" Oh! Sorry I didn't get a phone call." However, I had received the call many days before and knew it was happening for her.
Here is what the principal read about Indy…..They never say the name so the kids don't know who it is until the end. I tried to hide so she wouldn't see me, but when I snuck back in, she was only 3 rows ahead of me. Darn it!
"This young lady represents the best PDCMS has to offer. She is simply outstanding; not only is she incredibly smart, but she is also mature, responsible, and fun-loving. Her work is always meticulous. (this is when I started to guess it was Indy :)) Her dedication, hard work, and experience in Yearbook have earned her the title of Editor in Chief. This creative young lady is a phenomenal photographer whose humor brightens the class each day"
Here are Indy and I with her roses under the SOM (Student of the Month) sign.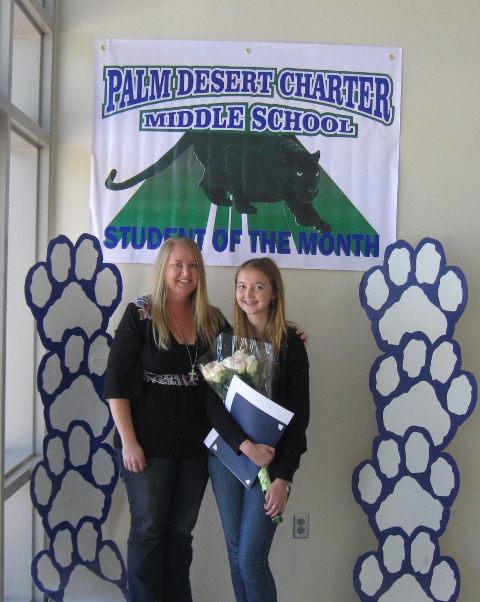 After this special day, Indy and I were talking in her room and she said "Mom, you are always so good at faking me out. You really do a good job. I NEVER think I am going to get it". I was happy about that because I think it is a super special honor and that the suspense should build-up for her. BTW, she gets it every year, so why not make it fun and a little unpredictable. Indy really appreciated my thoughtfulness in acting stupid. Not that hard to do.

As I get ready to sign off from writing this ezine, I hope you take a few important key points away with you.
1. Don't be afraid to list those items that have been sitting around for years. They may be valuable and you don't even know it. Case in point, the chef's tool that I had not listed for SIX years.
2. Don't overlook Fabric and crafting items. Case in point Pam's Needlepoint score and Reta's feed sack score.
3. List those big and hard-to-ship items. Case in point, that way, if they don't sell within a reasonable amount of time, you can donate them and make that much-needed storage space for new items.
…..finally,
4. Walkthrough your NOT Listed area and look at all of your items with NEW eyes. I did this last week when my mom was here working her fingers to the bone writing up items for me to list. She is amazing at this and I threw everything I didn't want to write up in her pile. The pile grew higher every day.

 She did happen to notice.
Here is one of those items that I am in complete shock over. I bought two of these at an estate sale that my good friend Bob held over three (3) years ago. I paid $6 each and kept looking at them year after year and thinking "Why in the world did I buy those?"
"Oh yeah, because I like to always spend at least $100 when Bob invites me to an estate sale before the public gets in. That is only fair."
I am going to end this ezine with this HUGE score. I don't even think this one auction has ended yet…..and guess what? I have another one to list next week.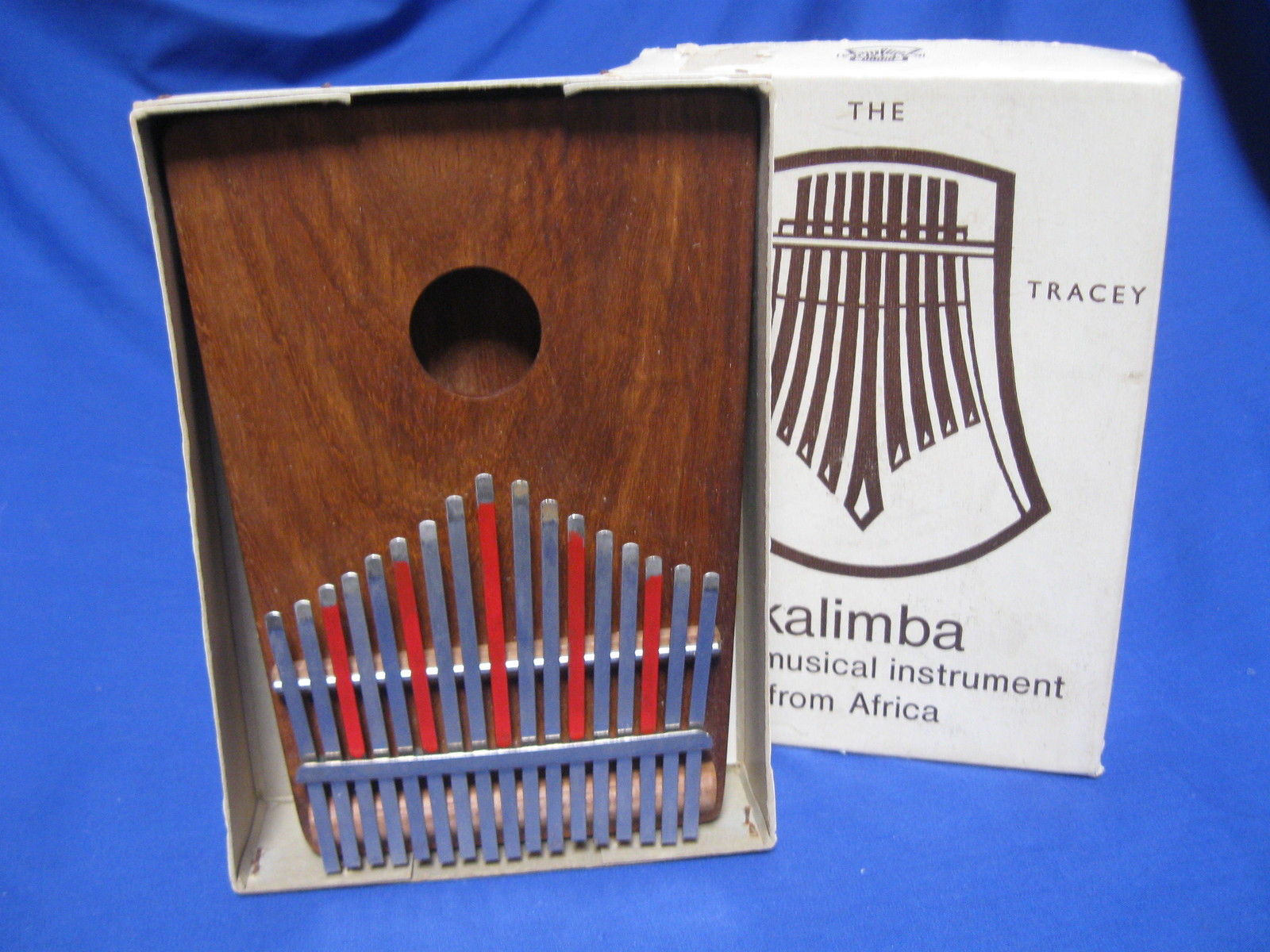 Click here to view on eBay!
I hope your sales are picking up. Mine certainly are! In the past 7 days, I have sold $2473. That is awesome! Thank YOU, eBay!!!!!
Happy eBaying!
Lynn
---
Lynn is an experienced eBay Power Seller, author, and teacher. If you want to know the eBay tips, tricks, and tools that Lynn uses for buying and selling at an online auction click here.
Some links in my emails to you may be affiliate links. You can be confident that I only partner with companies that I fully stand behind.