Hi!
I am back in my new and improved HQ after a week in Bellingham and a few days in Las Vegas.

Lynn Recommends:Debbie Ybarra Plush #3
Special Announcement: 3rd Episode Reality Show–Coming Soon!
Feature Article:When to sell a LOT vs Individually
This ezine is published every two weeks.
October 20th, 2011
Volume VII, Issue 16
Our new and improved Headquarters is sooooo awesome! We love all the space, the great furniture and the clean environment. Thank you to all of our Live Boot Camp grads for forcing us to get our act together!
We miss you all! But we had a fantastic wrap up phone call last night. It was a blast!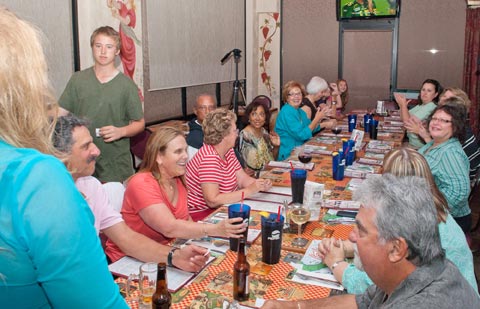 Here is the Live Boot Camp Dinner Party
and White Elephant Exchange
After a week of being out of town, I am back to work, settling in and getting ready for an incredible fall and Christmas season on eBay and Amazon.
I did spend a nice time in Bellingham attending Ed Souve's memorial service. It was a beautiful party that celebrated his life. Here is a picture of Ed's kids, Roger, Ryan and Melanie holding up their mom Ellie. I LOVE this picture–I took it!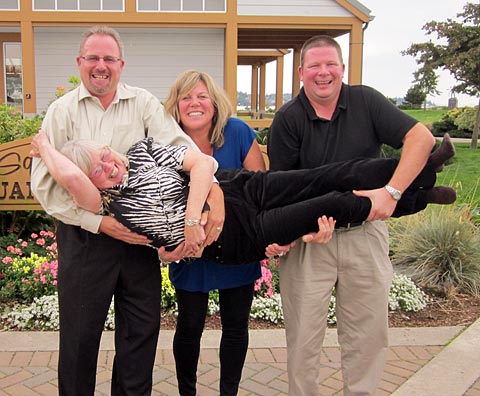 The Saturday of the memorial for Ed was crazy. I had just flown in on Friday night at 8 pm from Las Vegas, spent some time with my sister and then we headed out to my mom's beach house. At 8 am the next morning (Saturday), there is a pounding on my bedroom door…
"WE ARE GOING to this CHARITY SALE right now because it is where I found that napkin ring (from the Pilot Episode of Trash to Cash) that sold for $299." Yikes Mom, really! Finally a day I don't have to get up at the crack of dawn to drive my kids to school and you are chomping at the bit.
I get it…I get it and off we went.
We got to the sale and there wasn't much, but I did run into my friend Michelle (who sells books) and she told us about an awesome sale for a pet charity. Quick, jump back into the minivan and head out the Guide Meridian. All the while knowing that before Mel's dad's party started at noon we had to shop for food and drink for my sister's birthday party (that was taking place later that night), pick up a birthday cake, and get party favors for the kids that would be attending. No worries. We Dralles thrive under pressure.
We pull up to the pet charity sale and I say, "Dangnabbit, we should have been here first!" My mom and I both scored and got some amazing things. I couldn't believe it (because almost every dealer in town had already been through) but right there on a table in plain sight was a sterling silver collector's plate. Finding sterling these days is just like printing money. It was priced at $8. If you want to know more about metals and flatware You should seriously check out my Flatware Success eBook. The first and second volumes are out now, and there are two more volumes to follow. The price will be increasing on Monday night at midnight. Click here to learn more.
Check out this email that I received regarding volume two of the eBook:
Hi Lynn,

I've been eagerly awaiting the next volume of your flatware e-book, I was so glad that it arrived this evening! The first one was sooo informative and as a newbie in the flatware department, I can use all the help I can get!

I wanted to thank you for the nice note about my donations to brain cancer research. It makes me feel good to help such a great cause and to help find a cure for such a horrible disease.

The ironic thing about the timing of receiving this eBook today is two-fold:

1. You mention Cambridge Aztec right up front as a tricky pattern. I found this pattern when I was in Palm Desert last month at one of the Goodwills. Greg told me that it wouldn't sell. He just doesn't get the flatware thing! 🙂 I knew it was a cool pattern when I saw it. I got home and researched it and saw it was a good pattern, yeah! But seeing it here in your e-book gave me further validation. I immediately pulled Greg over to take a look at what you wrote about the pattern, and I said, "I told ya so!" 🙂

2. I sold that exact Gourmet Settings teaspoon listing today! Can you believe it?! Thanks for all you do for me and so many other eBayers and wanna-be eBayers. I refer everyone to you who asks me about getting started selling on eBay!

-Vicki
So here is that plate that I picked up for $8. A Queen's Court member asked, "How did you know it was sterling?" If you can believe it, the plate was actually marked Sterling Silver on the back side. Nothing cryptic like .800 or some strange mark, just flat out "Sterling." Just like shooting fish in a barrel.
Here is the listing and what it sold for. WOW!
Here
 is the listing on eBay.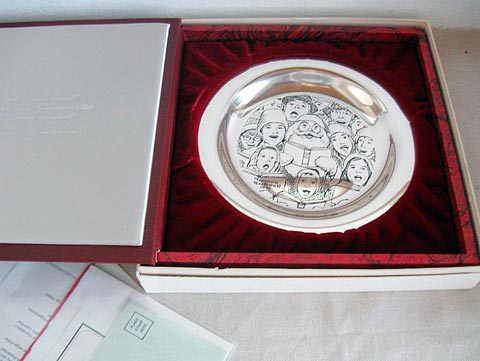 I told my mom that this plate was going to pay for all the food and drink that I would later be buying at Costco for my sister's birthday party. I was right! As I usually am 

.
My sister's 42nd Birthday party was later that day and it was awesome. The cancer has spread to her bones and I know she is in pain, but she still put on a big smile and enjoyed the party.
Here is a fun photo from her birthday.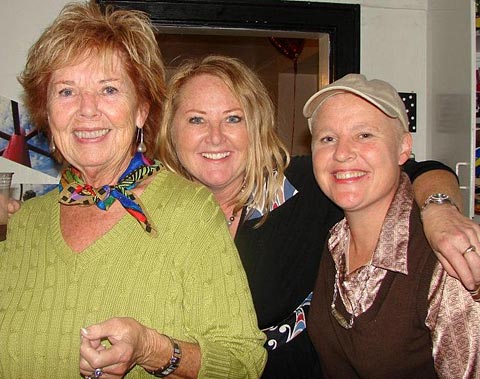 While I was in Bellingham (and during Live Boot Camp) I taught both my sister and my students about FBA (Fulfillment by Amazon). What a crazy new world to explore. I just sold my first item by FBA that I listed in front of my Live Boot Camp. How cool is that?
Here is the book that sold 4 days ago and one that just sold an hour ago. All fulfilled by Amazon. Super Awesome!
Healing Mudras: Yoga for Your Hands
| | | |
| --- | --- | --- |
| QTY: 1 | ASIN: 0345437586 | SKU: 0345437586-1316898002510 |
Le Cordon Bleu Complete Cook: Home Collection
| | | |
| --- | --- | --- |
| QTY: 1 | ASIN: 1571457151 | SKU: 1571457151-1316898002510 |
We truly must find a cure for all types of cancer. I am pleased to have been asked to Bling a Bra for the cause against Breast Cancer. Mo, Carmen and I put our heads together and came up with an awesome Bra that is for sale on eBay right now.
It ends at 2 pm on Thursday, so please bid now! Thanks for your support and thanks to the Bling My Bra Women for putting on this wonderful event.
Here
 is the listing on eBay.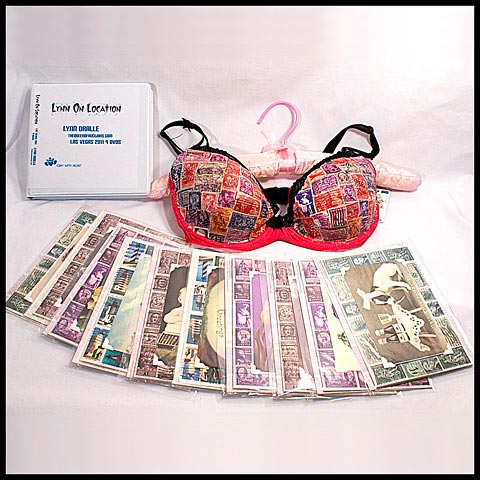 The teleseminar with Debbie Ybarra last week was awesome! As she usually is! Please read the Lynn recommends section to learn more. Because of Debbie and the teleseminar we have been selling a lot of plush. Check this one out!
Here
 is the listing on eBay.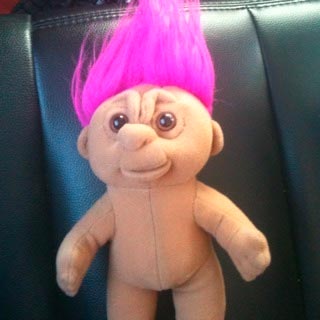 It's the stuffed animal that Indy listed in my car while driving to and from garage sales with the Live Boot Camp group from last year 2010. What a hoot!
The reviews for episode number two of the reality show were fantastic. Thank you to everyone who watched it and Thank you to our wonderful sponsors, Kabbage, WorthPoint (and The Queen of Auctions) for making this possible.
Episode number three featuring flatware and many other fun things is out! Please read the Special announcement section to get links to view it and Thank You to our new awesome sponsors, Auctane and Terapeak for making it happen!
Our new motto around here is to list it quickly and move it out. Turn and Burn or Pile it high and say Buy Bye. I have been digging into boxes like never before. I don't want to own sooooo much stuff! Money in the bank is a better choice.

 Thank you Diva Dawn for inspiring me, I have now unpacked twelve boxes from the Alps.
In one of those boxes were some skeleton keys that (of course) my grandmother collected. I have taken those home to sort out into smaller lots to sell because they are more valuable that way, but it got me thinking. What a great idea for a feature article, When to sell in a Lot and when to sell individually. Don't miss this week's article.
Lynn Dralle, 'The Queen of Auctions,'
Creator of the best-selling eBay Boot Camp in a Box.

Plush Teleseminar Number Three
with Debbie Ybarra
While we were on our teleseminar with Debbie last Wednesday night, I got an email from Queen's Court member Ree…
"Great info!!" Ree
Then I got another email.
Well, Lynn,

You've made me a believer. I just sold this plush today for $29.99, and I am astounded!

See the listing here.

I would never have bought it if it wasn't for you and Debbie. I bought three of these for $5. total.

Thank you soooo much,

Wilma xoxo
Do you remember how I met Debbie? In an elevator at the Pechanga Casino during a baseball tournament. When she heard me call my son Houston, she said, "Are you Lynn?" Funny! Since then we have done three teleseminars together and Debbie taught at one of our Live Boot Camps.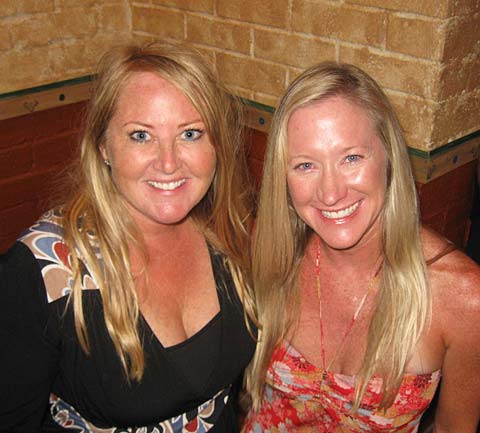 This newest teleseminar–#3 is awesome! We learned about new plush niches, new pricing strategies and a Christmas opportunity that can more than pay for the cost of this teleseminar.
Click here to purchase now. Or click here to purchase all 3 of the Debbie Ybarra teleseminars at a triple play price.

Episode #3 of Trash to Cash
Coming Soon!
We are super excited to announce that our Reality Show
will be available for F-R-E-E viewing.
Get ready for the next hilarious and informative episode of Trash to Cash. We are happy to announce that this episode will be provided f-r-e-e of charge on the Internet to everyone.
A HUGE THANK YOU to our sponsors that have made this possible:

Terapeak saves us hours of research every week!
If you haven't tried it you must!
and

For those of you who have not tried Auctane, you must!
It saves us at least two hours a day when printing shipping labels.
And The Queen of Auctions
Be watching for an email coming soon to announce the premiere of Episode Three.
In the meantime, you can catch Episode Two –
Introducing Garage Sale Lou,
brought to you by:

and

And The Queen of Auctions
Episode Two is available here.

'When to sell a LOT vs. Individually'
by Lynn Dralle, The Queen of Auctions
OK, OK, I got my hands dirty for you all. I have been dreading selling my grandmother's collection of keys (too sentimental, I know), but then I remembered that I had bought a box of random keys at a garage sale for $2.00 about six months ago.
There they were just sitting on the shelf in my newly improved clean headquarters staring me in the face. No sentimental attachment to that box full of dirty keys. Let's sell them. But should I sell them as a LOT or in 10's or individually?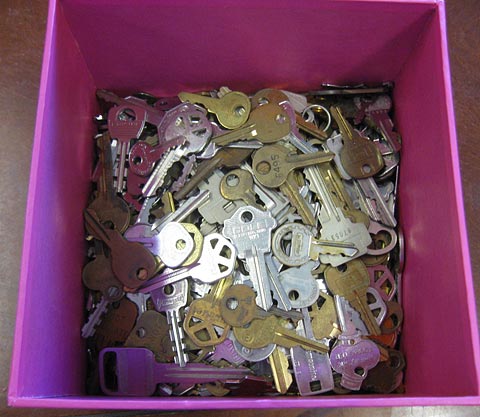 Tip #1…Do your Research and Make Quick Decisions
I logged into Terapeak and found that bulk lots of keys can do quite well. Who knew? I also saw that motel/hotel keys could sell for quite a lot on their own. Interesting!
Check out this listing that a fellow eBayer was kind enough to share with us. Over $300 for this. Wow!
See the listing here
.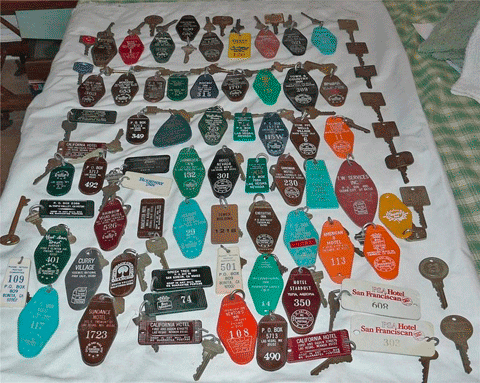 Tip #2…You may need a two-part strategy…Some as a LOT and some individually
I decided to sell some of the keys in a lot and some individually. That is when I had to get my hands dirty. I started sorting the keys. YUCK!
I decided to pull out any of the car keys, the hotel keys, a key that I thought was unique, and some darling American Tourister keys.
Here is a photo of the keys that I sorted out
that I decided to sell individually.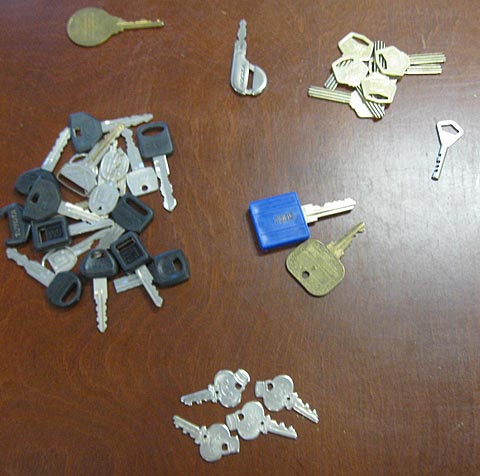 Here
 is the listing for the lot.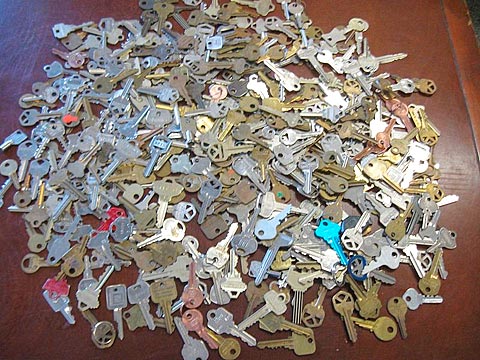 Here is one of the listings that I decided to sell in a smaller lot or individually. I couldn't let a hotel key from Lahaina Maui sell in a lot. (Oh how I wish I was on a beach in Hawaii.)
See the listing here
.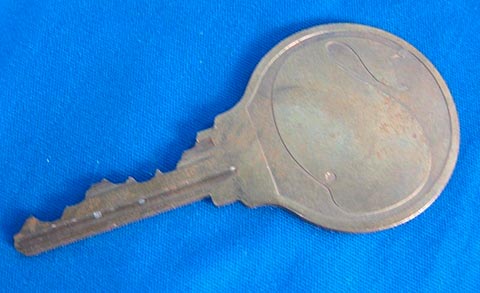 Tip #3…Maybe all pieces need to be sold Individually
At an amazing estate sale last weekend I bought a spoon holder that had 64 spoons inside for $150. Sounds like a lot, doesn't it? But, when I started looking at the souvenir spoons and reading the backsides (with my loupe–I refuse to wear readers 

) I saw that quite a few were sterling. This could be a total score! You should check out my Flatware Success eBook because this entire souvenir spoon experience is going to be one of my case studies. It is going to be fascinating.
Here is a photo of the case with the spoons inside.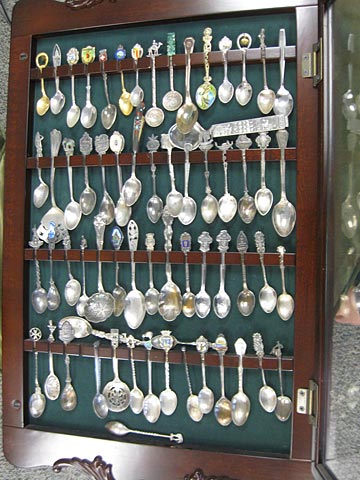 I found out through research on Terapeak that these spoon holders from Bombay Company can sell for $100 to $150. I listed it at auction for $99.00 and that means that once it sells, I only paid $50 for 64 spoons. What a score!
Here
 is the listing for the case.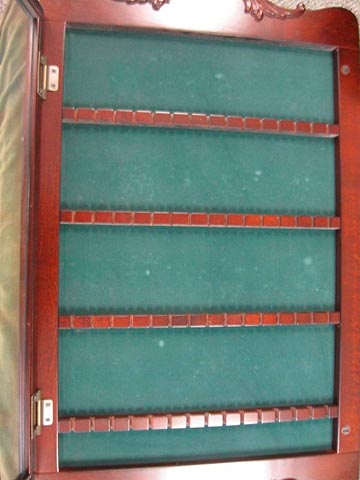 Here is a listing for one of the pieces I am selling individually. Remember, I am selling all of these pieces individually.
See this listing here
.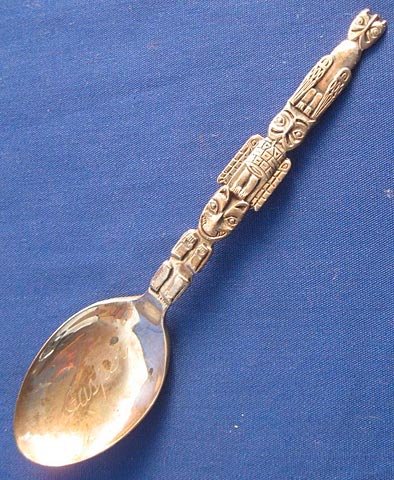 Tip #4…Maybe all need to be sold in a Lot
Thanks to Diva Dawn and Live Boot Camp! I started opening boxes like crazy and getting unpacked. I found a bunch of PerJinkities Letters and Numbers. I got onto Terapeak and found that the only PerJinkities from Midwest that sell have Mickey and Minnie Mouse or other Disney characters on them. I made a quick decision (quick is the answer to making money on eBay) and listed them all in a lot.
Here
 is that listing.
I hope that these four tips give you some great ideas for listing either in lots or individually. Please let us know what does and doesn't work for you!
Oh, before I forget, on our Live Boot Camp wrap-up call tonight, Diva (DivaDawnLV) shared that she does better with miniature perfumes in lots. Thanks Diva!
Here
 is one of her listings that did very well.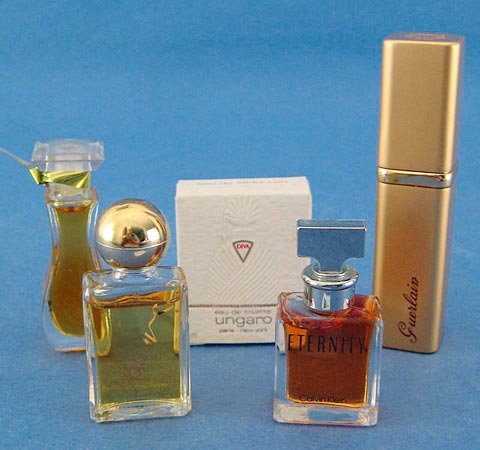 I have found that I do better with miniature perfumes individually. Just make your own decisions and use your own judgment. I am just here to help you along with your way to eBay and Amazon success!
Here
 is one of my successful miniature perfume listings.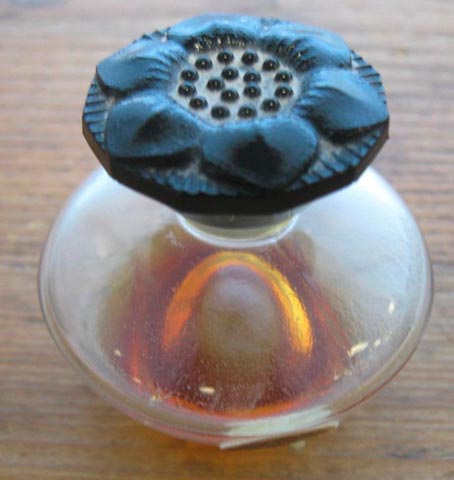 Visit my eBay Store.
Visit my eBay auctions.
For more great eBay tips and stories, visit my website at:
http://www.thequeenofauctions.com
---
WANT TO USE THIS ARTICLE IN YOUR EZINE OR ON YOUR WEBSITE? Yes, you may – just as long as you include all links as they are and append this complete blurb with it: The Queen of Auctions and eBay Power Seller, Lynn Dralle, publishes 'eBay Tips & Tricks' a weekly ezine with 10,000+ subscribers. If you're ready to jump-start your eBay business, make more money, and have more time, get your FRE E tips now at www.thequeenofauctions.com

eBay PowerSeller and third-generation antique dealer, Lynn Dralle, is the creator of Boot Camp in a Box, the home-study course where you can learn to implement the Dralle Method to maximize your eBay profits.
If you liked today's issue, you'll love this step-by-step course that is guaranteed to be the most complete and enjoyable guide to selling on eBay that MAKES YOU MONEY.
Read all about it here.
The Queen of Auctions also offers articles, teleseminars, how-to books, tracking guides, DVDs, eBay Boot Camp training, and other resources to help entrepreneurs make their eBay business a six-figure sales machine.
Some links in my emails to you may be affiliate links. You can be confident that I only partner with companies that I fully stand behind.
The Queen of Auctions/All Aboard Inc.
PO Box 14103
Palm Desert, CA 92255
760-345-9355
Lynn@TheQueenofAuctions.com
---
---
Lynn is an experienced eBay Power Seller, author, and teacher. If you want to know the eBay tips, tricks, and tools that Lynn uses for buying and selling at an online auction click here.