Hi!
Happy Halloween! My eBay sales were slow at the end of October, but are picking up again. Thank goodness! I hope yours are also.

Lynn Recommends: The Big 1111 Coupon Sale
Special Announcement: 3rd Episode Reality Show–Now here!
F.r.e.e Flatware, Baccarat, and a Piano? Really!

Feature Article: When to spend more on Inventory
This ezine is published every two weeks.
November 3rd, 2011
Volume VII, Issue 17
As I was unpacking one of my last boxes at our new house I came across this photo of Houston and Indy during Halloween 2003. We had only lived in California for a year.  Houston was in 1st grade and Indy preschool. This was back when I actually used to dress up for Halloween.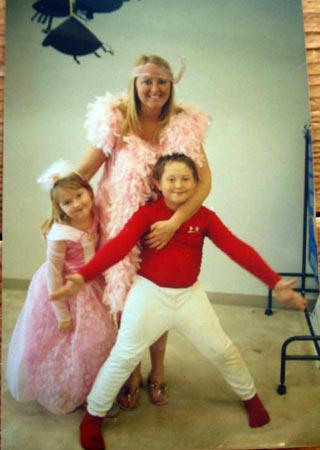 When I went to take the kids to school this year for Halloween, I asked them to please let me take a photo (as I always do 

). Well, all I can say is A LOT has changed in eight years!
First thing is that Houston and I no longer dress up! The second is that Indy has turned into a young lady. She found this adorable costume online but needed saddle shoes. What a great excuse for me to drag her out garage saling with me this past Saturday. I went into her room and said, "I just know that there are some saddle shoes out there in a thrift store or at a garage sale in your size…repeat after me: Saddle Shoes, Saddle Shoes." My ruse actually worked and for the first time in many months, Indy went with me to sales. She actually had a blast. What's not to love about garage sales, estate sales and thrift stores?
After our first garage sale where we found a box of Vietri dishes for $20, we headed to the Goodwill in La Quinta. Right there on the shoe shelf were a pair of size 9 black and white saddle shoes. Score!
Here she is with her costume and saddle shoes!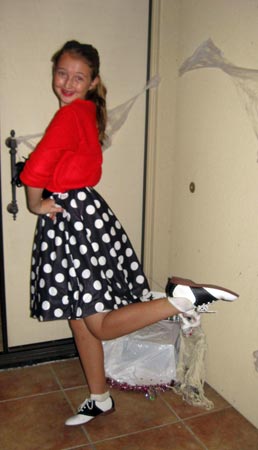 After the Goodwill, we went to an awesome moving sale in Palm Desert. They had Villeroy & Boch, Waterford, Pewter, etc, etc. Need I say more? It was at that point that I needed some funding to buy merchandise and I needed it fast. I was going to spend $1900 with these people. I went to my Kabbage account and requested $1900 as a cash advance. Approved! And I was off to the races (so to speak). This big purchase is what gave me the inspiration for this week's feature article, "When to spend more on Inventory." Don't miss it.
Speaking of missing it, if you missed my interview with Griff & Lee on Tuesday, November 1st, you can listen to it here. During this interview, we discussed one of my mom's recent super scores. Here is a link to her $3.00 purchase.
Click here
 to see the listing.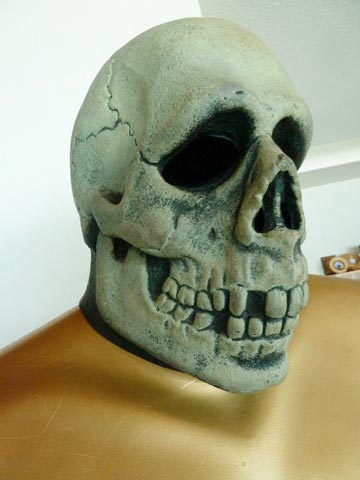 After that amazing shopping spree (and yes, even Indiana had fun) we headed over to Palm Springs to watch Houston in his first baseball showcase. A showcase is where players that want to be recruited for college pay to be seen by scouts. It's a whole new world! Houston did a super job pitching and was told by one of the scouts that although he is young (a freshman) he has the opportunity to be great if he continues on this way.
Here he is on third base after getting a single and stealing two bases.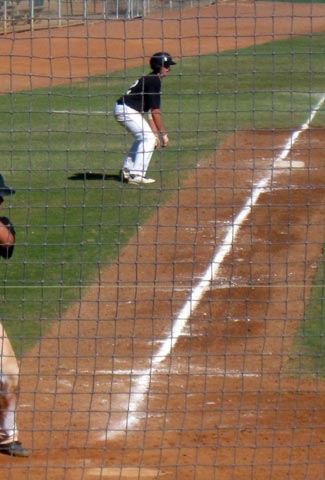 We had a busy weekend. It started off with a bang when Randy from eBay Salt Lake City and his friend Chuck stopped by to check out Headquarters. We had a great visit with them, learned a lot, and can't wait to visit Tahiti someday–Randy's favorite place!
Here is a photo of Carmen, Mo, Randy, and me in HQ.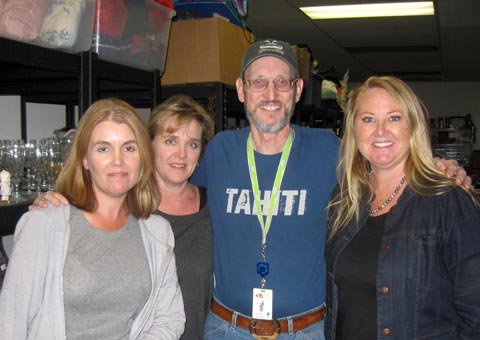 Episode number three of Trash to Cash featuring Flatware and Fun is out! Please read the Special announcement section to get links to view it and Thank You to our new awesome sponsors, Auctane and Terapeak for making it happen!
Now that we are moving into the Fall/Holiday Season, I am seeing more holiday-themed and gift items selling. Check out this darling snowbaby that sold a few days ago. And for full price! It was from my grandmother's personal collection.
See the listing here
.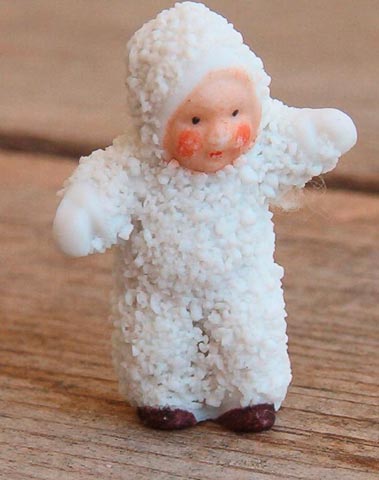 And I just got an email from Diva Dawn after my Griff radio interview telling us about the amazing Muppet Christmas ornaments she sold. Check out this one that sold for big bucks! Way to go Diva! I didn't even know what a Honker was.
See the listing here
.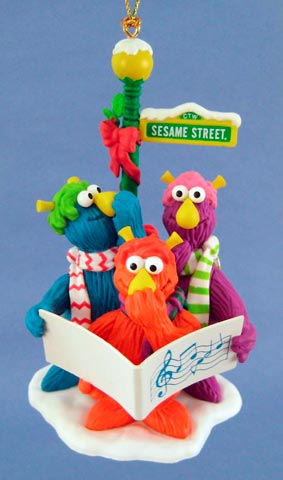 Thank you again to Diva Dawn for forcing us to unpack boxes here at HQ. I spoke about these dishes on the Griff & Lee radio show on Tuesday. Here is that restaurant china serving piece. We sold a quantity of five only eighteen days after listing them. AND I had owned these for six years. HEY, all you people out there. If it isn't listed it CAN'T sell. Get it listed!
See this listing here.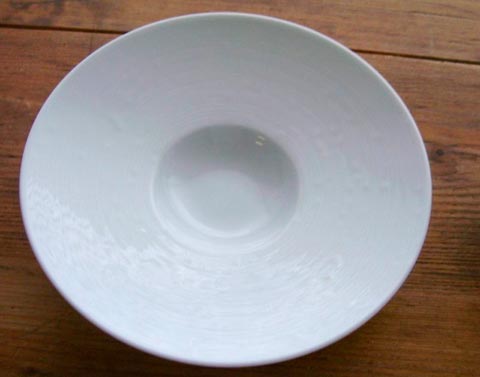 The Holiday Season is a great time to sell, sell, sell.
My readers are Number One in my book!
To help you get extra motivation to grow your eBay business I am offering…
The Queen of Auctions'
November 2011
1111 Coupon Sale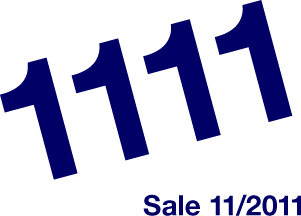 Use this coupon code to get 40% off
most items on our website:
1111
This is a great coupon sale. But hurry,
this sale ends on 11/9/11 at midnight. Six days only!!
Just enter the code 1111 into the shopping cart before you check out.
(Queen's Court Members, don't forget your added discount. You can stack your Queen's Court coupon with this coupon for extra savings.)
(Live events, Queen's Court memberships, Flatware eBook, and the most recent Plush & Organizational Teleseminars not included in this sale.)
Click here to read more and see some of our more popular products.

Episode #3 of Trash to Cash
F.r.e.e Flatware, Baccarat
and a Piano? Really!
is here!
We are super excited to announce that our Reality Show
is now available for F-R-E-E viewing.
Click here to watch now. Subscribe to our YouTube channel and share with your friends and family.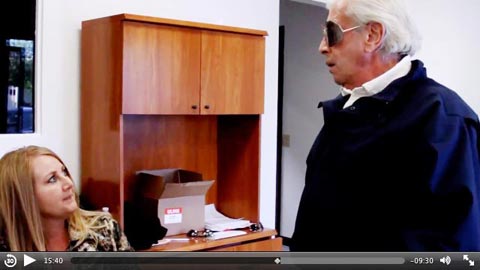 Here are a few of the comments from our watchers….
That was totally fun!!! I expect to be seeing you folks on TV any day now. 🙂

–Kathy

---
I LOVE you guys! You have motivated me! I've been at eBay since Jan.2010…lately I've been in a slump.. You changed that and now I'm chomping at the bit!

I have to tell you that you all remind me of our college friends…laughing and having so much fun! You made my day! You deserve to do well…you have awesome spirit!

My mom died just before I started this but wow! Would she be in heaven doing this with me…although she might be like Garage Sale Lou on the pricing!! What fun to have your mom right there for the laughs! Nothing like eBay to keep her young!

You guys are great! Loved the video. I'm going to keep at it…you've inspired me to get crackin' and get more $$$.

Thanks for your great video!

–Liz Neighbors in Connecticut
A HUGE THANK YOU to our sponsors that have made this possible:

Terapeak saves us hours of research every week!
If you haven't tried it you must!
and

For those of you who have not tried Auctane, you must!
It saves us at least two hours a day when printing shipping labels.
And The Queen of Auctions
If you missed it, Episode Two –
From Stripper Mugs to Meeting Garage Sale Lou
and The Wizard of Oz
brought to you by:

and

And The Queen of Auctions
is available here.

'When to Spend More for Inventory'
by Lynn Dralle, The Queen of Auctions
While I was out garage saling with Indy, we stumbled across the amazing moving sale I was talking about in the introduction. Everything was quality and most of the items were made in Europe. The prices were fair. Not cheap, but not over the top. This is when you have to take a deep breath and weigh the pluses and minuses of purchasing higher-end items.
Whenever I talk about pluses and minuses, my mom always reminds me to do a Ben Franklin. What in the world is a Ben Franklin you may be asking? Here it is according to Ben Franklin himself:
My way is to divide half a sheet of paper by a line into two columns; writing over the one Pro and over the other Con. Then during three or four days' consideration, I put down under the different heads short hints of the different motives, that at different time occur to me, for or against the measure.

When I have thus got them altogether in one view, I endeavor to estimate their respective weights; and where I find two, one on each side, that seem equal, I strike them both out. If I judge some two reasons con equal to some three reasons pro, I strike out five; and thus proceeding, I find where the balance lies; and if after a day or two of further consideration, nothing new that is of importance occurs on either side, I come to a determination accordingly.

–Benjamin Franklin
This is great advice for long-term serious decisions. However, when you are at a garage sale you can't take 3-4 days to make your decision! You must make a pro/con list very quickly in your head.
Here is the pro/con list that did in my head for that expensive purchase. I have actually written it down for your learning enjoyment.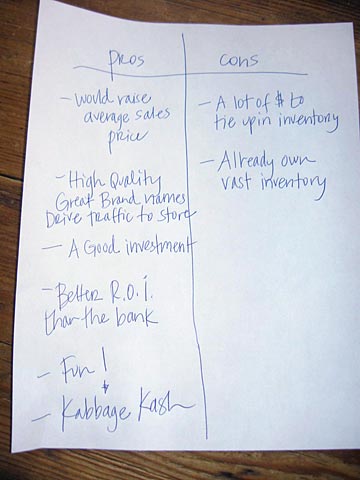 Please notice that the pro side is much heavier weighted than the con side. When I asked Mo and Carmen to look at the sheet of paper they said, "We don't even have to look. Of course, the Pro side is more heavily weighted 

" But let's look at this in more detail and see why it was more heavily skewed to the Pro side.
Pro #1. Would raise average sales price.
It is our goal at the Queen of Auctions to raise our average selling price. It is ALMOST the same amount of work to sell a $100 item as it is a $10 item. So we have been striving to raise our average ticket price from $18.22. If I bought these expensive items, our average sales price would benefit.
Here is one of those higher-priced items that I got listed. I paid $25.00 for this item.
See the listing here
.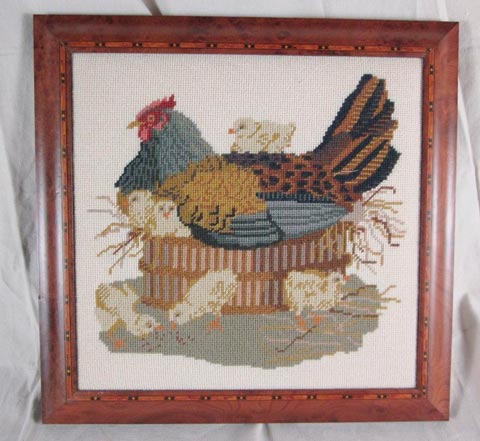 I bought four of these wonderful needlepoints and paid $100 for all four. One of the four ways of a Pug dog. Indy wants a dog so badly and her choice is a pug. Well, with our hectic life, there just isn't room for pets so I appeased her (at least for this week) by gifting her with the needlepoint.
I wasn't sure how to price the remaining three. If I still had all four, I probably would have started the auctions at $49.99, but I only had three, so the price is higher.
Pro #2. High Quality & Great Brand Names will drive traffic to our existing listings and our eBay Store.
Waterford Crystal, Villeroy & Boch, Wade, Spode, and the other great brand names will come up higher in the Google and eBay searches than generic items like the one listed below. With no brand names, the listing is quite generic.
Here
 is an example of a generic listing.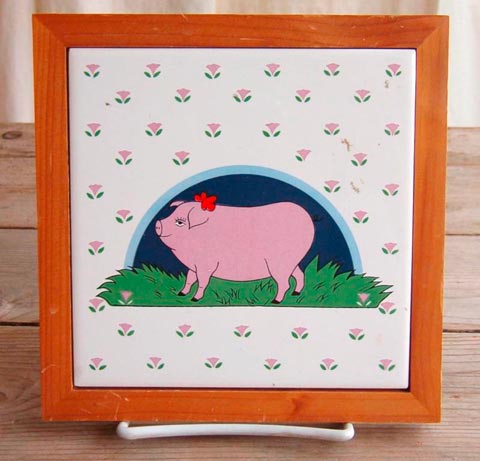 Pro #3. A Good Investment.
My grandmother always bragged to me that her inventory was worth more tomorrow than it was today. As she explained to me, this was in direct opposition to most retail establishments' inventory. Most of their inventory would be worthless tomorrow than it was today.
As an example, a clothing store's inventory has a very short shelf life. The styles change very quickly and if those items aren't sold when the style is in fashion, they will be marked down and sold at clearance quickly. No increase in inventory value in the fashion industries. Or for that matter in the perishable goods industries. Is a gallon of milk with an expiration date of 12/4/11 worth more on 11/15/11 or on 12/5/11? It is worth nothing on 12/5/11.
Here is an example of an item that got better with age. It was a Christmas ornament that we bought from Midwest of Cannon Falls brand new from the company in 2000. We paid $4.75 and it was for sale in our antique store for $9.95. It is worth more today than it was then and just sold for a great price at auction.
See this listing here
.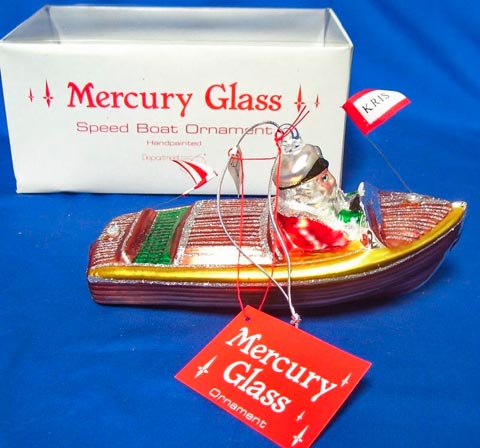 Pro #4 Better ROI than the bank.
With interest rates at an all-time low, no great opportunities to make money in the real estate market for several more years, and the stock market in flux, investing in antiques and collectibles can make a lot of sense. You just need to be very careful and KNOW your subject matter.
This set of 34 pieces of Waterford that I bought for $850 will make me a much better Return on Investment (ROI) than the bank, the current real estate market, or the stock market.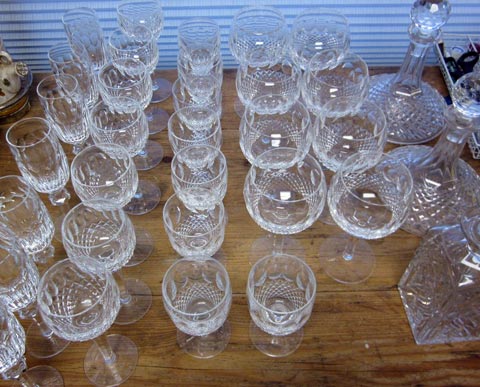 Pro #5. Fun.
What can I say? I know you all get the FUN factor of this business. When I bring boxes and boxes of new easy-to-list merchandise into Headquarters, we all love it! Well, Mo and I love it. Sometimes Carmen gets upset that we are messing up her neat and clean floors in the front office. (Just kidding–kind of sort of )
And, if you can believe this one…we couldn't. But today while Mo was getting the Villeroy & Boch dinnerware set ready to list, she came walking in with a tumbler in the same pattern! I had bought a set of glassware about six months ago that came in with some Pfaltzgraff dinnerware. I thought it was Pfaltzgraff.
Mo couldn't find the Pfaltzgraff pattern for the glassware anywhere so she just left it in a box in the photo studio area. When Mo was photographing the dinnerware, she looked at the glassware and came walking in with one of the tumblers. OMG! It was the same Villeroy & Boch pattern but in glassware. A total score and so much FUN! I had 16 pieces of that glassware that listed for $29.99 each on Replacements. Ka-Ching!
Here
 is one of the glasses that Mo couldn't wait to list.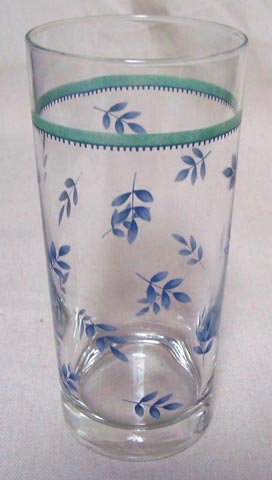 Here
 is one of the matching dishes.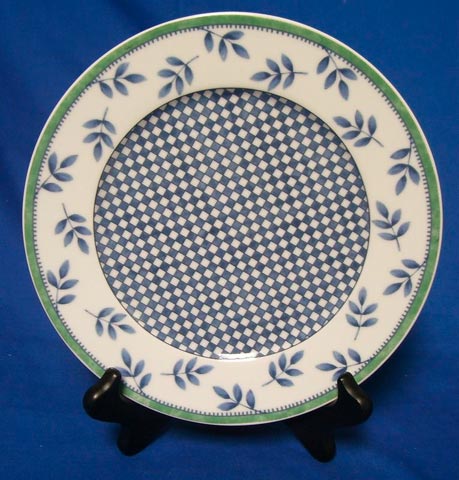 Amazing, isn't it?
Pro #6 Kabbage Kash.
If you haven't signed up for Kabbage yet, I highly encourage you to get approved before you need the money. Because I knew that I had an open cash advance line with Kabbage, this helped make my decision easier. The $1900 I needed for this awesome bunch of stuff will cost me about $76 over the next six months. I will more than double if not triple my initial money on this investment-even taking into consideration the $76 fee.
And now the cons.
Con #1 A lot of $ to tie up in Inventory.
In this economy, $1900 is a lot of money to invest in anything…even inventory. I would need to turn this merchandise as fast as I could. After I bought the Waterford on Saturday morning, I had to watch Houston's baseball showcase until 8 pm at night. No chance to list the Waterford on Saturday.
On Sunday, the baseball showcase started at 7:30 am and went to 1:00 pm. After taking Indy and a friend to Joanne's fabrics to get supplies for a school project, I was finally free to rush to my office by 3 pm on Sunday. I was able to get all of the Waterford listed by Sunday night. There is nothing like a large dollar investment to get you listing like crazy. Hey, that could actually be a pro.
Here
 is one of the rarer wine glasses that I listed.
I was able to price this glass quickly using Terapeak. My research on Terapeak told me that one of these wine glasses just sold for $149.99. I priced mine higher in my eBay store and one cheaper at auction.
Con #2 I already own vast Inventory.
As you may recall, my vast inventory is known as The Alps. It can't be called just one mountain because it is definitely a range of mountains.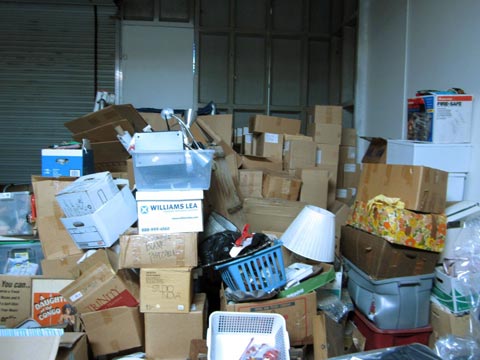 This was the biggest reason for stopping me in my tracks at that moving sale. And I reflected back on what Marcia Glenn had to say on a Queen's Court post entitled "Help, I am drowning in Future Money."
I Can't wait to hear what the Diva has to say in our Organizational Teleseminar November 9th!!

I would say to all of you who are "drowning in future monies" to STOP buying. If you do not have 90% of your inventory listed you are wasting time and money buying more! Selling on eBay like we do is a crutch for some who are "shop-a-holics."
There will ALWAYS be something new to buy EACH and every WEEK.

Be realistic. If you have 100 tee shirts to list and you can list four an hour (take pictures, edit pictures, write up paperwork, measure and finally list) then it will take you 25 hours to list all the tee shirts. Doing an eight hour day? Then four FULL days to list. So change the numbers to fit what you can realistically do for whatever categories you need to list.

Now stop crying.

NOW sit down and start working on it. Your inventory should be bought and ready to list for the holiday season. It should already be listed.

I have said this before. Treat this like a BUSINESS. You will succeed.

All brick and mortar stores now are stocked up for the holidays. We all bought all summer long into fall. The gift shows were in AUGUST for CHRISTMAS.

Yes shopping is the "fun" part. Yes, writing up and measuring and pictures is the not so fun part. But, clicking PayPal and transferring money into your checking account is the reason you do this.

Take a Kleenex, wipe your nose and eyes and get your inventory listed!

I'm just trying to help guys, truly.

Warm Regards
Marcia
Lincoln City, Oregon

Ocean Beach Treasures
Glass Confusion
Marcia is spot on! I loved her post. However, I have been listening to Diva Dawn (my organizational expert) and have already unpacked fourteen boxes from the alps. I deserved a reward! Didn't I?
Speaking of Diva Dawn and the teleseminar listed in Marcia's quote, Diva will be joining us for a Q & A about workflow and organization on November 9th at 5 pm. If you are a Queen's Court Member this is your gift for November.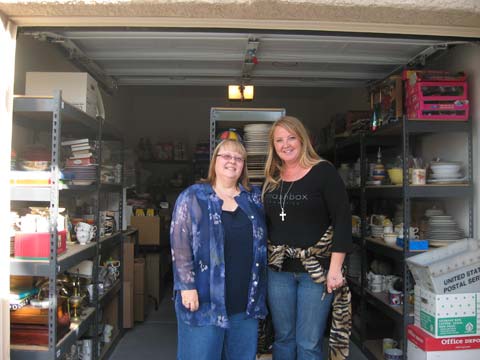 This is Diva's garage. Not The Alps.
If not, you may purchase it here. Email your questions ahead of time to Lynn@thequeenofauctions.com. Don't worry if you can't listen live, it will be recorded for you to download soon after. I personally can't wait to hear Diva Dawn as she ALWAYS motivates me.
I hope that this article on making buying decisions using a Ben Franklin will help you in your business. It has helped me in mine!
Visit my eBay Store.
Visit my eBay auctions.
For more great eBay tips and stories, visit my website at:
http://www.thequeenofauctions.com
---
WANT TO USE THIS ARTICLE IN YOUR EZINE OR ON YOUR WEBSITE? Yes, you may – just as long as you include all links as they are and append this complete blurb with it: The Queen of Auctions and eBay Power Seller, Lynn Dralle, publishes 'eBay Tips & Tricks' a weekly ezine with 10,000+ subscribers. If you're ready to jump-start your eBay business, make more money and have more time, get your FRE E tips now at www.thequeenofauctions.com

eBay PowerSeller and third-generation antique dealer, Lynn Dralle, is the creator of Boot Camp in a Box, the home-study course where you can learn to implement the Dralle Method to maximize your eBay profits.
If you liked today's issue, you'll love this step-by-step course that is guaranteed to be the most complete and enjoyable guide to selling on eBay that MAKES YOU MONEY.
Read all about it here.
The Queen of Auctions also offers articles, teleseminars, how-to books, tracking guides, DVDs, eBay Boot Camp training, and other resources to help entrepreneurs make their eBay business a six-figure sales machine.
Some links in my emails to you may be affiliate links. You can be confident that I only partner with companies that I fully stand behind.
The Queen of Auctions/All Aboard Inc.
PO Box 14103
Palm Desert, CA 92255
760-345-9355
Lynn@TheQueenofAuctions.com
---
---
Lynn is an experienced eBay Power Seller, author, and teacher. If you want to know the eBay tips, tricks, and tools that Lynn uses for buying and selling at an online auction click here.