Hi!
As I sit down to write this ezine, I decided to come up with a plan to list 200 items at auction per week through the end of the year. Very ambitious of me, but it is my nature to always GO FOR IT!

Lynn Recommends: Organizational Teleseminar with Diva Dawn
Special Announcement: Six Steps to eBay Success is UPDATED

Feature Article: My Bold Plan for Holiday Listing
This ezine is published every two weeks.
November 17th, 2011
Volume VII, Issue 18
What got me thinking about making a bold plan was one of the quotes that I read each morning from "Positive Thinking Every Day" by Norman Vincent Peale. The quote for November 17th was "Be bold, and mighty powers will come to your aid." Why not shoot for the moon?
Don't miss this week's feature article on my top tips to accomplish this listing frenzy I am boldly planning to attain.
In about a week (the day after Thanksgiving), my sister, her two kids (Zach and Kai), my mom, and my dad are scheduled to fly into Palm Springs from Bellingham. Yay! We will miss spending Thanksgiving together on an actual day, so will celebrate with a small dinner on the lake. Houston has a baseball tournament in Temecula that weekend so we will be driving back and forth from the desert for Friday and Saturday's games. Then on Sunday, we are going on a cruise. Yes, I said a cruise!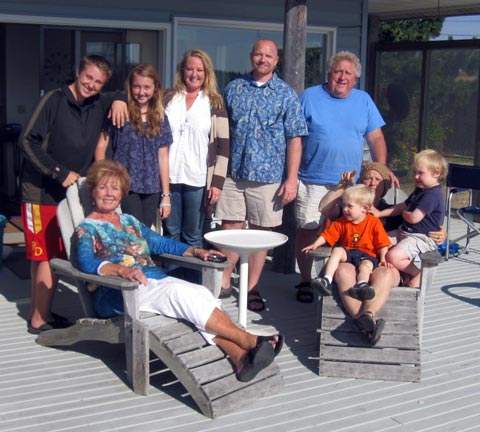 It is my sister's wish to spend a week on a Disney cruise with her sons, my kids, our brother, and parents. At first, I told her no way. I cannot take my kids out of school for a week. Then I thought about it, in the big scheme of things, Houston missing a week of his freshman year and Indy missing a week of 7th grade will pale in comparison to the loss of their Auntie Kiki. We decided to go for it and wish them the best with her health.
It has been touch and go with my sister's cancer and we are praying that this trip will happen. Please think good thoughts for us.
On the school front, I shouldn't have worried about Houston and Indy. Houston came home from school last week and said, "I have been nominated by the teachers for the student of the month–there is a chance I could get this award." I looked at him. Really? He NEVER got student of the month in middle school (1500 students) and now he is in one of the most competitive high schools (2000 students) and he is going to be one of two Freshmen that get this award.
I was a little taken aback and also extremely proud! Who cares if he got it or not. We were going to celebrate. I immediately ordered him the terrible war video game he wanted and we waited to see what would happen. Then last Friday morning, my cell phone rang. It was Palm Desert High School. I answered and was told that Houston had been chosen as student of the month! OMG. I couldn't stop grinning. Nice to have such a great thing to smile about.
Not that Houston isn't an amazing kid. He definitely has that something special (just like his sister), but he had been struggling a little in several subjects. I had even hired a tutor. But let me clarify, for me struggling is 88% in an honors class–which really means an A. Once, when Houston was on the fence between getting an A or a B (he had 90.8%), he told the teacher, "My mom cries when I get Bs". She rounded up and gave him the A-. Apparently, this award also takes a look at character, sociability, and grades.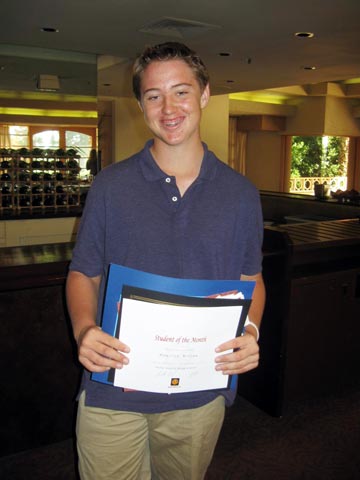 I knew that this was all sitting a little bit hard with Indy. Here is her older brother who is the athlete and the one who gets away with everything and he is going to get student of the month this early in the year. I could tell it bothered her a little but of course, she didn't say anything. She is too great of a kid. And we all thought that with 110% in every class (is that even possible?) she would be getting student of the month at some point during the year.
One of my best friends from high school was visiting the desert. Teresa Thornberg–a year ahead of me in high school and my next-door neighbor…now known as Dr. Thornberg–Pretty impressive.
Here are Teresa and I a few years ago at her house on Eliza Island in the San Juan Islands. It is a fantastic property and it is even more fun when Teresa drives the boat to get there…she likes to go fast.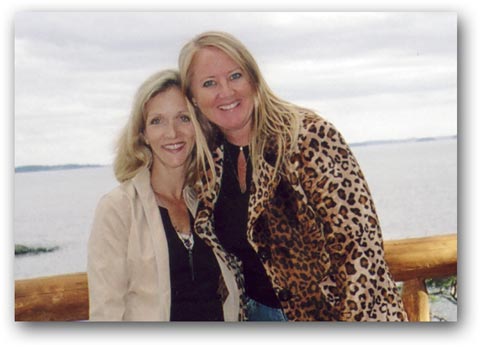 OK, back to Teresa's awesome influence on me, and a shout out to Connor (her son)…without your mom guiding me through the PSATs the SATs, letters of recommendation, where to apply to college, etc. I would NEVER have gotten the scholarships I did and been able to attend USC. Your mom is amazing!
So there I was sitting at the La Quinta Resort pool with Teresa and her knitting group because that was where they were staying. OK, you may be asking what a knitting group is. I certainly did. It is a group of women that have met every Tuesday morning for eleven years to knit and (I am guessing here) probably to share some counseling, advice, and friendship. What an interesting concept!
My phone rang with a missed call from PDCMS (Indy's middle school) but goes right to voice mail. As any of you know who have been at the La Quinta Resort for Live Boot Camps, there is very bad cell service at the resort. I walked out to the street to dial my voice mail. I start laughing with happiness. It is one of Indy's teachers calling to say that she has been chosen as student of the month. SERIOUSLY, NO WAY! The teacher asked me to please keep it a secret. Houston's award was given yesterday (Wednesday) and Indy's will be given on Friday. I am telling you all about this before she will even know. Please don't spill the beans.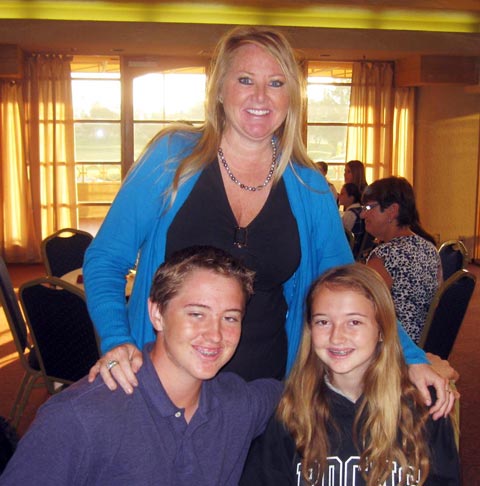 Now on to eBay. Thank goodness that sales are totally picking up! Yay! Last Saturday was the historical firehouse sale that is usually so amazing for me.
Remember this item that I bought there many years ago? Click here to read it in a new window.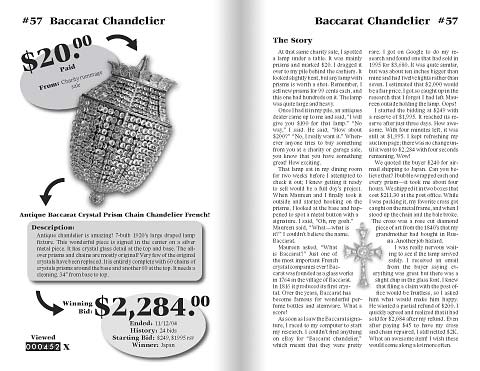 My alarm went off at 6 am. Really? Not on one of my only days to sleep in. I told myself it would all be well worth it and dragged myself to the car. There was a slight sprinkle of rain but I didn't think much of it. It never rains in Southern California, right? Well, I got to the sale and they had opened it early.
That slight sprinkle started to turn into a downpour. Even in a downpour I managed to gather seven boxes full and went to check out. I spent $78 the first time at checkout and $55 the second time. So a total of $133.00.
Here
 is one of the items. I love the Apilco brand.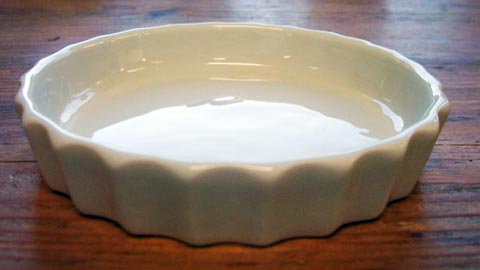 Who knows what I got, but I think some of it may be really great! Mo wrote up about 100 items yesterday and is going to get it listed this week. This leads me right into my feature article about being bold, making bold goals, and how we can all attain them. Don't miss reading it.
Here
 are some more cute plates that I got at that same sale.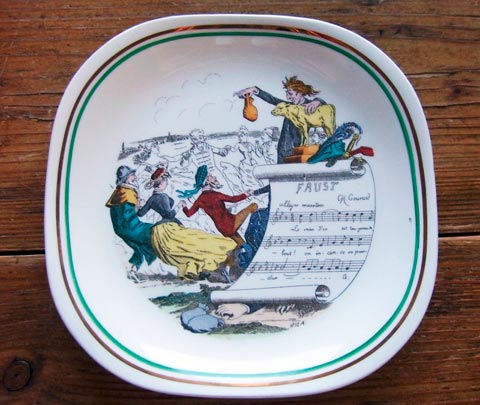 Here
 is an awesome plate that only cost $1
from that same sale. Whoopee!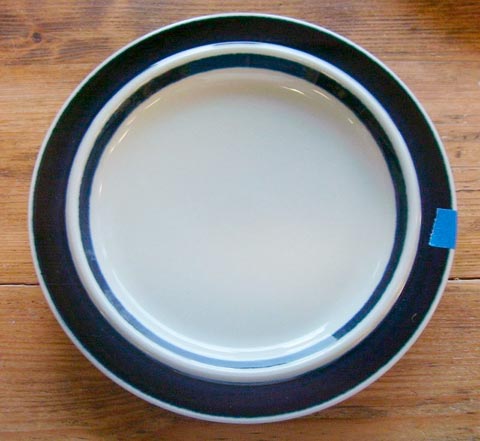 An update, I sold $400 of that Waterford I bought with Kabbage Kash. Yippeee!
Here
 is one of the items that sold.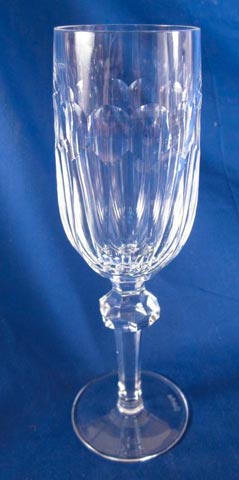 Last week was a great week for all of us at HQ; we got to do a wonderful call with Diva Dawn LV about the organization. She is soooo motivating. Don't miss reading about our call-in the Lynn Recommends section.
Another of my really best friends was in town. I love living in a resort town because as we get older, so many people come for fun and I get to see them! Robinette my Pet (as I have always called her and she calls me Lynn Dolly) was here with her husband Herb. I met Robin on one of my first days at the May Company when I was a department manager. I have known these two for years!
Here are Robin and I at lunch at Spencer's in Palm Springs.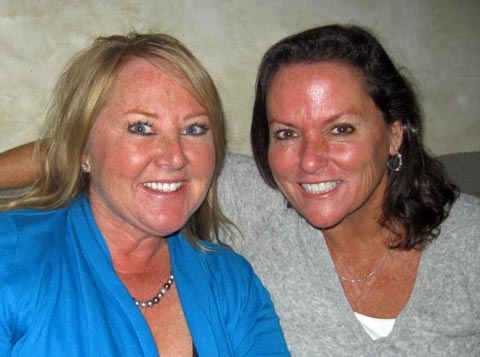 Robin, Herb, and I went out to lunch in Palm Springs on Saturday with four of their friends (this was after my rainy day of garage saling)! We got to talking and Robin's friend Bernie collects Flora Danica and Georg Jensen. My kind of guy! I got to go back to his house and actually see some of the pieces. WOW!
Flora Danica is made by Royal Copenhagen. I have loved this pattern for years. This olive dish sells for about $3,000 on Replacements. A dinner plate goes for $1099. Some day I will have a place setting for myself! I did get a saucer in when I was running my grandmother's antique store. I think we sold it for about $100.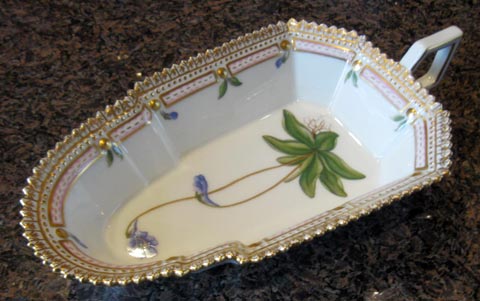 I got some great photos of the Georg Jensen flatware, just in time to write my chapter on great designers. Volume three of the Flatware eBook is coming along great and should be out around Thanksgiving.
I have been working on updating and redoing my bestselling "Six Steps to eBay Success" online course. Lee has been working his way through all the changes…boy does eBay change a lot and is through step four. He anticipates that it will also be done in the next week. In honor of this momentous occasion, we are having a relaunch sale. Please read the Special Announcement section to learn more.
Happy eBaying!
Lynn Dralle, 'The Queen of Auctions,'
Creator of the best-selling eBay Boot Camp in a Box.

Our Organizational Teleseminar
with Diva Dawn was fantastic!
Check out this post from Judy/Trudy:
"Awesome Call Diva Dawn!

"Thank you so much! I was furiously taking notes.. lots of great ideas! And extremely motivating! You are a superstar!

Judy/Trudy"
Diva Joined us for a Question & Answer about workflow and organization on November 9th. It was WONDERFUL!
It was recorded and can be purchased here for immediate download.
If you are a Queen's Court Member this is your gift for November.
Check out this post from Pam aka the Queen of Deals.
Yes, you WILL love the call! Dawn did an awesome job…so calm and collected! SO organized…my life long dream is to be like her! Thank you, thank you, thank you Dawn! You are always so generous with your time and expertise. I sincerely appreciate all the help you have sent my way. You gave me lots of good ideas, motivational tips and just overall great stuff to ponder and put to use….now, if I can just get organized enough to remember where I put all those notes I took

Pam
This is Diva's garage. Not The Alps.
I personally loved this call with Diva Dawn as she ALWAYS motivates me.
Click here to purchase and download now.

eBay Six Steps to eBay Success
has been Updated …Finally!
Many of you are familiar with my Six Steps to eBay Success. If you have been a subscriber, we have a super special upgrade price for you. You can skip to that right now here. (Please note this link is only for those who have previously subscribed to the Six Steps eCourse.)
---
For those of you who aren't familiar with this great course that shows you how to get up and running on eBay, here is an introduction: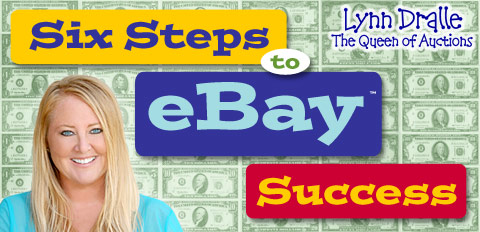 Do you want to have your eBay business up and running as soon as possible?
My Six Steps to eBay Success is your answer. In practical, easy-to-follow steps, I guide you through all that you need to be selling successfully on eBay.
In most classes, the teacher lectures while the students listen. Not in this course! What I'll be doing is more like coaching: I give you practical assignments designed to give you hands-on auction experience, provide you with resources so you can complete them, and then have you share your homework with a friend or family member. Since you get the links to all six steps at once–you are free to go as quickly or as slowly as your want through the course. During this six step course, you will actually be expected to put something on eBay for sale. Don't be scared–you can do it!
What has been keeping you from making a go of selling on eBay? Maybe you found the listing process overwhelming. Maybe you couldn't find the time to acquire all the technical knowledge eBay seems to require. Maybe you just found the whole prospect intimidating. Maybe you have sold things on eBay, but didn't have much success getting the prices you hoped for. If so, then this is just the course for you. I will show you just how easy and profitable selling on eBay can be.
Here are what some of my graduates have to say about Six Steps:
I cannot tell you how much I appreciate the work you have put into this course. I taught at the College Level and you are one of a very few who knows how to transfer knowledge into learning -hallelujah!!!

-Cauleen Viscoff, Canada

My goodness, what a home run you hit with this lesson! It is so full of great information that I had to go over it several times. You are an outstanding teacher; I have put some of your lessons to use this week and that saved me a few costly mistakes. Thanks again for giving us such valuable information.

-Margaret (Peggy) McIlvain Texas

Just wanted to let you know I am really enjoying the lessons. As the Young people would say, you have really 'turned me on' to this eBay thing.

-Shirley Jones, Texas
The regular price is $99 — but if you pre-order before November 30th, you can purchase this valuable course for a savings of over 50%. For only $45.00 you will be given the step-by-step tools and instructions to take your eBay business from zero to 100 in just six simple lessons. Even if you are a seasoned eBayer, this course can help take you to the next level. Click here to order now at this special price.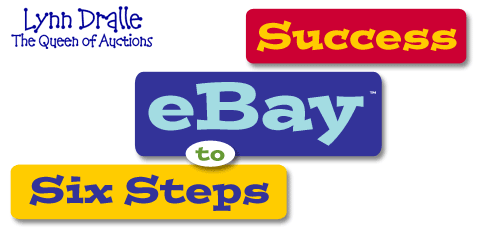 You will have immediate access to the revised Six Steps ecourse. We are putting the finishing touches on the last lessons which will be completed this weekend.
Happy eBaying!
P.S. I know this course has tips that will make your business more efficient saving you time and money.
P.P.S. Because this is a business expense, it is tax-deductible. Who doesn't want an extra tax deduction at the year's end? (As always, check with your accountant.)
P.P.P.S. The directed assignments make this ecourse fun and motivating. Try it today. Click here to order now at the special price.

'My Bold Plan for Holiday Listing'
by Lynn Dralle, The Queen of Auctions
There are seven weeks left until the end of the year. My BOLD goal is to list 200 items at auction each week. I am going to do this and that means that 1400 things will be moving through the Dralle Method before the end of the year.
Here are my steps to accomplish this. I hope you start thinking boldly also.
1. Get Maureen and Carmen on Board with this plan
I could never accomplish this goal without my team! Mo and Carmen told me that they have been pushing for this type of mass listing all year. "Finally, you are realizing how much money is sitting in that back room."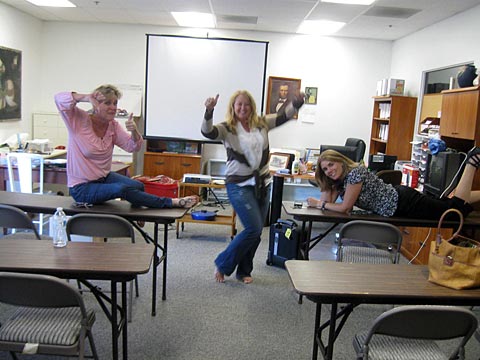 Here we are after Live Boot Camp. What a great group I have in my life!
My team is the best! Carmen has agreed to take on more of the questions and bookkeeping and Mo is on board to list 100 items each week for seven weeks. This makes my job soooo much easier. All I have to do is list 100 things each week. FUN FUN FUN to LIST LIST LIST!
2. Sort the items on my waiting to be listed shelves
I have been doing this with my sister when I go up to Bellingham. We have been blowing through items. One box for charity, this box for a garage sale, and this box for eBay. It really helps to have a friend or family member help you with this so that you can make quick decisions.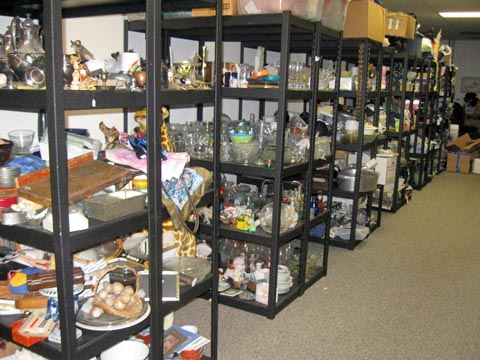 I am going to start pulling things off of my "to be listed" shelves that are just not worth our time and they will be going into boxes to be donated to charity. This is going to free up a lot of space for items that are listing-worthy. As you sort, ask yourself & your helper if each item is "listing worthy"? If not, get rid of it.
3. Unpack five boxes a week from the Alps.
Thanks to Diva Dawn, her green arrows, and her organizational motivation, I have been attacking the Alps (The mountains of boxes in the back of HQ). To learn more click here to purchase her teleseminar.
It may not look like much from this photo, but I have started attacking the Alps from the backside. It is a "covert" operation. Just kidding, but it seemed to be more fun this way. I have unpacked 15 boxes so far and by the end of the year, my goal is to have five times seven or 35 more boxes unpacked. That makes 50 total. It will be a huge dent!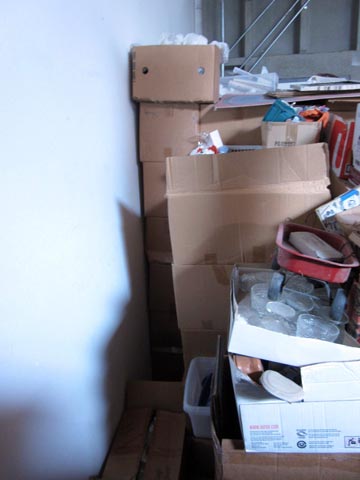 4. Write up 300 items for November by Thanksgiving. Get Indy to photograph and edit the photos.
Hey, this is going to be my last ezine until after the cruise, so Happy Thanksgiving! I hope you all have a wonderful day.
So, before Turkey day I will have 300 items written up and ready to photograph. Indy has promised me a few afternoons and a Saturday so hopefully, she can get all the photographs taken and edited before we leave.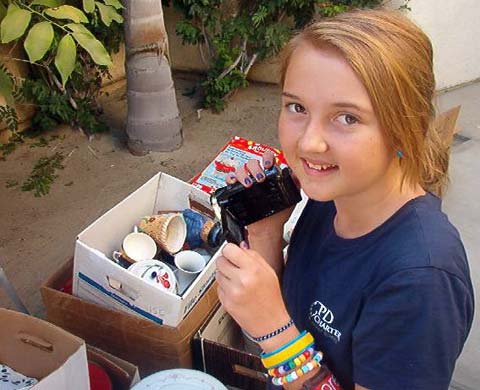 I did tell my family that I am not taking my computer on the cruise. [Ed.–I'll believe that when I see it.] We will see how that works. I have a feeling it is going to be going with us.
5. Write up 400 items for December by the 15th. Get Indy to photograph and edit the photos.
When we get back on December 4th, I will have 11 days to get 400 things written up. That is 40 items per day. No problem. I am going to focus on collections to make this attainable. My grandmother's skeleton key collection, the pig collection that is hiding somewhere in the alps, and the pewter collection I just bought are some examples.
Here is my grandmother's key collection all sorted and ready to write up.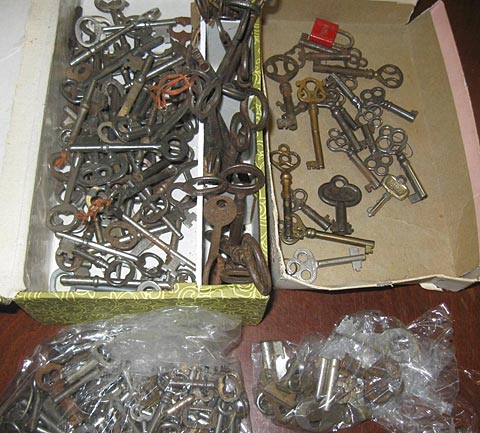 6. List 18 items per day FIRST THING
I have about 45 days (minus the seven on the cruise) so in reality, this is 38 days. 700/38 is approximately 18 items per day. Piece of Cake! But I usually try and do my hardest tasks first thing in the day. Writing an ezine takes several days, tons of photos, research, and thought. It is a difficult task.
I know that if I don't do my writing first thing I will be too exhausted later in the day, so it always comes first. I tell myself that when it is finished I can go and list (which I love). However, what usually happens is that I don't finish writing until seven or eight at night and I am too tired to list.
I am going to FLIP this one on its head for the holiday season. Writing will be done after listing. I WILL list at least 18 items every morning before I get to my other tasks. Yay! Sounds like fun.
Here is a photo of my I Sell book with sheets all ready to be listed.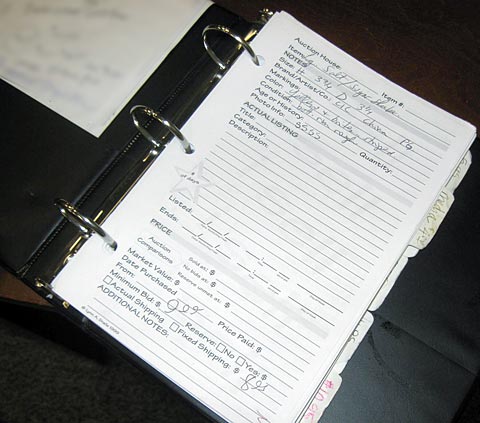 I hope that these strategy tips will help you make your own BOLD plan. Whether you plan for the rest of 2011 or start planning for 2012, Let's make a commitment to accomplishing a lot in the next few months!
Happy eBaying!
Lynn
Visit my eBay Store.
Visit my eBay auctions.
For more great eBay tips and stories, visit my website at:
http://www.thequeenofauctions.com
---
WANT TO USE THIS ARTICLE IN YOUR EZINE OR ON YOUR WEBSITE? Yes, you may – just as long as you include all links as they are and append this complete blurb with it: The Queen of Auctions and eBay Power Seller, Lynn Dralle, publishes 'eBay Tips & Tricks' a weekly ezine with 10,000+ subscribers. If you're ready to jump-start your eBay business, make more money and have more time, get your FRE E tips now at www.thequeenofauctions.com

eBay PowerSeller and third-generation antique dealer, Lynn Dralle, is the creator of Boot Camp in a Box, the home-study course where you can learn to implement the Dralle Method to maximize your eBay profits.
If you liked today's issue, you'll love this step-by-step course that is guaranteed to be the most complete and enjoyable guide to selling on eBay that MAKES YOU MONEY.
Read all about it here.
The Queen of Auctions also offers articles, teleseminars, how-to books, tracking guides, DVDs, eBay Boot Camp training, and other resources to help entrepreneurs make their eBay business a six-figure sales machine.
Some links in my emails to you may be affiliate links. You can be confident that I only partner with companies that I fully stand behind.
The Queen of Auctions/All Aboard Inc.
PO Box 14103
Palm Desert, CA 92255
760-345-9355
Lynn@TheQueenofAuctions.com
---
---
Lynn is an experienced eBay Power Seller, author, and teacher. If you want to know the eBay tips, tricks, and tools that Lynn uses for buying and selling at an online auction click here.