Hi!
I hope you all had a wonderful Memorial Day Weekend! I even got to see a parade as I was leaving my Denver hotel after EOL that almost caused me to miss my plane 🙂
May 31st, 2012
Volume VIII, Issue 4
eBay on Location was awesome! It was great to see so many of you in person. But before I talk about EOL, let me explain about that parade. Vicki and Carmie offered to drive me to the airport. So sweet! We pull up to the first stoplight and there is a cop there telling us to stop. The Memorial Day parade was taking place and he was allowing NO traffic to pass.
For those of you who have never been to Denver, this is not good. The Denver airport is like 30 miles outside of town. I had no time to waste. Vicki asked if we could reverse back to the hotel and take a different street and he said those were blocked off also. We found out that the parade may last from 30 minutes to an hour. Yikes!
I jumped out of Vicki's car, grabbed my luggage, and attempted to cross the street and get to a street with no parade. The cop wasn't going to let me cross either. Finally, he agreed and even carried my luggage. What an experience! I flagged down a yellow cab (luckily) and made it to the church on time (oops I mean airport).
EOL this year was super special. There was a different energy. John Donahoe introduced the new President of Marketplace Devin Wenig, after almost 2 years of not having anyone to fill Lorrie Norrington's shoes and doing it on his own. That is one tough job.
Here is a photo of John, Devin, Griff, and Lee doing the live eBay radio show on Friday from the convention floor. Sorry, it is so out of focus, I took it on my iPhone. A 3G, is not the newest or best model 😀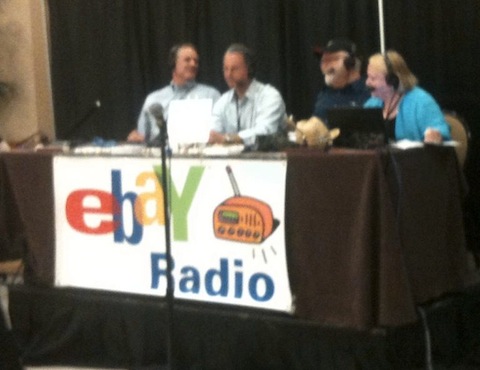 I got a chance to talk with Devin and am very impressed. He gets it! Yay! I loved the fact that he knows to selling on eBay can be difficult. He gave an example of his 15-year-old son becoming frustrated with things that are too complicated and quickly moving on (boy can I relate to that thanks to Houston).
Devin realizes that he must make eBay more user-friendly--not just for the buyers, but now for the SELLERS! For the first time in a long time, I am excited, enthused and see that the eBay Marketplace is going in OUR direction. I commend John Donahoe on his choice of eBay Marketplace's new head executive. He is a straight shooter and we are going to see some awesome things happening.

At eBay on Location, I also got to meet with some key executives, talk about things that are important to all of us, and reconnect with Queen's Court members and ezine readers. And sadly, I was able to go on the last pub crawl with Richard Brewer Hay (OK Richard, I get that Hays has no S). He was the author of eBay's official blog.
Here is a photo of Richard and me. We will miss him.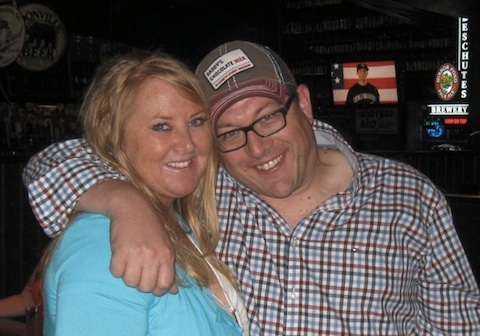 Richard has been promoted from his position at eBay and is heading over to Stub Hub. We will miss him a lot but know that he will be back with a booth at the next eBay on Location. Fingers crossed! And that the pub crawls will never end!
Here is a photo of us at the beer tasting—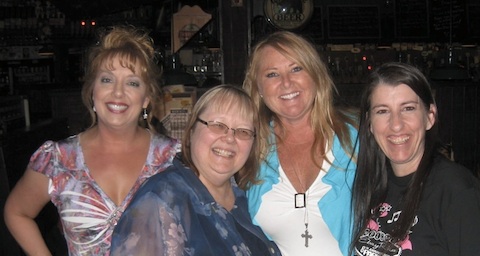 In this photo, you see Melinda Jackson, Diva Dawn, me, and Danni Ackerman. I can't believe that Diva Dawn even attended this–I had to twist her arm (just a little), but she said Diva Dude would be impressed.
I also got to hang out with eBay Andy Chase, who has also been promoted to helping sellers utilize mobile apps (Twitter, Facebook, etc.) and has moved from SLC to San Jose. Congratulations Andy!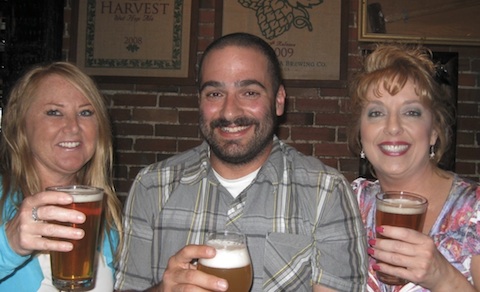 Some of the most important things to come out of my meetings at eBay on Location were learning more about the search engine Cassini, the problems that executives realize about one-day handling, and the blackouts that we all feel are happening with sales. More details about that later…..
But, for me to be able to attend eBay on Location I needed someone to watch my kids. My Mom was very hesitant about coming during that time frame because my nephew, Kai's birthday is May 30th. He is going to turn 4 that day without his mommy (my sister) being there. My mom and dad are doing an incredible job in their quest to keep those boys a part of my sister's family.
Here is a photo of my darling nephews with my brother (Uncle Lee)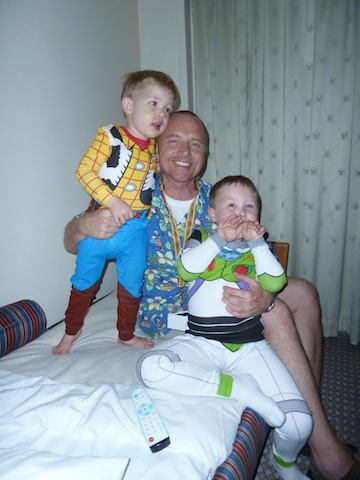 Zach just turned six on April 26th and both my mom and dad made sure they were there for that one!
Fortunately for me, my Mom did so well on those clothing scores from the estate sale from the last trip that she asked me to find out when our favorite estate sale dealer's next sale would be. She has started to plan her visits around his sales! Yay. Luckily, he was having one over Memorial Day Weekend. Just add water, a great estate sale, and you have an instant babysitter!
Here is one of my mom's scores from several weeks ago where most of the clothes she bought were priced from $1 to $10. Go, Mor Mor! The money keeps rolling in!
You can see the listing here.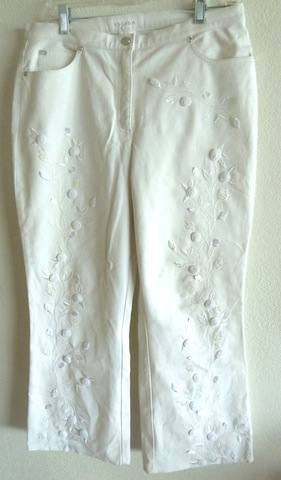 Oh yeah, I did very well at that previous estate sale also. I already shared with you many of the Stuart Abelman pieces that sold for big bucks. But here is another one I just sold this week. For me, also, the money keeps rolling it!
See this listing here.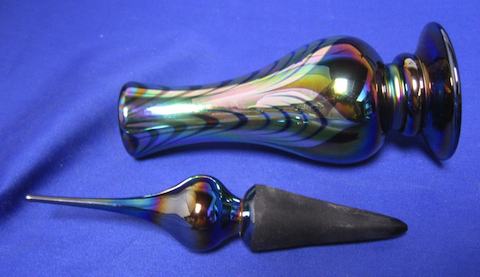 However, check out this email I got from the buyer. I was about to send back a very rude email and decided to be nice. How many times have you felt the same way?
Dear thequeenofauctions,

Hi there. I appreciate you accepting my offer. 🙂 As noted, I wanted to request upgraded packing and shipping on this item which I will gladly pay the difference for. 🙂 Please separate the stopper from the bottle and place a few layers of bubble wrap all around EACH piece (ESPECIALLY PROTECTING THE STOPPER TIP). Then, put each inside their own BOX with Styrofoam pellets filling in all gaps. Put those boxes inside a larger strong box with more packing materials surrounding them…..a DOUBLE BOXING PROCEDURE. Also, please ship via USPS Priority with Insurance and SIGNATURE Confirmation (NOT the cheaper Delivery Confirmation). This way, it's safer. 😉 I've had too many fiascoes. So now, I take no chances and give everyone instructions. It lowers my anxiety. LOL As soon as you reinvoice me, I'll send payment via PayPal. Thanks for your consideration and have a GREAT week!
Here is my response. Do you think I handled it OK?
Dear *******,

I have been shipping since I was 13 years old. My grandmother had an antique store since 1950 and I shipped for her since 1970. Please trust the way we pack and know that after 40 years of doing this we know what works and doesn't. Your item will arrive in perfect condition. Thanks for your order.

Lynn
Wow, that one was hard to write and still be nice. I am sure many of you have felt the same way.
But back to my Mom as my kids' babysitter. Many of you know how headstrong and determined my son Houston can be. After his baseball career is over (which may last through high school, hopefully through college, and really hopefully beyond :D), he has decided to become an attorney.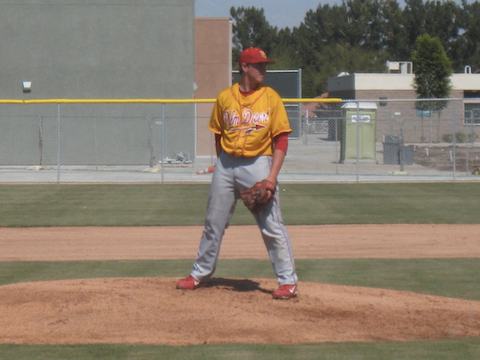 And let me tell you, he is one heck of a debater. So, of course, Houston challenged me to leave him and Indy alone for the three days and I said,"no way". I said there are laws against it. He said "no way", check it out. I guess he really is my son. We do sound quite alike!
So, I got on Google, and guess what, apparently there are no clear-cut laws when you can leave a child alone overnight. I started leaving him and Indy alone (with Houston in charge :D) at around age twelve to thirteen (BUT only for a few hours at a time).
But I would never consider leaving them alone overnight with no adult in the house, especially with Houston not even having a driver's license. I don't even think I will leave them alone overnight until they are each married with children 😀 Just kidding—kind of.
Here is my Mom with Houston and Indy in 2005
in Cabo San Lucas. Wow, time flies!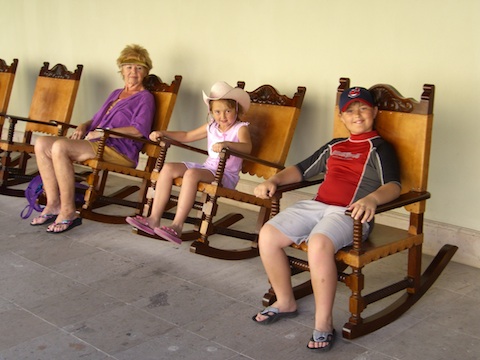 So, my mom flew in on Monday the 21st, and on Wednesday, we went to the estate sale. It was mostly upper-end designer clothes (my mom's cup of tea–not mine), and after putting a few things in my pile, I was bored. I knew that I needed to find something to purchase that would add up to some money because when I am invited early to an expensive, upper-end estate sale, I always spend enough to make it worth my host's time.
There were a lot of American Girl Dolls for sale there. They were priced at $30 each. I didn't think my rate of return on those would be great so instead, I focused on a pile of plush on the floor. Thank you, Debbie Ybarra! To learn more about selling plush, please check out Debbie's teleseminars.
I found about 20 pieces of plush that I could purchase and added them to my pile. Here is one of the plush pieces that Mo already has listed. Thanks, Mo!
See the listing here.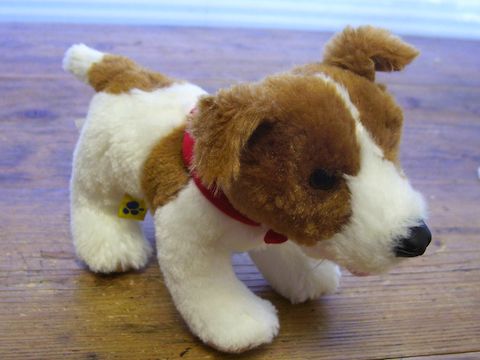 Then I found a box full of tiny items. I thought, I only like to ship tiny items now that Carmen is gone, so I will pull up a chair and see if there is anything decent. I started pawing through the box and couldn't believe it but it was filled with things that completely reminded me of Indy growing up. There were Webkinz clothes, club penguin dolls, and finally the score…..American Girl Doll Accessories are priced at $1.00 each.
I started making huge piles. I think I probably got about 150 individual items and was charged around $90.00 for them all.
When I got back to headquarters with everything I had purchased, Mo said, "you had better take a photo of this because NO ONE will believe that all you now buy is easy to ship stuff". I laughed and indulged her.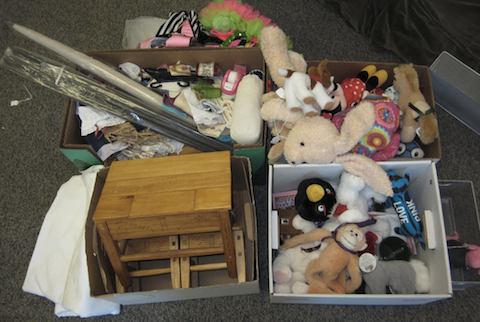 You know, it isn't all that little, but it is EASY TO SHIP.—ETS!
When we started researching the American Girl Doll Accessories, we were astounded! Just one tiny fork can sell for $17.99. Oh my goodness! Here is one of the items that I listed before leaving for Denver.
See the listing here.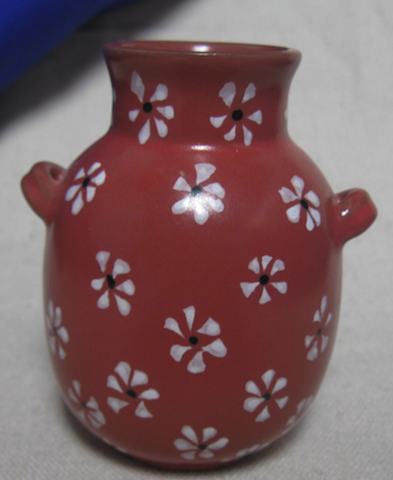 The prices on these accessories blow me away! I have realized that maybe AGD didn't make as many accessories as they did clothes, so once you lose a tiny piece to a set, you will pay big bucks to replace it on eBay. Look for AGD, Battat, or Pleasant signatures on items to signify authentic American Girl Doll pieces.
So Back to EOL, I flew out on Thursday morning to Denver. The night before I got a phone call from my good friend Christy (and Houston's buddy Bradley's mom) who said…can Houston go to the river with us for 5 days?
Then I got a call from Indy's friend Thea's Mom who asked if Indy could go to a limo birthday party and spend the night on Thursday? Really!
Bottom line, my mom didn't even need to come out. Not really, but we laugh about it and realize that every day with these precious kids is almost over. I can't bear the thought of it. So, I am thinking about taking on a husband–or a dog. What do you all think?
However, the worst/best news in all of this is that my brother's job with Belkin is going so well that he doesn't have time to help me anymore. I am super sad to have him leave my team but he is training Indiana to take his place.
What a dynamo that Indiana girl is. I am continually amazed and proud to say she is my daughter. So, this ezine was done by Uncle Lee and Indy together. WOW is all I can say! Indy is going to be making good money and wants to save up for a Volkswagen convertible. I have no doubt that she will fulfill her goal.
When I got home from eBay on Location, Indy was kind enough to model the awesome tattoo arm sleeves that Kabbage came up with. These are sooooo cool! Kabbage is a wonderful company that loans money to eBay sellers based on their eBay sales history. I don't know what I would have done without Kabbage this past year. The money I borrowed from them helped me to buy more expensive items from high-end estate sales. Thank you Kabbage!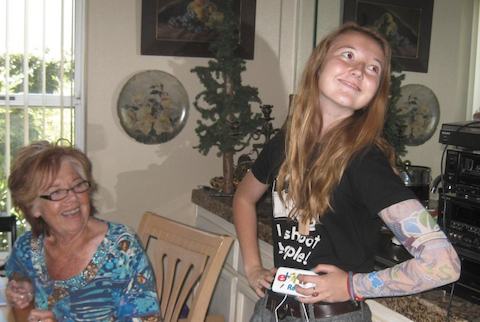 I am also really pleased that eBay radio has invited me back to Las Vegas to speak at their Ninth Anniversary Party. I will be in Las Vegas on June 20th and 21st so hope to see some of you there. I just talked to Lee Mirabel and it is SOLD OUT. So I hope you have your tickets!
If you missed me on eBay radio a few weeks ago, I spoke about making your eBay business profitable by still having fun. That will be the focus of my presentation. If you missed the broadcast, you may listen here. See you in three weeks! Can't wait.
Click here to learn more.

For those of you who are Queen's Court members, you know about the amazing teleseminars that we do for gifts. If you are not a Queen's Court member, you can still purchase these teleseminars.
Here I am at EOL with the Thrifting with the Boys, Jason, and Brian. It was great to see them and spend time with them. You can purchase their teleseminar here. They will also be speaking at eBay Radio next month.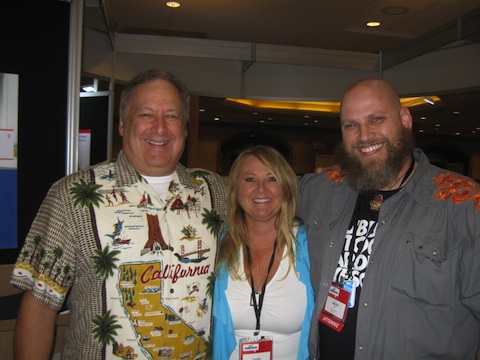 This month's Queen's Court's gift, and a teleseminar that many have been requesting, took place last week and it was awesome!
How to Purchase Storage Units for Fun & Profit with Danni Ackermann
Learn the Insider Secrets of Purchasing Delinquent Storage Units/Lockers
What you MUST know before bidding

Insider Secrets that will give you an edge

Big No No's

How to bid like the pros

What to do with all that STUFF once you have won the unit
Here are Danni and I at eBay on Location. She cracks me up. She actually gave me a pair of "readers" (glasses) that match a pair she bought for herself for $1.00 at a yard sale because we both joke that we will NEVER wear them. That is why I carry a jeweler's loupe in my purse 😀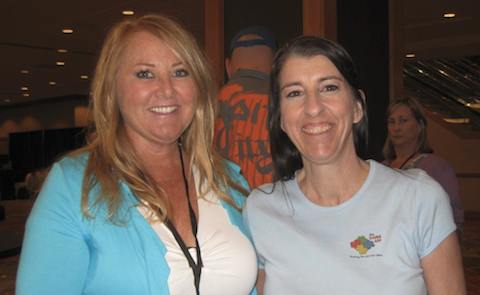 I am very pleased to introduce Queen's Court member Danni to those of you who may not know her already. She is a lot of fun, super eBay smart, antique savvy, and a blast to talk with. She has limitless energy!
Danni Ackerman is also known as Udderlygoodstuff on eBay and has recently started TheDanniApp.com where she shares her years of expertise about selling on eBay with others.  She is the author of Storage Lockers for Fun and Profit and a contributing author of The Home Run Guide. She has grown up in the antiques and collectibles world and sells full time on eBay to help support her family.
Danni is also an eBay Education Specialist and loves to teach others how to build their own eBay Businesses!
This amazing call lasted for 70 minutes and took place on Monday, May 21st at noon Pacific. If you are not a Queen's Court member, you may still purchase it here. And it will be emailed to you as a download immediately.
Mo and I had a blast doing this teleseminar last week!
Oh yeah, I have written 65 pages of section four of the Flatware eBook. It takes about a week to write 10 pages, so since my sister passed away, I have been writing like crazy. Sorry for the delay and thank you so much for understanding. I told Lee, 65 pages of text translates to 100 pages with graphics and formatting. Let's put out volume #4 so people can continue learning while I finish writing the rest. I think that is our plan 🙂 Watch for volume 4 soon and if you haven't purchased the Flatware eBook yet, you must. Because once volume 4 comes out, the price will go up. Read more here.
At EOL, we were at the Irish pub party that PayPal hosted (which was awesome and they even had a bagpiper) and Mom/daughter said, "Your flatware book has made us so much money! Thank you for writing it!" And, it isn't even finished yet. Order your copy here.
Some of the most important things to come out of my meetings at EOL were learning more about the search engine Cassini, the problems that executives realize about one-day handling, and the blackouts that we all feel are happening with sales.
Here are those details I promised. I was assured that Cassini is working really well and that it has almost completely rolled out (at about 70%).
I was also told that there are no significant rolling blackouts and that eBay is very much on top of this. eBay watches these numbers on a minute-by-minute, if not a second-by-second basis, to gauge traffic. If there were any major blackouts they would be immediately repaired as this traffic is what eBay counts on to drive their business. This is a very important part of their revenue stream (of course) so they take this very seriously. Thank goodness!
And when I got home on Saturday night, I looked at my eBay Selling Manager and found that I have 30 items to ship, which adds up to over $800, and this is all since my mom and Mo shipped on Friday. No rolling blackouts that I can see!
The eBay management team is also very aware of the one-day handling issues. They know that when a customer is buying multiple items and takes several days to complete their purchases (and pays separately) that this can ruin our 90% required compliance rate. They also realize that if we go to ship an item and we find a chip or if something has changed and we email the buyer to warn them, it can take days for a buyer to respond. I was assured that they are working on how to fix this.
I also brought up the vacation settings and that many of us are a one-person operation and when we take time off, there is no way to adhere to a 1-day turnaround. That wasn't on their list of problems but definitely agreed that it should be considered in the solution and was added to the list. I suggested that for every year we have sold on eBay, we should get a week's grace period for not having to adhere to 1-day handling. Kind of like a week's vacation for every year of service. I told them that means that I would get 14 weeks off every year. I wish 🙂 They thought it was an interesting idea.
eBay is really listening to the smaller sellers. They are getting it! I am happy to say that I feel very excited and enthused about what is coming up in the near future to help all of us sellers. Cheers to eBay!
Happy eBaying,
Lynn
Visit my eBay Store.
Visit my eBay auctions.
For more great eBay tips and stories, visit my website at:
http://www.thequeenofauctions.com

eBay PowerSeller and third-generation antique dealer, Lynn Dralle, is the creator of Boot Camp in a Box, the home-study course where you can learn to implement the Dralle Method to maximize your eBay profits.
If you liked today's issue, you'll love this step-by-step course that is guaranteed to be the most complete and enjoyable guide to selling on eBay that MAKES YOU MONEY.
Read all about it here.
The Queen of Auctions also offers articles, teleseminars, how-to books, tracking guides, DVDs, eBay Boot Camp training, and other resources to help entrepreneurs make their eBay business a six-figure sales machine.
Some links in my emails to you may be affiliate links. You can be confident that I only partner with companies that I fully stand behind.
The Queen of Auctions/All Aboard Inc.
PO Box 14103
Palm Desert, CA 92255
760-345-9355
Lynn@TheQueenofAuctions.com
---
---
Lynn is an experienced eBay Power Seller, author, and teacher. If you want to know the eBay tips, tricks, and tools that Lynn uses for buying and selling at an online auction click here.