September 21st, 2012
Volume VIII, Issue 8
Sorry, for the delay in ezines! September has been crazy! Tons of sales (which means tons of shipping for Indy and moi), back-to-school nights, and cleaning out the Alps. Oh my gosh! We can see the floor. Will wonders never cease?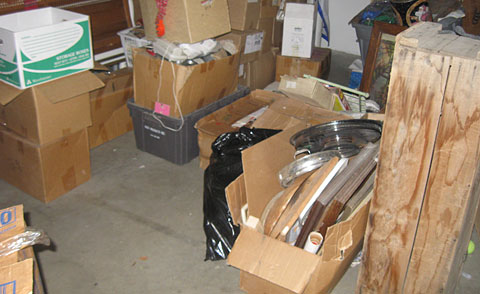 I have a few tips for those of you dealing with huge amounts of merchandise to sort and process. I will share those tips a little later. But in the meantime, check out this listing for one of the coolest things ever I found in one of those boxes.
See the listing here
.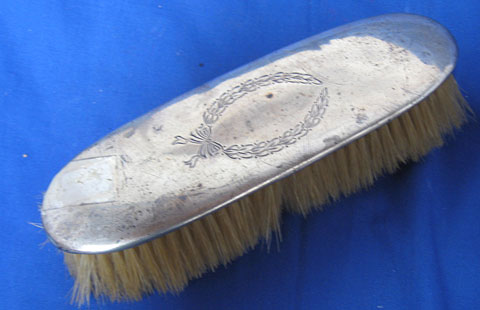 It survived the shop's 70% off sale and it was only priced at $39.50. Yay! I have it listed on eBay now. Wish me luck.
But speaking about huge amounts of merch to sort, process, and sell, my sister Kiki's estate sale is taking place this Saturday, September 22nd, and Sunday, September 23rd and I hope that those of you in the Bellingham, Washington area will be able to attend.
Here is more information about the sale:
Estate Sale in Large Storage Unit: Jewelry, beads, books (many on the Northwest and on antiques and collectibles), china, glassware, 100's of collector plates (most $1), lots of antique lamp parts and glass shades as well as antique hardware, old picture frames, some prints, craft magazines, "packing peanut dispenser", 2 door metal cabinet, 4 stack lawyers bookcase, small antique display cabinet, chrome storage shelves, mahogany desk, Lego's, collectible dolls; boxes of small miscellaneous and collectibles, purses, shoes and some vintage clothes; bits and pieces for those creative and artistic….

Saturday 9am – 3pm and Sunday 12 pm – 3pm at Bellingar Storage Unit A-5, located on Midway Lane between Irongate and Bakerview Spur off Bakerview.

When you come, ask to see the pictures of the next 3 upcoming sales!

Thanks for your business.

Theresa Meurs
Congrats and a HUGE THANK YOU to Theresa Meurs for doing the impossible! Sorting and preparing 60-plus years of my grandmother's things and my sister's things to sell for my sister's boys' benefit. We love you Theresa and Glo!
After a stressful August packing up my sister's belongings, we got to kick back in Vegas at a baseball tournament. My dad flew down to meet us and it was a lot of fun to hang out with him and my kids at the very reasonable and delicious restaurants in our hotel!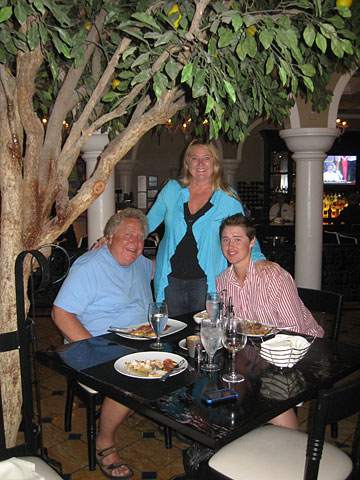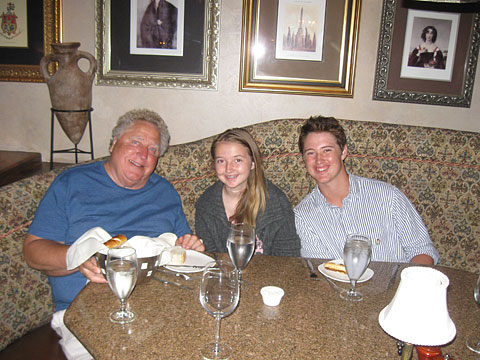 The boys took 2nd place and I made it home before the flash floods hit the area. Unfortunately, I drove right into the worst windstorm I have ever seen in Palm Desert. What a wacky trip!
Then it was right back to high school baseball. Last Saturday, Houston was the starting pitcher for Varsity against Martin Luther King High School in Riverside. I was soooo nervous for him, but he held his own. Thank goodness!
Here is Houston pitching in Riverside.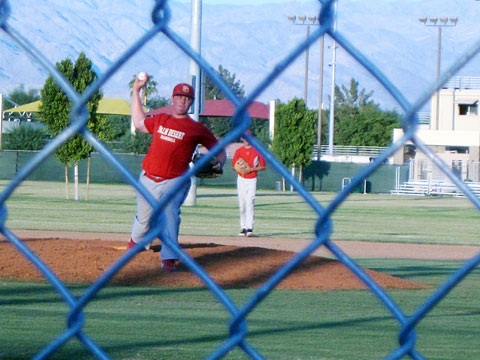 For once, I got to sit next to Mo during the game. Her son, Kelly, who is a senior and has been on Varsity since his Junior year and Houston (now a sophomore) have not played on the same team for about eight years. It was fun!
But I have to admit I didn't do much game watching and missed it when they sent Houston from the Varsity game over the to JV game. Luckily, I showed up on that field just in time to see him hit a BOMB. It went over the field and hit a bunch of people having a picnic. Go Goose!
In September, we had the best two teleseminars EVER with Cindy Shebley. These teleseminars taught about SEO for eBay titles and getting your listings ready for MOBILE—which will be $10 billion this year in sales on eBay. She is a wealth of knowledge and so willing to share. They were the August and September gifts for The Queen's Court. Here are a few of the comments after the first one…
From Sherri Mertle, a member of the Queen's Court:
OMG … This is the VERY BEST BEST BEST Teleseminar EVER.

YES Cindy … PLEASE COME BACK AGAIN !!! THANK YOU THANK YOU THANK YOU !!!"

–Sherri
And then this from Diva Dawn. Many of you know her as one of my nearest and dearest Queen's Court members. She & her husband Diva Dude drove my dad to the airport in Las Vegas on a Monday morning at 6:30 am. She is an amazing woman and hard to impress as she is very well versed in all things eBay:
WOW! Major wonderful information from Cindy. Thank you! Thank you!

Maybe Cindy would be willing to come back and do a strictly mobile teleseminar for September's QC gift? I'm guessing we're just going to scratch the SEO [search engine optimization] surface in the time we have left.

–Diva Dawn
I believe it was our best teleseminar EVER. AND Cindy did come back for teleseminar #2. It was just as impressive, if not more so than #1. If you are a Queen's Court member these were your gifts, if not you may purchase both from this link for a super low price.
But there is even better news yet to come… If you purchase Cindy's SEO and Mobile eBay Teleseminars within the next 72 hours you will get this amazing bonus eBook! (Or you can purchase if you are a Queen's Court member.)
This email is from the desk of Cindy Shebley on September 15th, 2012…
We covered so much on the last two teleconferences about SEO and Mobile selling – but I didn't get it all in! We ran out of time and I had more to share.

I had lots of notes on Mobile-Commerce and how we eBay sellers could get our listings ready.

What I decided to do is to take all these notes and put them into an eBook.

I'm expecting it to be finished up and ready to release on Oct. 15th.

What am I writing about? Well, as everyone on the QC knows what we'll cover is how these Mobile users shop and what we can do to prepare our listings to capture those buyers. During the live teleconferences we ran out of time before we had a chance to talk about how to take advantage of mobile for marketing.

In the eBook, we'll look at ways we can market, advertise, and bring in the mobile buyer. Then, once they've purchased from us, we'll want them to return and purchase again. There are a few things you can accomplish easily. Some of the tips you'll be able to implement for free (with a little sweet equity), others will take a bite out of your advertising budget.

Here are a few topics covered in the eBook:
Take Advantage of Showrooming

YouTube

APPS

QR Codes

Text SMS message

Bookmarks
As a Queen's Court Member we're offering this to you for $9.99. Please email Lynn for a special purchase link and YES you can use your QC special discount.

If you're not part of the QC – were offering this eBook as a bonus for buyers. Purchase and listen to the teleconferences now, we'll deliver the eBook around Oct. 15, 2012. Place your order here.
OK, let's share a recent score. I just sold another beautiful Stuart Abelman art glass piece for full price! Yay. And full price was not CHEAP. I sold this decanter plus six cordials to a woman for over $600 as an anniversary present for her husband. How cute is that?
See this listing here
.

They have a tradition of buying each other art glass for their anniversary. I need to find a husband like that!
Hot tip…Always buy quality items (even if priced accordingly-but high) if you can make money. Another, case in point for borrowing money from Kabbage. If you all recall, I borrowed money from Kabbage last May to buy this amazing art glass collection. It has paid off in spades!
Here is a recent press release from Kabbage.They are an awesome company that is helping so many of us "small guys". Thanks, Kabbage!
After, my trip home to Washington in August, I went out thrift store shopping with Vicki, a Queen's Court Member. I had been talking to my mom about some Gustavsberg pottery she had made a fortune selling and Vicki had also recently made some money with the brand.
We had just discussed Gustavsberg on the August Queen's Court call. There we were in my favorite thrift store when I picked up a creamer and a sugar. I knew they were Scandinavian without even being able to see the base. You all know I need readers but REFUSE to wear them. I bought them (pretty much sight unseen 

). They did turn out to be Gustavsberg and sold for a very high price! Yay! Another home run within 10 days.
This is just the as-is creamer. The sugar sold for the same price! I love Scandinavian ANYTHING.
See this listing here
.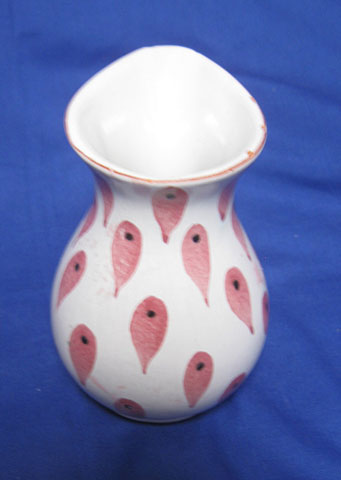 Speaking of Home Runs, if you haven't gotten the 2nd installment in Janelle Elms' Home Run Series, there is still time before the price goes up. The price goes up at midnight on MONDAY, September 24th.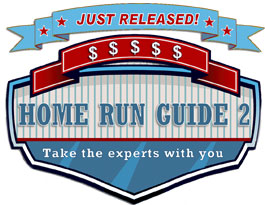 Janelle has collected another great bunch of experts to collaborate on her 2nd eBook in this series where each expert discusses what sells in their niche. This 2nd e-Book is awesome! I just flipped through some of the pages and the information is incredible. The e-book is 360 pages long (and that isn't a typo!)
And I am not just saying that it is awesome because I wrote one of the chapters. As you know, I never tell you about a product or book that I don't personally believe is amazing.
The price will be going up to $20 at midnight on Monday, September 24th. There is no doubt that this 2nd eBook is worth more than $59, but you should not miss this introductory offering.
Click here to order now.
Before I forget, here are my top three tips for those of you sorting through an "Alp's worth" of random merchandise to make it manageable.
#1. Pull out all the large items and list those on eBay immediately. This will give you the needed breathing room you need.
Here is one of those HUGE items that I just listed from my "Alps."
See this listing here
.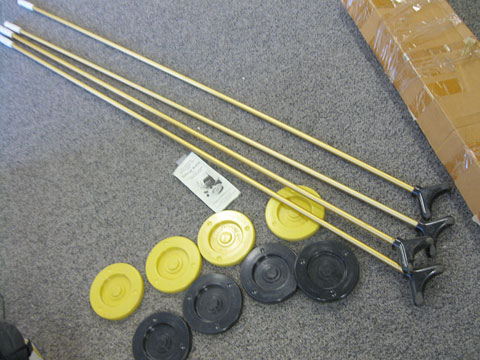 The beauty of this listing is that Premium Stores can list in the Outdoor Sports and Sports Memorabilia, Cards & Fan categories for free right now! Up to 10,000 items per month in each category during the rest of the year. How cool is that?
#2. Put all the small non-breakable items to the side to be listed later.
I have different boxes in the back of my warehouse for ephemera (books/paper goods), jewelry, and fabric. These items are easy to store, won't break, and can be listed in my leisure years. Like when I retire. As If that will ever happen.
#3. Start throwing away and donating things that you know are not worth saving to sell on eBay.
This has been very hard for me, but at least once a day, I take a box to the front of my office to put in a pile for charity and one big garbage bag to the back of the warehouse to put in the trash/recycling. I think this step should really be reserved for those of you that have been doing eBay for a while. Fourteen years ago, when I started selling on eBay, I may have thrown away or donated something that was quite valuable. I have learned a lot over the years and I hope that many of you have also.
If you are new to this, ask a friend or two to help you go through your questionable pile. This way, you will get two or three opinions and can be more confident in your purging choices.
I hope you are all enjoying your hard work over the Summer that should now be paying off big fall profits. As we head back to school, I am really seeing the fruits of our hard labor here at HQ. Last week we sold over $2,400. That is fantastic for a week in August.
Happy eBaying!
Lynn
---
Lynn is an experienced eBay Power Seller, author, and teacher. If you want to know the eBay tips, tricks, and tools that Lynn uses for buying and selling at an online auction click here.
Some links in my emails to you may be affiliate links. You can be confident that I only partner with companies that I fully stand behind.