I have my own personal Bermuda Triangle!
I grew up in Bellingham, Washington (BLI), raised my kids and lived in Palm Desert for 16 years (PSP), and now live in Ventura.
I just returned from a 10-day busman's holiday (working vacation) in all 3 of my hometowns!  I am so confused now, I don't know where I am!  LOL!
Welcome to Lynn's Latest #27…
September 25th, 2020
Watch for it every Friday or every other Friday!
(OK I am a day late this week….Sorry it is Saturday this time)
Volume I  Issue 27
Here I am with my Palm Desert friends (Candy, Mo, and Kel) getting ready to leave Palm Springs for our 5th annual vacation to my mom's beach house in Bellingham!  AND the FUN begins!
The flight to Bellingham was empty and very non-eventful.  I might even say it was enjoyable.  When we landed my mom was there to pick us up and she even brought flowers!
We spent that first-day having lunch in Bellingham and hanging out of my mom's deck.  She usually has a beautiful view but due to the fires, we could barely see Lummi Island.  I will share a photo of a past trip to show you how beautiful it is.  This is from year one of our annual trips back in 2016.
OK!  Time for a Serious eBay score before I get to the rest of my crazy 10-day trip!  Do you remember from the last newsletter where I shared the Herend figurines that my high school bestie (Tina Burke Brown) shipped me to sell on eBay for her?  If you missed that ezine here is a link. 
Well, those pieces have been a total score!  Check this one out that sold for the most…..you won't even believe this?
The store is looking really good!  Thank you to Sandy, Val, and Peggy!  Way to go girls!
Here I am with my dream team!  Sandy, Peggy, me and Val…Love you gals!  I would be remiss if I didn't mention Cindy (as part of my dream team) but she works in the back on eBay so wasn't in this photo.  I am very grateful and blessed to have you all on my TEAM!
Letting me take off 10 days all in a row was a dream….although, if you know me, I worked every day either on eBay, ordering new gift items or answering texts/emails.
It is an illness…I LOVE my job and therefore working on vacation is like "not" really working! My grandmother always said…"if you follow your passion, the money will follow". She was and still is RIGHT ON! Here is one of my favorite pictures of my grandmother, Cheryl Leaf, entrepreneur extraordinaire!
Just a reminder of our current store hours…..
Tuesday to Sunday 11 to 3. Saturdays from 11 until 5 pm.
We do stay late if there are customers so if you are in the area check us out to see if we are still open after 3 pm.
The yellow front window was such a hit! I can't even believe how much has sold out of it. Here is one last look at it before we transition to green.
For our annual girl's trip, we always fly out of PSP…it is the best little airport ever.  I left Ventura on Saturday, September 12th to head out to Palm Springs.  We flew out on the morning of 9/13 and I have caught you up with some of our goings-on, but before we get to the green window, let me continue.
Day 2 of our Girl's trip was spent in the tiny little town of Lynden.  Here is a photo from one of my recent Instagram posts during my Bellingham visit this past August.  It is interesting because it gives a little bit of the history of Lynden and how it plays into my family history.
That is me, my mom, my brother Lee, Indiana, and Brandon.
Here is what I wrote about that Instagram post from August 3rd of 2020…..
Standing in front of my great grandparents' home in Lynden, Wa. They built it in 1939 on Grover Street. My great-grandpa owned Sussex Motors, the Ford dealership, on Front Street for many years. #lynden #smalltown #bellingham #family #threegenerations
More to add, both my mom and dad taught High School in Lynden, Wa when they first graduated from WSU back in the late 1950's.  My great uncle Houston (Cheryl Leaf's brother) also lived in Lynden for a while and owned a gas station.  Guess where I got my son's name from?  LOL….LOVE the family history behind his name (we are related ot Sam Houston) Lots of memories in Lynden for my mom and my family.
For some reason, my Palm Desert besties LOVE Lynden, so this past week we did make our trek there and this is my favorite photo from that visit.  Can you even believe these hanging basket trees?  They are OFF THE CHARTS!  Ventura, we need some of these in Midtown to set us apart.  Not a bad idea?
Let's take a second to share some of the fun amazing new items that have come into the store recently!  Check out the new arrivals by clicking this link.
We have also taken in some amazing couches.  Check out this darling Ethan Allen Floral, this super chic outdoor sofa, the Natuzzi fine grain leather, and the super comfy sectional.  The sectional has sold, but the others are still available!
OMG!  Check out this Leather Restoration Hardware Sectional we got in today.  Like new and only $2,995.  This one will go fast!  Stop in and see it today!
Time for an eBay score! This is a piece that my grandmother gave me. I LOVE it! Well, I did love it and enjoyed it for many years. It is almost like a dressed snow baby in real fur…and it is bisque and antique. Hard to describe, but you can read the description in the eBay listing here.
I was asking $1,000 for it and took an offer that was around $500.
OK, shall we get back to the new green front window or the rest of the girl's trip?  Not sure where I should go now…BUT, I am feeling the green front window for some reason.
OK, this window is a work in progress.  When I returned from vacation I hit the ground running.  I had asked Sandy to gut the yellow window on Tuesday I returned and was working from home on eBay.  She did a great job and Wednesday, Val and I threw (literally at 5 pm when we finally got around to decorating) the green stuff in the window.  I am not entirely happy with how it has turned out YET…so will only share this one side photo.
Once I feel that it is perfect, I will make a point to drive by at night in the dark and take a proper photo.  LOL!  But seriously that is the TRUTH.  It has to be perfect!  Today, Val and I added some twinkly white lights, some expandable greenery, amazing nightstands Sandy painted in Amsterdam Green, and some darling butterflies….. so I think I can get that night shot pretty soon!
Had to show you one of those nightstands that Sandy painted.  Sooooo beautiful and only $149.50 each.
Back to Bellingham… For each year's trip, my mom and I want to share a new experience with our guests!  This year, we decided to head over to Orcas Island for the day.  Well, let me tell you this…it turned out to be one heck of a LONG day!  Just remember that Washington was super smokey from all of the fires.
We arrived in Anacortes for our 10:30 am ferry to Orcas.  The ferry was over 1 1/2 hours late leaving Anacortes because of the poor visibility.  We made the best of it and here we are on the Ferry!  You can barely see Shaw Island behind us…that is how bad the visibility was.
We had a blast on Orcas.  We had lunch at the Lower Tavern, headed to Rosario to check it out (ghost town), and wound up at the Orcas Island Pottery.
My mom has been talking about the Orcas Island Pottery for years!  She bought a coffee mug there about 20 years ago and it recently broke.  She was heartbroken and couldn't wait to get back there.  The place was magical!  I can't believe I have never been there.  My mom said it was her "Disneyland".  Check her out!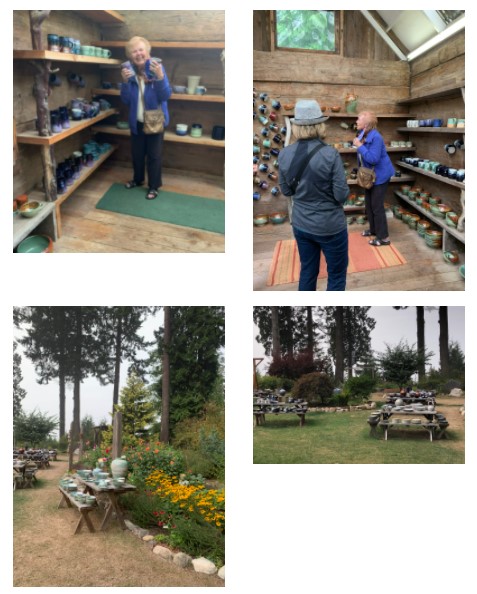 My mom is redoing her kitchen and we both thought that some of the Orcas Island Pottery tiles would be amazing in her kitchen.  I told her that I would buy her 16 as a start to her collection.  Check them out here in her kitchen in Bellingham where she is playing with the design….aren't they amazing?
My first thought when I saw them and all of the other pottery was this…How can I source this and bring it back to all of you here in Ventura at a reasonable price?  Remember, I am a former buyer for May Co., Cheryl Leaf Antiques, eBay, etc… Actually, I am not a former buyer…I have always been a BUYER…so was just following my passion.
I did my research and guess what?  Coming in the next few days…You too can own a piece of "Orcas Island Pottery" in the form of one of these tiles (use for a trivet, wall decor, or backsplash for only $19.95.  So excited to share these with you!
After the pottery, we headed over to my friend Hank Maarse's home on Orcas. Hank is one of my best friends from USC.  Years ago, I was telling Hank about Orcas Island and he told his mom Clara.  Next thing you know, the Maarse family owns three houses on Orcas!!!
Hank and his family weren't on Orcas, but we took a bottle of wine and had some cocktails on his deck.  Check out how smoky it is here as well.
I have many fond memories of time spent at this home with Hank, his mom, and his dad Jacob (of the famous Jacob Maarse florist in Pasadena).  Here is a fun picture of us in the kitchen from my ezine written in 2009.  If you want to check out that ezine, you can find it here.
Here we are in the Maarse's Orcas Island Home.  Hank, Ana, their son Jacob, Jacob Maarse, me, and Houston.
OK, one more eBay score.  Oh, wait….let's talk about the super fun picture that popped up in my time hop from 5 years ago today!  It is Indiana riding on the back of a convertible after she was voted Homecoming Princess at Xavier College Prep.  Too cute Indy!
And I would be remiss in not posting a photo that also popped up from five years ago of Goose (aka Houston).  He had just won the election for Freshman class President at Pepperdine.  I was (and still am) so proud of both of my kids!
OK, now for the final eBay score.  It is a Cherub antique lamp part that I bought for $5 at an estate sale.  Sold for the full price of over $200!  Check it out here.
Before I forget, a miracle happened two weeks ago.  My neighbor, Mo, finally graced us with her presence in the store.  Seriously, we have been open 2 1/2 years and she emailed me two weeks ago to say, "I love those baskets in your newsletter, I am coming into the store today".  Well, let's just say, I didn't hold my breath.
And yes, she did actually show up, and even more miraculous, she bought stuff!  Thanks Mo!  LOL Hahahahaha
Yikes!  Before I forget, please please please please VOTE for us for BEST OF VENTURA 2020.
Last year we made it to 2nd place in the category Home Furnishings! Thank
you for your support…. It means the world to me!!!!!
This year we made it onto the ballot again in category #13
Home Furnishing Stores for The Ventura County Reporter's 35th Annual
Best Of Ventura County!
Here are the IMPORTANT rules…
1. One online ballot per person.
2. Ballots must have at least 10 completed categories.
Ballots will be accepted through 5 p.m. Wednesday, September 30, 2020.
To find Lynn's Consignments Fun Home Furnishings scroll to Category #13.
Thank you so very very much for helping and let's hit #1!
But I digress, let's get back to our last day in Bellingham…Wednesday the 16th.  I have missed my nephews so much and it was so great to see them last month but I was hoping we could see them this trip as well.  I was in luck!  Their dad, John, brought them up around noon on our last day.
We had soooooo much fun!  We ate pizza, played trivia and truth or dare with Alexa!  Here are the boys cracking up while we play Truth or Dare.  Just a heads up….for those of you who read on Facebook that I was sad that "club penguin" was no more or saw those "feet" on my Insta story….that was all for the Truth or Dare game 🙂
While the boys were at my mom's we face timed Houston and he actually answered!  It is a Christmas miracle!  He was (of course) on a bike ride and this is what it looked like.  So fun!
Before the boys left, we got one family picture out on the smoky deck.  They are both getting so tall, it is crazy!
Time for a potential eBay score!  And this takes me right back to Palm Springs.  We flew back to PSP on Thursday, the 17th, and immediately hit some estate sales.  Fun fun!  I bought a bunch of Baccarat, Waterford, and Orrefors Christmas ornaments and some amazing oil paintings.  I will share more about the oil paintings once I have them listed on eBay.
One of the larger ones is in the green front window.  It is on canvas and I have not priced it yet.  Still doing my research and I may end up selling it on eBay.  My friend Coco has been helping me research it and we can find nothing.  Here is a photo of it and it is signed by Hoeckmann.  Anyone knows anything, please let us know.
Ooops!  Forgot about the potential eBay score.  Here is one of the Christmas Ornaments that I have listed on eBay.  I paid $6 each so I am pretty sure I will make at least 10x what I paid for the bunch!  Yipppppeeeee!
Here is a link to check it out.
Here is a recent Instagram post from Annie Sloan Home with a gorgeous lamp in Green. I LOVE this and it is really in line with our upcoming Green window.
I had to laugh when I pulled up Annie's Instagram page and read what she had written about the "occasional bad joke"  LOL.  She is such a cool chick and has a great sense of humor!  Another thing I loved from her Bio is this line "Supporting fabulous indie shops globally".
I LOVE that I am one of her fabulous "indie" shops!  Annie is such a staunch supporter of small, local businesses owners and I am so beyond blessed to be able to carry her wonderful paint and entire product line!  Thanks ANNIE!
Don't forget that you can always order your paint supplies on our website……….
Shop Annie Sloan Here
https://lynnsconsignment.ricoconsign.com/store/category/Annie%20Sloan?sort=HL
Sandy moved the yellow window inside the store to one of the vignettes and it looks FABULOUS! Love that we can continue our color themes inside the store! How fun and cheerful is this?
Carlos was NOT happy that I left him "home alone" for 10 long days.  Of course, I had someone checking on him morning and night.  Still way too long for an 11 month to be alone.  He was so happy to see me that he got a little comfortable on his back.  Do these pictures crack you up?  They do me!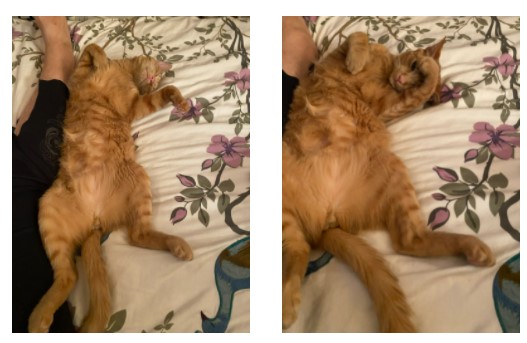 I text those photos to the Palm Desert girls and look what I got back.  LOL HAHAHAHA!  Similar poses from two of their dogs.  That is Candy's dog Peaches and Kel's dog Zoey.  I guess the "Pet Yoga" pose challenge has begun!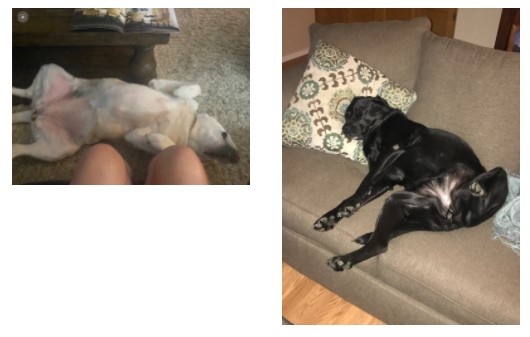 Cindy's son David is the one who watches Carlos when I am away.  He does an excellent job!  Here is a photo of Carlos outside in his "new" pink harness.  Isn't he handsome?
In a week, Indy and I will be picking out our new puppy!  OMG, what is Carlos going to think?  Yikes!  My house is going to be crazy fun really soon!  Here are a few photos of the litter that we will be picking from.  Goldendoodles are just tooooooo cute!  The puppy will probably be coming to work at the store with me a few days a week, so please stop by and say hi!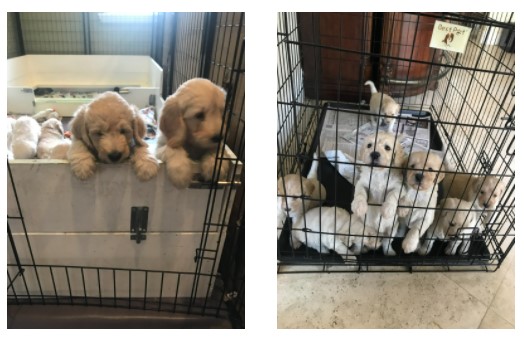 I have been really missing my kids.  Who would have thought that was even possible?  I did stop by and take Indy dinner (Chin Chin's) on the final leg of my Bermuda Triangle journey this past week (as I drove from Palm Desert back to Ventura…she is in Agoura Hills).
Houston isn't so easy to see in person.  I did send him some of the new Baggu masks (since apparently he only had one to wear to teach school in person in OKC).  This is the "scary" photo he sent me with a "THANK YOU THE MASKS ARE AWESOME" text.  LOL!  Boys!
Funny how his map is of the east coast and mine at the start of the ezine is the west coast.  I wonder if they would match up and make the entire US?  In any event, these amazing masks are for sale on our website here.  Free shipping!
Indiana has been super busy preparing for her lead in the Fall play, "Polar Bears, Black Boys, and Prairie Fringed Orchids".  She plays Maggie.  It will be live-streamed for free next weekend.
Get your Tickets Here. The performance is virtual and it is free! Let's support these kids who have all worked so hard!
Here she is in one of her wardrobe changes and her "Maggie" wig. I think she looks beautiful! Go Indy!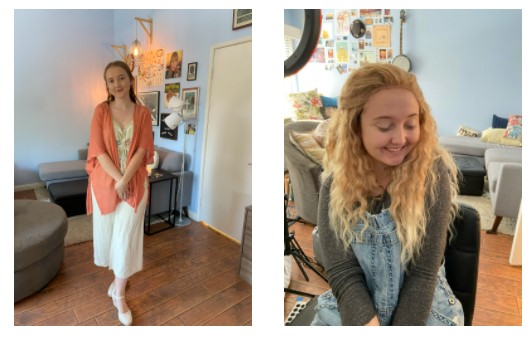 She was also a guest on LA Talk Radio with Dr. Tongie last week.  When I get a link to the replay I will include it in an ezine.  She killed it!  I was (and am) so proud of her!  Here is the promo photo for the show.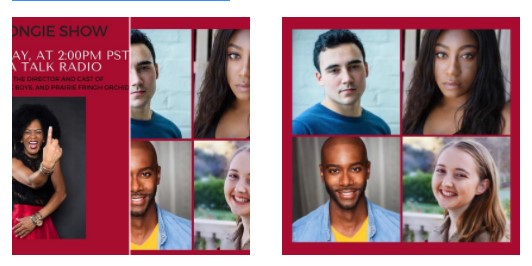 Alrighty then, I was not going to write a lot this week since I am so behind in all of my other "work".  Oh well! You must realize (by now) that I tend to write a lot.  I get started and just can't stop!   A few last things before I wind this up.
My good friends, Linda and Brita from Red Rooster Vintage in Redlands (fellow Annie Sloan Stockists) were featured on the Brett Waterman show "Restored" this past Wednesday night.  Love his show!  And the girls were awesome on air!  They will be on more episodes this year along with Annie Sloan….can't wait for that one!  Sometime in January, they tell me!
And last, but definitely not least!  We have a new consignor who is EXTREMELY talented and way too modest.  Her name is Suzanne and she is an incredible artist.  She was ahead designer for Disney and also Universal Studios.  She designed the Harry Potter ride at Universal.  Seriously?  She is AMAZING!!!!
She has taken up weaving and uses only recycled yarns from thrift stores etc.  It is all done by hand and one of her creations can take up to 60 hours to complete.  Here she is in the store with a work in progress.  Her pieces are works of art and I know (mark my words) they will be worth a LOT of MONEY someday!
Here is one of her pieces that we have for sale in the store right now.  You must see it in person as it is beyond amazing.  It is also available on our website with free shipping.  Click here to purchase now.  You won't be sorry!  Actually, you will thank me someday!
Let me wrap this up with a HUGE thank you for your continued support of my small business!  You are keeping us going and my gratitude is immense!  AND thank you for voting for us!!!!
Thanks for reading my ezines!  I appreciate it….as always!
eBay with Heart & Design with Heart……Lynn
P.S.  All of the professional photos I use on Instagram, Facebook, and in these newsletters were taken by my friend Denise's daughter, Jaclyn Sabo.  She is amazing!   To learn more about Jaclyn….https://www.jaclynszabo.com/
P.P.S.  If you have a friend who wants to sign up for this newsletter.