Lynn's Fun Fashions
Clothing Consignment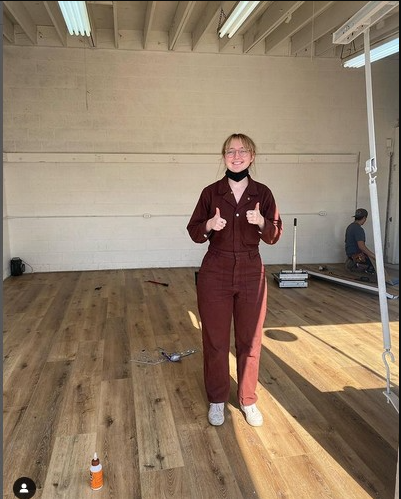 Look how cool the clothing store is looking!  We are beyond excited to start taking in inventory.  Here are some important details……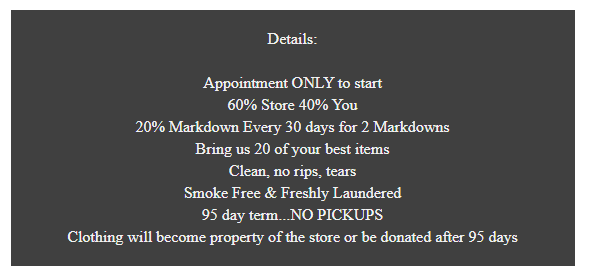 The goal is to price it to sell…..because of this there will be no pickups after the 95 days.  I have spoken to many clothing consignment stores that did not survive BECAUSE they spent most of their time pulling returns for consignors.  This is our policy…hope it makes sense.
Check out the new dressing rooms going up :)!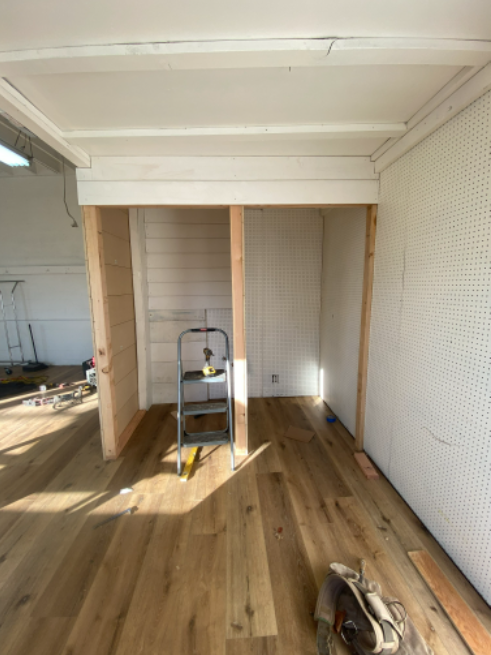 We are looking for specific brands and LOOKS in clothing.  New with tags is ALWAYS a bonus!
MUST be CONTEMPORARY and ON TREND!  We don't want items that have been in your closet for 10 years 🙂
LOOKS:
Cottage Core
Boho Chic
Vintage
Beachy
Surf
CONDITION:
Looking for items in pristine condition….Gently used & new
No Signs of Wear—including pilling, fading and shrinkage
No Damage–like missing parts, rips, stains and odors
No Alterations–including missing sizing information
Currently taking in SPRING…dresses, capris, shorts, sandals, tops, light sweaters, transitional pieces, jeans, purses, handbags, jewelry
Size inclusive shop so we are looking for Women's sizes from XS to XXXL
Here is a list of BRANDS we would love to see come through the door!
Abercrombie & Fitch
Adidas
All Saints
American Eagle
Anne Klein
Anthropologie
Asos Curve
Banana Republic
BDG
BGB Max Mara
Big Bud Press
Birkenstock
Billabong
BKE
Bloomingdales Brands
Brandy Melville
Burberry
Cabi
Calvin Klein
Carole Little
Champion
Chicos
Citron
Coach
Converse
Dr. Martens
Eileen Fisher
Escada
Fabletics
Free People
Gap
Gucci
Guess
Gymshark
Hollister
INC
JCrew
Jordans
Johny Was
Kate Spade
Levis
Louis Vuitton
Lululemon
Nike
Nordstrom Brands
Northface
Obey
Pacsun
Patagonia
Prada
Rebecca Minkoff
St. John Knits
Sperrys
Tommy Bahama
Top Shop
Torrid
Tory Burch
Trina Turk
Urban Outfitters
Uggs
Vans
Wild Fable
Wilfred
These brands we do NOT want to see…
Forever21
H&M
Kmart
Shein
Steinmart
Target
Old Navy
Thank you so much!  We are being super selective to start as we want a very carefully curated store for your shopping enjoyment.  Can't wait to see what you bring us!  Lynn, Houston & Indiana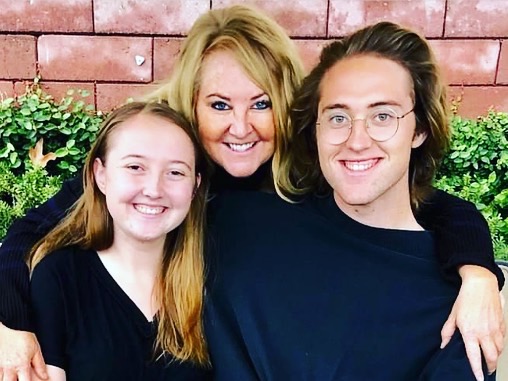 We have 6 appointments available on Sunday February 6th and 6 appointments on Monday, February 7th…..please let us know if you would like a slot and to begin with please only bring in 20 of your best items. Thanks so much! So excited for this new journey!
Sunday, February 6th
noon
12:30
1:00
1:30
2:00
2:30
Monday, February 7th
noon
12:30
1:00
1:30
2:00
2:30
Thanks for reading my ezines! I appreciate it….as always!
See YOU Soon!
eBay with Heart & Design with Heart……Lynn
Past Newsletters
1  https://tinyurl.com/lynnslatest1
2  https://tinyurl.com/lynnslatest2
3  https://tinyurl.com/lynnslatest3
4  https://tinyurl.com/lynnslatest4
5  https://tinyurl.com/lynnslatest5
6  https://tinyurl.com/lynnslatest6
7  https://tinyurl.com/lynnslatest7
8  https://tinyurl.com/lynnslatest8
9  https://tinyurl.com/lynnslatest9
10 https://tinyurl.com/lynnslatest10
11 https://tinyurl.com/lynnslatest11
12 https://tinyurl.com/lynnslatest12
13 https://tinyurl.com/lynnslatest13
14 https://tinyurl.com/lynnslatest14
15 https://tinyurl.com/Lynnslatest15
16 https://tinyurl.com/lynnslatest16
17 https://tinyurl.com/LynnsLatest17
18 https://tinyurl.com/LynnsLatest18
19 https://tinyurl.com/LynnsLatest19
20 https://tinyurl.com/LynnsLatest20
21https://tinyurl.com/LynnsLatest21
22https://tinyurl.com/LynnsLatest22
23https://tinyurl.com/LynnsLatest23
24https://tinyurl.com/LynnsLatest24
25https://tinyurl.com/LynnsLatest25
26https://tinyurl.com/LynnsLatest26
27https://tinyurl.com/LynnsLatest27
28https://tinyurl.com/LynnsLatest28
29https://tinyurl.com/LynnsLatest29
30https://tinyurl.com/LynnsLatest30
P.S.  All of the professional photos I use on Instagram, Facebook and in these newsletters were taken by my friend Denise's daughter, Jaclyn Sabo.  She is amazing!   To learn more about Jaclyn….https://www.jaclynszabo.com/
P.P.S.  If you have a friend who wants to sign up for this newsletter.