Welcome to Lynn's Latest #9…
March 12, 2020
Watch for it every Thursday or every OTHER Thursday!
Volume I  Issue 9
The people have spoken and it is OFFICIAL! We will now and forever be known as Lynn's Latest!
This past week was a little less eventful than usual! Thank Goodness! On Wednesday night, my mom, Emma, and I went to the Cliff House hotel's restaurant, The Shoals. We had never been and it was EXCELLENT! I will be returning.
Thursday, my mom and I took the day off!  Is that even a thing?  A day off?  Apparently, there is such a thing! We headed up to Ojai for lunch at the Mexican restaurant, complete with Margaritas :).
While at lunch, I remembered that I needed to stop by Kitty Bartholomew's house and pick up some things for the shop.  I texted her and she said, "come on by around 3ish".  What a treat!  For those of you who don't know who Kitty is, she hosted the original HGTV design show…."You're Home"!
Check out Kitty and my mom in her darling kitchen!  Red, White, Green, and Black.  She is still the design Queen!
Here is my car loaded with treasures from Kitty's personal stash!  Stop by the store and I will point them out to you 🙂
Check out this new and improved Beachy Display that Emma & Sandy worked on while the store was closed.  That is about the only time we can get any real display work accomplished.  We have been so busy in the store and are super grateful for all of your wonderful customers and consignors.  The white slip-covered sofa sleeper is only $695!
The date of today's ezine, March 12th, is a day I will never forget.  Eight years ago today, my little sister, Kiki, passed away from Cancer.  It seems so long ago, and yet like it was yesterday.
Here is a snippet from an ezine I wrote on February, 14th 2012.
"My sister is still hanging in there. She is amazing! I have been updating The Queen's Court on an almost daily basis. One of our awesome members (Bobbie) sent this message…
Lynn,

Thanks for the update and glad to hear that your dear mother took a break and hope she is doing more of that every night. Is Lee there for the weekend? Take lots of pictures while the entire family is there. Prayers are still going out for every one. Hugs too!

–Bobbie Quandt, Colorado
Bobbie was at Live Boot Camp for several years and also attended the most recent boot camp we held at HQ. She is part of our family.
So, last night, my brother was packing to leave to go back home to LA. I said to my family, "A Queen's Court member said we should take lots of family pictures." I grabbed my mom, dad, Lee, and a hospice volunteer, Dianne (who knew my grandmother and helped her pick out the shiny beaded jacket she wore to my wedding–small town 🙂 and we took a few photos with Kiki. Check out her smile. Every single nurse, volunteer, friend, visitor, and doctor that comes into her room always gets that HUGE wonderful smile from her. Even if she doesn't know you. My sister is amazing."
My sister was in the Whatcom County Hospice House in Bellingham, WA from January 4, 2012, until she passed away on March 12, 2012.  During that time, we practically lived there with her.  Seriously, we moved in with blow-up beds, etc. and I am so grateful that we had that time with her.
Her service was on Sunday, March 18th, 2012 at the Alaska Ferry Terminal in Bellingham Washington.
Over 250 people attended including two Queen's Court members, Bev Helton and Carol Dittrich. Thank you, ladies! We even read a special message from Victoria in Bakersfield. Here is what she said.
"Kiki's spirit has been set free, and she can once again walk, run and even fly, alone or with the angels. In my mind, she is dancing to Duran Duran, her beautiful red hair blowing in a gentle breeze, eternally barefoot with a fresh pedicure, and lifting a beer and a great big smile towards Bellingham in honor of her loving family and friends. She knows how much you loved her, and she will be watching over all of you, and sending an occasional message in her own special way."
Here is the picture from the front of her program with her boys Zach (age 5 then) and Kai (age 3 then).
OK…that was tough…  Every year on the anniversary of my sister's passing, I watch her memorial service and I am so grateful to John Mortensen for filming it for us.
If you care to watch, here is the link to her celebration of life.
https://tinyurl.com/kikismemorial
Now on to eBay and a score to brighten this rainy day.  I bought this crazy HUGE wall decoration in Palm Desert at a really WEIRD estate sale for $2.  It sold for the best offer of $60!  https://tinyurl.com/r42u3o4
Ironic that I chose to share this score.  My sister passed away from Lung Cancer.  Kiki (Kristin) started smoking as a teenager and she just couldn't quit.  Not even after her dog, Caesar had to have 1/2 of his lung removed from secondhand smoke…and he eventually passed away from lung cancer.  I have heard that it is as addictive as heroin.  I get it….but if you smoke, please stop.
But back to happy things, I went to an Art Gallery Showing at H Gallery (my friend Rodrigo owns the gallery) with my friends Jeff and Joanne Carolan.  Their friend Mary Neville was showing that night and her work is incredible.
Here is a Google Image Search for her work….https://tinyurl.com/tgtp5pt
OK, but back to the store!  Here is a tiny peek into one of our new vignettes…with colorful art.  One of the pieces in this display came from Kitty Bartholomew!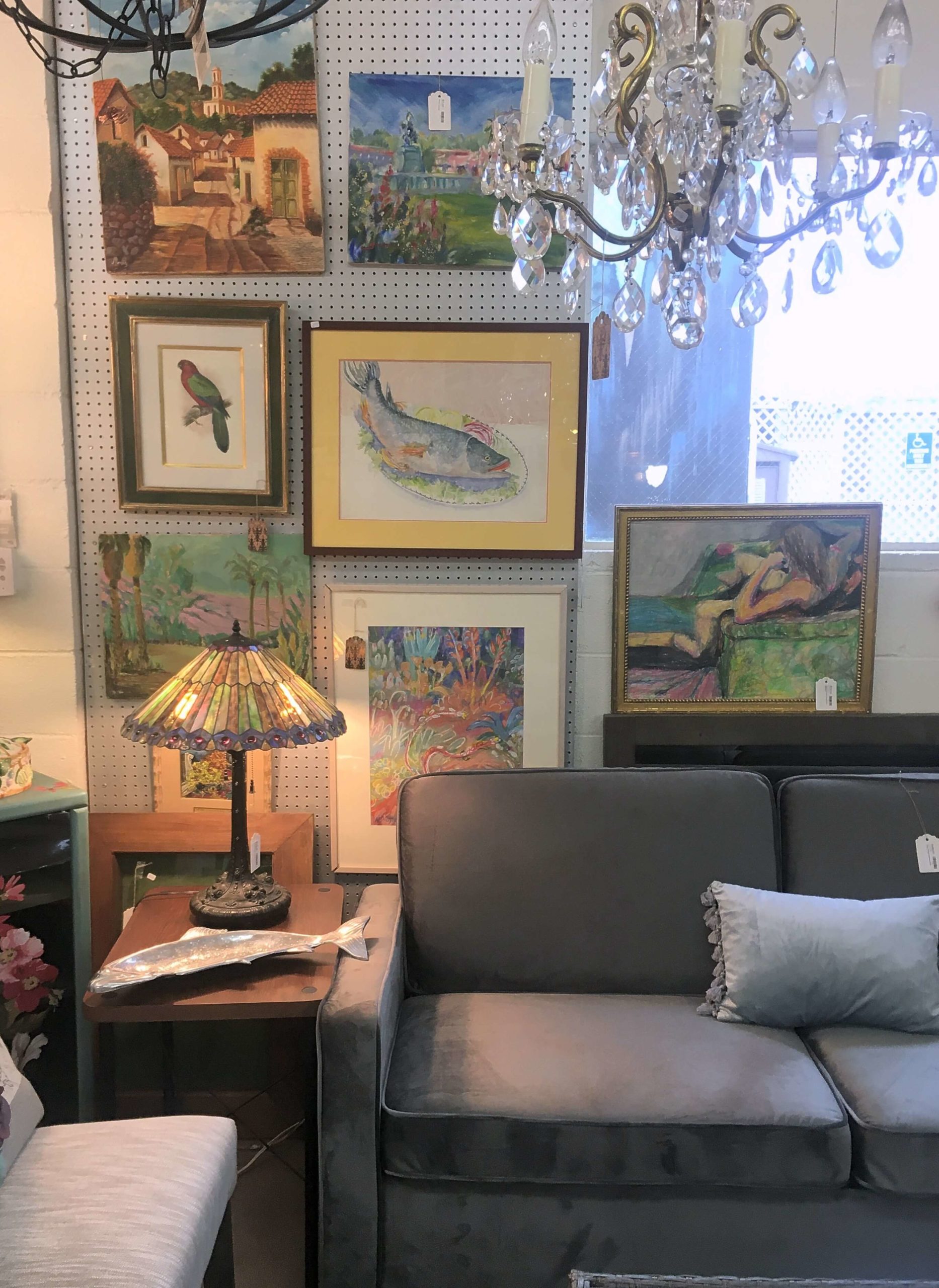 I love the Time Hop app on my phone!  Check out this photo that popped up from exactly 5 years ago this week.  This is Houston (#6) covering 1st base at a tournament in San Diego.  Indiana elaborated on the photo for her Snapchat story with "Goosie (his nickname) G putting in the work"  LOL!  I miss those travel baseball days!
Back to an eBay score.  I bought a set of really neat faux horn flatware at an estate sale for $25.  Sold half the set for $178.29 on eBay last week.  Yaya!
https://tinyurl.com/soldcutlery
Last week was Pepperdine's Spring Break, but Indy couldn't come home because of rehearsals for the Spring Play.  She and Brandon (her boyfriend) came home on Friday night and the first picture I took was of her and Carlos…..
As I was writing this newsletter on Wednesday morning, my phone rang and it was Indiana.  My heart fell.  I had a feeling Pepperdine was going to do something stupid and shut down the campus.  Ughhhhh….on the other end of the line was my Indy girl crying and being very angry.
They just canceled everything she cares about.  Her performance in the Contempo Cabaret show is scheduled for March 28th, her role of  Charlotta Ivanovna (the most eccentric character) in Chekov's Cherry Orchard Play is scheduled for April 15th….etc.
All kids must be moved out of University housing by Sunday.  Classes will be taught remotely, but as Indy said "How do I take a Voice and Movement class on the computer?"   Mass hysteria?  I think so.  I am sooooooo over this!
Indy's Summer abroad to participate in the Fringe Festival in Edinburgh Scotland in jeopardy.  Pepperdine will make a decision on this sometime in April.   Ughhhh.
Here is Indy in her most recent leading role as Carmen in Curtains.  Unfortunately, that musical ran ONE night ONLY due to the Woolsey fires.  Can't these kids catch a break?
OK, thank you for letting me vent! and now back to the store….
Our next Annie Sloan paint class will be held on Saturday, April 4th from 10:30 to 12:30 ish. The cost is $69. Spaces are limited so sign up here now.
If you have any questions please call the store at 805-628-3289…
http://www.kickstartcart.com/SecureCart/SecureCart.aspx?mid=7FF2CB21-8A24-49FC-9294-87759EA393E1&pid=efe98f6b99584f1a87e510b15acb1d41&bn=1
This is the Basic Course offering an Introduction to the Annie Sloan Method of Chalk Painting….Furniture, Lamp Shades, Fabric, and just about anything! You will create 3 Sample Boards with different finishes to take with you and all the confidence and knowledge you need to go home and tackle any project!!! Can't wait to see you and help you learn about the….. BEST PAINT IN THE WORLD!!!
Check out the before of this dresser.  Needs TLC wouldn't you say?
Here is the after…. with Annie Sloan Paris Gray Paint and the Japonica Iron Orchid Design Transfer…some new drawer pulls (not in this photo but please drive by the store and see it in the front window!) and we are good to go at $295!  Watch for it in our new window display next week….Light pink and grey.  It is going to be EPIC!
Amazing News!  Annie Sloan is coming to So Cal and I am on my way to meet her!   My friends, Linda and Brita, at Red Rooster Vintage in Redlands have pulled it off!  I am so proud of them and super excited to meet Annie in person!
Saturday, March 14th at 1 pm I will be in Redlands and I encourage you to attend as well!  Let's get a caravan going from Ventura!
OK, time for another eBay score because…they are fun!  I bought this yearbook at a sale for $5.  Yearbooks, Annuals…whatever you want to call them can sell for big bucks!
Since I have had this one listed for over 2 years on eBay, I took the best offer of only $30.  Oh well, 6 x my initial investment and it is OUT OF HERE!
https://www.ebay.com/itm/401417156740
CARLOS' Corner…..the little guy is about 5 months old and we just LOVE him!
My friend Joanne is going to start a weekly ezine for her business and came over on Tuesday to see how my process works.  I was happy to share!  So was Carlos…check out these "Carlos in action helping me write" photos that Joanne took.  LOL!
Now, let's check out some of the new fun furnishings that came into the store recently.  This blue sectional is divine and priced at $795.  The amazing ottoman is $295 and the Kazi baskets on the wall are from a fair trade company that pays each of the African weavers a living wage.  See you soon!  The store is constantly changing and evolving faster and faster!
For those of you who don't know, the prices on our consigned items go down 20% every 30 days…for two markdowns.  Now, that makes shopping FUN!
Don't forget that most of our gift items can now be purchased on our website! Emma just started adding our driftwood items to the website.  For the next 48 hours…anything purchased on our website will ship for FREE.  Yes, I did say that out loud….Free shipping ends at 10 am on Saturday….  Check our online store with the link below.    If the website charges you shipping, please call us and we will adjust that cost  805-628-3289
https://lynnsconsignment.ricoconsign.com/
Super excited about the upcoming calligraphy course being taught by one of my very first consignors…Joy Goldowitz!
She is a teaching dynamo!  Her course "Calligraphy:  The Art of Beautiful Lettering" will be offered on Saturday, March 21st from 10:30 am to 12:30 pm.  Joy will even be bringing you tea and homemade scones to enhance the experience!
The course is just $49 and includes a gift box full of calligraphy supplies and a special tote bag!  What?  This is unreal 🙂
OMG! I want to take this class!
Sign up here. http://www.kickstartcart.com/SecureCart/SecureCart.aspx?mid=7FF2CB21-8A24-49FC-9294-87759EA393E1&pid=9919156fa2e54964a61038764a1a0cdc
On our only day closed, Sandy, Emma, and I came in to redo some of the stores. We have been so busy lately that it was our only chance to get things looking "Bueno"! We redid the Annie Sloan and IOD section and I LOVE the results!
One last photo from the store because it looks soooooo good!  Check out this super fun "pink" display….just so you know & if you don't remember…the next window display will be light pink and gray…so excited for this segue into Spring.
Again…..A Happy New Decade from Lynn's Consignments team to you and your family!   We hope to see you soon!
Pictured…Katie, Sandy, Indiana, me, Val, Adolio, Peggy, and Mor Mor!
Thanks for reading my ezines!  I appreciate it….as always!
eBay with Heart & Design with Heart……Lynn
P.S.  All of the professional photos I use on Instagram, Facebook, and in these newsletters were taken by my friend Denise's daughter, Jaclyn Sabo.  She is amazing!   To learn more about Jaclyn….https://www.jaclynszabo.com/