We got some really great news this past week!
Val is back to work 🙂
As you know, Ron has beaten cancer!!!!!
and she is able to be back in the store!
Hallelujah we sure did miss her!
Welcome to Lynn's Latest #26…
September 11, 2020
Watch for it every Friday or every other Friday!
Volume I  Issue 26
I have received quite a few inquiries as to which days Val will be working…you can stop in and see her on Wednesdays, Fridays, and the occasional Saturday.  Welcome back Kotter!  Oops, I mean Valerie!
Sandy had a great idea to surprise Val with balloons and flowers.  I also managed to pick out a nice bottle of Chardonnay for her.  Here she is in the back parking lot with her loot!  And getting a hug from Adolio….the last photo shows her getting a hug from Adolio back on March 1st of 2019 during our one-year anniversary!  Seems like Eons ago.  Am I right?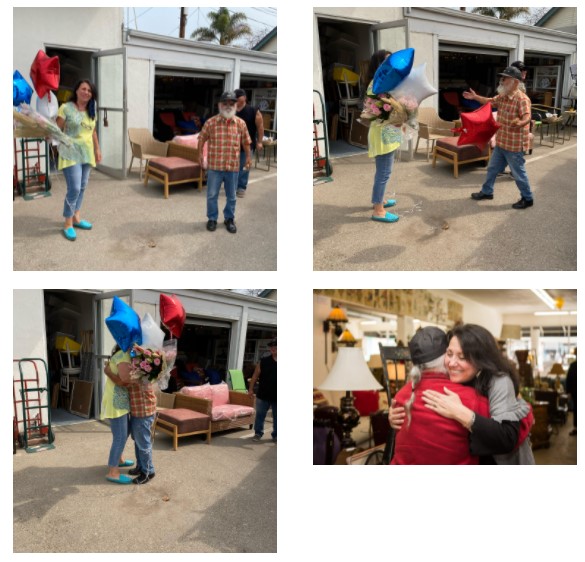 Does anyone else feel like it is almost Christmas?  Not sure why I am feeling this, but it certainly seems like we all want 2020 to be over sooner rather than later!  And also that many of us are skipping Halloween and rushing right into Christmas.
We have been selling gift items like crazy in the store!  It has been so much fun to help y'all (I apparently miss Houston who is in OKC so please forgive my y'all) shop for Christmas in September!
We are getting in a ton of new gift lines, so please stop in and check us out!  Here is one of the items that will be arriving in mid-October.  Does this wrap up the year or what?  Presale for this little guy can be found here.  Santa with Face Mask is only $21.99!  He is blown glass from Old World Christmas and the detail is amazing!
New gift lines that we will be carrying in the next few months are La LaVande soaps, Royal Design Stencils, Old World Christmas, and a "surprise" line of Candles.
I will feature a new vendor in each of my newsletters.  This week it will be La LaVande French Milled Soaps.
This is from their about me page.
"The concept of La Lavande began in the early 1980s out of our family's desire to bring the finest French soaps to the United States. While my husband was teaching music in France we were inspired by the variety and quality of scented soaps available. Because of my family's sensitive skin, we were impressed by the mildness of the soap as well as its long-lasting quality. In 1986 inspiration became reality as we began to manufacture and distribute soaps from Provence. Today we are honored to be one of the earliest family businesses importing French soaps to the U.S. and other markets and we remain as hands-on with our business as when we first began. We produce pure vegetable hard milled soaps in keeping with the time-honored tradition of French soap making.
It was our concept in the beginning, as it is still is, to produce the finest quality French soaps while keeping our packaging simple and using recyclable materials to minimize waste and landfills. To this day we do our utmost to keep our footprint small.
— Robin Cunningham"
Soooo excited to have these soaps, sachets, and other items arrive next week!
We tested some Kilim pillow shams in August and they were such a hit, that we have a HUGE order coming in next week.  I was able to source these at an incredible price and we are passing the savings on to you….
I forget that for the majority of my life I have been a buyer.  First for my grandmother's antique store, then for May Company Los Angeles where I bought comforters/bedding accessories with a 12 million dollar annual budget, still buying/sourcing for eBay and now I can put those well-honed buying skills to great use here in Ventura!
This pillow covers retail for $29.95 to $39.95.  Just a few of these pillows can completely change and update your look.
Here is a sample of what they look like.
OK, enough about the fun goings-on in the store.  Let's see what has sold recently on eBay!
Do y'all remember this Awaji vase/candle holder from my grandmother's antique store that I wrote about a few months ago?
Well, my research paid off and I just took the best offer of $100 for it!  Whoooooopppppeeee!  Check it out here.
Just a reminder of our current store hours…..
Tuesday to Sunday 11 to 3. Saturdays from 11 until 5 pm.
We do stay late if there are customers so if you are in the area check us out to see if we are still open after 3 pm.
The yellow front window has been such a hit! I can't even believe how much has sold out of it. I was going to change it out to green this past week, but we have decided to let our winning hand ride…just like in Vegas. So, it will be yellow for a few more weeks and then on to green!
Just looking at this picture from the first night it was finished, we have sold the Don't Walk sign, 7 pillows from the couch, 3 throws, the large canvas artwork on the wall, the yellow child's sun hat (I didn't really need to mention that it was yellow did I?), the rabbit picture under the lamp, tons of smalls from the cabinets and the chair that the yellow hat was hanging from. WOW!
Customers have told me that this window makes them smile! Another good reason to leave it for a bit longer. Right?
We have been getting in so many great consignments.  Seriously!  Check out this Mid Century Modern Desk and Vanity by Bernhard Pedersen and Son Denmark from the 1960's.  It is a BEAUTY and very RARE!
Check out this hidden secret vanity.  What a great Christmas gift this would make!  Not going to last long.  Come in and see it in person before it is gone!
Let's take a second to share some of the fun amazing new items that have come into the store recently!  Check out the new arrivals by clicking this link.
We have also taken in some amazing couches.  Check out this darling Ethan Allen Floral, this super chic outdoor sofa, the Natuzzi fine grain leather, and the super comfy sectional.
Time for an eBay score!  This is an interesting piece and for some reason, I can't remember exactly where I got it.  I think I bought it at an estate sale for $5.00.  In any event, I did my research and these usually don't sell for more than $20.  I still priced it super high (my modus operandus) and took the best offer of $50 for it a few days ago.  Check it out here.
I have been going a little bit crazy over at Pier One as they wind up their going out of the business sale.  I have purchased about 25 etageres and some we have spray painted white and others we have left brown.  Such a huge improvement to showcase our amazing inventory!
Here is what the Annie Sloan section looks like.
Here is one of the smaller etageres with our amazing new rugs on it.  These rugs are an amazing value and sell for between $14.95 to $34.95 with most around the $20 price point.  OMG, I sound like a department store buyer!  Which I was….falling back into old but good habits :)!
I LOVE these new fixtures because not only do they make the store easier to shop, but we can also push a few outside every day.  THANK YOU Sandy for finding these awesome fixtures!
Here are another one of the taller etageres that we are using in a vignette to hold unique consigned items.  FUN!  Thanks to Kel and Mo for doing this display when we broke down the orange front window display!
I finally broke down and bought my daughter a new phone!  LOL!  But seriously she was walking around with an iPhone SE that is about 2″ by 1″.  She is super creative and she needs to have a phone that she can create with.  I got her the 11 and she had to drive home to Ventura to pick it up.  See, I had an ulterior motive for buying her the phone….I got to see her!
We went out to Casa Bella (delicious) for dinner and then had the bright idea to get up early and go on a bike ride at 9 am on Sunday.  This past Sunday (mind you) was the one that was about 90 degrees and unbearably hot….the one that almost set records.  Seriously, I almost passed out, but it was fun and I am proud of both of us for going for it!
Another great gift that is coming her, and my and Houston's way, is going to be a Goldendoodle Puppy in less than 3 weeks!  YAYA.  Here is one of the puppies that she will be picking from.  Is she soooooo darling?
Oh, before I forget, I did some more great product sourcing for y'all.  See I told you I missed Houston.  Kazi is one of my favorite product lines that we carry and for so many reasons.  The hand-woven African baskets are not only beautiful, but they provide a living wage for so many families.
From their website,
"We founded Kazi on the belief that every individual on this planet deserves the right to provide for their family, not through charity, but through their talents and skillsets, with pride and joy.  We've taken a modern approach to a traditional craft, wanting to bring soft woven textures into your home while keeping luxe design in mind."
Please join me in supporting this amazing company.  But back to my sourcing….once a year Kazi has a sample sale and I was one of the first to order these unique one-off pieces that NO ONE else will be able to own.
Here is a photo of the shipment that arrived last night.  I still haven't had time to price them.  They were sold at deep discounts and I can't wait to pass those saving on to you.
You can see some of these fans in the boxes, but here is an up-close photo of the 19 bright multi-colored handmade fans that will be for sale in the store tomorrow.  Can't wait to do a display with these!!!!
OK, one more eBay score.  Oh, wait….let's talk about the surprise visit from my eBay friends Tiki Jason and Staci this past Wednesday.  They drove out from Las Vegas and we got to hang out and grab some drinks at Ventiki.  Always fun to see Staci and Jason!  Here we are at the restaurant.
OK, now for the final eBay score.  It is a Joan Rivers long necklace that I bought about 4 years ago at an estate sale in Palm Desert.  Didn't pay more than $10 for it.  Just sold it for the best offer of $110 Australian dollars this week!  Yipppeeeee!  Check it out here.
For those of you who are consignors and for those of you who are not…just a huge heads up!  We need DESKS and anything that can be used as a DESK.  All of this homeschooling and work from home has created a HUGE shortage.   Please help us out!   Also, anything that is GREEN!  We will change out the window to Green starting Tuesday, September 22nd! 
Yikes!  Before I forget, please please please please VOTE for us for BEST OF VENTURA 2020.
Last year we made it to 2nd place in the category Home Furnishings! Thank
you for your support…. It means the world to me!!!!!
This year we made it onto the ballot again in category #13
Home Furnishing Stores for The Ventura County Reporter's 35th Annual
Best Of Ventura County!
Here are the IMPORTANT rules…
1. One online ballot per person.
2. Ballots must have at least 10 completed categories.
Ballots will be accepted through 5 p.m. Wednesday, September 30, 2020.
To find Lynn's Consignments Fun Home Furnishings scroll to Category #13.
Thank you so very very much in helping and let's hit #1!
Time for a potential eBay score!  My really good friend from high school, Tina Burke Brown, text me the other day with this photo.  She said, "does anyone care about these?"  Well, I knew what they were immediately….Herend figurines from Hungary and usually worth a good chunk of change!  YES, WE CARE ABOUT THESE!
I immediately text her back and said, "ship to me and I will sell for you on eBay".  Well, they just arrived and all in one piece!  Way to go Tina 🙂  I have only had time to list one of the elephants, as I have been super busy getting the store ready for Christmas.  Here is a link to a potential score for both Tina and me in the making.
Here is a recent Instagram post from Annie Sloan Home with a gorgeous lamp in Green.  I LOVE this and it is really in line with our upcoming Green window.
I had to laugh when I pulled up Annie's Instagram page and read what she had written about the "occasional bad joke"  LOL.  She is such a cool chick and has a great sense of humor!  Another thing I loved from her Bio is this line "Supporting fabulous indie shops globally".
I LOVE that I am one of her fabulous "indie" shops!  Annie is such a staunch supporter of small, local businesses owners and I am so beyond blessed to be able to carry her wonderful paint and entire product line!  Thanks ANNIE!
Don't forget that you can always order your paint supplies on our website……….
Shop Annie Sloan Here
https://lynnsconsignment.ricoconsign.com/store/category/Annie%20Sloan?sort=HL
We also just received the new Fall 2020 releases from Iron Orchid Designs….their Stamps and Moulds. There are some really cool stamps with new letter fonts, Santa Claus and Evergreen trees and a sea shell mould! These are available for sale on our website with free shipping! Check them out here.
Carlos has been getting too used to having me home.  Wednesday night I was out until 9 pm with Tiki Jason and Staci and when I got home, he was pissed!  Wouldn't let me out of his sight.  Ughhh.  I am going away for a few days soon and I hate to leave him alone (not really), but he is NOT going to like it.
Here he is NOT leaving me alone while I try and work on the computer.  How cute is he?
I decided to get a new coffee table for my living room and OMG, it is beyond awesome!  Totally changes the entire look of the room and makes it seem way more beachy.  I bought it at Lynn's Consignments….go figure!  You know, you really should vote for that store for the BEST OF VENTURA!  LOL  Please and thank you!
Oh and that coffee table…it got the Carlos stamp of approval!
One of my really great friends has always had cats.  Lori is kind of known as the "cat lady".  She told me about a cool thing you can buy for your window so that your cat/or cats can hang out.  I immediately bought one.  How cute is Carlos chillin in his window hammock?
I will be heading out to Palm Desert for a sourcing trip soon and taking a little detour to Bellingham to hang out with my mom.  Can't wait to see what treasures I can pick up.  Wish me luck!  The Palm Desert girls will be joining me in Bellingham on our 5th annual trip to my mom's beach house and to hang out on the biggest deck on the beach.
Here we are during our 1st trip up there.  Crazy that this was back in 2016 and my Dad was still alive.  This picture comes from an ezine I wrote in October of 2016.  Here is a link to that ezine if you want to read the entire thing.
This picture was taken behind the Fairhaven Fire House that was up for sale and a location I was considering to put my new store…."Lynn's Consignments"  Isn't that crazy that only 4 years ago I had no idea that Ventura would even be in my sightline?
From left to right, Audrey (my first employee at Cheryl Leaf Antiques and a good friend), her daughter Anabelle, Kel, me, my dad, Candy, my mom, and Mo hiding behind her.
This September marks the 25th anniversary of eBay.  Pierre Omidyar founded eBay in September of 1995.  I started selling on eBay in September of 1998.  Crazy!  In any event, a ton of pictures have been popping up in my time hop from this week a few years ago.  In the past (pre covid) eBay always had the most amazing celebrations.  Here are a few pictures of those "good old days".
Mo, me, and my mom at the 20th year celebration.  Now, that was fun!
At that same celebration, the headliner musical group was Elle King….sooo much fun!
And here is a picture from long ago….when eBay did those "eBay on Locations" and I was flown around the country to appear on stage with Griff and a panel of other sellers. Those were such fun times! I can't remember what year that was, but I am thinking 2009….anyone knows for sure? What city was this one in?
Alrighty then, I was not going to write a lot this week since I am so behind in all of my other "work".  LOL.  You must realize (by now) that I tend to write a lot.  It is actually fun and therapeutic for me.  A few last things before I wind this up.
I had a little shindig for my Ventura peeps last week.  Here we are (socially distancing on my deck).  From left to right, Steve, me, Sandy and Joanne.  Love these people!
And one last photo of Indy stopping by the store and meeting Joanne's daughter Alana for the first time.  I have had all of my good college friends and Spain roommate Joanne's daughters work for me.  Katie, Vivienne and now Alana.  Alana just started and she is a doll.  Stop by and meet her on any given Sunday.  LOL.
Let me wrap this up with a HUGE thank you for your continued support of my small business!  You are keeping us going and my gratitude is immense!  AND thank you for voting for us!!!!
Thanks for reading my ezines!  I appreciate it….as always!
eBay with Heart & Design with Heart……Lynn
P.S.  All of the professional photos I use on Instagram, Facebook, and in these newsletters were taken by my friend Denise's daughter, Jaclyn Sabo.  She is amazing!   To learn more about Jaclyn….https://www.jaclynszabo.com/
P.P.S.  If you have a friend who wants to sign up for this newsletter.