Happy Thursday!  Oh what a week!  I have had wall-to-wall company as my grandmother would have said…..
Jo Dallas arrived last Wednesday and helped me sooooo much.  She helped man the store, filed for me both at home & at the office, helped clean up my outdoor deck and was all around good company.  Just dropped her off at Santa Barbara Airport and I will miss her!
I am sure she is ready for a vacation after this one!  LOL!
Here we are on Thursday morning (the day after she arrived) when my friend Chris Wade and his son (Hunter) came up to Ventura from San Clemente to pick up the AWESOME furniture that he bought from me last week.
Seriously, he bought this Restoration Hardware Leather Chair that I may have to fight him for.  It is/was soooo amazing.  Damn you Chris!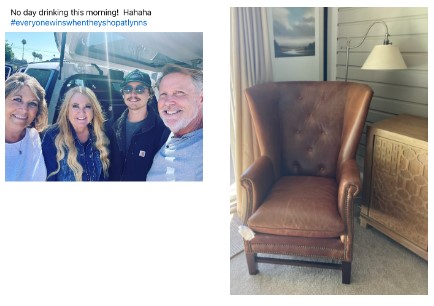 Then on Friday night, Val, Jo Dallas and I went to Prime for happy hour.  So much fun!
Jo Dallas went to some fun garage sales with me on Saturday and we worked most of the weekend….but then on Tuesday, Indiana and her friend Larissa (aka Loretta aka Alyssa) arrived along with Mo from the desert.
So much fun!  I LOVE LOVE LOVE having a gaggle of friends and family at my home complex.
While all of this was going on, I had ordered a new duvet set for my room.  Do y'all like it?  Or should I return it?  I LOVE how cute Cha Cha & Carlos look on it….LOL!
Now for some cool new arrivals that just landed! We have an entire new African Safari room.  These new fun consignors bought all of these crazy pieces at Bullocks Wilshire (remember them?) about 30 years ago.  What in the World?  They paid $5,000 for the lot.  You MUST come in and see them in person :).
Animal Print Oversized Chair & Ottoman $695.00
Figural Elephant Lamp $295.00 each
Carved Wooden Elephant Chair AS IS $795.00 each – 2 pcs available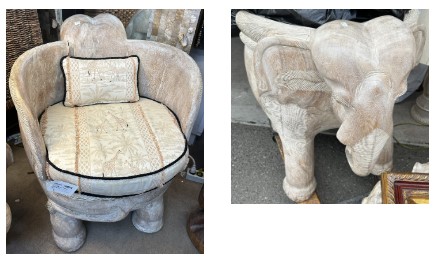 Carved Wood Elephant Small Table $295.00
Pier One Rattan Chair & Ottoman with Cushions $395.00
Duck Egg Blue Corner Cabinet IOD Transfer $295.00
Antique Wooden Chair Front Back – 2 pcs available – $125.00 each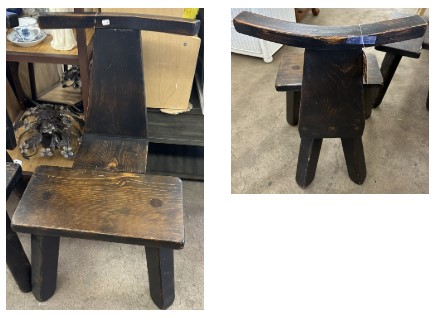 Elephant Lamp Figural Red Shade – $95.00 each. We have 2 pcs left
Oslo Leather Recliner and Ottoman Green $895.00
Threshold Addison Arc Floor Lamp With Natural Rattan Shade Black Metal $95.00
Brass MCM Round Asian Coffee Table $395.00
True Innovations Mila Fabric Accent Chair Cream $295.00 – 2 pcs available
Hillsdale Furniture Thredson Swivel Bar Stool Antique Grey Wash/Putty $125.00 – we've got 4 of this
Project 62 Hairpin Writing Desk White/Gold $115.00
Black Glass Table Lamp $125.00
Ship Captain's Desk Tiny $395.00
Thanks for checking out our new arrivals!
Remember to drop by our store or browse our website. We'll keep you posted with more cool things, and as usual, we really appreciate your ongoing support!
Oh, I wanted to share this photo from 8 years ago that popped up in my timehop this morning.  It is my dad with Houston & Indiana on the Pepperdine Campus after they made coke cans with their names on them.  I do miss my dad ever so much.
Thanks again for all of your support.  Shop LOCAL!!!  It hasn't been easy for small businesses this past year and we really appreciate you…..
Indiana, me & Houston
Thanks for reading my ezines!  I appreciate it….as always!
eBay with Heart & Design with Heart……Lynn
Past Newsletters…All can be found on our Blog.
P.S.  If you have a friend who wants to sign up for this newsletter.