I hope you and your family had a WONDERFUL Thanksgiving!  Ours was super fun as I had Houston, Indiana, Emma and my mom all here with me!
Super grateful for all of the blessings in my life.
Unfortunately, I am writing this ezine from the hospital, VCMC (Ventura County Medical Center)…but more on that later.
Check out this cute photo collage that Indiana made for my Thanksgiving Instagram post.  Missing from this post are the two most important people…me & Cha Cha LOL!
Welcome to Lynn's Latest #009…
Thursday, December 1st, 2022
I used to tell you what day to watch for it…but I have decided to be realistic…it will be there whenever it shows up. Hahaha!
Volume III Issue 009
If you haven't noticed yet, I have started to send out a short update every Thursday showing some new arrivals.  I am doing this in cahoots with my amazing Virtual Assistant, Dulce.  She does the bulk of the work and even writes some text which surprisingly sounds a lot like me….how is that even possible?  Then I just go through and tweak it a bit and out it goes.  I hope you are enjoying these store updates.  Please let me know if there is anything I can do to make them better.
So where to start this ezine….the last one ended with a trip to see Indy at Hump Day Cabaret with Jeff, Joanne and Steve.  And then late night bar hopping!  The next day, was Thursday, October 27th and I was back in LA to see Indy at her "Tales of the City" show at the Zephyr Theater.  Two nights in a row is  A LOT…but anything for my Indy Girl.
Here is a fun photo of us after the show!  From left to right, Michael (Soren's roomate…Soren is one of Indy's co-workers at Cafe Luxe), me, Olivia, Soren, Indiana, Emma, Bella and finally Jeremy (another co-worker at Cafe Luxe).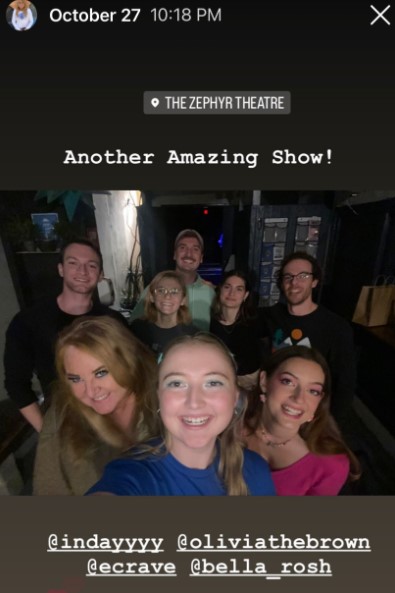 Halloween at my new house was super fun!  I lit up all of my Christmas Lights (which I leave up year round btw) and Cha Cha and I hung out in the front yard.  I had a HUGE bowl of candy that I would walk to the fence to give to the kids.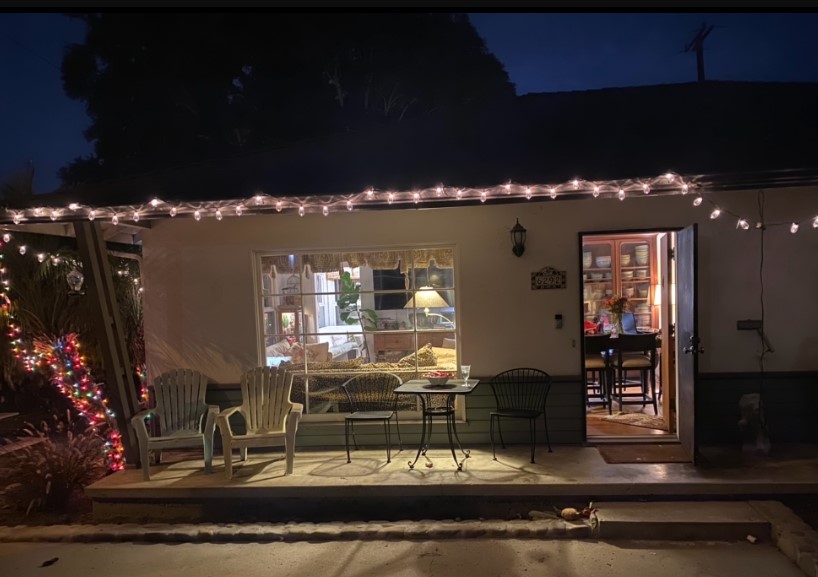 I tried to have Cha Cha wear her Halloween costume all evening, but as you can see from this picture, she was having none of that!  LOL…check out that side eye!
And she went CRAZY!  She LOVES kids so much she was jumping so high she almost made it over the fence.  I  actually had to pull out the hose and threaten to spray her to get her to stop jumping.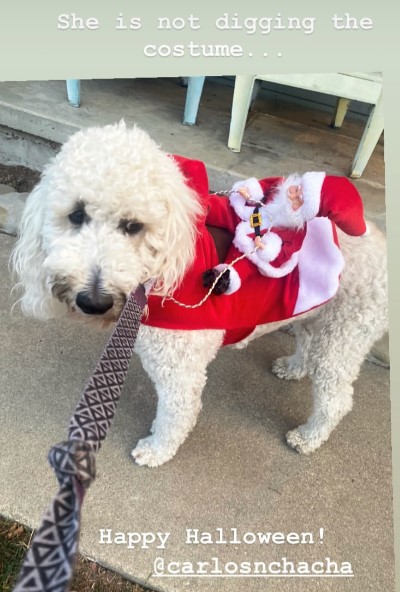 I think it is time for an eBay score…don't you?  I love this score because I bought 25 of these original artist watercolor proofs from an estate sale in Palm Desert back when I lived there and I paid $10 each.  Such the score!  This one was listed back in June of 2017 and it sold for full price of $299.99 and was shipped to the UK last month.
Check it out here.  Lesson to learn for all you eBay sellers, it is OK to wait for the perfect buyer.  I don't care that it took 5 1/2 years for this to sell.  I made 30x my investment and it only cost me the final value fee from eBay to sell.  If you are curious those eBay fees run about 20% so about $40.  So, if I take that into consideration I only made 26x my investment….still amazing!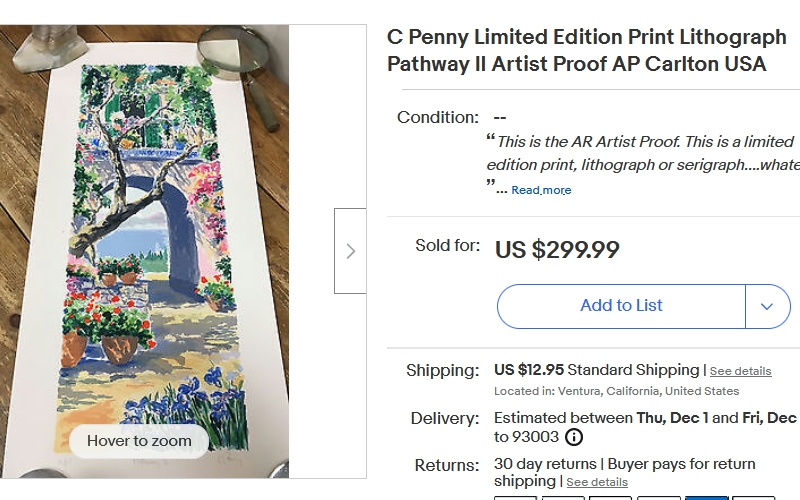 Indy's next show on November 3rd was called "Unhinged" and I had no idea what to expect.  Actually, I don't think Indy did either.  Hahaha.   Indy was super excited for the show because she knew she could go "off script" and do whatever she wanted.
She came up with a super fun idea to put scraps of papers with different prompts in a hat and let audience members choose them.  It made for a crazy fun interactive show.  I was laughing so hard!  All of the comics were amazing!  It was seriously one of my favorite shows of all time.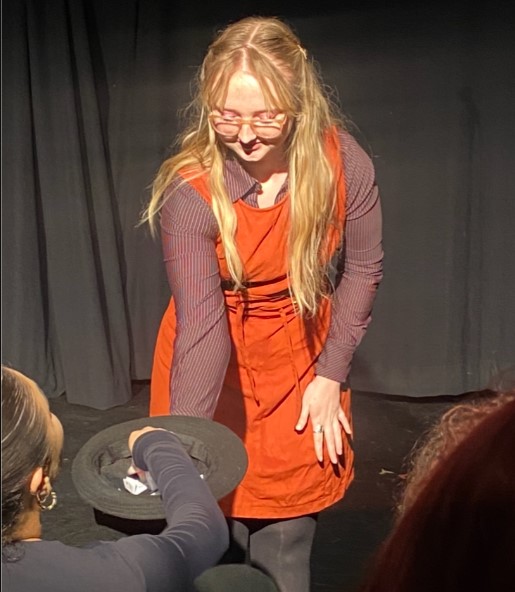 Here is a picture of the kids during the show.  From left to right is Emma, Bella, Indiana and Blake Rosier.  Seriously, Blake is one of my favorite comics.  There is something about him.  I tell him that he is the next "Conan O'Brien".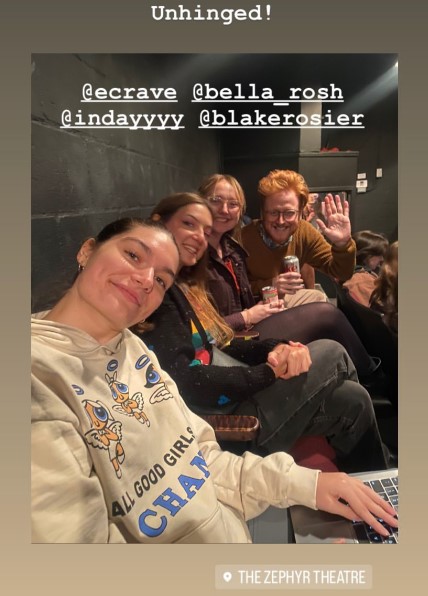 Here is a fun picture of us after the show.  The guy smoking the cigarette was one of the comics and a friend of Indys.  He came up to me during the show and asked me if I was Indiana's mom.  That was an easy question.  Then he told me that he loves Indiana, because she is full of joy and when she laughs she laughs with her whole body.  How cool is that?
From left to right Tian (comedian), Adouria (comedian), Indiana (comedian hahaha), Bella, Emma, me, Jill (comedian) and Nicole.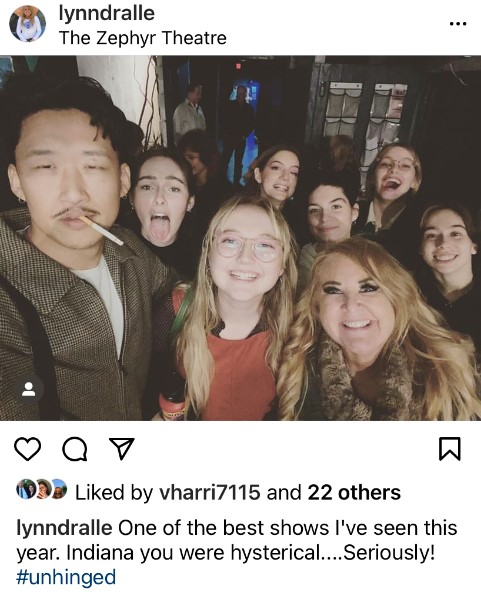 I don't know about y'all, but I am not on Facebook that often.  Too much noise.  I do LOVE Instagram though, especially the stories, because they disappear after 24 hours.  So, if you do a cringe worthy story post it will automatically disappear before you even realize how bad it was.  LOL.
Anyway, I was looking through the Insta stories and saw that my friend Kimberly Wallace (who lives in Huntington Beach) was in Cambria looking at wedding venues for her son, Jaron, who is getting married next year.  Cambria is pretty close to Ventura and I messaged her and asked if they would be coming through Ventura.
She and I have been friends for 30 years.  I met her when she brought her flower arrangements in to sell at my Grandmother's store back in 1993.  Crazy!  She messaged me back and said that in fact they were staying in Ventura  that night and hoped that we could meet up.  I invited them over to see my new house and have dinner.
Just for reference, this photo popped up on my phone yesterday with a photo of Indiana and Kimberly's three kids at my Rancho Mirage Lake house back in 2015.  How cute are they?  From left to right, Indiana, Braden, Ari and Jaron.  I can't believe that baby is getting married!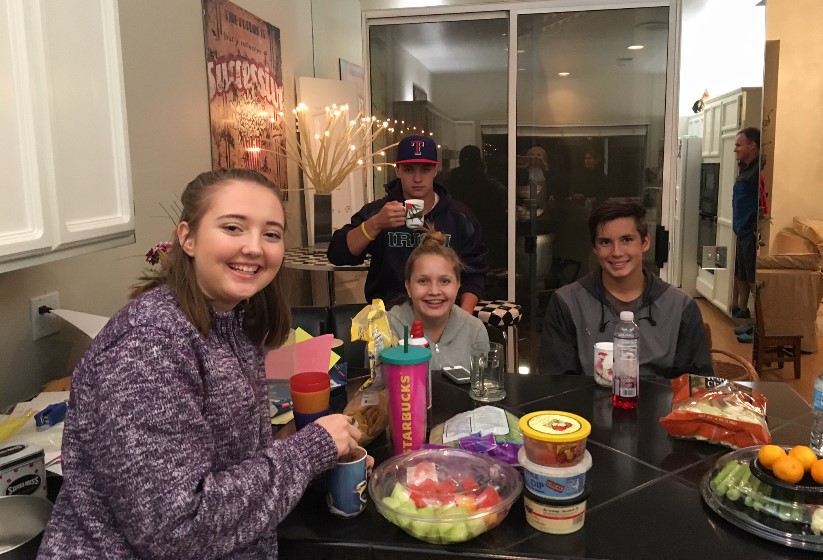 And here is a more recent picture of Ari, me, Mike and Kimberly at my house after I gave them a tour and we had dinner earlier this month when they stopped by.  I LOVE these people so much.  Whenever my dad went out crabbing on his little boat from his Birch Bay cabin he would call Mike Wallace and see if he wanted to go with him.  Mike was one of my dad's favorites!  When my dad was dying Mike made it up to Bellingham to see my dad.  I will always appreciate that.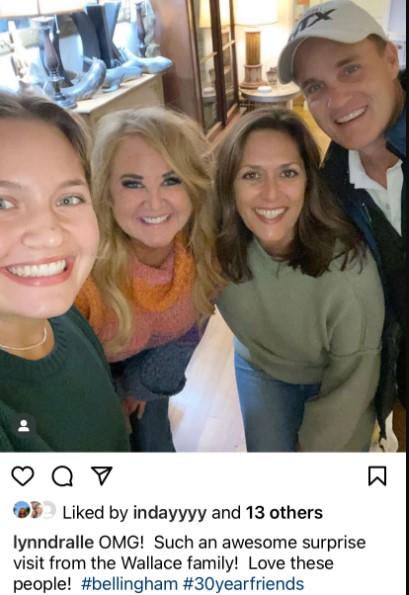 Here is one of the last pictures taken of my dad before he passed away and Mike Wallace is in the picture.  Good friends are such treasures.  When Kim and Mike were just here we were talking about my dad and Kimberly was saying how all he cared about was Mike, never wanted to talk to Kim.  LOL.  My dad was so funny!  He definitely had his favorites!
From left to right, my brother Lee, Mike Wallace, my dad, Zach and Kai (my sister's kids).  This picture was taken in April of 2017.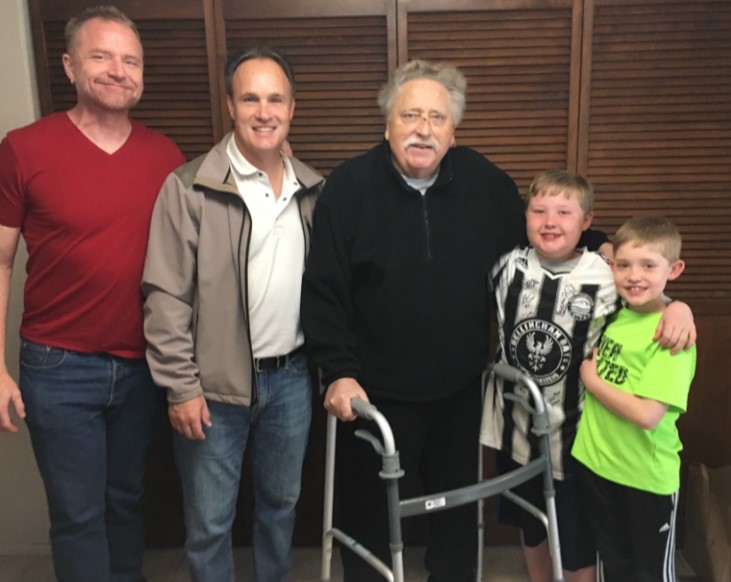 After much consideration and running the numbers, the clothing store portion will only be open Friday, Saturday and Sundays for the month of December (but also by appointment any of the other days the front store is open).  With the current economic situation and the high cost of staffing in California…. this wasn't an easy decision, but one that had to be made with my head instead of my heart.  I LOVE the girls back there, but had to do what is best for my business.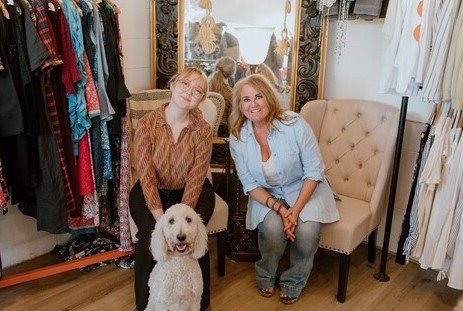 The day after the Wallace Family left, I was headed to Palm Desert.  Time to pick up a bunch of stuff that Mo had listed and go thrifting.  Always a fun time!  But wait, before I get into that trip, let me share a score from eBay that I just sold.
Back story, I sell a ton of coffee mugs on eBay.
In 2015,  I got a very interesting question about one of my eBay items. It was regarding a Papel Coffee mug and the question came from Stanley Papel. He wanted to know if we could discuss a possible business opportunity.
Yes! Stanley Papel is a very famous coffee mug designer. His family history is amazing!
The Papel company has been in business for 50 years. Stanley's parents were original Lesees on Main Street Disneyland from 1955 to 1962 with Ruggles China and Gift Shop.
Stanley worked in the store from the age of 13 and he expanded upon his parent's original success and became known in the industry as "The King of Coffee Mugs" with over 275 million coffee mugs sold under his name.
Here are Stanley and I in his office with his incredible collection of mugs behind us.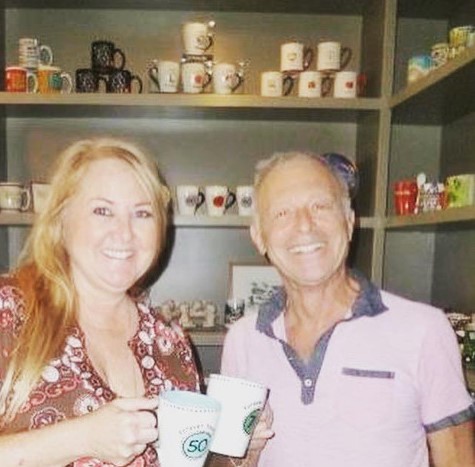 Stanley had found me on eBay by searching for Papel Coffee Mugs within the closest distance to his home in Palm Springs. Of course, The Queen of Auctions popped up and I had 28 of his mugs listed! eBay can be so much more than just a place to sell items, it can also be a way to locate someone to partner with!
Stanley and I started working together to get his unique and one-of-a-kind items for sale on eBay. We tried selling some of his original artwork along with an autographed coffee mug that matches that artwork.
Here is a photo from one of my old store listings for Stanley's Kurt Kresse artwork and autographed Black and White Jersey cow coffee mug.  It never sold for the amount Stanley thought it was worth, so he took it back to put into his personal collection.   But it was a fun experiment!  And Stanley and I have become life long friends.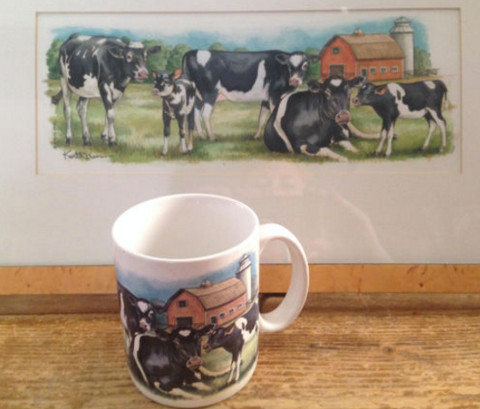 Meeting Stanley was such an honor. He is a true talent, amazing businessman and a very kind soul. It was also incredible timing for me as I was deep in the thick of writing my new eBook on…..Coffee Mugs! It is was a sign. The Coffee Mug eBook turned out amazing and can still be purchased here.
Back in 2015, when I met Stanley, there was one weekend that my mom was visiting and we stayed out until the cows come home going to garage sales and my SUV was full! "Cows come home" really fit in with Stanley Papel's awesome original artwork and made me wonder just what "the cows come home" means. Of course, I had to check that out.
According to Wictionary….
"The meaning possibly comes from the fact that cows may be expected to return for milking in the morning; thus, for example, a party that goes on "until the cows come home" is a very long one.
Alternatively, assuming a Scottish origin, from the fact that cows in the highlands are put out on the common grazing fields until the end of summer, when they will find their way back home to be let in for feeding. Grass on the hill is plentiful, so cows may stay out for months before scarcity of food brings them home in the autumn."
Reportedly, the first attestation is from the [London] Times.
WOW! I always thought that "until the cows come home" meant very late in the evening. No idea that it really means at sunrise or for six months! Good to know!
Sorry, about the detour….LOL!  BTW, I love detours.  Here is a recent picture of Stanley, his husband, Sven, and me when he came to visit my store a few years ago.  We are standing in the eBay room behind the store so Stanley could grab one of his "Papel" coffee mugs.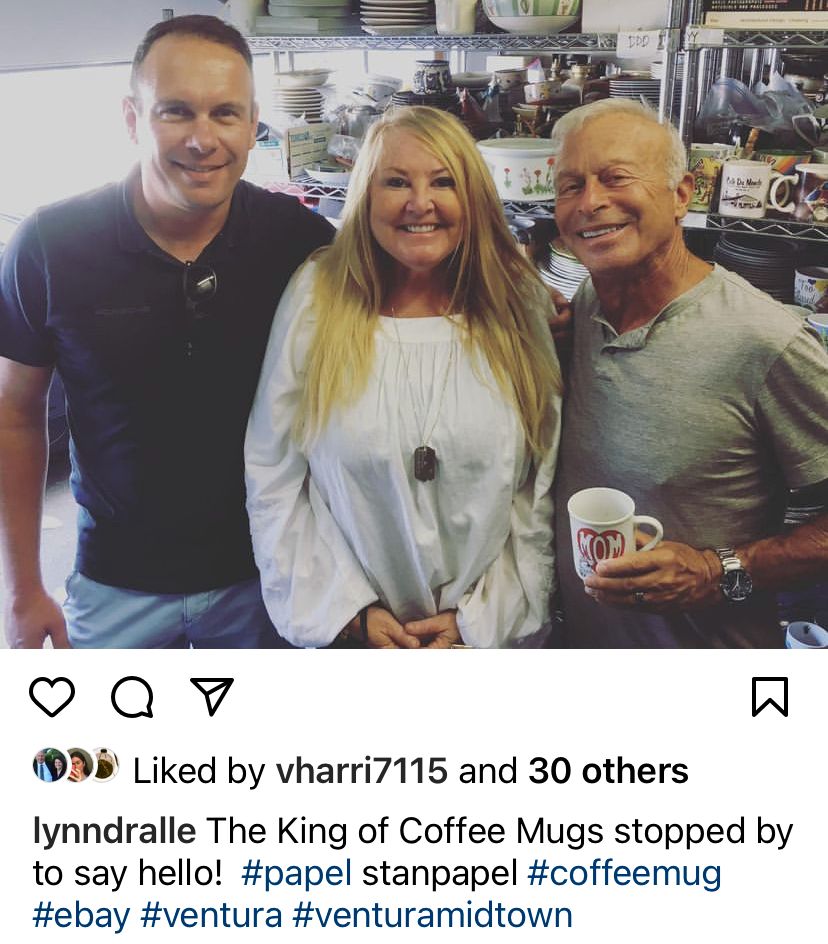 So, the Stanley Papel story is all leading up to a huge coffee mug sale that I had today.  Back in the 1970's or 1980's, Stanley Papel hired this gal, Marci G, to write poems for his line of coffee mugs with people's names.  Loved learning the back story from the "King of Coffee Mugs" himself.  Stanley calls me the "Queen of Coffee Mugs"….LOL.
Stanley told me that Marci G was pregnant and wrote all of the poems from her bed as she was on bed rest.
I always pick up Marci G mugs when I see them and I price them at $49.99 at auction and over $100 at a fixed price.  This is the one that sold today for $101.99.   Holy cow!  I probably paid 50 cents.  Check out the listing here.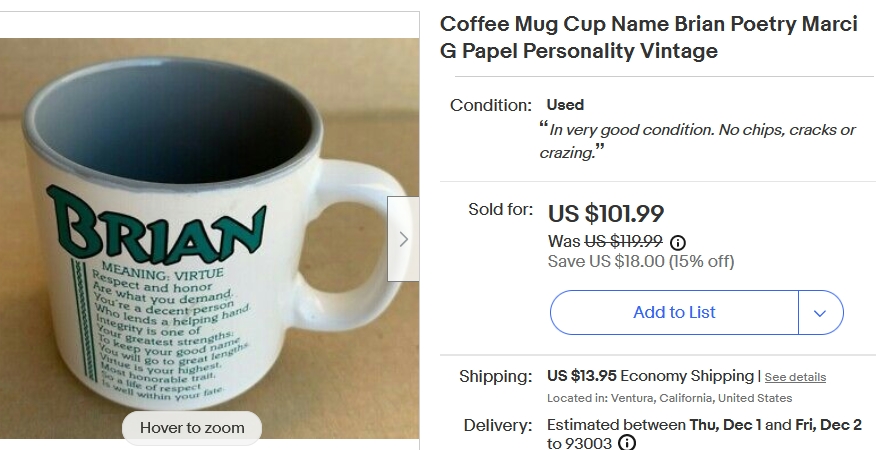 Before I get into more about my recent Palm Desert weekend,  I just wanted to remind you about our clothing store!   If you missed the email saying what we are looking for in clothing…please read it here before you come in.  Thanks!
Wanted…Boots, Furs, Jackets, Coats, Sweaters anything WINTERY
We are taking in FALL/Winter now.   Call or text the girls to set up an appointment.
Land Line  805-628-9208
Cell Phone  805-470-6493
Both stores will be closing early at 4 pm on Saturday, December 3rd….as we will all be attending the wine walk!
Alright, Palm Desert time. As I was leaving the store on Friday night, a consignor showed up late with furniture at 5 pm. Always a hectic time receiving furniture, but especially on a Friday night at closing time as I was scheduled to leave for the desert first thing Saturday morning, November 5th.
In the commotion I set down my keys somewhere. Not a smart thing to do at Lynn's Consignments or even back in the day at Cheryl Leaf Antiques because there is a good chance you will NEVER find them. LOL! Funny, but seriously not a good idea. Val and I looked and looked and could not find them. I retraced my steps 1,000 times. I do NOT have an extra key to my car so Palm Desert was looking like it may not happen. We texted Sandy and she stopped by and somehow by the grace of God, Val found them behind a bunch of stuff on the floor of my office. OMG! I have got to clean my office!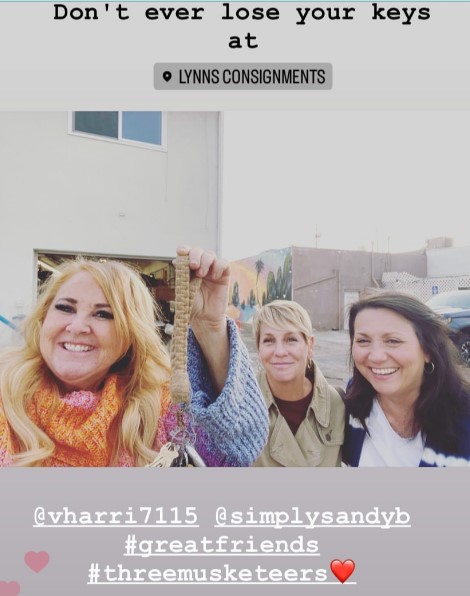 Thank God for Val finding my keys and I left for Palm Desert at 8 am the next morning and immediately started thrifting when I arrived.  OMG!  There was soooooo much good stuff!   Check out this Dansk St. Tropez Dinner Set that I  picked up for $30.  Should sell for close to $500 when all listed individually.  The cereal bowls retail on Replacements for $59.99 each and there were 8 of those!  Score!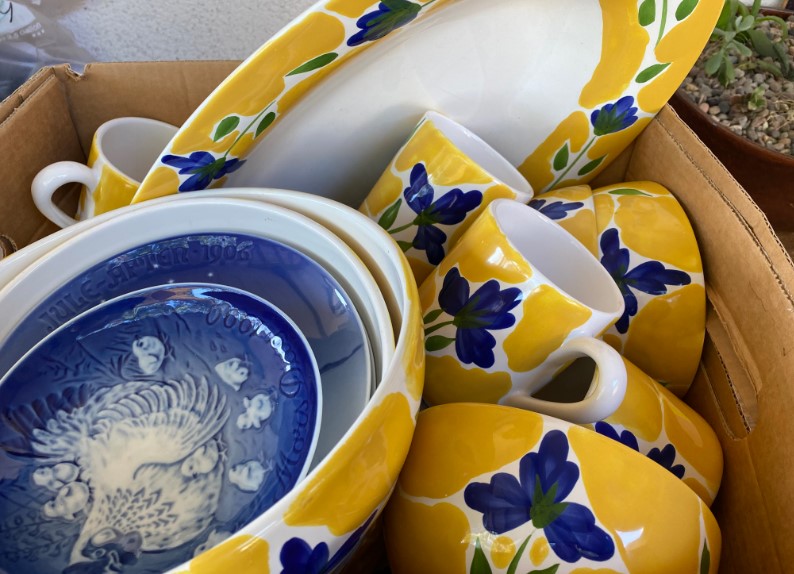 Since Mo had to work and Kel & Candy were busy, I decided to go see my mom's cousin Gwen in her rehab facility and also try and see my former neighbor Sandra who I love!  Well, I actually love both ladies, but Gwen is a handful.  She is my grandma, Cheryl Leaf's brother Houston's daughter, and he was a bigger than life character.  So is Gwen.  Unfortunately, Gwen's facility was in lock down for Covid so I couldn't see her, but Sandra invited me over for cocktails at 4 pm that day!  Yes please!
She made me her famous French Boys cocktail.  It was Grand Marnier and Brandy.  It was delicious.   I usually only drink clear liquors so this was super fun!   Thank you Sandra!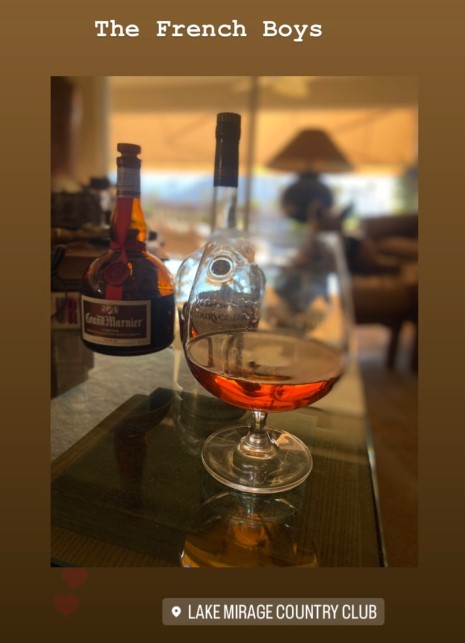 Sunday morning I woke up early and headed out to find an LA Times newspaper.  I was so excited to see the article about Ventura Thrift & Consignment stores that was on the cover of the weekend edition!  I went to literally 12 stores in Palm Desert (Albertsons, Vons, Ralphs, 7-11, etc) and NO ONE had the paper.  I finally made it to Barnes & Noble at their 10 am opening and they had ONLY 2 copies.  I bought them both!  So exciting!
My favorite line from the article about my store, "The Vibe is Very Upbeat Here"!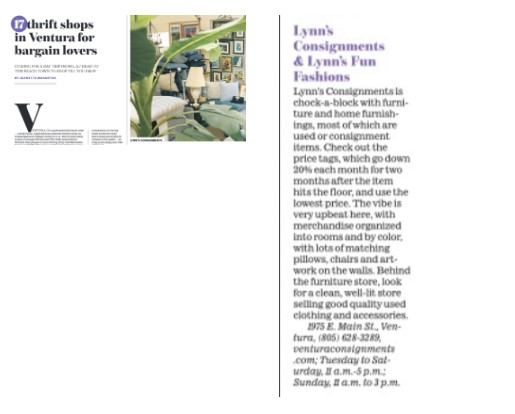 Amazingly enough, both Mo & Kel had that Sunday off work.  OMG!  An early Christmas Miracle.  So we headed in to Palm Springs to thrift.  But, we just had to stop by Pete's Hideaway for a quick glass of wine.  Pete is quite the character!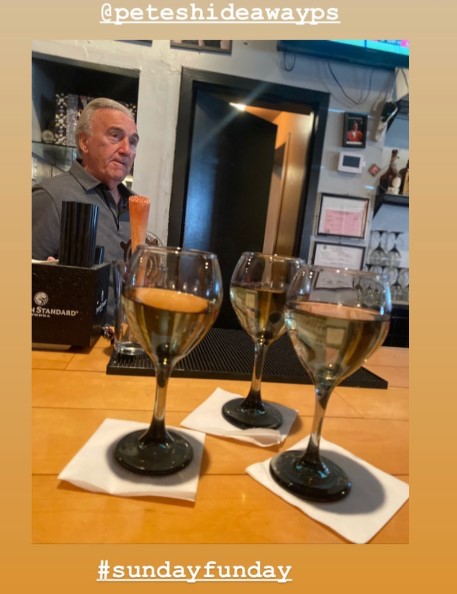 After a long day of thrifting, we met up with Candy & Ron for dinner at Islands.  This is the only picture I got of me, Mo & Kel and it is out of focus…oh well!  Candy & Ron hadn't arrived yet!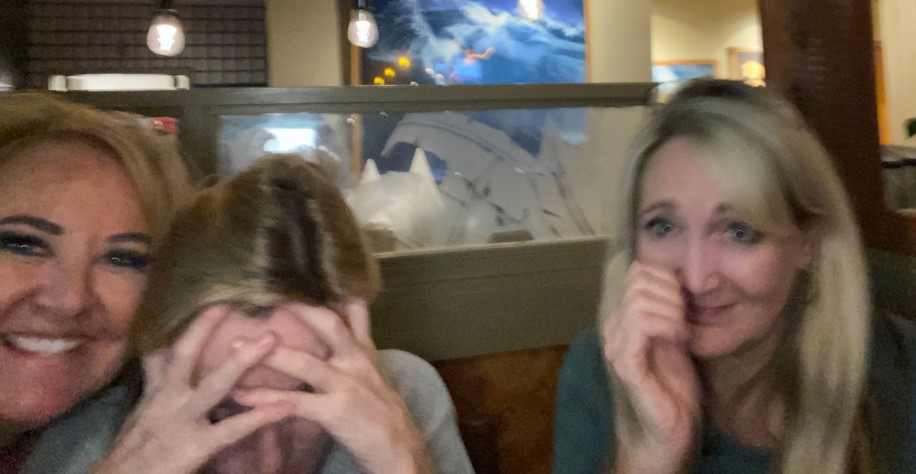 I found so many amazing things in the desert this trip and came home with a car loaded to the brim!  I am working on getting a bunch of it listed and so is Mo!  Always something…am I right?
I headed back to Ventura on Tuesday in the pouring rain.  OMG!  Seriously, the trip home took me 4 1/2 hours and then I still had to drive up to Carp to pick up Cha Cha.  I was exhausted and spent 5 1/2 hours driving that day.  Waze routed me the strangest way, up through Apple Valley and on some weird Pear Blossom highway and through Wrightwood the ski town.  I did spot a rainbow on the back roads though!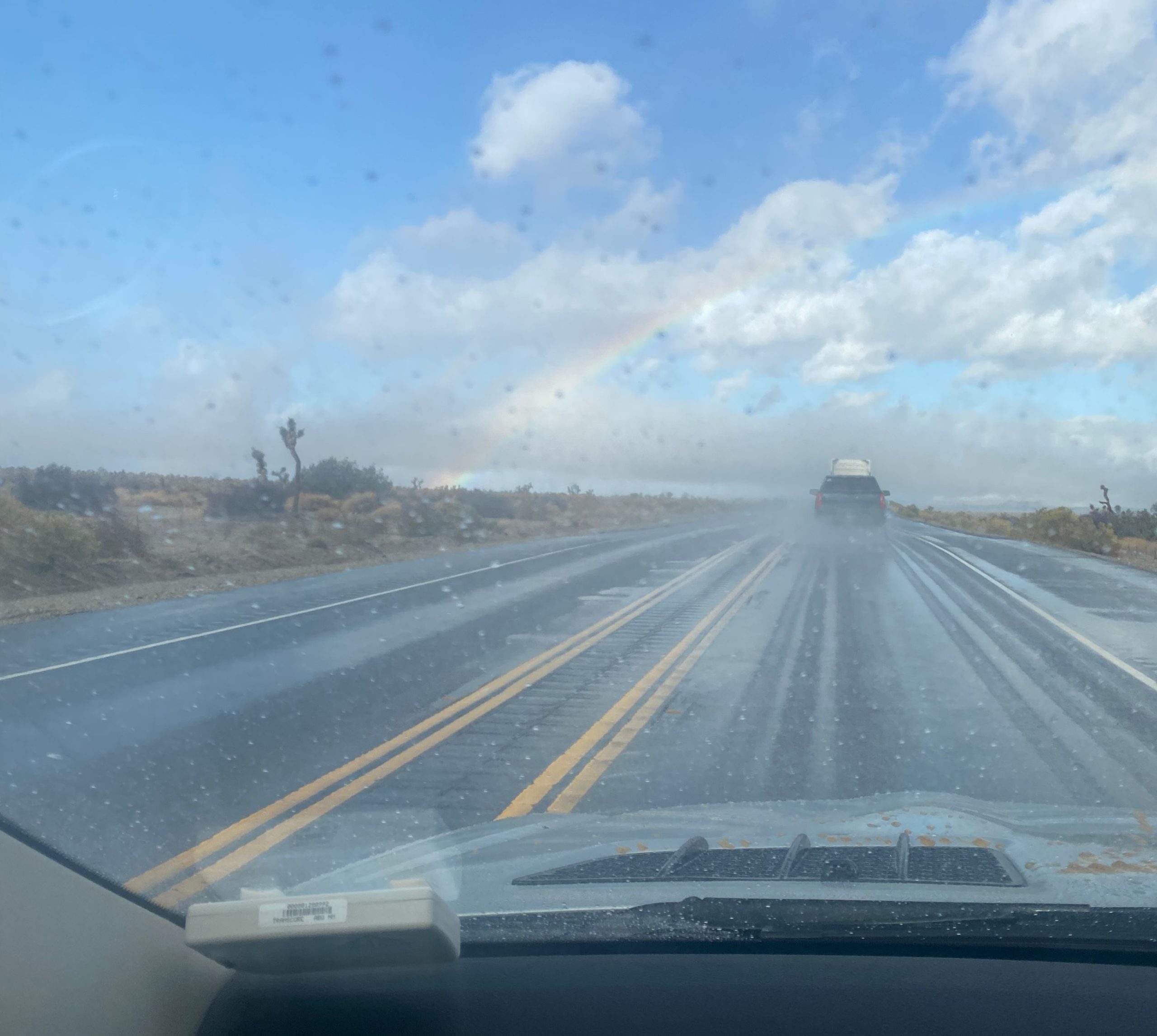 In super fun news, Houston & Emma decided that they hadn't been to Ventura in ages and came out to see me!  And to bike ride, but to see me!!!!!  They showed up late on Thursday night, the 10th of November.  Well, Houston arrived first as he had biked from Santa Monica to Ventura (crazy kid) and then Emma drove in around 10 pm.  Always happy to have my people in the house!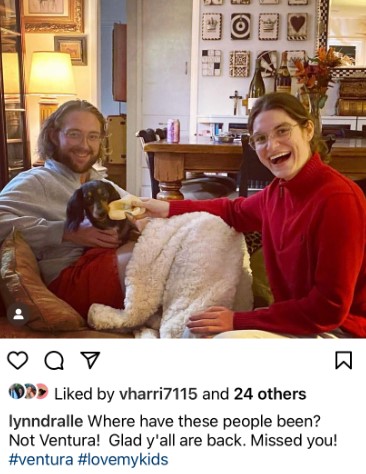 The next morning they wanted to bike up and back to Ojai and I suggested that I could drive them up so that they could have more time to hang out and then bike home.  So, that is what we did!  Pretty fun for them because it is all downhill coming home.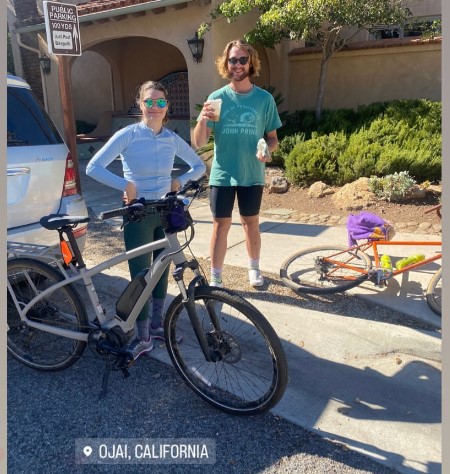 That night I took the kids out for sushi to O-Sabi and while at dinner Sandy text that she & Doug were going to Brian & Katie's record launch party at Topa Topa.  Brian & Katie live above the store and are super talented musicians.  The kids and I decided to go and we had so much fun!  Their new CD is amazing….  Such talent!  I asked Houston & Emma how they would classify their style of music and they both said Folk.  Hmmmmm.  Interesting.
Sandy, Val and I spent most of the month of November redoing our DIY section.  Sandy had a great idea to flip the Annie Sloan paint and use the pegboard to show more Redesign with Prima and IOD product.  Brilliant!  Especially, because I had always hated covering up that valuable pegboard….OMG!  I am starting to sound like my grandma!  Come in and check it out…it looks amazing!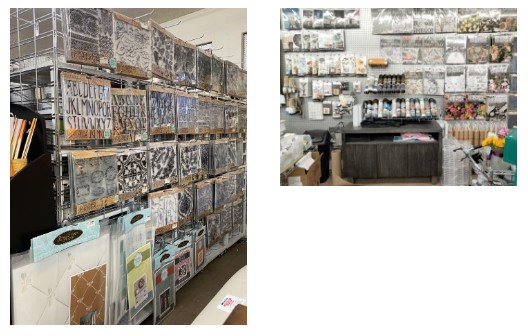 Check out this amazing piece that Sandy did using the moulds!  Currently priced at $395.00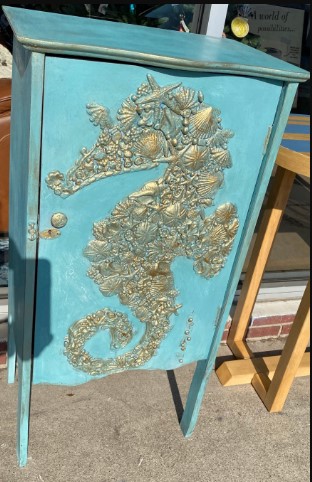 Sandy also did this super fun console table and made it look like a surfboard with the Ventura Logo.  $249.50.  She is really talented!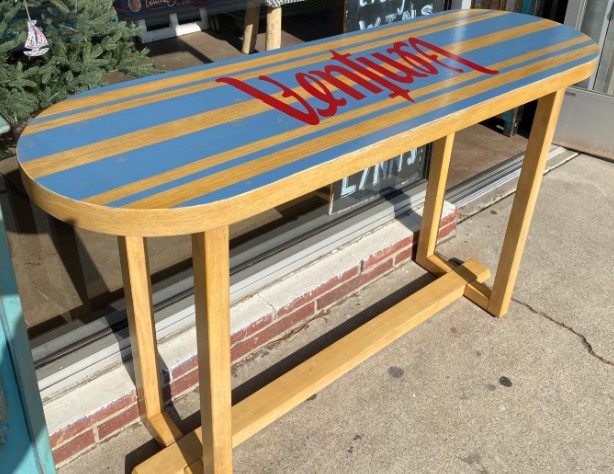 Indy had a show on Sunday night the 13th of November at the Zephyr Theatre.  I asked my friend Marc to go with me as he had been wanting to attend one.  He and I have known each other for 40 years and met our freshman year at USC.  Sooooo fun that he could go!
He met me at my house and we ubered in to West Hollywood.  We took cocktails with us in the Uber and had dinner at Spartina (my fav) with Indy and Bella.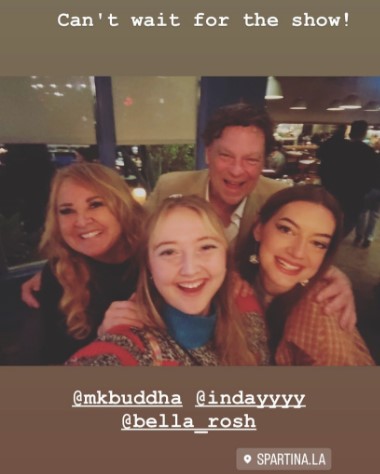 Here is a picture of Marc and me at dinner and for a throwback reference a picture of Annie Hurtado (one of my best friends from college), Marc and me freshman year at USC.  LOL!  Dig that hair!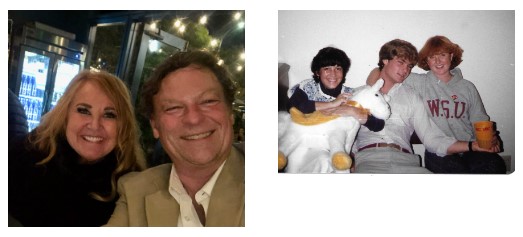 The show was fantastic!  Seriously, so much fun!  Here is a picture of all of us afterwards.  From left to right….Bella, Indy, me, Marc and Maddie Ogden.  I LOVE Maddie!  She is such a talented comedian and I accidentally called her through Instagram while my phone was in my pocket recently….LOL…that happens to me a lot.
In any event, she responded and said "I am so sorry I missed your call".  OMG!  What a sweetheart…not like, "this is so creepy, why is my friend's mom calling me?"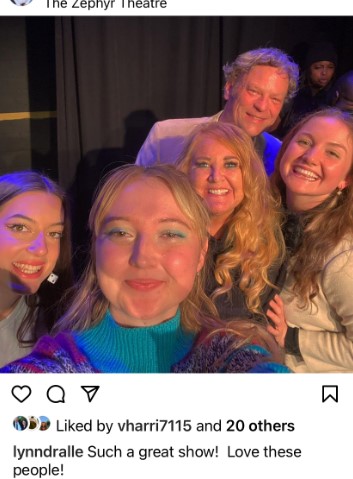 Oh crap!  I forgot to tell y'all about the problems I have been having at my house.  The joys of home ownership!  Actually, I am so blessed and grateful to own this darling house.  It was built in 1950 so problems are to be expected and I would much rather be paying down a mortgage than throwing money away on rent.
So, my dryer broke AGAIN and the furnace hadn't worked in months.  I have a home owners insurance policy, so both were covered, but it is always just a hassle.  Unfortunately, the guy who came out to fix the furnace said "No one in the area works on the type of furnace you have".  I have a strange under the floor furnace that just pushes air through two floor vents, one in the living room and one in the hallway.  No heat anywhere else in the house.
I was telling Marc about it in the uber ride in to Indy's show and he said, "I have this great guy who can fix anything…let me know if you need his name".  I spoke with my insurance the next day and they said I could hire anyone if I could find them.  I text Marc's friend and he literally had someone here the same day!  Yay!  And it was only a $180 service call that my insurance will cover.  Thank God for old friends.  Well, maybe not "old" friends but long time friends is a better way to say it.
I text Marc a huge thank you and here is what he text back.  I LOVE that he enjoyed Indy's show so much.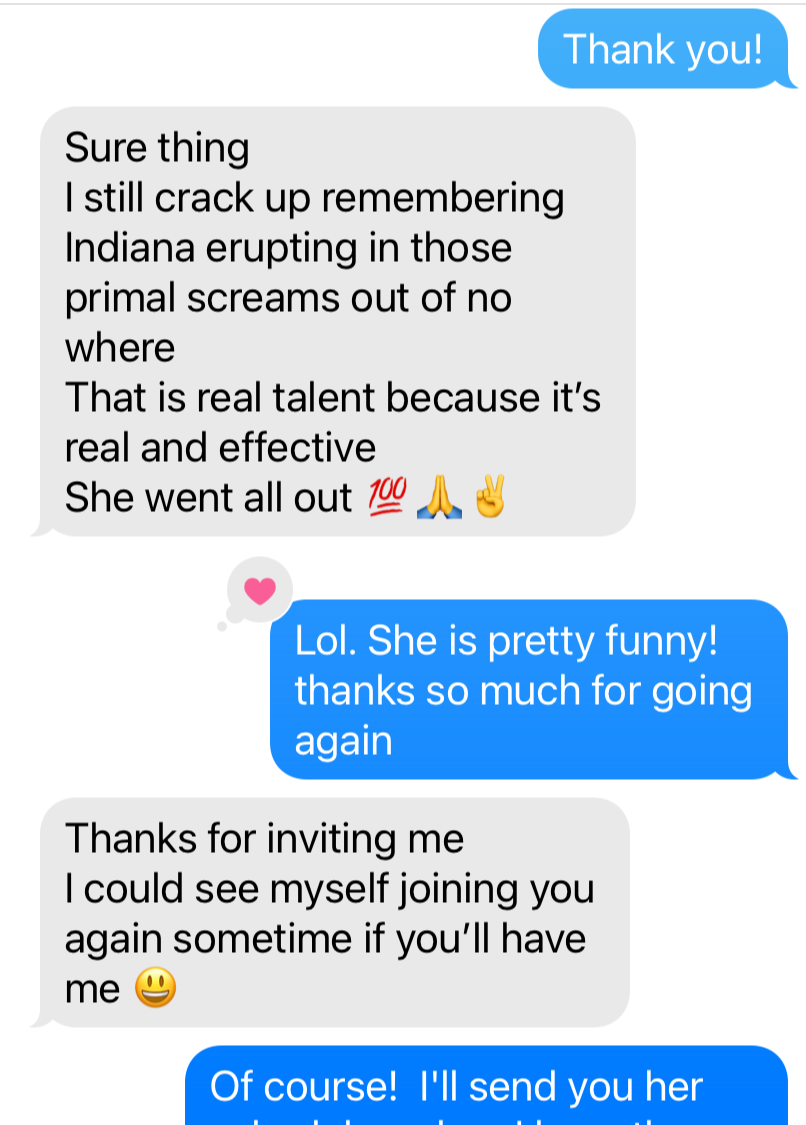 Attention Consignors:
What we need for the main store…..
Anything Beachy
Shelves
Bookshelves
Desks
Dressers
Chair Sets
Pairs of Lamps
Floor Lamps
Farm House Dining Tables
End Tables
Consoles
Also project pieces for painting!!!!
The day after Indy's show was Sandy's birthday party on a duffy in the harbor. Fun! But first, I did Fit Buddha at 12:15 with Marc as the teacher. Marc owns Fit Buddha with his wife Eva. OMG, I was a little bit hungover (so was Marc), but survived and it was off to the races….aka harbor.
Sandy was going to turn 60 (yikes) on November 17th and we needed to do something super fun. Susan Wheelan, who works for me, offered up a Duffy and her husband Brad to drive the boat. There were 10 of us who showed up at 2 pm. It was soooooooo much fun! I will share some photos with you!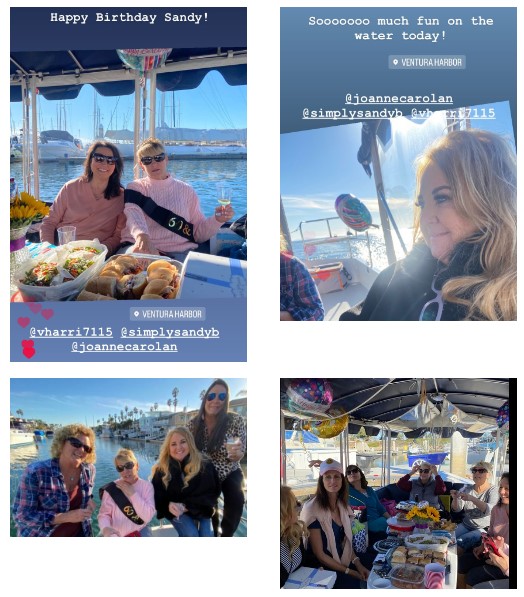 And here we are all on the dock after the cruise….most all of these are my employees….LOL…how blessed am I?  From left to right, Candy, Robin, Marion (Sandy's friend not an employee), Sandy, me, Joanne (my friend from USC), Val, Cindy and Susan.  What an epic day!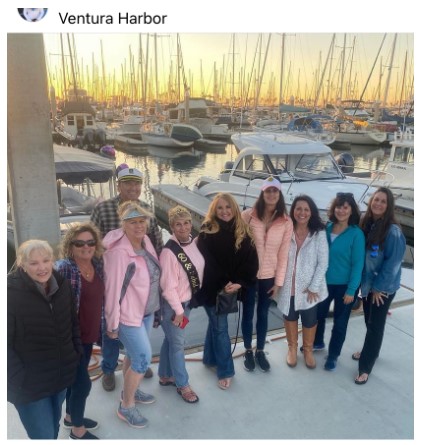 On Sandy's real birthday, Thursday, November, 17th, Jeff, Joanne and I met Sandy and Doug at Cemetery Park for a Champagne toast at sunset!  Then we went to Lure for Happy Hour!  Such a fun week celebrating my awesome store manager and great friend!  Here is a text I got from Sandy the next day….my response about the fact that "she was only 3 months old" was referring to Cha Cha…LOL!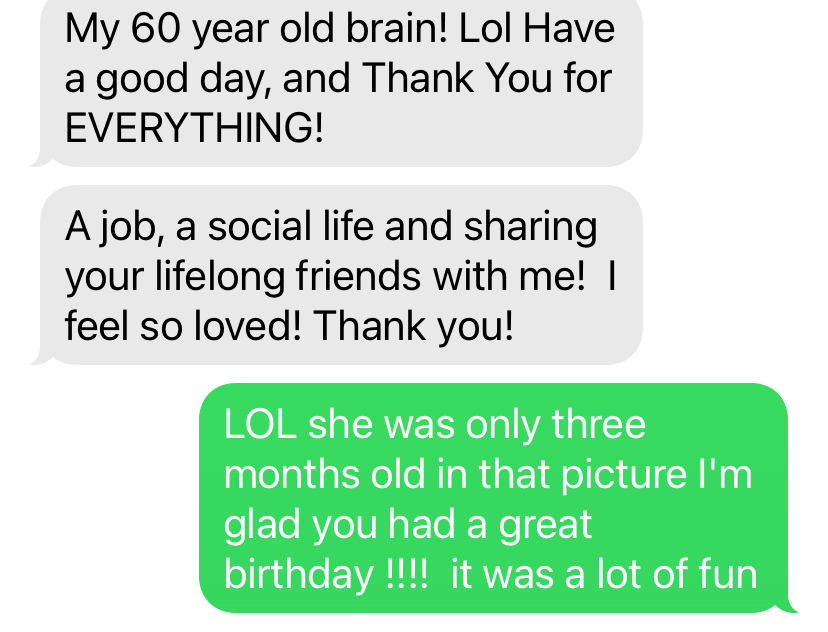 And here is a picture of Sandy in the store (working of course) on her actual birthday!  CRAZY girl!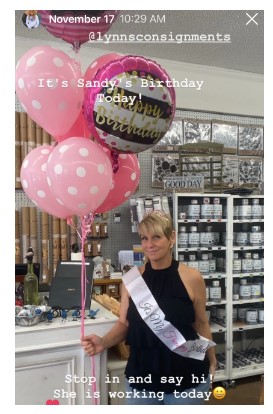 My mom flew into town on Monday the 21st and we went out to happy hour with Sandy at Brophy Bros.  Always a fun time!  Then we prepared for the holiday.  Houston, Emma and Indiana were all arriving on Wednesday night the 23rd and we had plans for dinner at Aloha Steakhouse to celebrate Emma's golden birthday that night.
Do you even know what that is?  Some of you may and some of you may not.  So let me explain, it is when you turn the age of your birth date.  So for example, my golden birthday was when I turned 6 on July 6th.  Emma's would be turning 24 on November 24th and unfortunately that fell on Thanksgiving this year!  Ughhhh!
Here we all are at Aloha for Emma's Birthday.  It was a super fun night and my friend Marty from high school joined us.  Well I guess I can't invite him anywhere anymore because he insisted on picking up the check…which was above and beyond and not why we wanted him there with us.  My kids love him and Houston thinks he is a bonafide Pirate…well he is a fisherman.  LOL!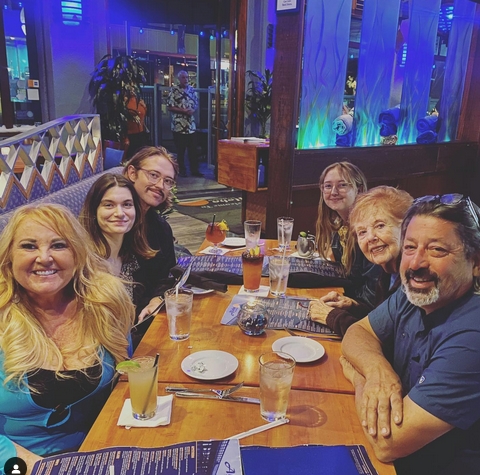 The next day was Thanksgiving and we had an amazing dinner courtesy of Whole Foods.  Super fun day and it is our tradition to always take our Christmas card photo that day.  We were struggling for an idea for the card as every year I try and outdo ourselves.  Last years was epic!  Thanks to Indiana!  If you didn't see it or forgot it…here it is.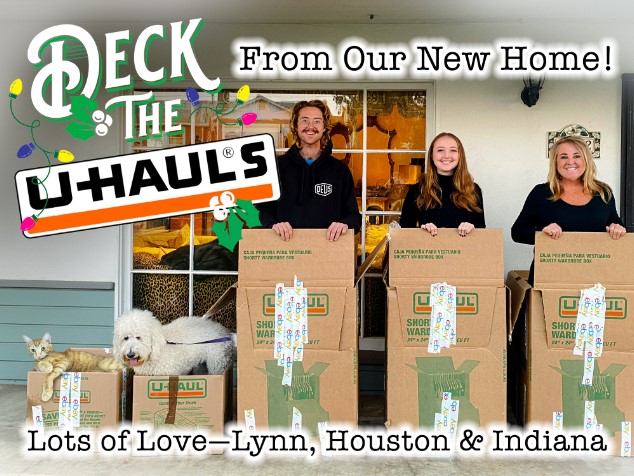 I took a nap before dinner and when I woke up, I had an epiphany….Rainbow!  Do y'all remember how we did the front window of the store in a neutral pallet and every month I changed the colors so it was Red, Orange, Yellow, Green, Blue, Indigo and finally Violet?  It was such a fun idea and I thought why not have everyone dress in a color of the rainbow for the card?
OK, let me digress.  You know that is what I love to do the most!  Back in high school I loved hearts and rainbows.  My mom made me a comforter for my bed that was hearts and rainbows and I had a bulletin board that was ALL about the hearts and rainbows.  Check out my high school bulletin board…so proud of this piece of art!  Hahaha!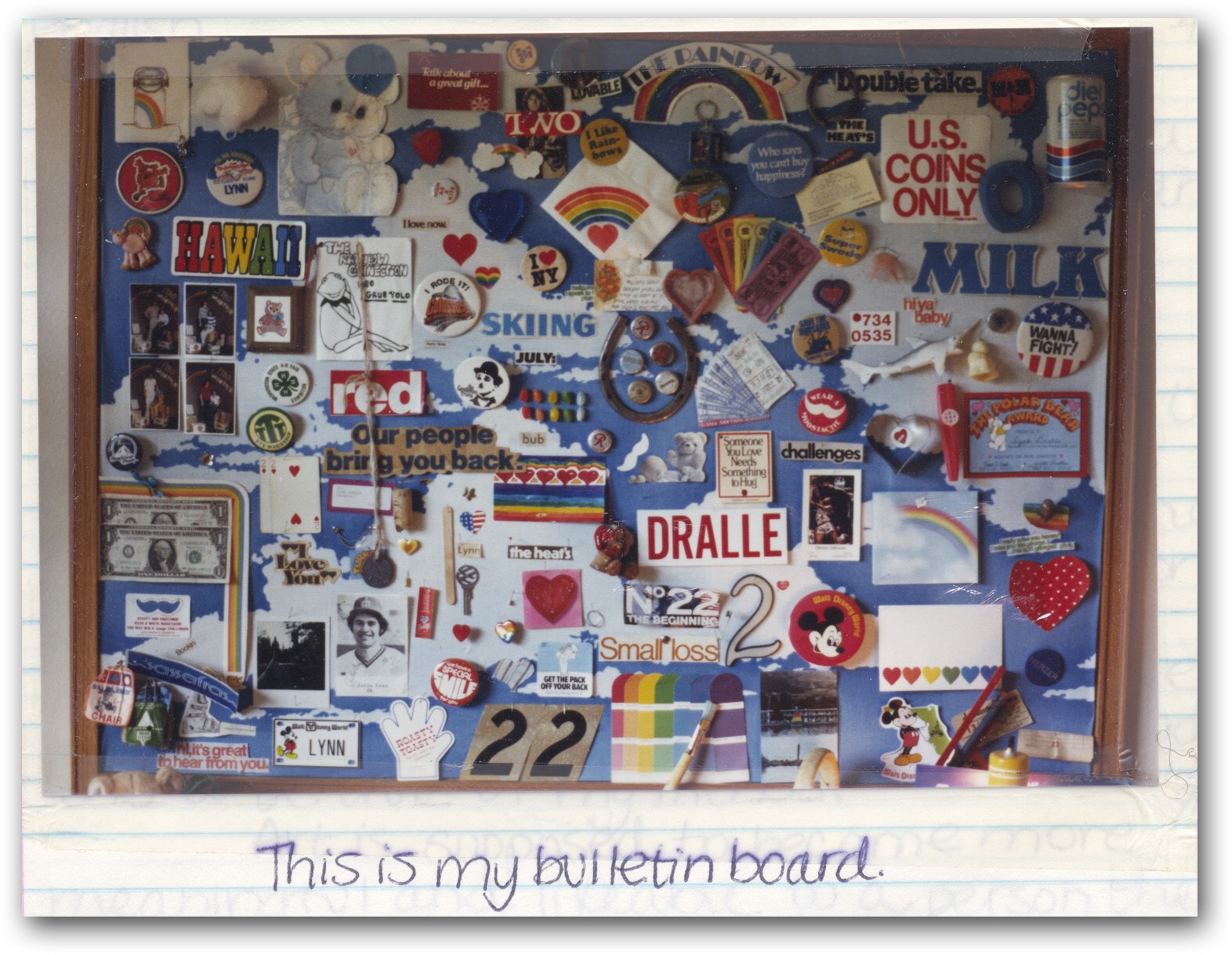 Here is one of the outtakes from our Christmas card shoot, which by the way, Sandy rushed over to take the photos for us….Thank you!  I will share the actual card after the 400 I mail out every year have been received.  We even had Grandpa (Houston and Emma's dog) and Cha Cha wearing a color for the actual photo.  LOL!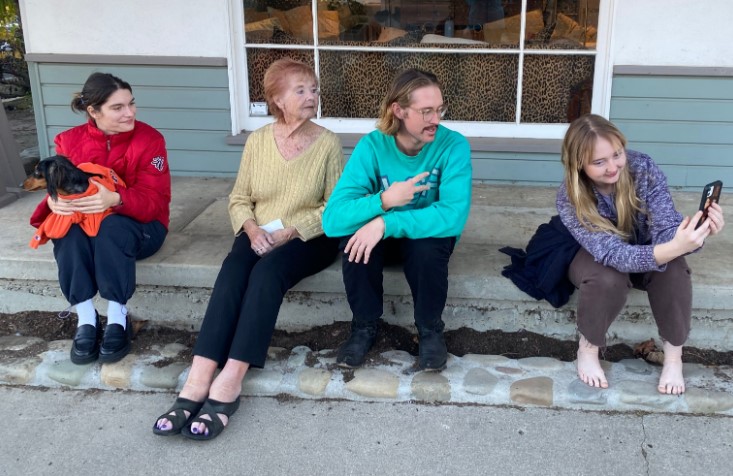 So the next day was Black Friday and it was no bueno.  My mom was behind the counter helping out and she started moaning and ended up passing out and falling onto the floor.  I wasn't there as I was dropping off Cha Cha at puppy play time, but when I walked into the store Val had just called 911.  Here are Ventura's finest helping out my mama.  Damn!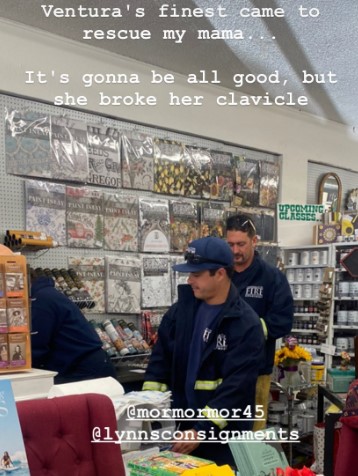 She insisted she was fine, but when they got her standing up it was very apparent that she had broken her clavicle.  ughhh!  I requested Community hospital and as I was following the ambulance they got rerouted to County.  Not ideal.  We were in emergency from 2 pm til 11 pm that night.  Not a fun day!  I don't think I like Black Friday.
Val text me this about a friend of her daughter and son-in-law.  I asked the first nurse about Scott and she didn't know him because she was a traveling nurse and then I gave up.  It was an exhausting day.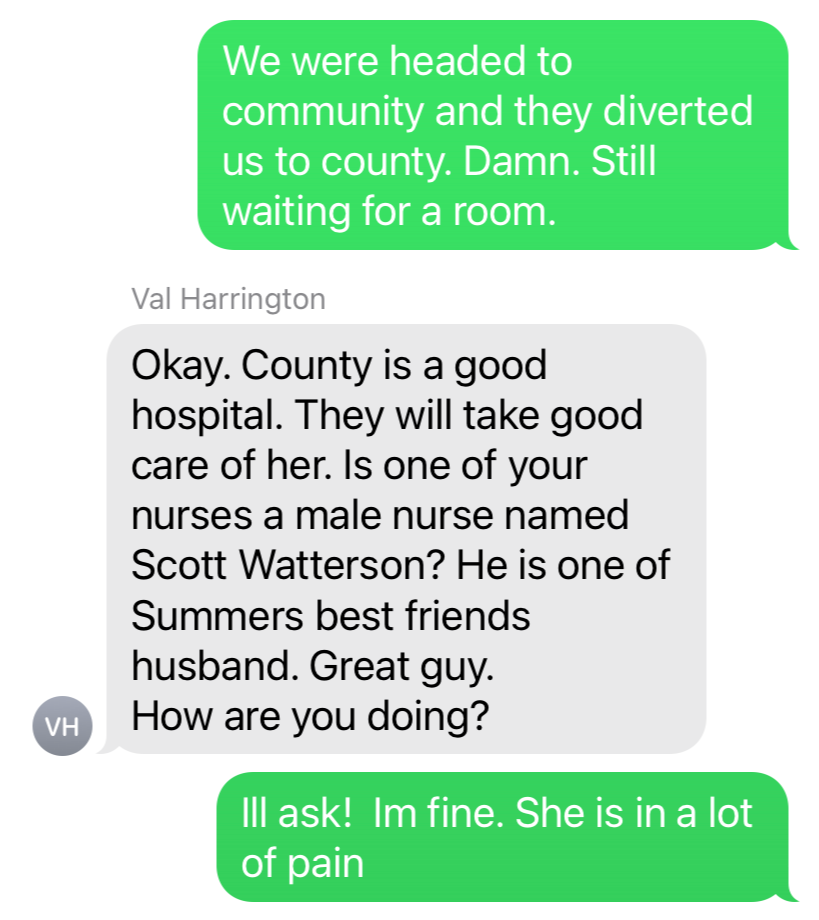 So for basically 9 hours I am wandering the halls of County emergency and asking anyone I can find for help.  I stumble across this one nurse who is super helpful.  He is funny and smart and I immediately like him.  He helped me and my mom so much that night.  Kept us away from the crazies, got the Doctor to my mom's room etc. etc.  As my mom was FINALLY getting admitted I told him "Hey, I own a furniture consignment store in Ventura and I would love to pay you back for all of your help".
He was like "Wait a minute….How many employees do you have?"  I told him quite a few and he said any from Camarillo.  "Val Harrington I blurt out" and then it all made sense.  It was Scott Watterson!  LOL!  I found him even though I wasn't looking.  What an angel.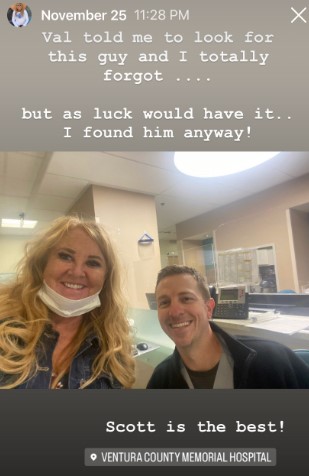 My mom is still at County and we are looking for a skilled rehab facility here in Ventura.  Right now my first choice is Victoria Care Center.  If anyone has any other ideas/suggestions please hit me up.  And, she just tested positive for Covid and has NO symptoms so now I can't even visit her.  Ughhhhhhhh!
I was supposed to go to the USC/Notre Dame game on Saturday with Houston and of course I couldn't leave my mom.  It was super sad for me as he had called me back in July and said "Hey mom, I can get us 50 yard line seats to the USC/Notre Dame game through the alumni association….do you want to go with me?"  Of course!  I was so touched that he invited me.
If you don't know, Houston got his undergrad at Pepperdine and his Masters of Education at Notre Dame.  I got my undergrad in Entrepreneurship and my MBA at USC.  So, what a fun day that would have been!  Oh well….
Goose (as we call Houston) ended up going with Emma and they had a fun day.  I watched the game in the hospital with my mom.  Here is a photo collage that I posted to Instagram.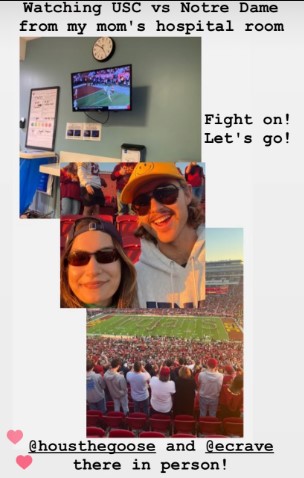 Thank you all for supporting me, my family and my businesses as I work on expanding….as you know I am building my empire!
eBay with Heart
Decorate with Heart
Dress with Heart
I try and do everything in my life in a big way and with a lot of heart! Thank you for joining me on this super fun journey. I appreciate you!
As I end this ezine/newsletter, I must tell you about Indiana's amazing show at the Hollywood Improv….yes, that Hollywood Improv. It was this past Sunday night and Sandy went with me. Seriously, to be walking the halls and see pictures of Chevy Chase, Adam Sandler, Kristen Wiig etc. and have my little Indy up on the stage BLEW my mind! I am so proud of her and she NAILED it!
Here are a few pics and I will share a link to the recorded set soon. I said to her afterwards, "I think you are going to make it"… Her response, "I know I am going to make it!" Oh, do I love that kid! I better stop now or I will be writing til New Years. So much more to tell but it will be in December's ezine.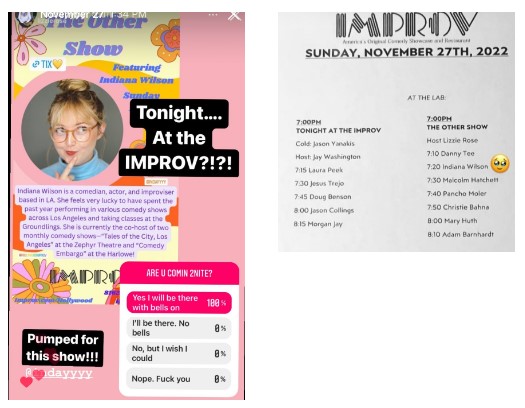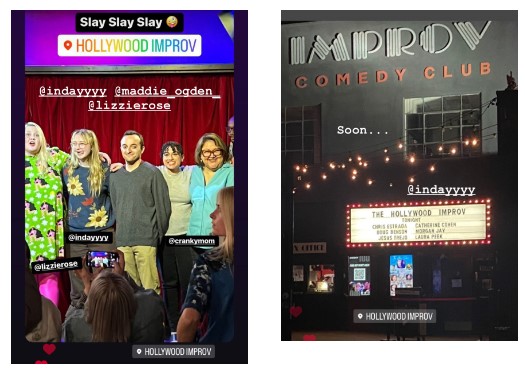 Oh crap, since I promised new arrivals every Thursday here we go….Have you seen the Teak Asian Carved Roll Top Desk Antique? It just came in and is amazing!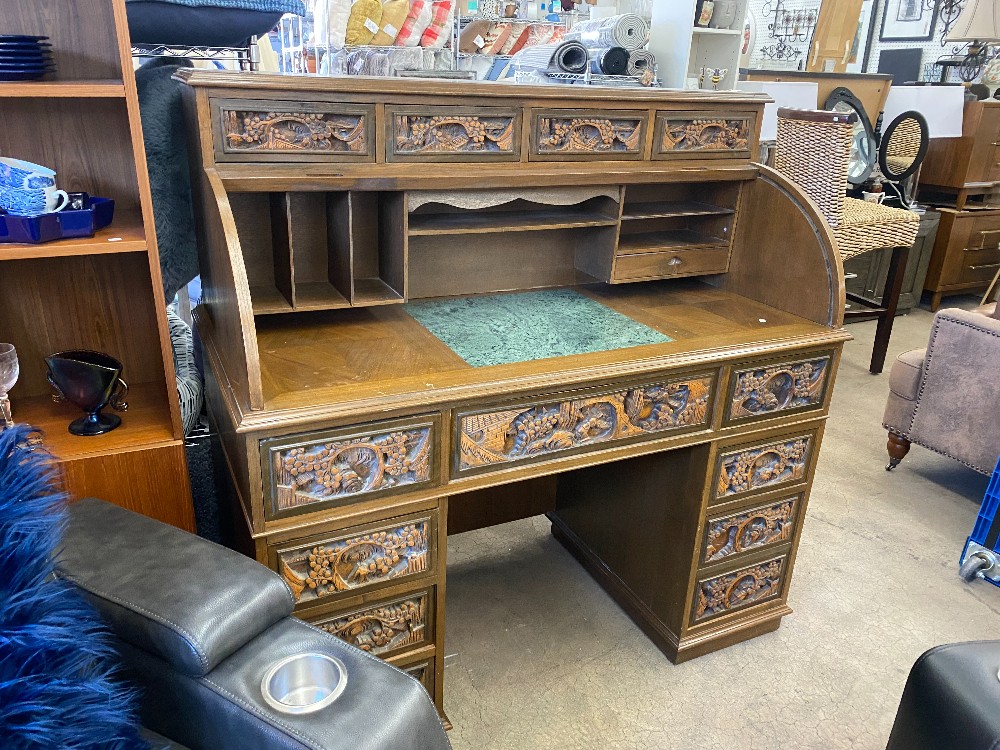 And if you're looking for a candle holder to enhance your home decor, these beautiful yet simple Ethan Allan Candle Holders will do just that by adding a touch of elegance.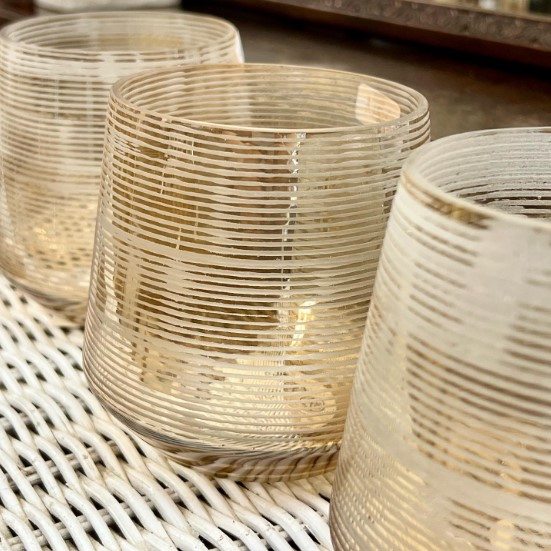 Add a fresh, modern touch to your home with these Yaheetech Metal Dining Chair Y Back Black Natural. This stylish dining chair will last for years without compromising on beauty or style.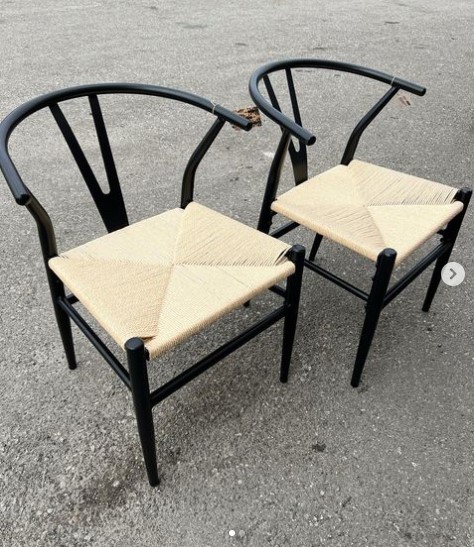 Looking for a new lamp? Give your house some Mid Century Modern Flair with the Biggest Table Lamp Gold.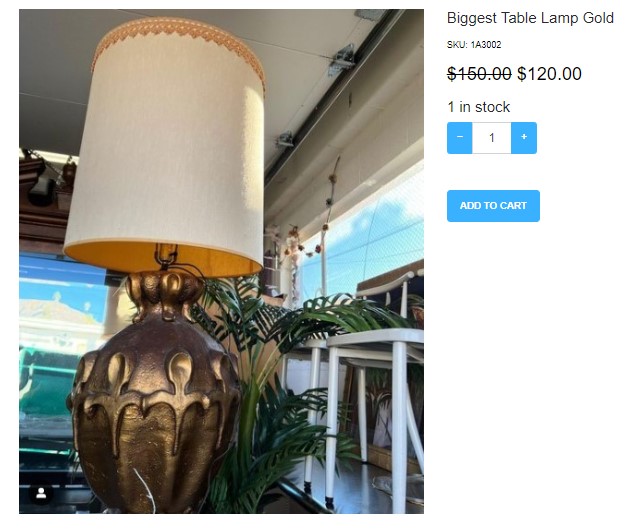 Take care and we hope to see you soon!  Some of my crew!  From left to right, Shawnna, Kailen, me, Houston, Pegg, Indiana, Mor Mor, Candy, Val, Susan, Cindy and Jo Dallas!  We appreciate y'all so much!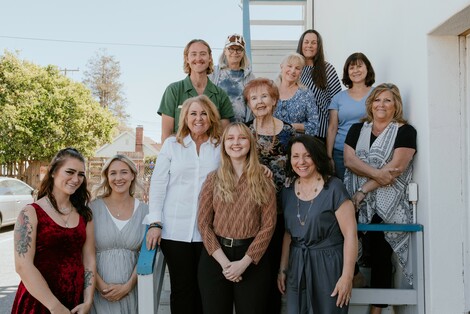 Thanks for reading my ezines!  I appreciate it….as always!
eBay with Heart, Design with Heart & Dress with Heart………Lynn
BTW, we now have a blog on the website where you can read all of our past newsletter
Link to Blog.
Past Newsletters
1  https://tinyurl.com/lynnslatest1
2  https://tinyurl.com/lynnslatest2
3  https://tinyurl.com/lynnslatest3
4  https://tinyurl.com/lynnslatest4
5  https://tinyurl.com/lynnslatest5
6  https://tinyurl.com/lynnslatest6
7  https://tinyurl.com/lynnslatest7
8  https://tinyurl.com/lynnslatest8
9  https://tinyurl.com/lynnslatest9
10 https://tinyurl.com/lynnslatest10
11 https://tinyurl.com/lynnslatest11
12 https://tinyurl.com/lynnslatest12
13 https://tinyurl.com/lynnslatest13
14 https://tinyurl.com/lynnslatest14
15 https://tinyurl.com/Lynnslatest15
16 https://tinyurl.com/lynnslatest16
17 https://tinyurl.com/LynnsLatest17
18 https://tinyurl.com/LynnsLatest18
19 https://tinyurl.com/LynnsLatest19
20 https://tinyurl.com/LynnsLatest20
21 https://tinyurl.com/LynnsLatest21
22 https://tinyurl.com/LynnsLatest22
23 https://tinyurl.com/Lynnslatest23
24 https://tinyurl.com/lynnslatest24
25 https://tinyurl.com/lynnslatest25
26 https://tinyurl.com/lynnslatest26
27 https://tinyurl.com/lynnslatest27
28 https://tinyurl.com/lynnslatest28
29 https://tinyurl.com/lynnslatest29
30 https://tinyurl.com/lynnslatest30
31 https://tinyurl.com/lynnslatest31
32 https://tinyurl.com/lynnslatest32
2nd Year….Volume II
01 https://tinyurl.com/lynnslatest01
02 https://tinyurl.com/lynnslatest02
03 https://tinyurl.com/lynnslatest03
04 https://tinyurl.com/lynnslatest04
05 https://tinyurl.com/lynnslatest05
06 https://tinyurl.com/lynnslatest06
07 https://tinyurl.com/lynnslatest07
08 https://tinyurl.com/lynnslatest08
09 https://tinyurl.com/lynnslatest09
010 https://tinyurl.com/lynnslatest010
011 https://tinyurl.com/lynnslatest011
P.S.  All of the professional photos I use on Instagram, Facebook and in these newsletters were taken by my friend Denise's daughter, Jaclyn Sabo.  She is amazing!   To learn more about Jaclyn….https://www.jaclynszabo.com/
P.P.S.  If you have a friend who wants to sign up for this newsletter.