Hi guys!
Another fun two weeks for me on eBay. Check out what I just sold for big bucks – I talk about it in the section with the Learning Annex items! Also, I discuss some really important eras to use in your listing titles and descriptions. Finally, it is not too late to sign up for my last ecourse of 2005 – Don't miss out! Lynn
This e-zine is published every other Tuesday.
October 25, 2005 Volume I, Issue 10
Eras in title and description
What did Lynn sell for big bucks, and how did those Learning Annex items do?
Don't miss out on the last eCourse of 2005
Eras in Title and Description:
The history of your item can sometimes help to sell it more than the item itself. I am not kidding. If you have a great story about what you are trying to sell on eBay, by all means tell it to the buyers in your description. As an example, do you remember the cane that sold on eBay with someone's grandfather's "ghost" or the famous toasted cheese sandwich with the picture of the Virgin Mary or even the ice cube that Elvis had touched? Amazing! But True! And these all sold for 1,000's of dollars. Someone was being creative. You don't have to go to these lengths; however, if something was owned by your great uncle who happened to be an early settler of Missouri, by all means write about it. People love a good history, especially for something they are going to purchase.
Provenance is a term used quite a bit in the antique and collectible word and it is worth mentioning here. Provenance is proof of ownership or proof of the history of your item. As an example, if you are selling a plate that belonged to the Kennedy's and you bought it at one of the Sotheby's auctions, you would use the auction catalog and your receipt of purchase as your provenance. If you have such things, it is best to include these with the purchase and mention them in the description.
As far as age is concerned, it is very important to try and date your item. People will want to know if it is new or from about what time period. I often make educated guesses in my descriptions and always use a range to protect myself. If I have a vase that I think is 1910's Art Nouveau era, I may say "I believe this piece is from the 1910's to 1940's and very Art Nouveau in look and style." This gives me a thirty year window to protect myself.
Here are some important eras to use in your title and description. Please note that the 1970's is becoming very collectible now (as well as the 1980's), but no one has really put an era name on it. I often use "Op Art" in my titles for 1970's items.
England: Periods by Reign
Gothic
Elizabethan
Jacobean
William & Mary
Queen Anne
George I
George II
George III
Regency (approx.)
George IV
William IV
Victorian
Edwardian
England: Periods by Designer
Chippendale
Adam
Hepplewhite
Sheraton

United States: Periods by Common Name

Shaker/Primitive
Pilgrim
William & Mary
Queen Anne
Chippendale
Federal
Victorian & Renaissance Revival
Eastlake
Anglo-Japanese
Art Nouveau
Art Nouveau–another range
Colonial Revival
Arts & Crafts/Mission
Golden Oak
Art Deco
Eames/Modern/Mid-Century
Op Art
France
Louis XIII
Louis XIV
Louis XV
Louis XVI
French Country
Directoire
Empire
Louis XVIII & Charles X
Louis Phillipe
Second Empire
Louis XV & Louis XVI Revivals
All years are approximate.
As a very important ending note, Eames era items (anything from 1945 to 1969) are very hot right now. If I put Eames era in my title, I get double the hits on my auctions. Other terms that describe Eames era are Mid-Century Modern and sleek.
How Did Those Learning Annex Items Do?
I have a fun story to share this week. I taught a course for the Learning Annex in LA and San Diego several weeks ago. I picked a few items to use for examples. One was a Nippon vase that I had bought at a garage sale. I thought it was going to sell for big bucks. But I was wrong—again! The garage sale where I bought the Nippon vase was run by a mom and her daughter. They were selling some of their grandmother's items (well, what was left after they had an expert come in and take all the good stuff!).
The items looked really antique and neat, similar to things my grandmother would have collected. I made a pile and asked how much since all the items had stickers on them saying "Make an Offer." I typically won't make an offer (because it usually means that they think their things are very valuable and they will price too high) and those stickers scare me away. But for some reason, I said "If I take all these things how much?" To my surprise they said only $15. Score!
The Nippon vase sold for $39, much less than what I would have expected, but it was in "as is" condition.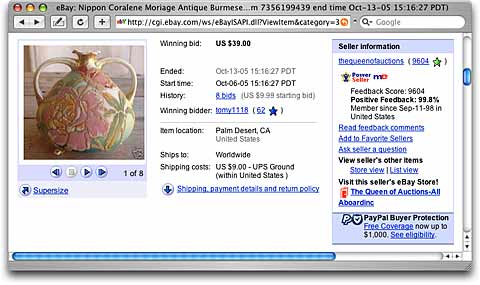 To my surprise, a tiny brooch (from the same mom and daughter sale that cost me $1) and wasn't even marked sterling, turned out to be made by a very famous Scottish artisan (AR) in the 1910's and it sold on eBay for $330! The strange part of this is that when I did my research, I knew that Alexander Ritchie's pieces were good, but in the sales history they typically only sold for about $60 to $70.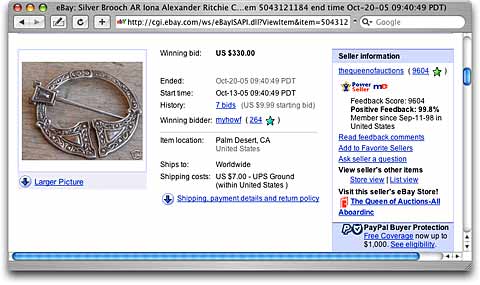 Another one of my examples for the class was a mid-century modern lamp set (that I paid $2 for) that did not sell the first week at auction for $9.99. I relisted the lamps at a starting price of $3.99 and guess what? They sold for $32.00!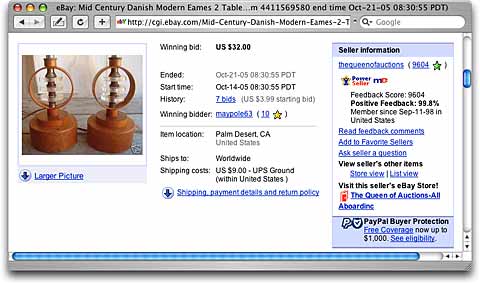 So you just never know! It really is a numbers game and just putting one thing up for sale is not going to show you how successful you can be on eBay. You must try many, many different things.
My Last eCourse of 2005:
The best way for you to get up to speed on eBay is to sign up now for my e-course that starts on Monday, October 31st. It is the last one I will be teaching in 2005.  Listen to what my students are saying about it!
'I cannot tell you how much I appreciate the work you have put into this course. I taught at the college leve,l and you are one of a very few who knows how to transfer knowledge into learning &.hallelujah'!!! – Cauleen Viscoff, Canada
'My goodness, what a home run you hit with this week's lesson! It is so full of great information that I had to go over it several times. You are an outstanding teacher; I have put some of your lessons to use this week and that saved me a few costly mistakes. Thanks again for giving us such valuable information.' – Margaret (Peggy) McIlvain, Texas
'Just wanted to let you know I am really enjoying the lessons. As the young people would say, you have really 'turned me on' to this eBay thing.' – Shirley Jones, Texas
Don't miss my last class before 2006! I am squeezing one more e-course in before the holidays and I want you to participate!
There are still a few spots left at the early bird special. Don't miss out! To sign up now click here. To find out more about the course, please click here.
Happy Buying & Selling! Lynn
For more great eBay tips and stories, visit my web site at:
http://www.thequeenofauctions.com
Please contact me with any questions or suggestions for future issues. I would love to hear from you Lynn@TheQueenofAuctions.com
Lynn is an experienced eBay Power Seller, author and teacher. If you want to know the eBay tips, tricks and tools that Lynn uses for buying and selling at online auction click here.