Hi Everyone,
Welcome to the third issue of my e-zine. We publish every other Tuesday but missed last week because of eBay Live. What a great time we had in San Jose! Read more about it below! My new book for Wiley, The Unofficial Guide to Making Money on eBay is coming along. My first five chapters are due to my editor today. I have been chained to my computer and am almost finished. I just have ten more pages to write for chapter five which is lucky because tomorrow is my birthday. I am going to spend the day at the Two Bunch Palms Spa in Desert Hot Springs. It is the Spa where they filmed part of the movie 'The Player' with Tim Robbins. I can't wait to actually take a day off!
This e-zine is published every other Tuesday.
July 5, 2005 – Volume I, Issue 3
eBay Live
eBay's top 12 categories for 2005
My interview for eBay Radio with Griff and Lee
eBay:
We exhibited at eBay Live last week in San Jose. My assistant Maureen (Mo) and I drove up on Wednesday to set up. We got lost on the way and took the 99 by mistake. 'Do you know the way to San Jose?' obviously we didn't! We manned the booth Thursday, Friday and Saturday. Saturday night was the party where the B-52's played and we all danced. It was so much fun! We met so many nice eBayers and got a really great feeling for the eBay community. We are proud to be Power Sellers! To read more about our eBay Live adventures, please check out my blog at http://thequeenofebayauctions.blogspot.com/
eBay's top 12 categories for 2005:
Looking at first quarter results for 2005, the gross merchandise volume (GMV), or the total value of all successfully closed listings on eBay, was $10.6 billion dollars. Wow! Based on the first Quarter's sales results, eBay projects 12 categories that will deliver over $1 billion in sales for 2005. Take note of these categories as there is a huge dollar volume potential in selling these items!
eBay Motors at $12.9 billion (this is the world's largest car dealership)
Consumer Electronics at $3.4 billion
Computers at $3.2 billion
Clothing & Accessories at $3.1 billion
Books, Movies and Music at $2.7 billion
Home & Garden at $2.2 billion
Collectibles at $2.2 billion
Sports at $1.9 billion
Toys at $1.7 billion
Jewelry and Watches at $1.6 billion
Business & Industrial at $1.4 billion
Cameras and Photo at $1.3 billion
In this e-zine, we will take a closer look at the car category. If you decide to sell cars on eBay, you will be selling on a slightly different, but still connected site, eBay Motors. To get to the home page for eBay motors, just type in http://www.motors.ebay.com/ If you search on the regular eBay home page for a certain type of car, eBay will automatically take you to this site. As mentioned earlier, eBay is the world's largest seller of motor vehicles and was projected to sell $12.9 billion in automobiles in 2005. eBay reports that a car or truck is sold every 60 seconds. This works out to over 1 D2 million cars sold every year. Now that is a lot of cars. Wow!
The fees to sell a car on eBay are really quite reasonable. In fact, I can't understand why they don't raise these fees instead of raising fees that hurt the small mom and pops. It could just be an indication of where eBay is heading. To sell on eBay motors you will pay an insertion fee that is only $40 for a passenger vehicle. Once a bid is placed, or the reserve price is met, you will pay a transaction fee. These are all listed below by type of vehicle. If you sell a $15,000 passenger vehicle on eBay, you would only pay $40 for the insertion fee and $40 for the transaction fee or a total of $80. As a percentage, this only cost you .53%, a little more than ½ of a percentage point. Very reasonable!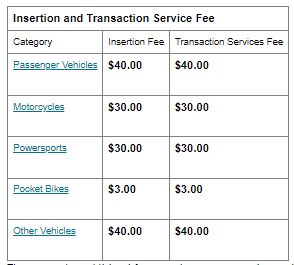 There are other additional features that you can use in your listings on eBay motors. They are quite varied and there is not enough room in this e-zine to get into detail. To learn more about these extras please check out http://pages.ebay.com/help/sell/motorfees.html As a side note, the listing and selling fees for parts and accessories are exactly the same as those on the regular eBay site.
Many people today are buying used automobiles that don t run and parting them out. What this means is that they pick up an older Honda or Mustang that still has the seats, doors, door handles, hardware etc. in good shape and sell these items piece by piece. There are so many classic car enthusiasts out there who will pay big bucks to get original parts for the cars that they are re-doing. Check out your local auto junkyard. Here is an eBay listing for 'A pair of 1967 used Mustang Fastback doors' that sold for $460.00!
If you deal with cars on eBay, you will most likely be selling used vehicles. However, you could enter the new car market if you own a dealership or have access to cars at a great price from a local dealer.
Remember, that when dealing in automobiles, you will typically be taking on more risk because the prices are higher. However, this higher risk can also lead to higher rewards. I have to sell 400 items a month to make a good living on eBay. If you sold 6 cars a month and made $1,500 on each one, I would consider that a good living also.
The eBay Motors home page is a great resource to find out what is hot. I checked the home page in July of 2005 and the top best selling auto types listed in order were:
Ford Mustang
BMW 3 Series
Toyota Sienna
Chevy Corvette
Harley-Davidson
Jeep Cherokee
Chevy Silverado
Mini-Cooper
Honda CR Series
Dodge Ram
Another great resource, if you decide to specialize in automobiles, is the book eBay Motors the Smart Way by Joseph Sinclair. It will help take you to the next level.
All eligible motor vehicles sold on eBay are automatically protected with free purchase insurance in the rare case of fraud and material vehicle misrepresentation. This coverage goes up to a purchase price of $20,000 and is offered for free by eBay. To find out more about it please check http://pages.motors.ebay.com/services/purchase-protection.html. Another great way that eBay is making it safer for everyone to trade on their site.
One of the first questions that most people ask when considering selling a vehicle is how do I ship it? Remember that it is the buyer's responsibility to ship the vehicle and they pay for the transport. DAS, Dependable Auto Shippers, is the eBay recommended shipper. They can be reached toll free at 1-866-DAS-eBay.
Another question is how can I get the most money for my item? Here are my tips and tricks for eBay motors. Always have your vehicle inspected by an independent third-party. This will give validation to your bidders and encourage them to buy. eBay recommends two different inspection services on their site. One is SGS Automotive and they do a 150 point condition report. They are nationwide and they charge $99.95 per vehicle and this also includes interior and exterior photographs. Contact them at http://sgs-ebay.sgsauto.com/Index_Car.htm eBay also recommends an inspection by Pep Boys at http://pages.motors.ebay.com/services/inspection/PepBoysinspection.html . It is not as thorough but only costs $24.99.
Next, include this report in the listing or link to it and be very detailed in your description. Show as many photos as possible. Show the interior and exterior from every angle. Show the trunk and the engine. When I sold the Pontiac for my ex-husband they wanted to even see photos of the floor mats! Be overly detailed.
When you price your car, here are some quick pointers. If you are selling a late model, higher priced automobile, protect yourself and use a reserve auction set at the price you hope to receive. As an example, you may want $10,000 for your car. This higher price should be what you feel comfortable letting it go for. It could be the trade-in price that you can get at dealership or what you see other similar cars selling for on eBay. You set a hidden reserve at $10,000 but start the bidding at $1,000. Usually, hidden reserves are at about 10% of the reserve price. This will protect you so that you do not have to sell your vehicle if it doesn't meet the reserve. You could also just start the bidding at $10,000 with no reserve. A reserve price auction or a starting price at your asking price is what most sellers with no experience use to sell a car.
If you have an older and lower-priced vehicle to sell then it can be a good strategy to start your auction at a lower price with no reserve. This will help get the bidding momentum going as early as possible. This strategy can be very effective if you are in a hurry to sell the vehicle and price is not as critical. As an example, you have a Ford Mustang that is worth about $2,000 blue book. You start the auction at $500. Just remember, though, that if it does get only one bid at the $500, you will be obligated to sell it for that price. This strategy is often used by the experienced sellers on eBay. I would wait a while to try this one! When you first start selling cars on eBay it is a good idea to use an escrow company to protect yourself and your buyer. eBay recommends www.escrow.com and this is an important safeguard. If any of you have success stories with automobiles, I would enjoy hearing about them Lynn@thequeenofauctions.com
My interview for eBay Radio with Griff and Lee
I was very lucky to be interviewed on eBay radio with the hosts Griff and Lee during eBay Live. Griff is the eBay spokesperson and Lee is his fun side-kick. The eBay radio booth was right by our booth in the San Jose Convention Center so we got lots of photos. I was on for about ten minutes and we talked a lot about my book, 'The 100 Best Things I've Sold on eBay.' Griff and Lee both really loved the book. If you want to hear the interview and see a photo it is on the front page of my website at http://www.thequeenofauctions.com
Happy Buying & Selling! Lynn
Please contact me with any questions or suggestions for future issues. I would love to hear from you Lynn@TheQueenofAuctions.com