Hi!
Happy July! I can't believe that it is July already. As you read this I am in Bellingham, Washington getting ready to help my sister (Kiki) with a garage sale. The garage sale will be held Saturday, July 2nd from 9 am to 3 pm on King St. Please stop by and say hi!

Lynn Recommends: Flatware Success eBook–Volume One is out!! Price goes up Friday at midnight

Special Announcement: 

Live Boot Camp at HQ—Only 6 Seats Left!
Feature Article: TRS and Removing Negatives
This ezine is published every two weeks.
June 30, 2011
Volume VII, Issue 10
Hey—I just remembered, it is also Happy Canada Day and Happy 4th of July! Yay to both of our awesome countries. Thank goodness that the Canadian postal strike is over. A terrible bump for all of Canada and for eBay sellers who ship to Canada. Great news that the strike has ended! It was really cute to hear from Mandy (mandicrafts) one of my favorite Queen's Court members (of course you all are 

) that her first package received was from me!!! I Sell sheets. She posted on the boards that it is a great sign of things to come. Mandy is always positive, helpful and finds the most amazing scores. Here is a link to a musical instrument that she currently has up for auction.
See this listing here
.
eBay Radio in Las Vegas last week was fantastic. Mo and I had a blast meeting new people and hanging out with Queen Court Members.
The eBay Radio party started out with a kickoff meet and greet party at Bugsy's Bar. It was a blast. Kabbage, Page Mage, Stamps.com, Terapeak, Ship-Rush and other vendors were there supplying drinks! Many of the speakers were also in attendance: Janelle Elms, Marsha Collier, Debbie Levitt, John "ColderIce" Lawson, and Bryan Goodman. eBetsy was there giving away prizes, Lee Mirabel stopped by and fun was had by all. I got to hang out with some Queen's Court members (Diva Dawn, Vicki, Victoria, Danni), Mo, Melinda Jackson, and Joel Elad. I played video poker and I actually won 250 credits ($62.50) for a straight flush. Lucky me!
The first day of classes was very well attended. The room was decorated with lots of pink and fun flamingos—most of the seats were full! Good job eBay Radio! The mood was super fun and upbeat. I think this year was the best eBay Radio party ever!
For lunch, the speakers all sat with different attendees and it was really fun! At my table, we shared some of our recent scores. We learned about cowboy photography books from Tara ($150 for a CM Russell Book) and Bavarian china ($500 for a set) from Tara's mom Kristy. We learned about T-shirts ($32 for a Puerto Rican Hard Rock T-shirt) and $404 for a Woodstock CD Parts 1 and 2 from Jason. Debbie told us about a 90″ airplane propeller that she sold for $405. Grannie Annie shared a story about a vintage pack of cigarettes with the original sleeve from the 1920s that went for $550. Lance shared about his recent score of a Carole King badge (pinback) that sold for $350 with a few other badges. Rose shared how to sell vintage postcards. It was fascinating.
All in all it was a wonderful first day!
After the first day, Mo and I headed to Bugsy's again to gamble. I won $122 at video poker. We ran into Melinda Jackson and Joel Elad. Joel posed for a photo with the pink flamingo girls.
Check it out.
The second day started out with a wonderful presentation by the guys, Jason and Brian. It was fun and full of thrifting tips and I think that I am going to invite them to do a Queen's Court call with us soon.
The networking luncheon was really fun. At my table, we had Richard, Victoria, Diva Dawn, Maureen, Vicki, and Danni. We learned about tips for buying at auction, buying storage units, and thrift store buy. Danni shared one of her huge scores from a storage unit buy…a signed photograph of Neil Armstrong that sold for $2,500. Wow!
After lunch, was Griff's hysterical presentation, Know Your Numbers. He is such a great speaker and really got the audience engaged. He even showed us a photo of his new puppy Sadie. Gotta love Griff!
I spoke after Griff and thank goodness that is over! I spoke about product sourcing and profiting. All in all, the event was fantastic. I had a blast and I think the attendees did too. We learned, laughed, and bonded. I recommend this event to everyone for next year. 2011 was the best eBay radio party ever!
As I sit here writing this ezine and wondering about what will happen with the new eBay fee structure changes on July 6th, I realize I need to start packing for my trip to Bellingham tomorrow morning. You all probably know my M.O. (Modus Operandi) by this time; I take on tooooo much all the time. So in that vein, I am very happy to announce that I will be a speaker at eBay on Location in Florida this September…right before Live Boot Camp. Too much, Too soon, and Too cool!
But let's get back to Live Boot Camp. As we (the girls and I) have analyzed the space at headquarters to figure out seating capacity, we have realized that 12 is our MAX number. It is going to have to be a very small group of select students. Congrats to the six of you that have already reserved your spot!
And FYI, this year's live boot camp at HQ is going to be more important than ever before. So many eBay changes and how to deal with them will be our focus. You can reserve your seat now (remember, only six spots left). Read more about it in the Special Announcement section. The detailed information page can be found here.
Speaking of celebrating, I just finished the first section of the Flatware Success eBook. Volume One of the flatware eBook was emailed out at 6 am on Wednesday morning–YAY, YAY, and YAY. Can I please say that one more time? Seriously? I am so excited about it. Just like the Dinnerware Success eBook, it will be delivered in three volumes (maybe even four as it has become so amazing!). You can learn more and place your order before the price goes up tonight at midnight in the Lynn Recommends Section.
Because I have been so focused on writing the eBook and dealing with a myriad of other things, I decided to do my feature article about TRS (Top Rated Seller) and the presentation I did at eBay Radio. I have to warn you ahead of time about this article because during my presentation Griff actually walked out with his ears plugged. Loooooovvvvve that guy! He cracks me up.
I stopped him mid track and said, "Griff, it is going to get better." I could have started my presentation with the good but my philosophy has always been, get the bad out of the way first and end with the GOOD!
Don't miss my feature article about TRS (Top Rated Seller) and how you can get negatives removed.
Oh, before I forget Mo and I did get a callback from a major network about our interview for a reality show. Who knows what that means, but please keep your fingers, toes and ears crossed. We need some positive mojo in our lives. Thanks for being a loyal ezine reader! I seriously appreciate it!
This is one of the photos of Mo and I that I sent to the
casting company for the reality show tryout.
Fingers crossed.
Oh My Goodness, I forgot to mention the kids in this ezine. Let's see, they are both driving me CRAZY. They are OFFICIALLY teenagers.
Not only did I have to drive Houston to three different practices and tryouts on the same day (high school baseball, high school basketball, and travel baseball), I also had to drive Indy to piano lessons and a pool party. Hello people, I am exhausted! How does a single mom, dad or other working parent do this? And the worst part of this entire equation is that the kids just DON'T GET IT. I know many of you can relate to this. I have finally hit the wall. They were such wonderful kids until this summer

 J/K (just kidding—they still are).
Here we all are at our new house (we just moved in). See how happy we can be in between THOSE moments. My dad was here visiting and we had such a fun dinner last night…ribs, corn on the cob, fruit salad, breadsticks, baked beans (oh no, we forgot to move the can opener and the baked beans took an extra long time to open!!) etc. My dad is awesome and came down to help us move. What a doll! Now I sound like a Kardashian–if only I looked like one that reality show would be much easier to get 

.
I love to move and we haven't moved in nine years. Way too long to live in one house! The beauty of moving is that it helps you let things go, sell unneeded items (on eBay of course), throw away paperwork, and just move through memories. Our new house is in a gated community on a lake with boats, tennis courts, and a pitch and putt. We LOVE it! A wonderful fresh start for the three of us and it is all because I finally got the eBay business OUT of my house and into headquarters!
And by touching all those items, some actually sell! Houston's train table from when he was little just sold this morning. Really, do I need to be hauling around something like this for the rest of my life because it brings back memories? NO!
You can see the listing here
.
It will be very interesting to see what happens on July 6th and in the coming months to our eBay fees. Mo, Carmen and I have been experimenting and testing our shipping and pricing strategies for the past three months. We have also been working on adding international shipping/handling/insurance charges to our listings.
I did a wonderful call with Lisa Suttora last week on Tuesday right before I left for Las Vegas regarding these changes and our new strategies (it was the Queen's Court gift for June). Then, Lisa, did a follow-up call this past Friday (without me), June 24th (this was also a QC gift). If you are not an (it was the Queen's Court gift for June) member, these wonderful calls can be purchased as a download here.
Lisa Suttora and me at LOL 2011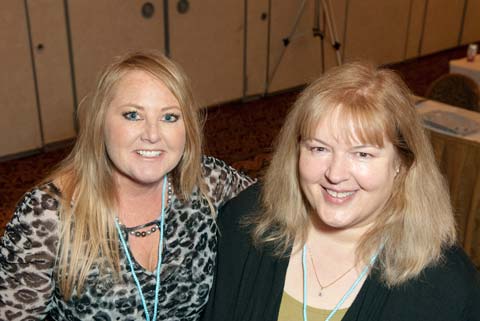 Lisa is a brilliant strategist, motivator, and businessperson. These calls are invaluable in preparing for the future with eBay. 
As I said to Lisa in the call, one of my favorite quotes of all times is by Samuel Clemens–Mark Twain, "I have lived through some terrible things in my life, some of which have actually happened."
Be very prepared for change and then evaluate your business plan as it evolves. These calls with Lisa will help you be prepared! Click here.
With so much travel, baseball, moving, and writing, I have not been able to get to any garage sales or thrift stores. As a treat this past Monday I did stop by my favorite Goodwill store. Total score!
I couldn't believe what was on the shelves. Thank you Thank you! A Wedgwood set for $59.99 (a little high), Arabia Finland, Royal Doulton, Debbie Mumm, and a Wizard of Oz coffee mug with the flying monkeys. Love those guys!
You can see this listing here
.
I spent over $200 that day. I have NEVER done that in one thrift store before. Here is a photo of my huge score.
As Andy was helping me out with the last box, he said to me, "You left something in the store." I was like, Yikes! "I know I have been a little scattered lately, but what did I drop? Or what did I leave here?" How embarrassing as I am in there an awful lot. As I walked back into the store, all the girls Jackie, Elaine, etc. were standing at the front counter smiling and they pulled out my eBay Shipping Made Easy DVD from behind the counter. Someone had donated it. Oh no! They wanted me to autograph it saying that they had a celebrity shopping in their store. I had to laugh. I am NOT a celebrity but you have found me out. It was pretty cute!
Here
 is one of the Royal Doulton bowls that already has a bid.
Yay. Score!
I hope you are having a lot of great scores this summer also!
Happy July!
Lynn Dralle, 'The Queen of Auctions,'
Creator of the best-selling eBay Boot Camp in a Box. 

Flatware Success eBook–Volume One is out!
Great news! Check out this email that I just received:
Lynn,

My flatware eBook arrived just a little while ago while I was sleeping. So far I've skimmed all the material — WOW! You weren't kidding when you said there was tons of interesting information inside. I especially liked all the Hot Tips peppered throughout. I did take the time to read them all while I was skimming. I'm looking forward to reading and absorbing all this new information about flatware. Flatware has been a lucrative part of my eBay business ~ and I expect it will be even more so now that I am armed with so much more knowledge. Thanks for sharing!

-Diva Dawn
It was worth the wait! Not only do I discuss different flatware manufacturers to buy and those to pass by :), I also get into metals and the value of certain precious metals. It has been fascinating for me to write about this and also include ways for you to turn scrap jewelry and metal into cash.
I did a really fun field study when I wanted to sell some gold (you probably know that gold is at an all-time high….over $1,500 per troy ounce).
In my case study, I actually show you how I got $175 more for a gold bracelet by knowing what I was doing. A mistake like that would pay for this eBook two times over!
Do you know how to calculate what your jewelry is worth? Where to sell it for the most money? The difference between troy ounces and avoirdupois ounces? I didn't know all of this either and it is fascinating…I include all of this in Volume One of the Flatware Success eBook. This eBook is a resource that will enable you to expand your eBay business into this valuable category.
Now you won't be confused at thrift stores when looking at shelves like this anymore. Yay! Click here to place your order.
To learn more click here.
The Table of Contents looks like this. (This is subject to revision.)
Introduction

1. Types of Flatware/Hollowware
Pewter
Brass
Aluminum
Armetale
Stainless
Silver plate
Coin Silver
Sterling

2. Manufacturers to ALWAYS buy
3. Tricky Manufacturers
4. Manufacturers to NEVER buy
5. Best Selling Patterns of All Times
6. Patterns to Buy
7. Designer/Artists to Buy
8. Good Colors—Gold wash, Plastic?
9. Good Themes
10. Different Countries
11. Identifying the Different Pieces
12. Terms and Definitions
13. Where to Buy?
14. Research in the Field to Make Quick Purchase Decisions
15. How much should you pay?
16. Single pieces to purchase vs. Entire Sets
17. Research at Home
18. Pricing and How to Sell
19. Shipping
20. Condition and Seconds
21. Cleaning
22. Photographs
23. Categories
24. Title

Let's put it to the test–a Case Study
It was very strange, but as I was unpacking a box at HQ, I found a flatware storage chest. In my grandmother's handwriting on the price tag, it said, "Box for Silver Flatware." I love seeing my grandmother's writing on anything and this was especially significant to me as I am writing this eBook. I think she approves and the eBook is turning out to be a fantastic resource! Now, off to start writing Volume Two 

!
Don't miss out on the special pre-order pricing for this eBook.
Order now, the price goes up at midnight this Friday, 7/1.
We even have a 3-part sales plan! Order in three payments here.

ONLY Six Seats Left for
2011 Live Boot Camp
@ HQ
Palm Desert, CA at Headquarters (HQ)
These dates are…
Friday, September 23rd to Sunday, September 25th, 2011
Seats are very limited. Only 12 students will be admitted. Click here for more info.
Six seats are already spoken for.
Will you fill one of the remaining six?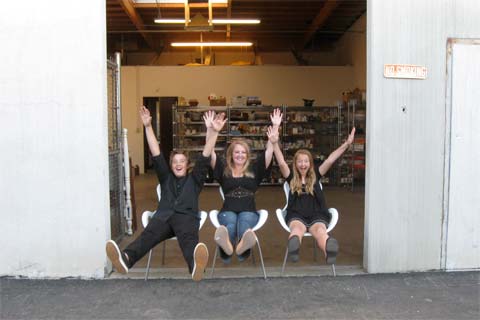 Reservations are open, email me for your customized link to reserve your spot.

'TRS and Removing Negatives'
by Lynn Dralle, The Queen of Auctions
I was going to be TRS (Top Rated Seller) by July 6th (my birthday) and I didn't make it. I want you all to know that it is a difficult distinction to achieve and don't EVER give up. Also, a huge congratulation to those of you who do have the honor of being Top Rated Sellers!
I spoke about this at the eBay Radio party as I felt that it was very important for the powers that be to hear how hard we work at it and that as sellers we do take it very seriously. But sometimes, we need a little extra help from eBay corporate.
If you can believe this, my DSR (Detailed Seller Ratings) has improved in every category except…Item As Described. How did that happen? Those DSRs actually got worse.
Here is a photo of my current DSRs.
I believe that to be a TRS, eBay should really be looking at the total ratings, the 4.9s and 4.8s that I have achieved in the past twelve months. I don't think that they should be looking so harshly at those low 1s and 2s.
In the past three month's rating period, I am being judged on 934 transactions. I got 10 1s and 2s in Item as Described which at 1.07% puts me in jeopardy of losing my premium eBay store (and we aren't even discussing TRS yet).
You can have no more than 1.00% of 1s and 2s in the Item As Described category to be a premium store owner. You can have up to 2.0% in the other three categories and not be in jeopardy but Item As Described is looked at very seriously. And I do take it very seriously. I never misrepresent my items.
Losing my premium store would be a disaster to my bottom line. If I were demoted to a basic store, my insertion fees for a GUC (good until canceled) listing would go from 5 cents per listing (I have over 6,000 listings) to 20 cents per listing. That translates from a current $300 per month fee to a $1200 per month fee. This got my attention!
I have to tell you that this did ALMOST happen to me several months ago when I got 20 1s and 2s in shipping time. I quickly got that fixed and to give eBay credit they do give you 60 days to get it taken care of before they demote your premium store to a basic store. So if this happens to any of you, don't panic–you have some time.
Luckily, I got that fixed but now I was in a quandary. How do I fix items as described ASAP? I pulled up my recent feedback and I saw the culprit who had put me over the 1.00% level. I couldn't believe who it was.
Remember that "eBay Deal of the Day" satellite radio docking system that I thought I was so smart to buy and resell?
See this listing here
.
I had bought it before Christmas as an "eBay Deal of the Day" for $12.99, which included shipping. I sold it for over $20 plus $14.95 in s/h/I charges. Then I received an email from the buyer saying, "It looks used and you didn't say in the description what systems it works with." I could smell trouble. I immediately emailed and said:
I am very sorry about this. We did open it to answer some questions about the item for other customers. It is brand new. I will immediately refund your entire purchase price with shipping and you can keep the item.
I refunded all his money that second, including s/h/i. The guy still left me negative feedback. Are you kidding?
So, I decided I would go in and ask him to revise his feedback rating.
Here is the link the customer support page. Type in 'revise feedback' and follow the links to check and see if you are eligible to ask for feedback revisions. eBay has a limit on these based on your total transactions and how many days ago the feedback was left.
Here is what that screen looks like.
I had already asked for him to revise his feedback, so the screen capture above, it shows that currently, I am not eligible to have any feedback revised.
It turned out that the buyer was nice enough to revise the feedback. What a relief! Here is what his new and revised feedback reads.
When I saw that he had revised it, I quickly went to my seller dashboard to make sure that the low 1 or 2 was taken away from my Item as Described DSR. Guess what? It was still there. Not cool! I was very vocal about this on eBay radio last week. I truly believe that if a buyer revises his feedback to a positive based on a seller going the extra mile that the low 1 or 2 DSR should also be retracted.
In any event, those low 1s and 2s in Item as Described will be falling off soon and I should be fine in the next evaluation period (end of this month).
Let's also look at my numbers in relation to TRS.
As you can see, the only category that I qualify for Top Rated Seller is in communication (you have to be at .50% or less in all 4 categories). I am very close to shipping time and not too bad in shipping and handling charges either. So, to end on a positive note, we are making progress! YAY! I will continue to work with my buyers to make eBay a very positive place for them to purchase and I know that you are all doing the same!
Happy eBaying!
Lynn
---
Visit my eBay Store.
Visit my eBay auctions.
For more great eBay tips and stories, visit my website at:
http://www.thequeenofauctions.com
---
WANT TO USE THIS ARTICLE IN YOUR EZINE OR ON YOUR WEBSITE? Yes, you may – just as long as you include all links as they are and append this complete blurb with it: The Queen of Auctions and eBay Power Seller, Lynn Dralle, publishes 'eBay Tips & Tricks' a weekly ezine with 10,000+ subscribers. If you're ready to jump-start your eBay business, make more money and have more time, get your FRE E tips now at www.thequeenofauctions.com

eBay PowerSeller and third-generation antique dealer, Lynn Dralle, is the creator of Boot Camp in a Box, the home-study course where you can learn to implement the Dralle Method to maximize your eBay profits.
If you liked today's issue, you'll love this step-by-step course that is guaranteed to be the most complete and enjoyable guide to selling on eBay that MAKES YOU MONEY.
Read all about it here.
The Queen of Auctions also offers articles, teleseminars, how-to books, tracking guides, DVDs, eBay Boot Camp training, and other resources to help entrepreneurs make their eBay business a six-figure sales machine.
Some links in my emails to you may be affiliate links. You can be confident that I only partner with companies that I fully stand behind.
The Queen of Auctions/All Aboard Inc.
PO Box 14103
Palm Desert, CA 92255
760-345-9355
Lynn@TheQueenofAuctions.com
---
---
Lynn is an experienced eBay Power Seller, author, and teacher. If you want to know the eBay tips, tricks, and tools that Lynn uses for buying and selling at an online auction click here.