Hi!
I am back in HOT southern California after helping my sister for a week in Bellingham. It was freezing in Washington–seriously! Our garage sale was a great success but I also listed 100 items on eBay for her while I was there. If anyone tells me that they are incapable of listing 100 one-of-a-kind items on eBay each week, I will tell them they are just making excuses! I did work like a dog and am exhausted but it can be done! Please don't miss my feature article entitled Garage Sales vs. eBay.

Lynn Recommends: Lisa Suttora and Amazon…a Dynamic Duo
Special Announcement: Live Boot Camp at HQ—Only 

5

 4 Seats Left!
Feature Article: Garage Sales vs. eBay…I am proven right once again 
This ezine is published every two weeks.
July 14, 2011
Volume VII, Issue 11
It was great being in Bellingham and helping my sister get ready for her garage sale. We laughed, we cried and we made money! Her two little boys (Zach 5 and Kai 3) are so darn adorable. Seriously! Her littlest is 3 and his name is Kai. I looked at him the first day, pointed to Indy, and said "Who is that?" He looks back at me with his big blue eyes (he looks so much like my sister) and says, "Auntie Lynn."
I was cracking up inside but looked at him with a deadpan glance and said, "Well then, Who am I?" He looked at me and said, "I don't know." My mom, Kiki (my sister), Indy, Houston and I laughed soooooo hard. It was a hoot. That is how our week started. We worked non-stop going through her things, sorting items she had inherited from my grandmother, pricing for the garage sale and picking the best of the best for eBay. I have never been so tired in my life (both physically, mentally and emotionally).
You all know that I don't advocate garage sales. Unless of course you are having one and I can get some great deals! But, for my sister, the best way to raise money and get through things quickly was to hold a yard sale of massive proportions! Houston, Indy, my dad and I flew in on Wednesday and arrived at 1:30 pm. My mom picked us up; we headed to my sister's house and immediately started sorting. This box is eBay, this box is garage sale and this box…well it is seriously garbage!
My goal was to have enough stuff to fill the entire yard for the yard sale and also list 100 really great items on eBay for her. You will have to read my feature article to see who won the battle. eBay or the garage sale? Once again, I am right, so of course you can guess the outcome.
My sister's friends, my friends, family friends and our family turned out in force to make it a weekend of celebration. I even had a Queen's Court member, Bev Helton show up to help! Thank you Bev!
We will be hosting two more garage/yard sales for my sister on King St. in Bellingham on August 6th and 20th. Please mark the dates if you will be in the area and come check it out.
eBay's fall announcements came out on Tuesday. I think the most important thing for us is that we get 25 extra characters in our title. Not sure if we need 80 characters total but I will be testing that out once it happens and I will let you know what I find. Also, by next year the option for 3 or 7-day return policies will disappear. You will either have to have a "no return policy" or a longer window for returns. Here is a link to the announcements if you missed them.
Speaking of Announcements, as we (the girls and I) have analyzed the space at headquarters to figure out seating capacity for Live Boot Camp, we have realized that 12 is our MAX number. It is going to have to be a very small group of select students. Congrats to the seven of you that have already reserved your spot! Can't wait to see you.
And FYI, this year's Live Boot Camp at HQ is going to be more important than ever before. The many eBay changes and how to deal with them will be our focus. You can reserve your seat now (remember, only FIVE FOUR spots left). Read more about it in the Special Announcement section. The detailed information page can be found here.
A very important topic that we will be covering at Live Boot Camp and on this month's QC call, is the multiple auction listing regulations that are being enforced. I had several auctions shut down this week because my sell-through was not 30% on multiple auction listings. This has changed our strategy for listing. Mo and I have been having fun with it and believe that it will be saving us eBay fees in the long run.
Here is a listing that we did a little differently than normal as we work to raise our multiple auction sell-through rate. It has had great results!
See this listing here
.
On Tuesday, I did a fantastic call with Lisa Suttora about selling on Amazon as an additional channel. I will tell you, Lisa and Amazon together are a dynamic duo. Please check out the Lynn Recommends section to learn how you can tap in to Lisa's extensive experience to grow your business.
This past weekend, Houston turned 15. Oh my gosh! He is really growing up. I took both kids to the pool and this is what a 15-year-old looks like on his birthday. Oh the life!
Then Indy and I took Houston out for a very nice birthday dinner. It was a blast.
My mom flew in on Wednesday to Palm Desert to help me organize HQ, get moved out of our old house, and unpack in the new house. Thank goodness for my mom (or Mor Mor as she is called.) Thank goodness for my dad (or Papa as he is called), who was just here helping with the move. What would I do without them?
But back to Bellingham, here is my mom manning the cash table at the yard sale with my grandmother's old metal till that we used to take to antique shows on the table for good luck!
Here is my Dad also helping out at the yard sale. His job was to break into my Grandmother's old van with a wire coat hanger to see what treasures awaited us. (We had lost the key. My dad got into the van in 30 seconds flat.) More collectors' plates! That Cheryl Leaf loved 1970s collectors' plates. If one was good, 300 were better. She was one of a kind!
Because of moving, I have been listing some larger furniture items on eBay. It has been really cleansing and a positive move for us. I have had A LOT of interest in this mission cabinet that my grandmother bought for me. I still remember the seller carrying it up the front steps of her antique store (all by himself) and her buying it for me.
See this listing here
.
It was made in Canada and still had the maker's name on the back. Pretty cool! Let's hope it sells for a lot! I hope your summer sales are as great as ours have been.
Happy eBaying!
Lynn Dralle, 'The Queen of Auctions,'
Creator of the best-selling eBay Boot Camp in a Box. 

Always Wanted to Sell on Amazon
but were Afraid to Start?
Lose the fear as you listen to my 90-minute call with Lisa Suttora from last Tuesday.
Lisa and Amazon are a Dynamic Duo!
Click here to purchase now.
With a 46% year-over-year growth, there's no doubt that Amazon is one of THE hottest online marketplaces. With its stellar growth outpacing eBay AND Ecommerce, there is tremendous opportunity there. Amazon offers automated shipping, customer service, and some of the world's best customers… Just a few reasons that integrating Amazon into your online business model is something EVERY online seller should consider.
This amazingly positive phone call was all about adding Amazon sales to your current eBay business model. It makes a lot of sense and I can't wait to tailor it to my OOAK (one of a kind) business, add a few commodity items and generate some extra income. It is a really exciting time for eCommerce and no one knows more about the ins and outs of this expansive market than my friend Lisa Suttora.
Lisa and me at LOL 2011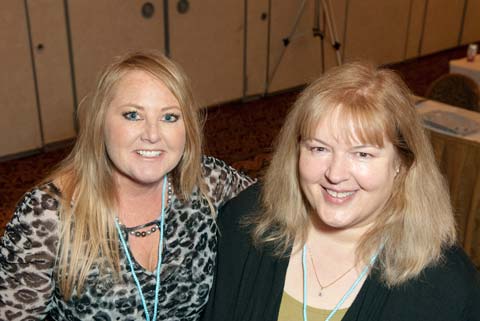 Lisa explained how anyone can use Amazon to increase their online sales! Lisa is just back from speaking at the 2011 Amazon Sellers Conference, and brought with her the latest exciting news about online selling opportunities on Amazon! We were so lucky to have Lisa as our special guest.
If you missed the live call you may still purchase the instant download here and learn her insider secrets for adding Amazon to your business model!
Oh yeah, I almost forgot. Stamps.com is now integrated with Amazon. It used to be a ROYAL PAIN to ship using Amazon but with Stamps.com as an option, shipping is a breeze.
You can easily import data on Amazon with one click and Stamps.com will also post back the tracking number to Amazon just like they do with eBay.
You must have the paid Stamps.com account to do this. The paid account is $15.99 per month and if you are selling on eBay and Amazon, I highly encourage you to sign up for this option. Learn more here.
If you are a Queen's Court member, the Lisa Suttora Amazon call is your gift for July.

ONLY 

Five

 Four Seats Left for
2011 Live Boot Camp
@ HQ
Palm Desert, CA at Headquarters (HQ)
These dates are…
Friday, September 23rd to Sunday, September 25th, 2011
We sold a seat to Live Boot Camp yesterday…yay! But now there are only 4 seats left for Live Boot Camp…not 5
Seats are very limited. Only 12 students will be admitted. Click here for more info.
Eight seats are already spoken for.
Will you fill one of the remaining four?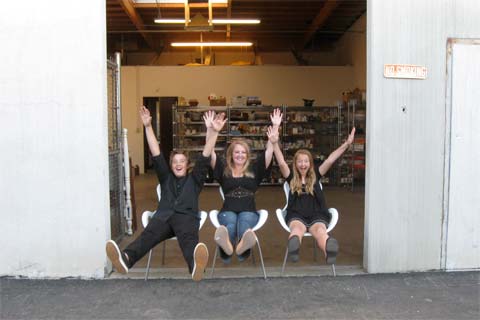 Reservations are open, email me for your customized link to reserve your spot.

'Garage Sale vs. eBay…Who wins?'
by Lynn Dralle, The Queen of Auctions
Once again I got to do a fun field study of garage sales vs. eBay selling. We worked like dogs for 3 1⁄2 days to do the garage sale. We also worked about 15 hours to list 100 things on eBay during that same 3 1⁄2 day period. The results will be posted at the end of this article. What is your guess as to the winner?
You know that I am NOT a big proponent of garage sales. However, there are some times in your life when a garage sale makes sense. Not a lot of times, but some times. For my sister, a garage sale on July 2nd made sense. We will also be holding garage (actually yard sales) on August 6th and August 20th on King Street in Bellingham, Washington. We will have many more items, furniture and as you know what I always say, "No one can know everything." So you can pick up some great deals and make money selling on-line.
And in my experience, yard sales are a blast when you get family and friends involved! Here are me, my brother, my sister and our really good friends Susan and Teresa Thornberg who lived across the street from us while growing up.
When you go through your items and decide what to sell at a garage sale or online, I have some tips for you. After you have figured out what should be garage sale vs. eBay, I have some great garage sale tips for you.
My three top tips for sorting for Garage vs. eBay
1.    Name brand research
If you have something that is in great condition, all the pieces are there, and it is a name brand, I highly suggest doing your research. My favorite tools are Terapeak, eBay, PriceMiner, and WorthPoint.
Here is an example of a brand new item with tags that I researched on Terapeak and decided it would be much more advantageous to list on eBay than put out at a garage sale, hoping to get $5 or $10. As you can see from the sales results, we did much better with it on eBay than at a yard sale.
See the listing here
.
2.     Gut Feeling
When I was sorting items, this picture frame seemed to speak to me. Don't really know what that means other than I had a gut feeling about it. It felt heavy, very much a quality item and it was signed in 1995. I am so glad I chose to put it on eBay instead of selling it at a garage sale for $1 to $2. Sometimes you have to trust your instincts. Actually, most of the time you need to trust your instincts!
See this listing here
.
3.     The Smaller the Better for eBay
One of the items that I had to decide whether to sell at an online auction or at the garage sale was this extremely intricate racecar set. It was in impeccable condition and was super cool! I did my research and realized it was a $230 item when sold brand new on the Internet.
However, I knew that it would probably take me 1-2 hours to pack it safely for shipment. I decided to put it out at the garage sale for $75 with a make offer sign. Well, it didn't sell at the sale. Darn it! I listed it on eBay and it sold for more than that (we even added a video to the listing) so please check it out.
See the listing here
.
However, it did take me an hour to pack it. In retrospect, I should have put it out at the garage sale for $50 and also added the Or Best Offer to the price tag. It would have saved me an hour (at least) of heartache and listing time.
My three top tips for Garage Sales
1.    Tables, Tables, Tables and Clothing Racks
For my sister's sale we borrowed tables from everyone we knew. Thank you to Jen & Jeff, my dad, my mom, Kay, John & Audrey, and numerous other friends. The more tables you have, the better your items look. No one wants to be digging on the ground at a garage sale for items. Especially as it rains almost every other day in Bellingham. You should also use a clothing rolling rack if you have one or can borrow one.  Your items must be presented professionally.
Please also note that our items were placed by category. We had a table of collectors' plates, a table of clothing, a table of lamp parts, a table of books, a clothing area etc. etc.
2.    Everything MUST be priced–although Zach loves "Make Offer"
My nephew Zach (Kiki's 5 year old) is so darn smart. He actually freaks me out. He can read better than I can! In any event, he was helping me a price and he loved the "make offer" tags. My mom had bought about 10 of those pre-priced sticker sets (great tip here as they save a lot of time).
Here is a photo of my pricing table taken when my 5-year-old nephew Zach absconded with my camera. Notice the pre-priced stickers, the diet coke can, and the Beanie Baby (that isn't worth anything 

)
We did put a price tag on every single item but did make a sign for our blanket pricing of clothing, books, etc. This saves time also. Please read below about our price sign and twirlers.
However, we did put two "Make offer" stickers on two pieces of expensive furniture. It really helped us in the long run. It is almost like throwing an item on eBay and waiting to see what the market will bear or will bid it up to.
My sister had three expensive display cabinets she wanted to sell. We knew that her lawyer's bookcase was worth about $750 so we put that price on it. The other two display cabinets we weren't sure about. I thought they were also worth about $750 each. I was wrong. Really, does that ever happen? Apparently, it does!
Well, with the "make offer" stickers we didn't make fools out of ourselves (a good thing). Three local antique dealers looked at the two cabinets and all three said that each cabinet was worth about $250. So, we finally put a price of $300 on each one. We actually were able to sell one of them to a former customer of Leaf's antiques for $250 and my sister and I were so happy it was going to be a great home.
3.    Signage, Twirlers, craigslist, and the Local Newspaper ads.
Signs were posted all over my sister's sale with these blanket prices (saved us from pricing every single item individually):
Here is a photo of the backside of one of the big signs.
Sorry, couldn't find a photo showing the front side.
Hardback books $1.00 each
Paperback books 50 cents each
Lamp shades $5.00 each
Collector's plates $3.00 each
Shoes $1.00 a pair
Sweaters, dresses and jackets $2.00 each
All other clothing $1.00 each
Socks 50 cents a pair
Videos $1.00 each
Then please make sure that you post a great ad on craigslist (it is free), also post a short newspaper ad in your local paper with a "Please see craigslist ad for more info" (this does cost money) and post signs all over your neighborhood with arrows pointing in the right direction.
Finally, twirlers are an awesome idea! We found that around noontime our traffic stopped. We got all the kids (age 11 and older) that were there helping to make more signs and go to the busiest closest intersections and twirl their signs. Cracked me up but really drove traffic!
Here is a photo of our twirlers.
I hope these tips help you make the most of the summer garage sale season and maximizing your profits on eBay!
Oh before I forget. The yard sale brought in $1,011 and the 23 out of 100 items that sold on eBay brought in $1,188. Yay! eBay won! Much less backbreaking work and we still have 87 items to price higher and leave in my sister's eBay store for the right buyer. The eBay items will yield much more in the long run but it was a really fun field study–nothing like hanging out with friends and family during a HUGE yard sale.
Please check out my sister's store items here
.
Lynn
---
Visit my eBay Store.
Visit my eBay auctions.
For more great eBay tips and stories, visit my website at:
http://www.thequeenofauctions.com
---
WANT TO USE THIS ARTICLE IN YOUR EZINE OR ON YOUR WEBSITE? Yes, you may – just as long as you include all links as they are and append this complete blurb with it: The Queen of Auctions and eBay Power Seller, Lynn Dralle, publishes 'eBay Tips & Tricks' a weekly ezine with 10,000+ subscribers. If you're ready to jump-start your eBay business, make more money and have more time, get your FRE E tips now at www.thequeenofauctions.com

eBay PowerSeller and third-generation antique dealer, Lynn Dralle, is the creator of Boot Camp in a Box, the home-study course where you can learn to implement the Dralle Method to maximize your eBay profits.
If you liked today's issue, you'll love this step-by-step course that is guaranteed to be the most complete and enjoyable guide to selling on eBay that MAKES YOU MONEY.
Read all about it here.
The Queen of Auctions also offers articles, teleseminars, how-to books, tracking guides, DVDs, eBay Boot Camp training, and other resources to help entrepreneurs make their eBay business a six-figure sales machine.
Some links in my emails to you may be affiliate links. You can be confident that I only partner with companies that I fully stand behind.
The Queen of Auctions/All Aboard Inc.
PO Box 14103
Palm Desert, CA 92255
760-345-9355
Lynn@TheQueenofAuctions.com
---
---
Lynn is an experienced eBay Power Seller, author, and teacher. If you want to know the eBay tips, tricks, and tools that Lynn uses for buying and selling at an online auction click here.