Hi!
The last two weeks have been another whirlwind. My goodness! Where does the time go? I have had some really great scores lately and I hope you have also.

Lynn Recommends: Join The Queen's Court!
Special Announcement: Dates for 2011 Live Boot Camp (at HQ)
Feature Article: Customer Service is King (or Queen) on your way to Top Rated Seller
This ezine is published every two weeks.
April 7th, 2011
Volume VII, Issue 6
I am exhausted from our two Queen's Court calls last week. They were super successful, positive and motivating. But I have to admit it took everything I had (and Mo, Carmen and Deborah had) to get the right answers, figure out our strategy, and share it successfully. I think we accomplished this.
Check out this email I got from Ree (Recent Boot Camp Graduate and Senior Queen's Court member from Washington State–all of my favorite things .) This came after our Queen's Court call dealing with the latest changes at eBay.
Lynn & Mo,

I just wanted to say "Thank you" for a job well done today. It was very evident that you have put much thought and research into the changes that are happening. I really appreciate your insight and clarification of some the issues that we will be facing soon. You make our work so much easier (and as my middle school students would have said, "funner").

Thanks again,
Ree
The Queen's Court is an amazing place with amazing people. You can read more in the Lynn Recommends section.
As I was sitting down to write this ezine, I realized I was pretty exhausted and tapped out from last week. What was I going to write about? Well, I have been trying to take a more active role at headquarters and jump back into my day-to-day eBay business.
You know, when it (eBay) moved out of my house, I actually thought it had moved out of my life and all I had to do was list. NOT TRUE!
I left Carmen, Mo, and Deborah to fend for themselves. Not fair! Now that LOL is over, I knew that I needed to spend more time at our awesome new building. (Learn how you can learn the lessons of this incredible event here.)
I had forgotten all those nights that I would wander into the eBay room (the rec room in my house) and answer the emails, check on shipments and reassure my customers. It is no wonder that we got 18, yes I SAID EIGHTEEN, 1's and 2's in shipping time in the last three months. It was time for me to get my TRS (Top Rated Seller) back. Please read this week's feature article about providing great customer service and how to become and remain a Top Rated Seller.
eBay is changing (it always does), and we need to change with it so that we can continue to make great money selling OOAK items. That stands for One Of A Kind items! I had a couple of scores last week and these margins are what continue to make eBay super profitable for us. We are the lucky ones!
Here is a puppet that I bought for about $10 (can't remember exactly because I bought it in a pile with some miniature perfumes). I can't believe what Mr. Puppet or as we call him now, Signore Puppette sold for (He is going to Italy BTW–by the way).
See this listing here
.
Then this art nouveau dresser jar (I paid $20 for it at an estate sale) sold for A LOT! It was signed Sterling with a W in a wreath. Never even had to identify the maker. Gotta love auctions for unique items!
See this listing here
.
I am going to need to sell lots of unique one-of-a-kind items at high margins and get some financial aid/scholarships if Houston decides to go to private high school. I can't believe he is starting high school next year 

.
We have some great private college prep high schools here in the desert. To prepare Houston for college applications and to have a "Plan B," I asked him to apply to one of them. He really "got it" when he had to fill out applications forms, request his transcripts, ask teachers and counselors for recommendations, take tests for an entire day and have a 45-minute interview–Thank goodness he actually listened to me on the way out of the house and wore a collared shirt—but it was worn with his flip flops and khaki shorts. Most boys were in suits! 

He said to me, "Wow, I didn't know that I needed to be forging relationships with the school's counselors and getting great grades in EVERY class?" Duh! A lesson well learned in 8th grade instead of 12th grade when it is most likely too late! It even motivated him to read a really great book about getting a college scholarship for baseball. I am very proud of him. His first acceptance/rejection letter arrived last week and I had him stop by HQ to open it.
I kind of spilled the beans when I said, "When you apply to colleges and the letters come in the mail, you want them to be thick…thin is not good. Thin means that there is no extra paperwork to fill out to ensure your spot in the incoming class."
Well, here he is with his dad opening his first…drum roll please…
…acceptance letter! Yay Houston! With the California state budget cuts and schools losing so many programs, it is becoming harder than ever to be accepted into these private schools. What a great learning experience for Houston.
Houston's dad went to a private boarding school for high school (Webb in Claremont, CA) and he is very proud of Houston, also. Although, I can't IMAGINE sending my kids away to boarding school. My time with them is just too precious.
Speaking of great things happening at Headquarters, our dates for Live Boot Camp at HQ are now set in stone. Three people have signed up! YAY…You can reserve your seat now. Read more about it in the Special Announcement section.
Oh, before I forget, I was on Melinda Jackson's awesome RRB (The River, The Ranch, and The Bay) radio show last night. Melinda did an incredible show with Chris Dawson of tamebay.com and her co-host Brian "Mr. Bigfoot" who is going to be one of the sellers on the Top-Rated Seller panel at eBay on Location in Las Vegas next week. It was a lot of fun and for those of you who know Melinda, she kept us all on the show for 2 1/2 hours! Yikes! Then I actually had to make dinner for Houston and his buddy Clint. I am exhausted today (because you know I can't cook) but it was a great show (as always). Thanks Melinda!!! Check it out here.
As you may remember, Indy started taking piano lessons about eight weeks ago. OMG (Oh My Goodness) she is amazing! She plays chords, entire songs, can sing along, and has even started writing songs. I am amazed at her natural talent. She definitely doesn't get it from me (I am tone deaf), but my brother has a master's in music and is also incredibly talented…Who knows where she gets it but it is an awesome gift!
Indy has written four complete songs with bridges, intros, choruses, lyrics, etc. I don't even understand what she is talking about when she tells me what she has done, but the songs are really really good. WOW!
Here she is at the piano.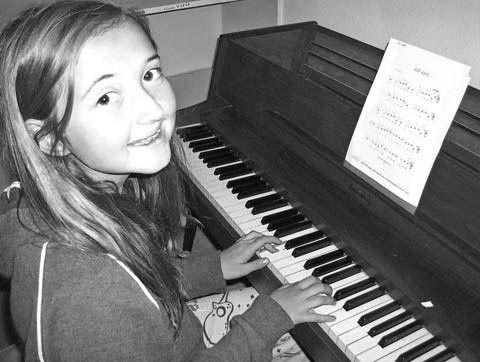 I was talking to Diva Dawn this week and we both had to laugh about how we all have lived in addition to and outside of our eBay work. So many times eBay and our other lives seemed intertwined and yet we do all have real-life going on around us.
What I think is really fun about having an eBay business is that you can include your real life in your work life and include your friends and family in everything. Pretty cool! Read the Lynn Recommends section to learn more about a Queen's Court member's real-life intertwining with her eBay life and actually making her money!
And as I think about it, we never would have gotten that wonderful free piano for Indy if I hadn't driven to Palm Springs to see my accountant's houseful of free stuff for me to sell on eBay. Who knew that I would be coming home with the promise of a piano? And that I may have the next Christina Grimmie in my household? Christina is a YouTube sensation and is NOT the Friday girl. With Indy's musical skills and her computer savvy, the sky is the limit! Go Indy.
Here's to a great couple of weeks–on and off of eBay–may these two parts of our lives continue to be intertwined.
Lynn Dralle, 'The Queen of Auctions,'
Creator of the best-selling eBay Boot Camp in a Box. 

Get on the phone with
an eBay representative to
have your questions
answered about
the new policies
Check out this post from the Queen's Court ID Section. As a Queen's Court member you get to post three items each month for me (and most likely someone else on the Queen's court) to identify for you and get you the keywords you need to list that item.
Lynnette came to my very first EVER boot camp that was held at the Lodge in Rancho Mirage in July of 2006.
Hi Lynn –

I can't believe it! I was just listening to the February teleseminar and you were talking about the lamp prisms . . . well this morning, Curtis and I rode our bikes to the grocery store and I spotted a garage sale sign. I said we have to go there first!

I bought several really cute cat mugs and some art supplies, but what really caught my eye was this box of prisms for $5! There are 65 teardrop prisms. And one round ball prism. Curtis had to go back for the car.

So I'm thinking of following suit to a similar auction I saw with six listed at $29.99.  Mine seem to be the same as that other auction. I saw that they go for less at auction so maybe straight into the store in groups of six might be the best?
Here is a photo of the prisms.
I emailed Lynnette to make sure it was OK to share her story and she emailed back….
Sure thing!


It was just so strange how I was reminded about the prisms on the teleseminar on Friday driving around town then Sunday on our bikes -boom!- there they were! It is like Lisa Suttora (whatdoIsell.com) says – you have to source all the time – and luckily it is so much fun sourcing for eBay!
Lynnette is so right; sourcing for eBay is a blast.
The exclusive Queen's Court forums are just one of the perks of becoming a Queen's Court member. AND our exclusive call from last Friday about the new eBay changes is only available to members of The Queen's Court in good standing. If you have been thinking about joining, there is no time like now to become a member and gain access to this valuable information and more. You can read about The Queen's Court and become a member here.

Dates for 2011 Live Boot Camp
@ HQ
OK, OK, I broke down. I was going to take a year off from Live Boot Camp and wait until 2012 to have our next one. But, way too many people have been emailing and asking me about it. Then I remembered that when we were looking to lease Headquarters, Deborah said to me, "Why don't you have Live Boot Camp here next year?" My first thought was, No. I guess my initial reaction to most great ideas is NO.
The more I thought about Deborah's idea, the more brilliant I realized it was. Now, our select handful of students will be able to experience the entire process from start to finish in our actual office! We won't just be teaching it, we will all be living it where it all takes place. I am very excited to announce that this year's Live Boot Camp will take place in
Palm Desert, CA at Headquarters (HQ)
These dates are set…
Friday, September 23rd to Sunday, September 25th, 2011
Seats are very limited. Only 20 students will be admitted.
Three seats are already spoken for.
Will you fill one of the remaining 17?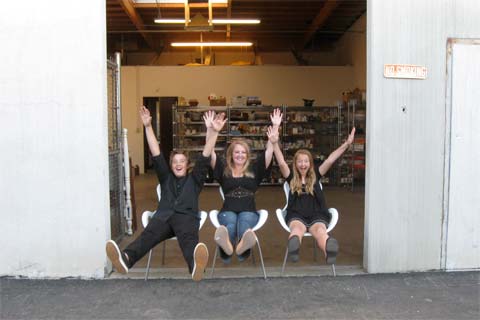 Reservations are open, email me for your customized link to reserve your spot.

'Customer Service is King (or Queen) on your way to Top Rated Seller'
by Lynn Dralle, The Queen of Auctions
The Top Rated Seller Back Office Discount is Super Important with the new eBay changes
As you may remember, I spoke with a rep at eBay in Salt Lake City several weeks ago about my personal account and ways to bring down my fees. He had great advice for me! Thank you, Doug! He felt that the 20% increase in my final value fees due to shipping being charged, could be offset with the 20% TRS (Top Rated Seller) final value discount.
I haven't qualified for this in quite some time. I know that I need to spend more time at Headquarters providing fantastic customer service to get the TRS ranking back.
I want to share with you three emails that came in on Monday night when I was working late at HQ and being PROACTIVE instead of REACTIVE to potential problems.
These examples and the way I dealt with them are the kind of fantastic customer service that will get us all TRS and keep us there. I was very pleasantly surprised at how NICE customers are if we just keep them in the loop.
Example #1: Broken Saucer
Dear thequeenofauctions,

Hi,

I received my order today; however, one of the saucers arrived in two pieces. Do you possibly have another?

Thanks,
Joe"
I immediately emailed back.
Hi Joe,

Darn it! I hate it when that happens. I am so sorry. We don't have another saucer. I will process a partial refund for you for the breakage. How much would make you happy?

Thanks for your business,
Lynn
Dear thequeenofauctions,

Since it wasn't anyone's fault, let's call it even steven. If you ever come across one, please keep me in mind. Have a great night and an even better tomorrow!!!
Wow! What a super nice customer. I was very quick to email him again and let him know it.
Joe,

You are super nice and I really appreciate it. Thanks! A pleasure doing business with you.

Lynn

PS I wish all of our customers were so awesome :)"
You were being fair, so I returned that in good faith. I have been on an eBaying binge lately, so who knows, I may be back to your store soon. Take care.
After that, I decided I needed to ask Joe for his permission to publish these emails to show how reacting quickly, being an honest seller, and being nice can really work in our favor!
Dear thequeenofauctions,

Lynn,

Any time I can do anything to put manners and goodwill out to the masses, I am in favor. You have my permission and my blessings.

Thanks,
Joe"
NICE LESSON! Customer service is all about manners and goodwill.
Example #2: Items mixed up and sent to two wrong buyers
We have been shipping out a lot of items lately. Our business is up over last year and that means more packages and the potential for more mistakes. Check out this note that came in late on that same Monday evening.
Hello,

I won this plate but was shipped a set of four Pier 1 bowls instead. Please let me know how you want to proceed.

Thanks,
Susan
Yikes was all I could say! How was I going to get this one unraveled? Well, I pulled up Auctane (love it) and saw quite quickly that the Pier 1 bowls and the collector's plate were processed in our shipping log one right after the other and they were both being sent to ladies named Susan. I think I had solved the mystery and it only took a few minutes. Yay!
To learn more about Auctane you can read my ezine from December 23, 2010, here.
I immediately emailed Susan #1.
Hi Susan,

These bowls definitely go to a different Susan in Massachusetts. We are waiting to see if she received your plate but I am almost certain she will be receiving it as your orders were processed one after the other and both of you have the same first name. So sorry! If you would please ship those bowls to the other Susan and let us know what we owe you for s/h/i and your time I would greatly appreciate it? Thanks for understanding.

Lynn
There was no way the other item had made it to Massachusetts yet so I took a preemptive stance and quickly sent a note to Susan #2.
Dear Susan,

Your Pier one bowls were sent by mistake to a lady named Susan in Kansas. We are hoping that you will be receiving her collector's plate. If so, could you please ship the plate to Susan and let us know what we owe you for s/h/I and your time? The other Susan is shipping your bowls to you today. I am so sorry about this and thanks for understanding.

Lynn
I received two very nice emails back from both Susans.
The bowls will be on their way to the other Susan tomorrow. I will let you know the cost.

Thanks. Sue
Hi! I got your message. No worries, mistakes happen. Please send me the address of the other "SUSAN" and I will send the plate out to her directly.

Thanks, Sue
I love it when people say "no worries". It is one of my favorite sayings. Problem averted. Now, on to the next problem on that Monday night.
Example #3: Missing Coffee Mug
(Remember I am NOT perfect like Diva Dawn–we actually lose things–not garage door openers but eBay items 

)
I got an email from a lady that wanted to buy some Laurie Gates coffee mugs but she wanted to know if we could ship them for cheaper than $10.95 for two. I weighed one (doubled that weight), actually looked up her zip code and it was going to cost $13.40 by UPS. I told her I would ship the two for $12.95 but that I would be losing money on shipping.
She went ahead and bought them both. On that Monday night April 4th, I noticed that there was just one coffee mug on the shipping table and that it had been paid for a full week earlier. She had paid on March 28th. Panic at the disco! Waiting a week to ship is not going to get me five stars.
Here is a photo of the mug we could find.

I immediately went to the other shelf and the other Laurie Gates coffee mug in red she had purchased was not there. Oh boy! I had better be really creative to get myself out of this mess.
I just started walking up and down the aisles at HQ. I ended up finding two similar Laurie Gates mugs and I figured I could offer to substitute one of those. When I went to pull them up on eBay, they were not even listed. I quickly took a photo of the three mugs and wanted to email it to her but figured I had better just bite the bullet, request her contact info and call her and explain.
Here are the three mugs altogether.
I went into advanced search and clicked on "Find Contact Information". I received an email with her phone number and I placed a call. I left a message and kept it very vague. You don't want to leave too much information on an answering machine. The item could be a secret, maybe a gift.
She hadn't called me back or emailed me by Tuesday morning. I made an executive decision. That is the fun of running your own business–you can actually make important decisions!
I was just going to send her the three coffee mugs for the same price she had paid for two. When you have a customer that asks a lot of questions before the transaction and you have to do a lot of hand-holding, it behooves you to treat them extra especially well. Mo, my mom, and I have said for years that the customers that make the most noise before a transaction, will be the ones that make the most noise (not always good) after a transaction. They can also turn out to be your most loyal customers if they are happy with the transaction.
I didn't hear back from my coffee mug buyer until Thursday. Yikes! Boy was I glad that we had already made the decision to send the three mugs!
Hi!

I just got an email saying you needed my email address (which I sent) so you could send me a picture of a substitute Laurie Gates mug as the red one was MIA. I never heard back and just got an email that 3 mugs had been shipped….did I miss something? Also, do you have more of these mugs? I could use more of them.
Here is what I sent back:
Hi!

I felt so bad that we couldn't find the red one and then I found a different red one and a different blue one. The blue one had a small split on the edge so I just went ahead and had the girls ship all three to you (no extra charge). We just want you to be happy.

Thanks for your business.
Lynn
Thanks for the update. Sounds good to me. I really appreciate you sending 3 mugs! Thanks! I'll LYK when they arrive.
Another problem hopefully averted and five stars on their way to me!
My hanging out more at HQ, answering emails early in the morning or late at night, and really being on top of things are going to get us Top Rated Seller. We are going to provide stellar customer service and become TRS by July 6th. Then it really will be "Happy Birthday to me." That is our goal!
And as Norman Vincent Peale says, "Formulate a goal; not a fuzzy, vague goal but one that is sharp, clearly defined, and specific. Hold the image until it sinks into the unconscious. Then give it all you've got of thought, effort, imagination, and innovation."
Lynn
---
Visit my eBay Store.
Visit my eBay auctions.
For more great eBay tips and stories, visit my website at:
http://www.thequeenofauctions.com
---
WANT TO USE THIS ARTICLE IN YOUR EZINE OR ON YOUR WEBSITE? Yes, you may – just as long as you include all links as they are and append this complete blurb with it: The Queen of Auctions and eBay Power Seller, Lynn Dralle, publishes 'eBay Tips & Tricks' a weekly ezine with 10,000+ subscribers. If you're ready to jump-start your eBay business, make more money and have more time, get your FRE E tips now at www.thequeenofauctions.com

eBay PowerSeller and third-generation antique dealer, Lynn Dralle, is the creator of Boot Camp in a Box, the home-study course where you can learn to implement the Dralle Method to maximize your eBay profits.
If you liked today's issue, you'll love this step-by-step course that is guaranteed to be the most complete and enjoyable guide to selling on eBay that MAKES YOU MONEY.
Read all about it here.
The Queen of Auctions also offers articles, teleseminars, how-to books, tracking guides, DVDs, eBay Boot Camp training, and other resources to help entrepreneurs make their eBay business a six-figure sales machine.
Some links in my emails to you may be affiliate links. You can be confident that I only partner with companies that I fully stand behind.
The Queen of Auctions/All Aboard Inc.
PO Box 14103
Palm Desert, CA 92255
760-345-9355
Lynn@TheQueenofAuctions.com
---
---
Lynn is an experienced eBay Power Seller, author, and teacher. If you want to know the eBay tips, tricks, and tools that Lynn uses for buying and selling at an online auction click here.