We are Officially OPEN!
Welcome to Lynn's Latest #19…
June 4, 2020
Watch for it every Thursday or every OTHER Thursday!
Volume I  Issue 19
I need your help.  We are currently open 11-3 pm every day (EXCEPT for Mondays) and also by appointment.  Our hours are limited until Val and Emma can return to in-store work.
Val is taking amazing care of her husband Ron while he is WINNING the battle against cancer and Emma is back home with her mom in New Jersey.
My dilemma is this.  During the transition, what should our hours look like?  Please HELP us by taking this short survey!
Here is a quick survey and THANKS for filling it out!
I am extremely hopeful that things are getting back to semi-normal.  My son had to head back east on Friday, so before he left, I took both of my kids out to dinner at Lure.  Soooooo good and soooo much fun!  Do you LOVE Houston's pants?  I must admit that I do!
The high point of the past two months for me was being served Chardonnay in a cold glass in a restaurant!!!  Oh, the small things in life that make us HAPPY these days!
We officially reopened on Friday, May 22nd and the first order of business was to redo the Annie Sloan Chalk Paint front window.  I had been itching to do it for some time, but with no new furniture coming in, I didn't have a clear vision.  Once I knew what was coming in, my brain started to formulate a plan!
I had also shared this Kazi basket photo with you and the look I was going for.
I contacted the wholesale company where I buy the baskets and asked them to place an order for one of each basket.  FUN!  I was on a roll.  The baskets arrived this past Wednesday and so did the perfect furniture to fill my Boho 1970's window.
Indy and I went shopping at Lowes to pick up the greenery…lots of live plants were required!  Sunny, Adolio, and Wayne helped Sandy and I move furniture and by 3 pm on Wednesday we had a pretty good start.  Sandy and I were exhausted, so I sent out an S.O.S to Hous and Indy and they headed down to the store to help me finish up.  Here is what my work in progress looked like when they arrived.
My kids went to work putting furniture in place and then accessorizing.  The easiest way to do a front window display (or any room in your home for that matter) is to get your key anchor pieces in place and then layer on top of that.
Layering, can and should, include lamps, artwork, plants, rugs, tchotchkes, throw pillows, throw blankets, and anything else you can think of!  Here they are working their magic!
Here is a SIDE shot of my kids and the Kazi Baskets that started this entire creative process!
We have almost all of our Kazi baskets on our website with FREE shipping.  The baskets are incredible and the mission of Kazi Goods is amazing.
"We aren't just bringing handcrafted things to your living room. We're bringing you beautiful pieces that add life to your space and empower artisans to weave a better story for themselves."
Never the result of luck –
The intricate design and perfected craft of your favorite Kazi basket are crated through a long tradition that has been passed through the hands of mothers to their daughters for centuries.
The Founders of Kazi set out to change the face of poverty in this lifetime, not
just for the future generations of those they serve.

Kazi believes women and men in rural areas in Africa can be
agents of change for themselves, their families, and their
community when given the proper training and consistent access to global markets. Their talents and gifts are incredible.

At KAZI, they are equipping and empowering women and men to succeed
beyond their biggest dreams. Now, these women and men send their kids to
school without traditional aid, through their own hard work.
We hope you join Kazi on their journey to create a beautiful and fair world for everyone.
Kazi is an amazing fair trade company that pays fair wages.  Each basket comes with a picture of the actual artisan and tells their story.  I love supporting this company!
Here is a link to their products on our website and a photo of some of the baskets!
Please drive by and check out the front window as it evolves and grows. Here are two pictures of the front window, just in case you can't make it. One with Houston and Indy when they finished and one that Sandy took the other night when it was dark.
I just love the way the throws look on the chairs. Cozy! We just got those in and they are 100% cotton, handwoven and retail for $19.99 to $24.99. A bargain! Click here to shop the throws….free shipping!
That Capiz Shell Dresser you see in the window is outstanding.  It retails for $5,000 and you can find it on sale for around $2,800.  We have it listed for $1,395.  Sorry, no free shipping on this one 🙂  
Check it out here. 
Oh my goodness!  Now that we are open again, I haven't EVEN mentioned eBay.  Interesting?  Time for a score.
Check out this Snoopy mug
and see why it sold for so much. I bought it at a garage sale for 50 cents last year.  It sold for the best offer of $47 and was shipped to Taiwan.  Yowza!
Time for a trip back in time…just like that vintage Snoopy Coffee mug! My Timehop from 6 years ago had this photo. Too fun! Bryan, me, Tiki Jason, and Mo at a tiki bar in Palm Springs after I had filmed an episode of their TV show "Thrifthunters" with them. Oops, I take that back. We are actually at the Red Barn in Palm Desert! LOL! As Mo said, "Those were the good old days"!
I am not sure if you can see reruns of their Spike show, but I will check right now.  Our episode was "Valley of the Deals" because it was filmed in the Coachella Valley.  LOL!  It was season 2, episode 1.  OK, apparently you can watch the show, but it will cost you $1.99.  Not sure if it is worth it, but if you do watch it please let me know your thoughts!
The Boys are Back in Town!  The Boys are Back in Town!
And I am not talking about Tiki Jason and Bryan….I am talking about the dynamic duo, Adolio, and Sunny!  The boys took the past few months off to make sure they were healthy and safe.  I was sooooo relieved and happy when they called me to say that they were ready to go back to work!
Just so you know, they will deliver within Ventura for only $40.  It is more for further locales, but they are the BEST!  And they help me stage the store….we love these guys!  Here they are working on a vignette with Indy and me this past Sunday.
Now that we are open again, we are getting in new stuff every day!  You must come in or check on our website because you know how fast stuff comes in and goes out!  There is a section under shop/online at the very bottom that shows New Arrivals. 
Here is what that part of the page looked like today.
We are all LOVING our new Peloton bike!  I have dubbed Houston the King of the Peloton as he tends to ride between 60 and 70 miles a day.  Seriously?  Yes, he does!  He is a lot like his dad, (my ex-husband William) as he is super athletic and gets obsessed with a particular sport.
His dad was obsessed with Telemark skiing when we were married (and he was AMAZING at it) and then he moved on to golf.  Houston is trying a sport his dad was never obsessed with as Houston is currently in bike racer mode!
We watched the movie "Breaking Away" a few nights ago.  Awesome!  Just as I remembered it.  It came out in 1979 (I think) and was about an obsessed bike racer growing up in Bloomington, Indiana (where I was born) and the reason I named my daughter Indiana!
In any event, Houston not only rides the Peloton, but he just bought a racing bike off of Craig's List.  He is so enamored of it.  I asked him if he was going to sleep with it like he used to whenever he got a new baseball bat.  He thought about it, hesitated, and said "I just might".  LOL.  Here is a picture of his new racing bike with Carlos checking it out.  This bike is apparently too good to put outdoors.
I do have to say that my son comes by his obsession with sports naturally due to his dad's athletic abilities.  I am in awe of Houston and how committed he has always been to his sports….baseball, football, golf, and now biking.
I must share one of my 100 best stories about the kid's dad, William, and his obsession and mastery of skateboarding from my first "100 best books."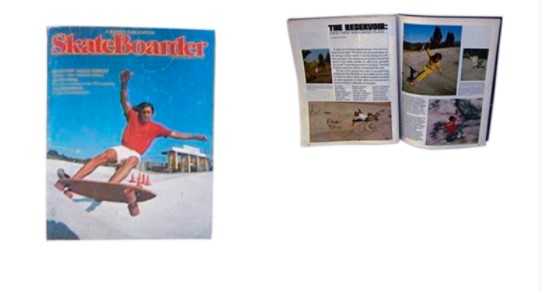 Don't you love the colors that William is wearing?  Very late 1970's Boho just like our new front window!
OK, time for another score.  Check out this Williams Sonoma Bowl that sold for the best offer of $50.  And we had 2!  That is a $100 sale….Whooooo Wheee!
Back to the store.  Peggy has been working on that corner cabinet for a few weeks.  It is turning out incredibly well.  Old Ochre on the back and Chateau Grey on the front.  She is also going to be decoupaging or Mod Podging some Botanicals into the back wall this week.  It is going to be EPIC!  It is also a lighted corner cabinet with glass shelves.  This piece is sooooo sweet!  Check out the progress in this photo.
Don't forget that you can always order your paint supplies on our website, by text at 760-880-3535 or by phone at 805-628-3289. We are offering curbside pickup and free delivery in Ventura. You have no excuse to not start that project! LOL! Thank you to all of you who have placed orders! We really appreciate it!
Shop Annie Sloan Here
https://lynnsconsignment.ricoconsign.com/store/category/Annie%20Sloan?sort=HL
Lots of great paint colors in stock!
Check out this awesome end table/nightstand that Sandy did in Louis Blue with a bunch of decor molds in the shape of a Seahorse! She is one of our most talented consignors!! And it is available for only $195.
I posted the seahorse piece in my Instagram story and Guess who LOVED it? The Iron Orchid Design Sisters….Sally and Josie! Soooo cool!
I must give a shout-out to Indiana. Not only is she taking Pepperdine classes online, but she is also working for the Lisa Smith Wengler CFA (Center for the Arts) doing all sorts of computer and graphic work.
She is also the President of PIT….Pepperdine Improv Troupe and had to put out a statement this past week. It was really stressful for her and I get that. I am very proud of this kid! Here she is just hanging with the CARLOS boy!
He really helps her deal with her stress and anxiety. She told him today…"Carlos, you are the best therapy pet EVER!
I must say that during these past few months it has been really difficult for me to remain positive and I am one of the most positive people I know.  LOL…but seriously, most of my friends have called me Polyanna for years.
If this has gotten me down, I can't imagine what it has done for those of us who struggle with diagnosed depression and other issues.  My heart goes out to you and if there is anything we can do to help, just let us know.  LOTS of LOVE going out to all OF YOU!!!!   We miss you and Can't wait to see you soon!
Indy has also been working at the store on the back garages.  Seriously?  THESE are going to rock the house!  Check out the progress so far….twinkly lights and more cool lanterns, rugs, throws, etc. coming tomorrow.  How can you not stop in and see us?  Or at least drive by?
So, not only are we enamored with Carlos, but so is my mom, all of her friends, all of my friends, our neighbors, my employees, the entire town of Ventura, and the World.  LOL!  Seriously, he is the cutest damn cat.  My mom has come up with the cutest idea….let's turn him into the "Happy Cat"…NOT the "Grumpy Cat"…..we can do T-shirts, Greeting cards, etc.
I said, "Why not?".  My brother just did this prototype for us and we named my mom the new CEO….Chief Executive Officer and President of our new Carlos Company!  What do you y'all think?
I was sorting some cash the other day and Carlos just had to roll around on it.  I sent this pic in a text to all of my family and my brother says, you don't have a cash cow you have a cash cat/cash Carlos.  Another greeting card?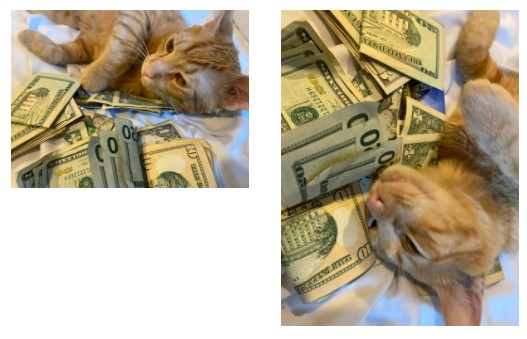 Just so you know, this wouldn't be my first rodeo with greeting cards.  Back in 1997, I designed a line of greeting cards that were picked up by Sunrise/Interart/Hallmark and could be found in most major stores….Barnes & Noble, Borders, etc.
Here is my page in the 1998 Collections catalog.  I was featured along with artists like Laurel Burch and Mary Engelbreit.  Crazy right?  We do sell some of these cards in the store and they are a bargain at $2.95 each.
In 2001, I was nominated for Whatcom County Business Woman of the Year and in the article, they talk about my greeting card line.  Fun!
The best part of this story is that exactly 10 years earlier, in 1991, my grandmother was also nominated!!!  I can't find the article that they wrote about her, but when I do, I will share it!
O.K. just one more eBay item to share.  This is an amazing Caligraphy piece of Antique Folk Art that I am selling for a friend of mine.  It is priced at $1,999 and we would be happy to show it to you when you come into the store.  Isn't it incredible?  The workmanship is amazing!
I LOVE the message on this piece.  Flourish.  Isn't it time for all of us to finally flourish?  Flourish is defined as "to grow or develop in a healthy or vigorous way, especially as the result of a particularly favorable environment."  We do live in the best city EVER!  Let's come out of this and flourish!
Take care from Lynn's Consignments team to you and your family!   Just so you know, this will get better.  This too shall pass.  God has got this.  We WILL see you soon!
Pictured…Indy, me, and my mom!
One last photo of more cool stuff is available on our website with free shipping. These recycled Magazine ornaments make great gifts year-round. Check them out here.
Thanks for reading my ezines!  I appreciate it….as always!
eBay with Heart & Design with Heart……Lynn
P.S.  All of the professional photos I use on Instagram, Facebook, and in these newsletters were taken by my friend Denise's daughter, Jaclyn Sabo.  She is amazing!   To learn more about Jaclyn….https://www.jaclynszabo.com/
P.P.S.  If you have a friend who wants to sign up for this newsletter.